The most delicious "healthy" fudge you'll ever have based off cashew and coconut flavours- Paleo, vegan, dairy free and gluten free options, it's the perfect snack or after dinner treat with an optional protein boost! No baking required!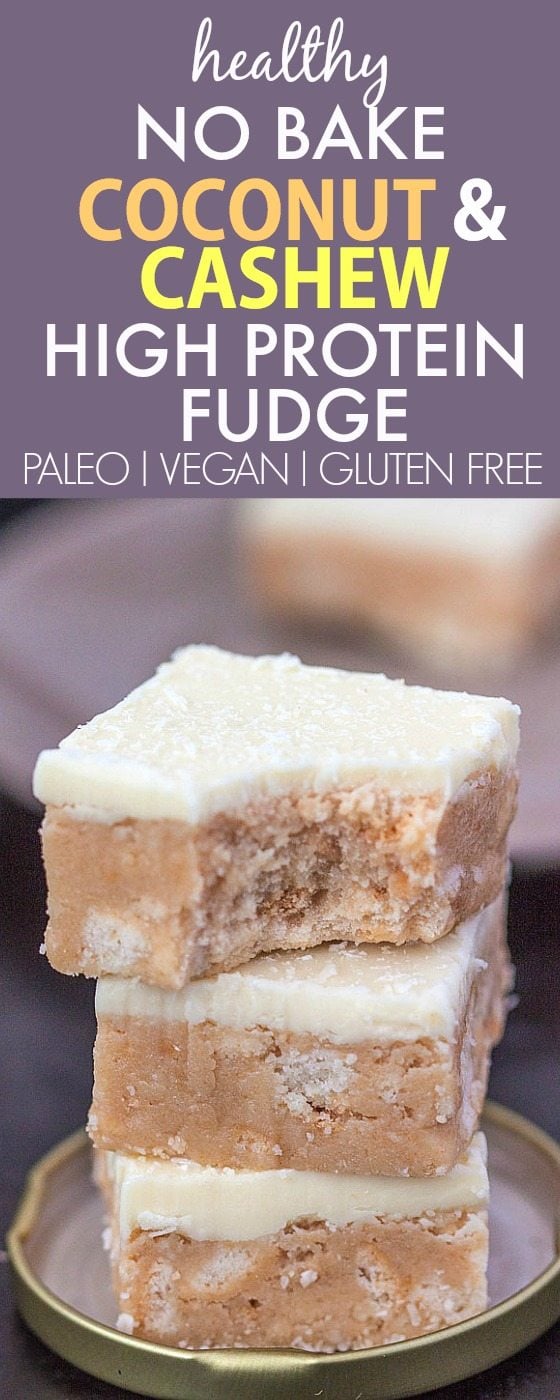 I should rename this post to 'How to potentially convert colleagues into enemies' or something along those lines.
I am grateful to have friends, family and colleagues whom are willing to be taste testers on many of my recipes. Scrap that- All my recipes. I know how all of us have different tastes and my level of sweetness may be too much for others, and visa versa. That is why I always ensure at least 3-4 other people try my recipes before I post it because quality control is important…except for pancakes. I make the judgement call for those.
When I brought this Paleo friendly Cashew Coconut Protein Fudge to work, this is the interaction between myself and a colleague.
Colleague- "Wow, you made my favourite- Iced lemon slice!"
Me- "…..Yeeeees. Yes, this is an iced lemon slice."
Colleague- "I cannot WAIT for morning tea now."
So come 10.30 am when half my office would do a coffee or pastry run, my colleague and I went into the break room and while I poured my third cup of coffee, she dug into the fridge and had a piece of this protein fudge. The protein fudge which she thought as an iced lemon slice.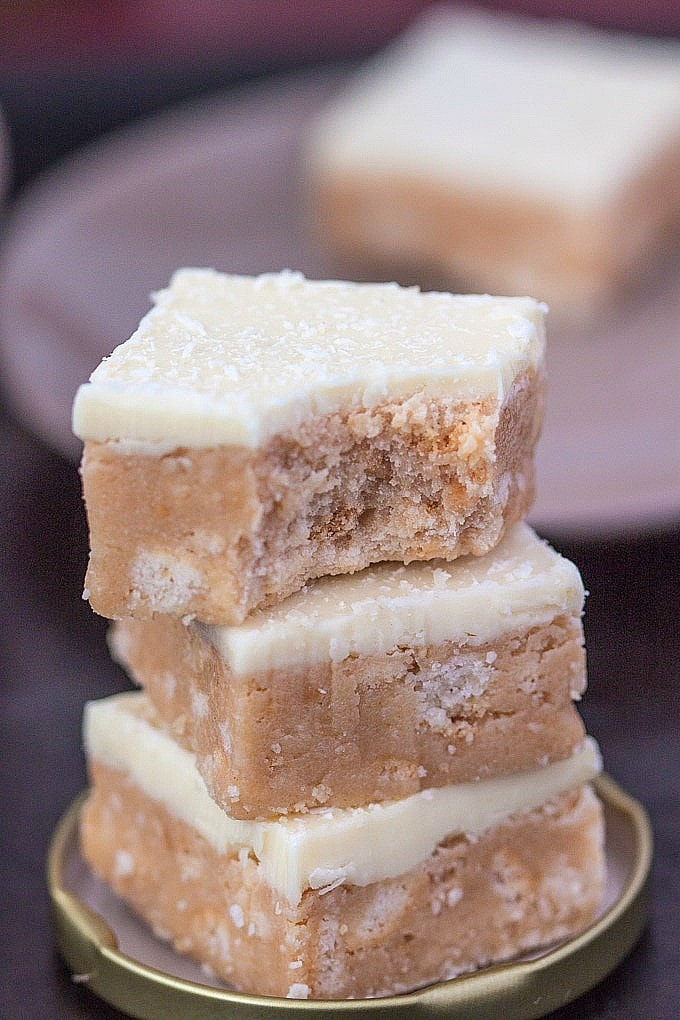 Colleague- "This is…….nice. "
Me- "Really?"
Colleague- "Yes but…"
Me- "Yes?"
Colleague- "Um. Arman, Did you forget the lemon by any chance and add coconut instead? Iced lemon slice is made of oats and biscuits in the base and the icing tastes like lemon. This looks like a lemon slice but tastes nothing like one."
Me- …..
Colleague- "I also have a cashew stuck in my tooth. Lemon slices are nut free. YOU BASTARDISED MY FAVOURITE DESSERT!"
Friends, maybe choose who you try to fool recipes with. I ended up buying a store bought iced lemon slice for her to make up for it later that day. It also contained almonds in the base and she was not happy. Again.
***
Like I mentioned yesterday, paleo, high protein and vegan recipes were some of my most popular requests for 2015. For some it may be easier to stick to true and tested ways but I do enjoy the challenge- Especially with some fun experiments coming up very soon. I first tried this recipe out completely Paleo before trying out a vegan option which wasn't difficult at all- It just involved using a different protein powder and a different twist on the icing!
When I was in America, I picked up a paleo friendly protein powder purely to see how it would work with recipes. I've come to a few conclusions as you'll see in the recipe below.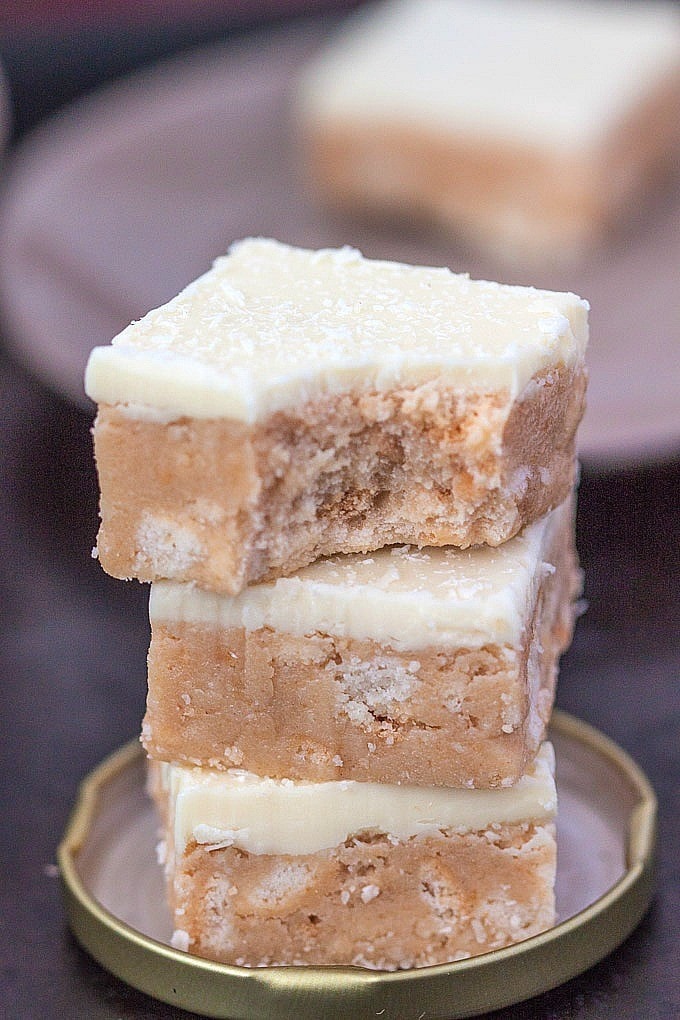 Inspired and similar to my favourite No Bake Cashew Coconut Protein bars, this Paleo No Bake Coconut Cashew Protein fudge looks impressive but really- It's quick and easy to whip up. The base is made from just four key ingredients (five if you include a sweetener)- Coconut flour, chopped cashews, protein powder and a liquid of choice (I used cartoned coconut milk). The frosting is so easy too- A vanilla frosting made with just coconut oil, honey and vanilla essence based off this recipe.
For the Vegan version, I opted for a vanilla brown rice protein powder and instead of the paleo friendly frosting, I simply combined vanilla protein powder with almond milk and added it very slowly until a thick frosting formed- Spread. Done.
Promise me one thing- You will sift the coconut flour. Always sift the coconut flour. I didn't for the ones I photographed and you can see clumps of coconut flour….my bad.
Also. Be mindful of which colleagues you trick.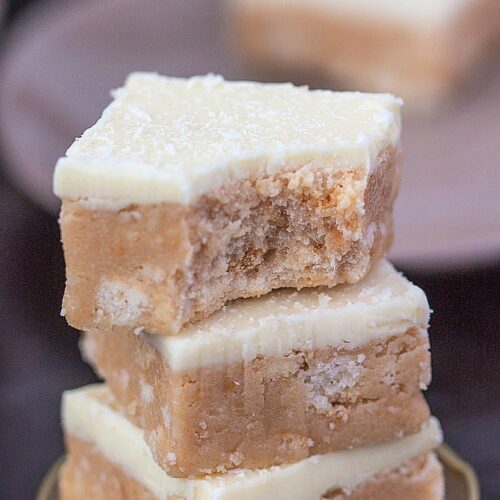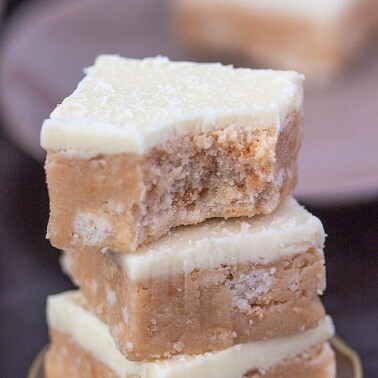 Paleo Cashew Coconut Protein Fudge
A delicious Paleo no bake protein rich snack which come with a vegan option too- Very low in carbs, high in fiber and protein and completely sugar free!
Ingredients
For the fudge base
1 1/4

cups

coconut flour

sifted

4

scoops of paleo protein powder

vanilla flavoured (for vegan option- I used a brown rice vanilla)

1/4

cup

chopped cashews

1/2

teaspoon

sea salt

1/4- 3/4

cup

cartoned coconut or almond milk*

PLEASE SEE NOTE
For the fudge frosting- (Paleo version)
1

cup

coconut oil

at room temperature

1/2

cup

raw honey

1

teaspoon

vanilla
For the fudge frosting- (Vegan)
2

scoops vanilla protein powder

1/4-1/2

cup

cartoned coconut or almond milk

Other- Shredded coconut for dusting
Instructions
For the fudge base
Line a 9 x 9 deep baking pan with baking paper and very lightly dust with coconut flour.

In a large mixing bowl, combine the coconut flour, protein powder, sea salt and chopped nuts and mix very well. Very slowly add coconut or almond milk until mixture is no longer crumbly but still very firm.

Transfer the fudge base to the pan and using your hands, press firmly until an even layer is formed.
For the Paleo frosting
Using a blender or food processor, and puree until smooth. Top the fudge base with a thick layer and use a spoon to ensure a smooth look. Lightly top with extra shredded coconut. Refrigerate for 2 hours or overnight.
For the Vegan protein frosting
Add 2 scoops of protein powder in a small bowl and slowly add almond or coconut milk until a very thick 'frosting' is formed- Spread over the fudge base and top with shredded coconut and refrigerate for 2 hours or overnight.
Notes
Coconut flour differs brand by brand- When adding the milk, do it tablespoon at a time. Based on some readers, some have used as little as 1/4 cup whereas others had to use an extra full cup- That's dependent as well as which protein powder you use.
If your protein powder isn't sweetened, add granulated sweetener of choice- Monk Fruit (by Norbu) is paleo friendly.
If you do not have any dietary restrictions, I would recommend using Casein protein powder for both the fudge base and the protein frosting.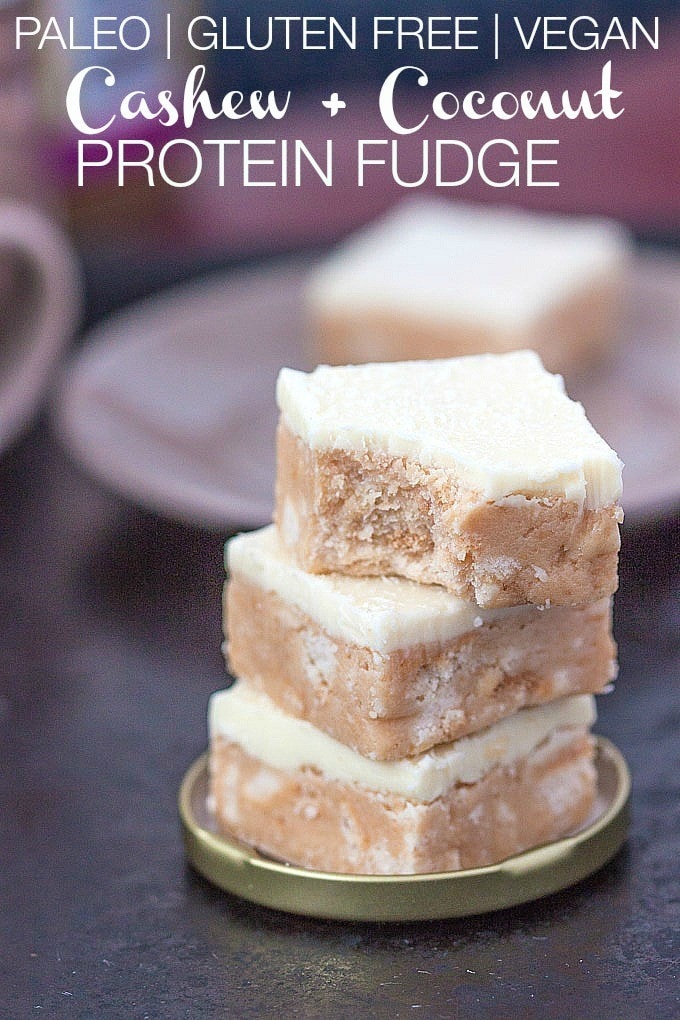 Want more of my favourite high protein, No bake recipes? Check these out!
Chocolate Protein Rice Crispy Treats (High Protein, Gluten Free, Vegan)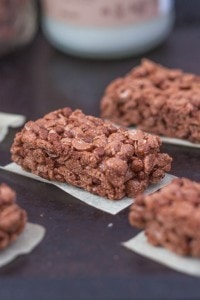 Healthy No Bake Rice Crispy Treats (Gluten Free, Vegan)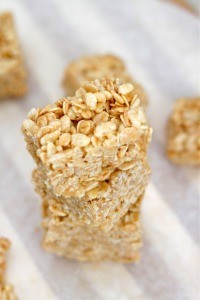 No Bake SunButter Granola Bars (High Protein, Gluten Free, Vegan)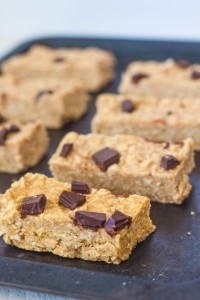 No Bake Kettle Corn Granola Bars (High Protein, Gluten Free)

Disclosure: This post may contain affiliate links. I may earn a small commission for my endorsement, recommendation, testimonial, and/or link to any products or services from this website.