Single Serve Caramel Pecan Breakfast Cookies
Monday's post was all about the caramel cookie DOUGH (in oatmeal form but that's not important here) but today, it is all about the actual final product- the cookie itself.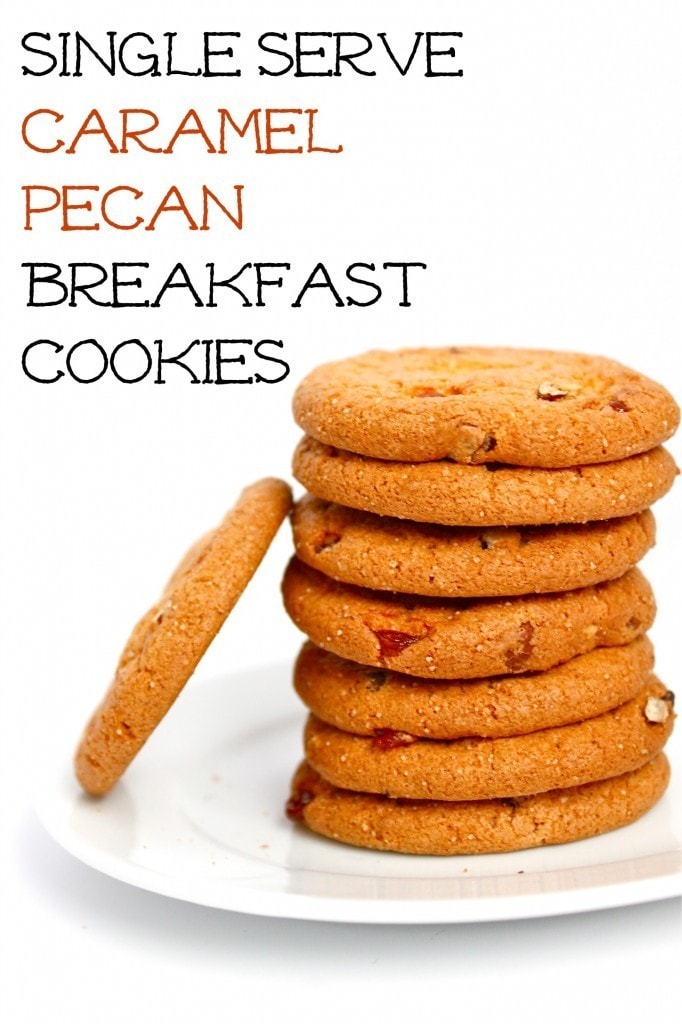 The two biggest recipe requests I got in the 'Ask Me Anything' form I put out (along with the handful of emails) were 2 things– breakfast cookies and single serving food. I was surprised, seeing as I'd been going through a pretty obsessive phase of making oatmeal variations. Seeing as I try to find a happy balance of giving back to what YOU enjoy as a reader, coupled with my adoration of single serving anything (hello, solo chap right here)- I'm all game. Add in the two important factors- breakfast and cookies which I am proudly a fan of- this is a challenge I'd gladly accept with an open mouth and empty stomach.
The past couple of weekends, I've had fun trying out single serving cookie recipes. While you may think it to be time consuming- it has actually been much easier than I anticipated.
The scenario-
Try 2 -3 cookie flavour combinations, chuck in the oven at the same time and monitor depending on what goes into which cookie.
Remove the cookies once cooked and note down which type took what length of time
Let them cool and see their 'crisp' factor (Yes, it's a thing. Deal with it).
Decide whether it's a recipe success, recipe re-do or epic bloody fail.
Okay, so many NOT as easy as anticipated but still better than baking an entire batch of one type, failing miserably, and trying again.
….Until you remember how delicious the cookies are, want them again and thus….make a full batch.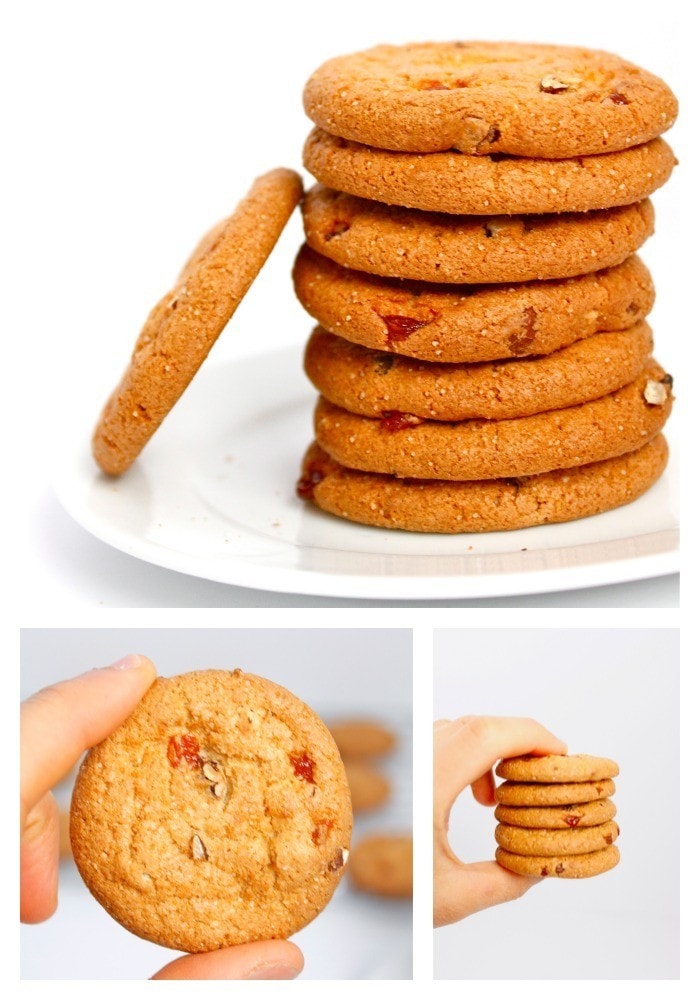 So maybe it defeats the purpose of single serving breakfast cookie recipes. However- be rest assured, whichever cookie recipe is posted has been trialled baked solo using the solo proportions before made into a bigger batch so if you are the fortunate one who can satisfy a craving with one serving then be happy go lucky after it- go for it.
If you're anything like me with intentions to eat a 'single serving' of a recipe then swiftly make several more post batch- times the recipe by 4 and then you'll be all set.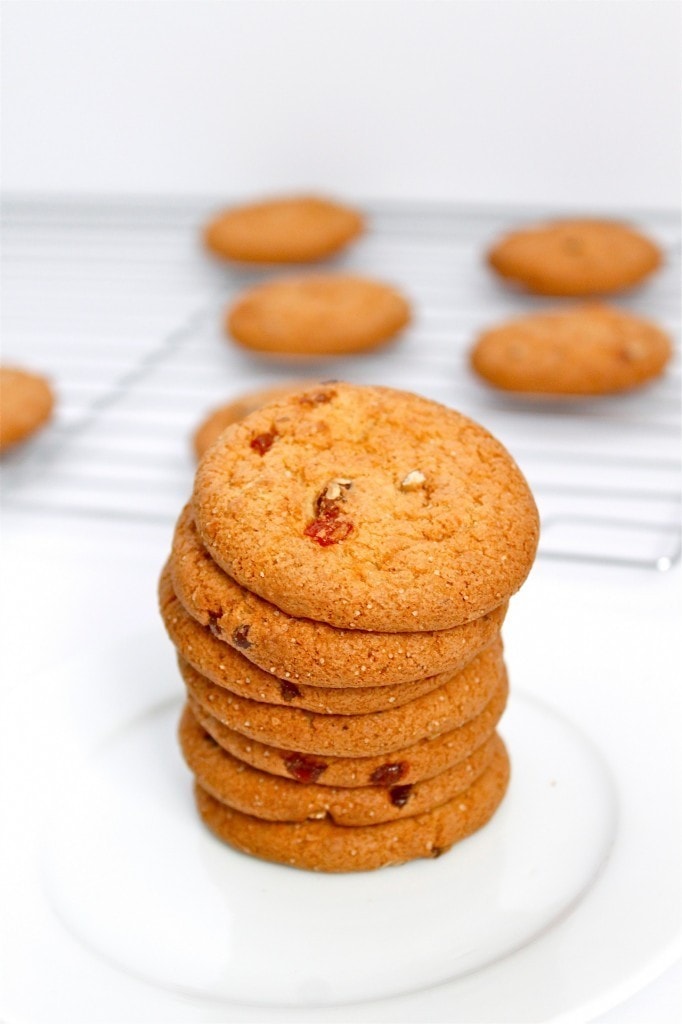 Actually, don't. I have a fair few single serving breakfast cookie recipes to share so you'd be set with something different every day of the week.
You're welcome.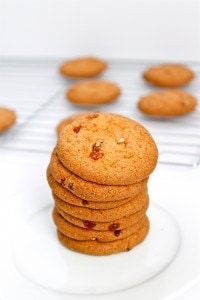 Single Serve Caramel Pecan Breakfast Cookies
A delicious, single serve cookie recipe which is healthy enough to eat for breakfast!
Print
Rate
Ingredients
¼

cup

flour of choice

I've tried a gluten free flour and oat flour- Pictured is using gluten free

¼

teaspoon

baking powder

½

teaspoon

sea salt

1

egg

lightly whisked

1

teaspoon

coconut oil

melted

½

teaspoon

vanilla essence

1

tablespoon

chopped pecans

1-2

teaspoon

caramel chips

1

teaspoon

chia seeds

optional

1

scoop neutral flavoured protein powder

optional

1

T- ¼ cup milk of choice

Caramel sauce

to drizzle on top
Instructions
Preheat the oven to 180 degrees Celsius. Line an oven safe tray with baking paper

In a small mixing bowl, combine the flour of choice, baking powder, protein powder (if using it) and salt and mix well. Stir in the melted coconut oil, vanilla essence and whisked egg. Add the milk, 1 tablespoon at a time until a thick cookie dough batter is formed. Add the chopped pecans caramel chips and chia seeds and mix until fully incorporated.

Form into 4-5 small balls and place on baking tray. Using your hands, press firmly on each cookie and flatten out. Drizzle with caramel sauce then bake in the oven for 10-15 minutes (depending on the oven) and when golden on the outside. Allow cookies to cool completely on the baking tray.
Notes
These cookies are quite crispy and light- for a softer, chewier cookie, remove from the oven while slightly undercooked.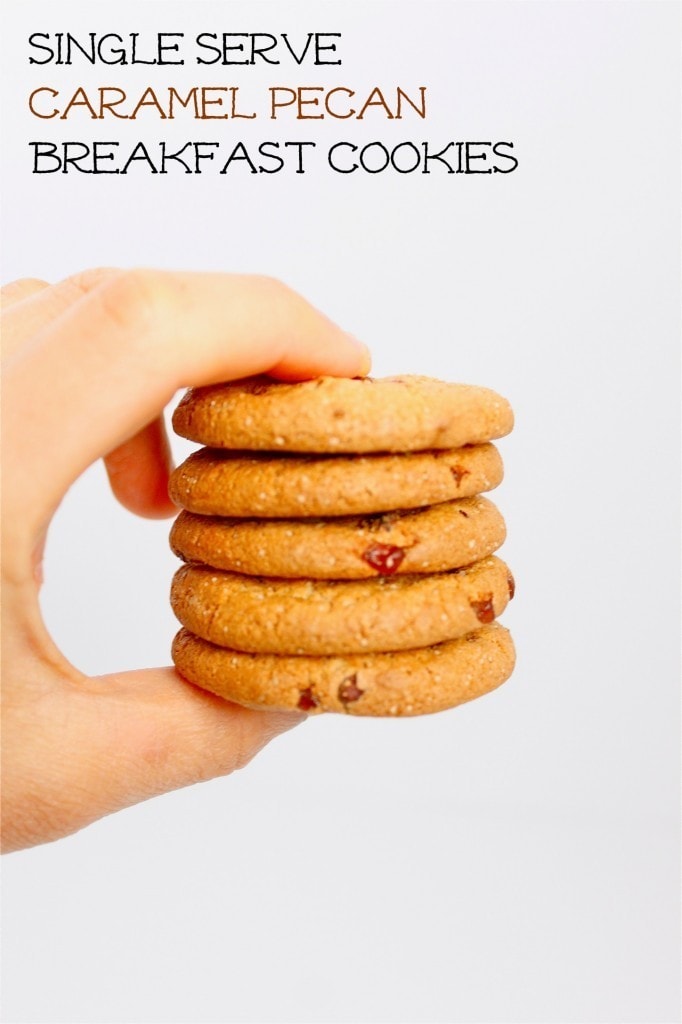 Linking up with these amazing parties- #recipeoftheweek, RealfoodWednesdays, Share your stuff Tuesdays, simple supper Tuesdays and Gluten Free Wednesdays, and what's cookin' Wednesdays,#glutenfreefridays, foodiefridays, glutenfreetuesdays with some weekend pot luck loving
Do you want more single serve recipes?
Who else here rides solo?
Any cookie requests?