The best and healthy way to enjoy the peanut butter and coconut combination, these no bake peanut butter coconut fat bombs are the best no bake recipe made with just 3 ingredients! An easy 5-minute recipe which is naturally paleo, vegan, and keto friendly. Sugar Free, Low Carb, Dairy Free.
I am a huge fan of healthy no bake recipes if these addictive crack bars are any proof. Since then, we've had the chocolate coconut crack bars, raspberry coconut crack bars, and the latest lemon coconut crack bars.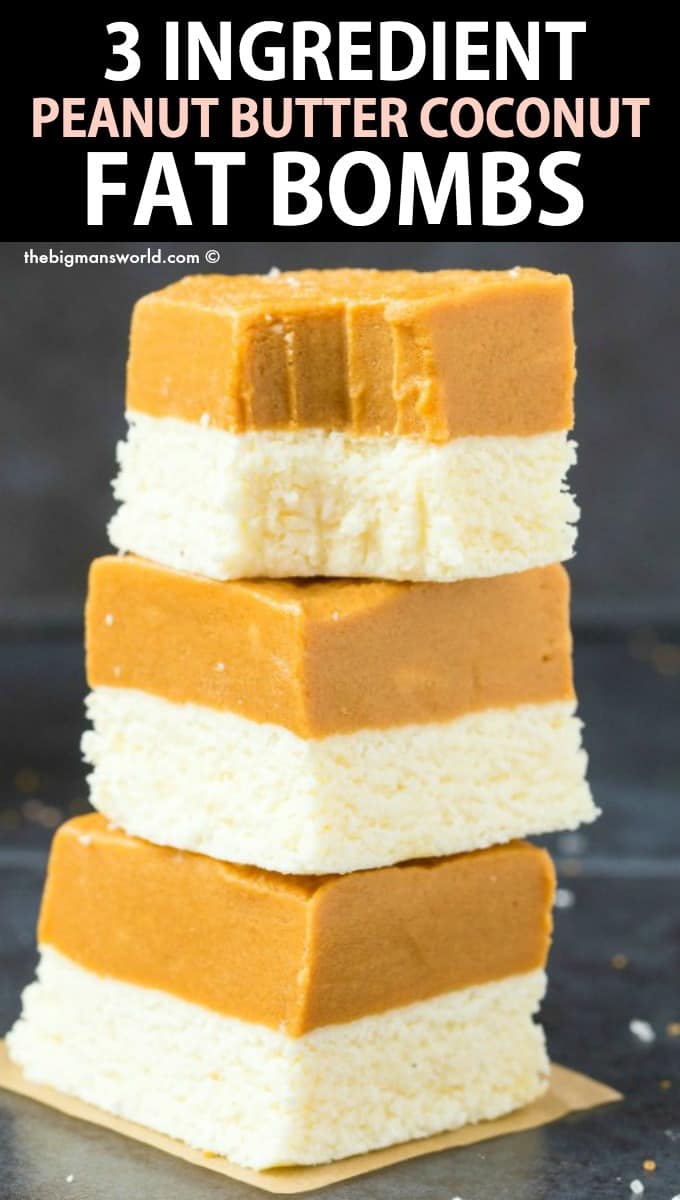 No Bake Peanut Coconut Fat Bombs Recipe
If you are looking for a healthy peanut butter coconut fat bomb recipe, you've come to the right place.
It's been a long time coming. Long term readers know that I'm a huge fan of peanut butter and also a huge fan of coconut. However, I'm yet to combine the two in a recipe.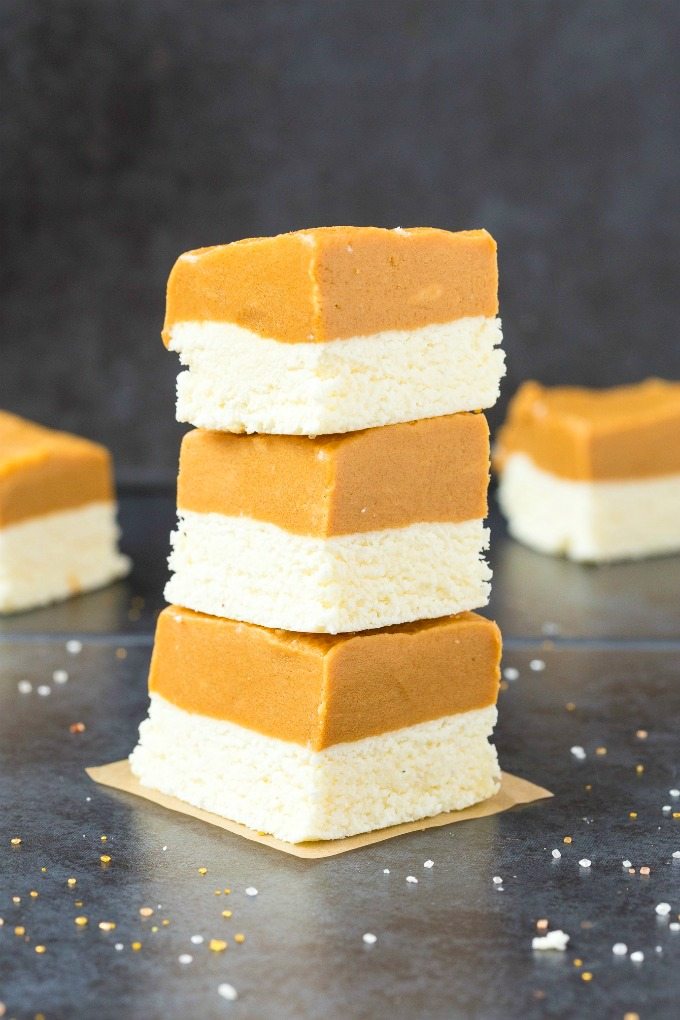 No Bake Peanut Butter Coconut Bars
My original idea was to share a twist on my crunch bars but thought I'd simplify things one better. One of my favorite easy healthy peanut butter recipes on here are these peanut butter crack bars. Another favorite easy healthy coconut recipe is the infamous 3 Ingredient Coconut crack bars.
To make these seriously addictive peanut butter coconut fat bomb bars, you'll follow a two-step process-
Make your coconut layer and refrigerate.
Make your peanut butter layer, spread over the coconut layer, and refrigerate until firm.
Keto Peanut Butter Coconut Fat Bombs Ingredients
Difference between flaked coconut and shredded coconut
Flaked coconut tends to be in larger pieces, and often requires more liquid, sweetener of sticky substance to shape.
Shredded coconut is usually more finely milled, and more even texture. Depending on which part of the world you live in, you can also get an even finer cut coconut, referred to as desiccated coconut or macaroon coconut.
What types of shredded coconut
Shredded coconut comes in two forms- Either unsweetened shredded coconut or sweetened shredded coconut.
For these no bake coconut peanut butter bars, opt for the unsweetened kind- You'll be adding a sticky sweetener to form into bars so it will be plenty sweet!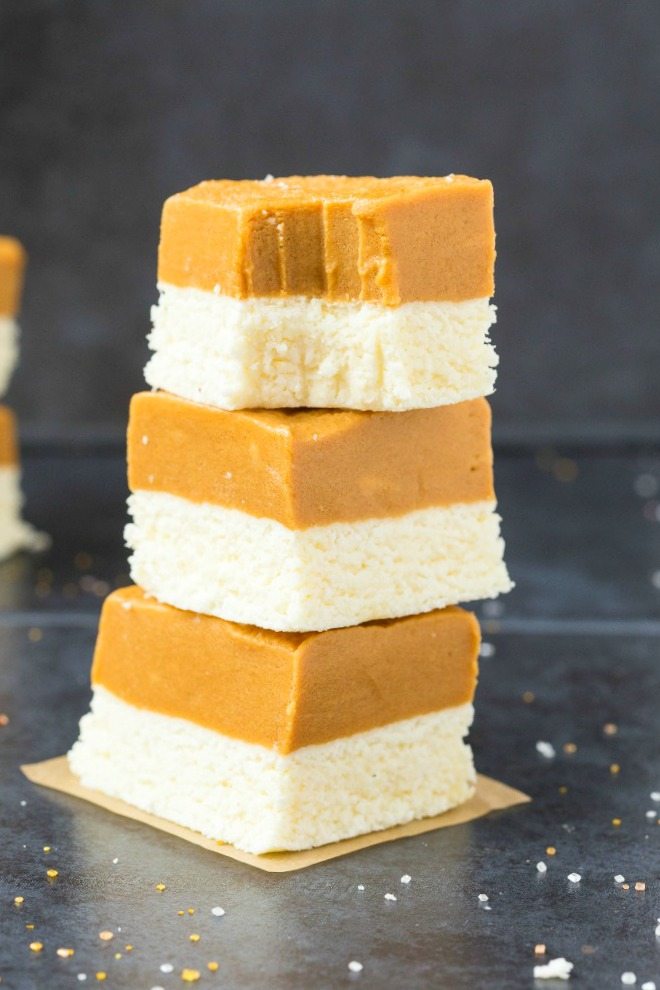 Peanut Butter Substitutions
While peanut butter keeps this recipe keto-friendly and sugar-free, there are options for those wanting a peanut-free recipe or nut-free alternatives to peanut butter.
Almond Butter– You can use almond butter as a paleo and vegan alternative to peanut butter. It has a less obvious taste and is smooth and creamy. Ensure you use the drippy kind (extremely smooth) as it will be much easier to mix.
Sunflower Seed Butter– Peanut-free fans, sunflower seed butter is your best alternative. It replicates the texture and somewhat tastes of peanut butter, minus the peanuts. It can be a little bitter, so you can use the lightly sweetened kind of you prefer.
Wow Butter (soy nut butter)- Another nut-free alternative to peanut butter, wow butter is made from ground soy nuts. It has a pleasant flavor and can be purchased online and from health food stores.
How to make homemade keto peanut butter from scratch
As much as I love store-bought peanut butter, making my own is just as easy. I can also adjust the texture to suit whichever recipe I'm making! Here is an easy one-ingredient homemade peanut butter recipe.
You only need dry unsalted peanuts (2-4 cups) and the optional pinch of salt!
Using a good quality blender or food processor, simply pulse your peanuts until crumbly. Give them a good stir, ensuring you scrape down the sides a and the bottom of the jar/bowl. Continue blending/pulsing until it becomes creamy.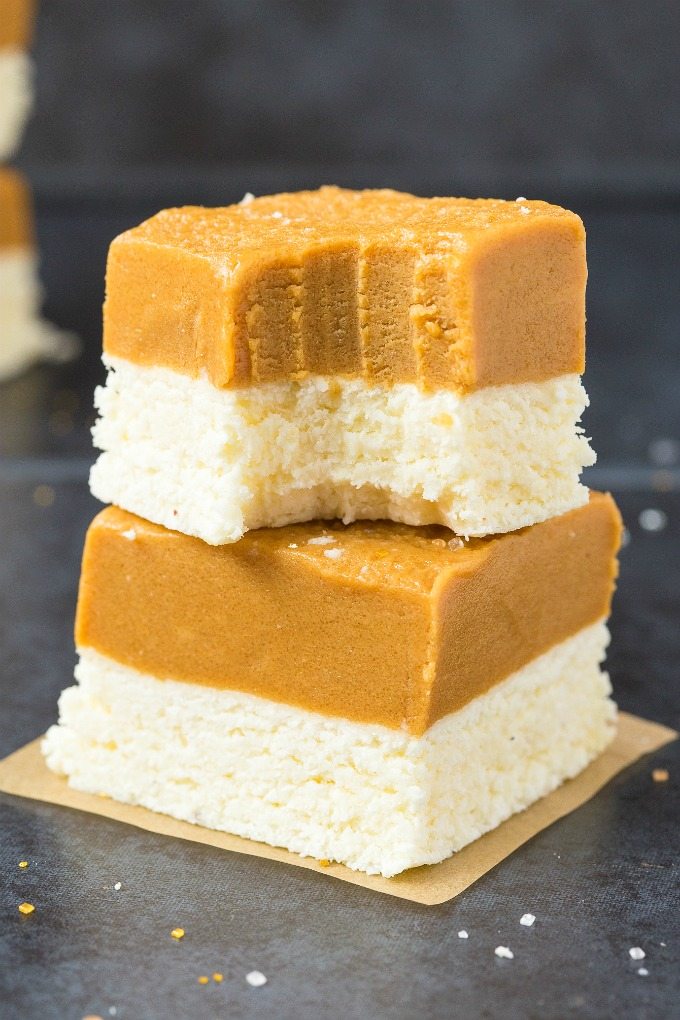 More Keto Fat Bomb Recipes
Share this recipe on Pinterest
Love this 3 Ingredient Peanut Butter Coconut Fat Bombs (Keto, Vegan, No Bake) recipe?
Share it with the world on Pinterest.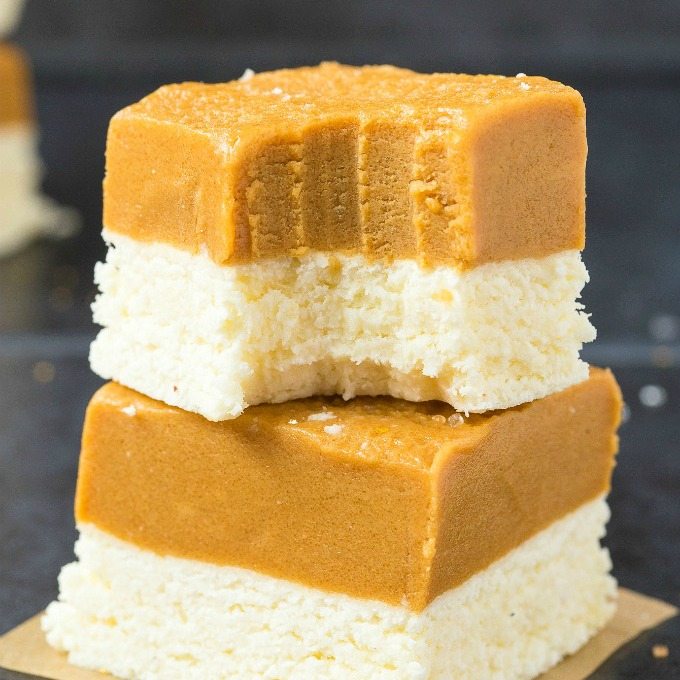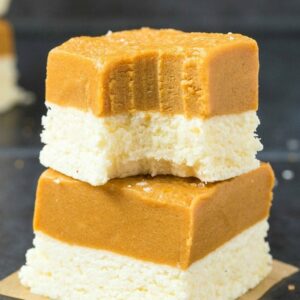 3 Ingredient Peanut Butter Coconut Fat Bombs
These no bake peanut butter coconut fat bomb bars are the best no bake recipe made with just 3 ingredients! Naturally paleo, keto, vegan, dairy free and sugar free- Ready in 5 minutes!
Ingredients
For the peanut butter layer
Instructions
Start by prepping your coconut layer. Line an 8x8-inch baking pan with parchment paper and set aside.

In a mixing bowl, add your shredded coconut, melted coconut oil and sticky sweetener of choice and mix well. The batter should be crumbly but thick. Pour into the lined baking pan and press firmly in place. Put in the freezer.

While the coconut layer is firming up, make your peanut butter layer.

In a microwave-safe bowl or stovetop, combine your peanut butter with your sticky sweetener and melt. Add your coconut flour and whisk very well- You want to avoid clumps. If the batter is too thin, add a little more coconut flour.

Remove the pan from the freezer and add the peanut butter layer over the coconut layer. Spread evenly over the coconut layer and refrigerate until firm. Once firm, use a slightly wet knife and cut into 20 bars.
Notes
* The best sticky sweeteners are either pure maple syrup, agave nectar or honey. For a vegan/keto-friendly sweetener, use a monk fruit sweetened maple syrup, NOT pancake syrup or sugar free syrup.
** Depending on your brand of coconut flour, you may need more to achieve a thicker texture.
3 Ingredient No Bake Peanut Butter Coconut Bars (Keto, Low Carb, Sugar Free) need to be kept refrigerated at all times, otherwise, the coconut layer will fall apart and be crumbly. The crack bars are also freezer friendly.
Nutrition
Serving:
1
Bar
Calories:
240
kcal
Carbohydrates:
10
g
Protein:
8
g
Fat:
19
g
Sodium:
150
mg
Potassium:
242
mg
Fiber:
4
g
Vitamin C:
1
mg
Calcium:
12
mg
Iron:
1
mg
NET CARBS:
6
g

Disclosure: This post may contain affiliate links. I may earn a small commission for my endorsement, recommendation, testimonial, and/or link to any products or services from this website.