A quick and easy recipe for low carb oatmeal (porridge) which tastes like chocolate brownie batter! Perfect piping hot or overnight oats style, this oatless oatmeal recipe requires 5 minutes and can be meal-prepped in advance!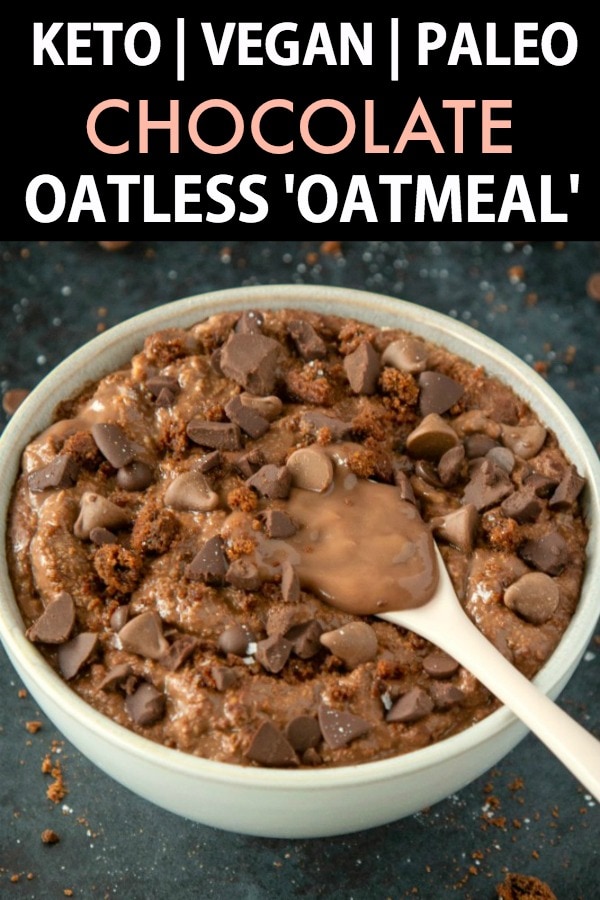 Chocolate Low Carb Oatmeal Recipe
I'm on an oatless oatmeal kick and I'm NOT going to apologize for it.
Ketogenic breakfasts without eggs are so hard to come by (although I did gather up over 41 recipes here!), and having an oatmeal alternative has been such a blessing!
Ever since developing my overnight keto oatmeal recipe base, I've been having a blast making a bunch of flavor varieties. We've had cookie dough keto overnight oats and healthy carrot cake overnight oats.
It's time for the chocolate to make its way into the equation.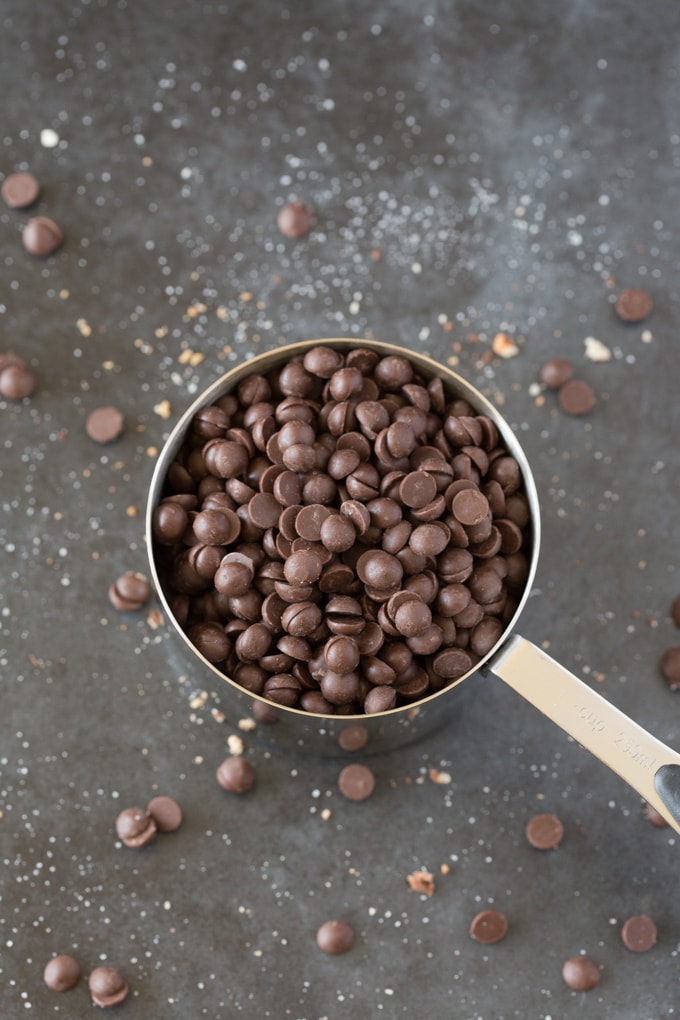 Chocolate for breakfast is no stranger in this neck of the woods. We've had fluffy low carb chocolate chip pancakes, low carb chocolate chip muffins, and even chocolate keto smoothies. It was only a matter of time before chocolate made its way into oatmeal!
Again, we are doing oatmeal with a twist here- This is oatless oatmeal, meaning it is made without oats, without wheat and is completely grain free! Not only is it suitable for a ketogenic breakfast, but it's also paleo, vegan and super low carb.
That's beside the point though- It mimics traditional oatmeal, and has the best texture- It's smooth, thick, creamy and sticks to your ribs. In fact, I feel MORE satisfied after eating keto chocolate oatmeal then when I have traditional oatmeal!
Besides being loaded with chocolate, it tastes like eating raw brownie batter- The texture is incredible!
How to make healthy chocolate oatless oatmeal
To make oatless oatmeal with chocolate, you'll use the keto overnight oatmeal mix. This keto oatmeal mix is made of shredded unsweetened coconut, chia seeds, ground flax and keto-approved granulated sweetener of choice.
Then the fun begins!
To give it the chocolate treatment, you'll add the following ingredients to the mix-
Adding these ingredients will give it the texture of actual chocolate brownie batter! To take it up a notch, crumble up some flourless keto chocolate cookies into it!
How to make chocolate overnight oatmeal
While hot oatmeal is warm and comforting, there's something just as delicious as keto oatmeal, overnight oats style!
To make keto overnight chocolate oatmeal, it's so easy and simple. You follow the instructions to make hot oatmeal, but instead of adding boiling water, just add the coconut milk (or milk of choice).
Refrigerate it, and in the morning (or when you are ready to eat it!) add enough liquid to mix it up to desired texture.
You'll notice the keto overnight oats mixture to be incredibly thick (almost too thick!) but don't worry- Just continue to add extra milk/liquid slowly, and it will become smooth and creamy!
How to prep chocolate oatmeal in advance
Meal-prep keto chocolate oatmeal is super simple, and makes weekday breakfasts a breeze!
To prep oatmeal in advance, simply make 4-5 portions and distribute the mixture evenly amongst microwave-safe or portable bowls.
When ready to eat, simply add enough milk/liquid to achieve your desired texture (adding more if you want to enjoy it hot), and simply heat or enjoy cold, refrigerator oatmeal style.
Prepping oats in advance is great, as the mixture contains no dairy and no eggs, so can keep refrigerated for up to 1 month.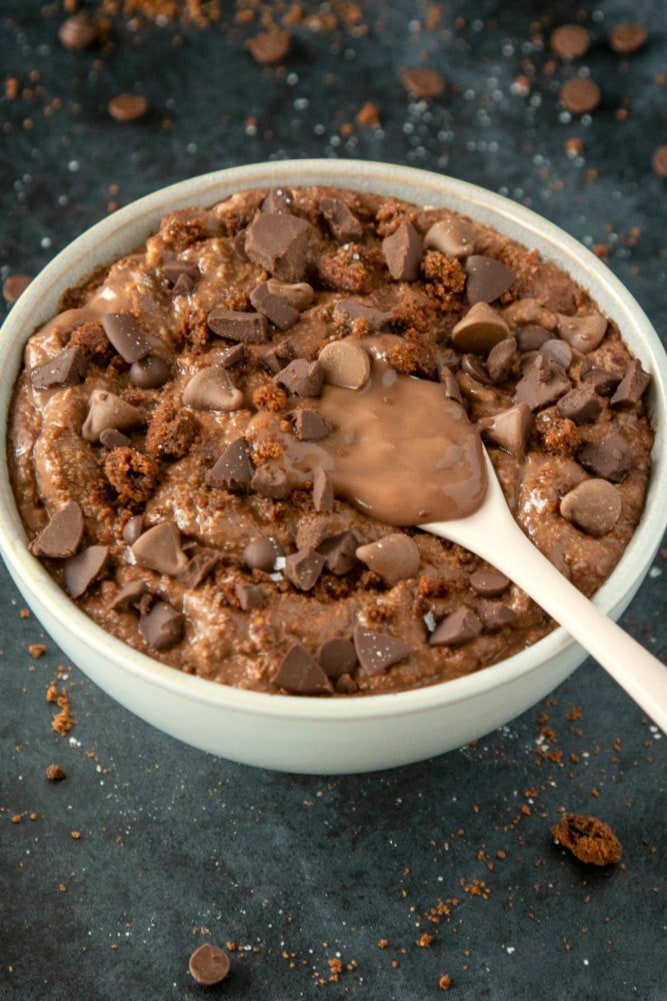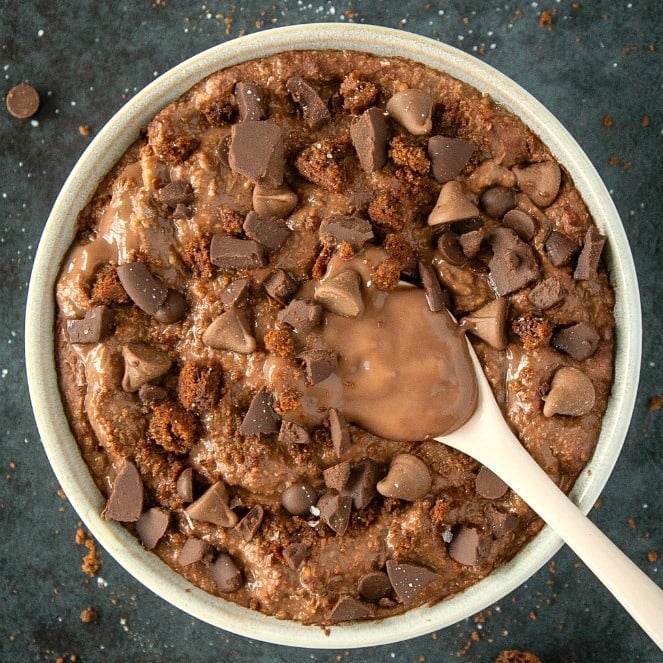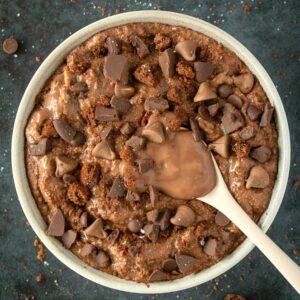 Easy Low Carb Keto Chocolate Oatmeal (Paleo)
This thick and creamy keto chocolate oatmeal (porridge) is the perfect ketogenic and low carb breakfast recipe! Perfect piping hot or overnight oats style, it's protein packed, ready in 5 minutes and completely sugar free! Vegan and Paleo.
Instructions
Prepare your keto oatmeal base as directed.

Add your cocoa powder, half the chocolate chips and vanilla extract and milk of choice. Mix until fully combined.

Microwave or heat on stovetop until warm and chocolate chips have melted. Top with remaining chocolate chips and optional homemade keto Nutella and enjoy!
Notes
If your oatless oats are too thick, continue adding more milk of choice until desired texture is achieved.
If your oatless oats are too thin, it's usually due to the shredded coconut used. Add extra chia seeds to thicken.
To enjoy the oats overnight style (refrigerator style), be sure to add 1/2-1 cup milk of choice before eating- It will thicken when refrigerated.
Easy Low Carb Keto Chocolate Oatmeal (Paleo) can be enjoyed meal prep style- Simply divide in portions and refrigerate. Before enjoying, add extra liquid and enjoy cold or heat up.
Nutrition
Serving:
1
serving
Calories:
262
kcal
Carbohydrates:
14
g
Protein:
9
g
Fat:
18
g
Fiber:
10
g
Vitamin A:
200
IU
Vitamin C:
1.7
mg
Calcium:
30
mg
Iron:
0.9
mg
NET CARBS:
4
g

Disclosure: This post may contain affiliate links. I may earn a small commission for my endorsement, recommendation, testimonial, and/or link to any products or services from this website.