These healthier flourless salted caramel brownies are better than any boxed mix and need just six ingredients, with an added caramel sauce! Made with NO butter, flour, grains or white sugar, these brownies are naturally gluten free, paleo, grain free, dairy free, refined sugar free and vegan friendly!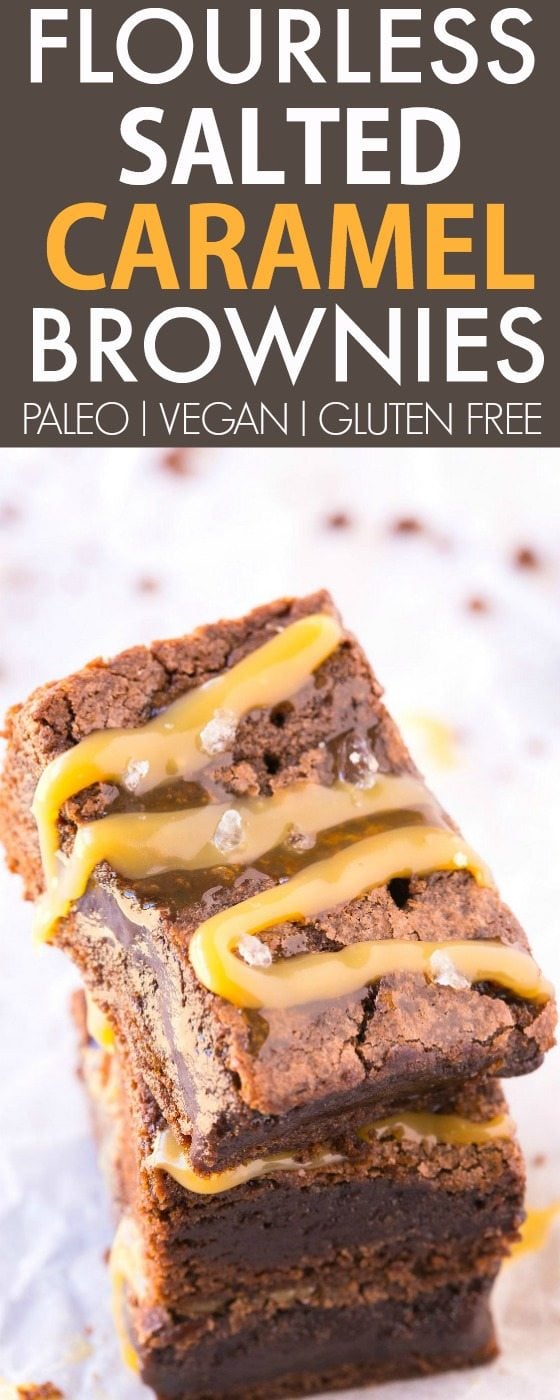 It's interesting to see what specific flavor is prominent in different countries.
I remember the first time I was in America, I was astounded to see peanut butter flavor making its way in everything and anything.

MY OTHER RECIPES
Candy? Peanut butter did it.
Crackers? Peanut butter did it.
Ice cream? Peanut butter did it.
I then went to Japan…and saw a similar concept!
Candy? Matcha/Green tea did it.
Crackers? Matcha/Green tea did it.
Ice cream? Matcha/Green tea did it.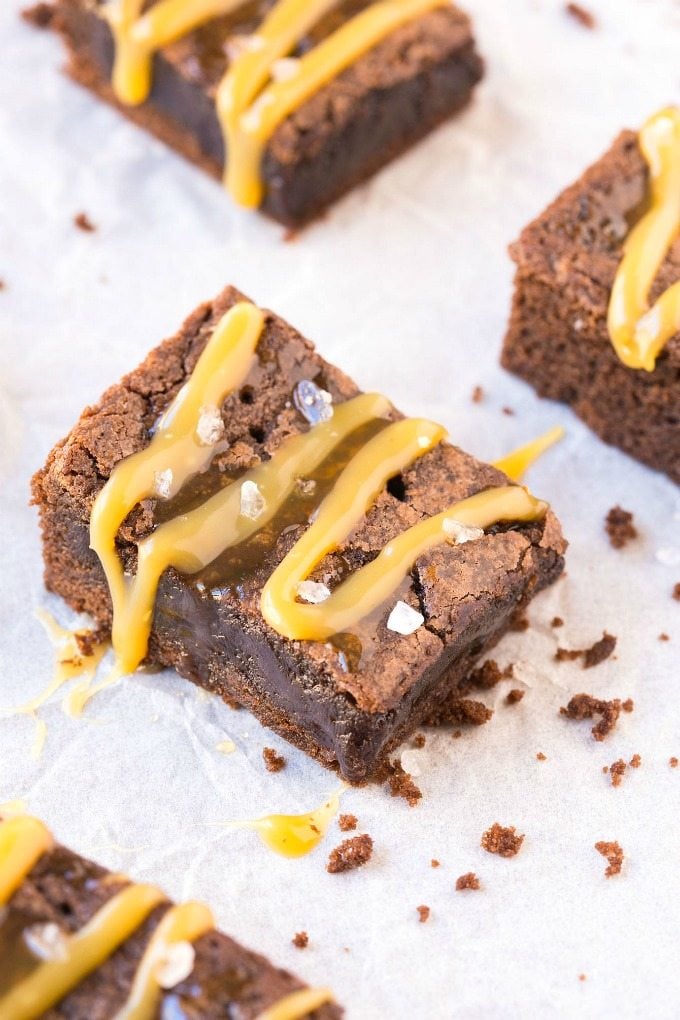 Contrary to popular belief, vegemite is NOT our iconic popular flavor. While it's a fan favorite in its original form, when it was implemented into other products, it failed miserably. For example, they were made into potato chips and even CHOCOLATE. Heck, I even tried a vegemite gelato in the lead up to Australia day. Not going to lie, I liked the latter, but apparently I was the only one. Now if Tim Tams can do a vegemite flavor…
ANYWAY.
Besides vegemite, if you go through any sweet/snack/dessert aisle in the supermarkets in Australia, you'll see one flavor dominant- Salted Caramel.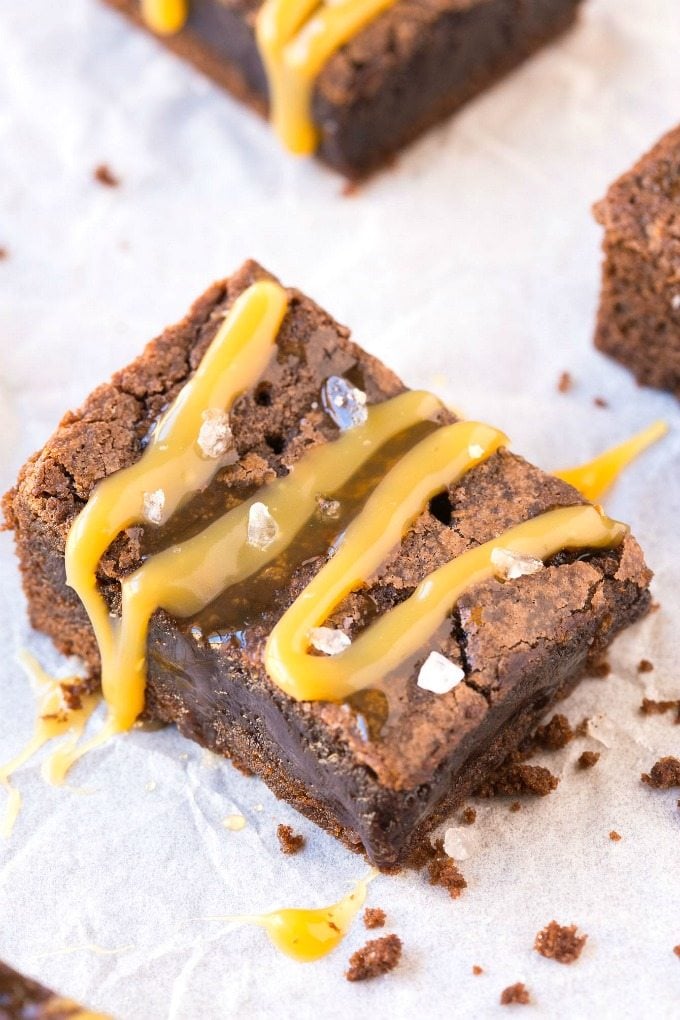 I was still in college when the salted caramel phase came, thanks to the popular reality TV show Masterchef. Like with any foodie trend, all the cafes, bakeries, restaurants tried to implement it in some way possible. Cafes started selling salted caramel coffees, bakeries had salted caramel scrolls and every solid restaurant had a dessert central to the salted caramel flavor.
Seriously, it was salted caramel overload.
Clearly, the Aussie market loved it because soon enough, the supermarkets jumped on the bandwagon. If you paraded down the cookie aisle, you'd see it with different brands and different forms. If you checked out the freezer aisle, you'd see it in frozen yogurt, ice cream, and even frozen desserts! If you went to the fresh produce aisle, you'd see salted caramel potatoes, salted caramel salad dressings, and salted caramel stuffed avocados.
Just kidding…but I wouldn't put it past certain companies to do that.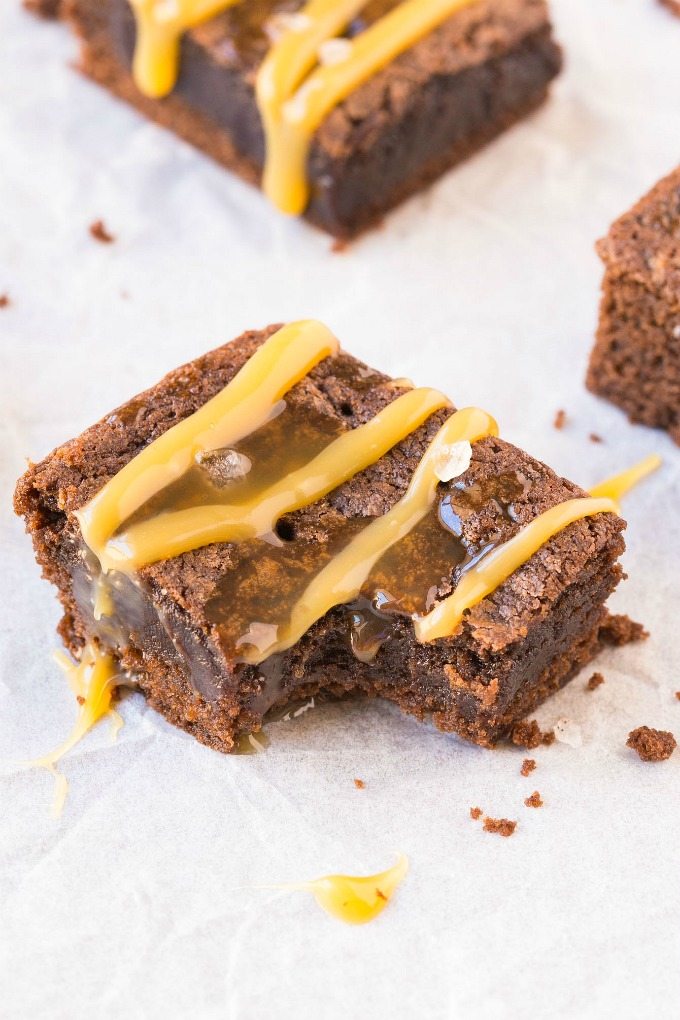 ANYWAY.
How do you know if a flavor 'made it'?
The iconic 'Tim Tams' make it one of their permanent flavors.
ZING.
So these brownies are a little different that traditional salted caramel brownies, and I don't mean because they are healthier and have a much cleaner sauce- It's because we WON'T be baking the sauce into the brownies.
Quick story time.
My intentions were to have a lovely salted caramel sauce within and over the top of the brownies, but the two salted caramel sauces I tried kind of, sort of, really failed miserably. The first one used a date-based caramel sauce. While it looked well prior to baking it, the end result was pitiful. The 'caramel' became stringy and it didn't caramelize as I had envisioned. The second time, I used the caramel sauce from here and well…it disappeared. It just made the brownies have a sugary crust on top. Delicious, but no evidence of any salted caramel whatsoever.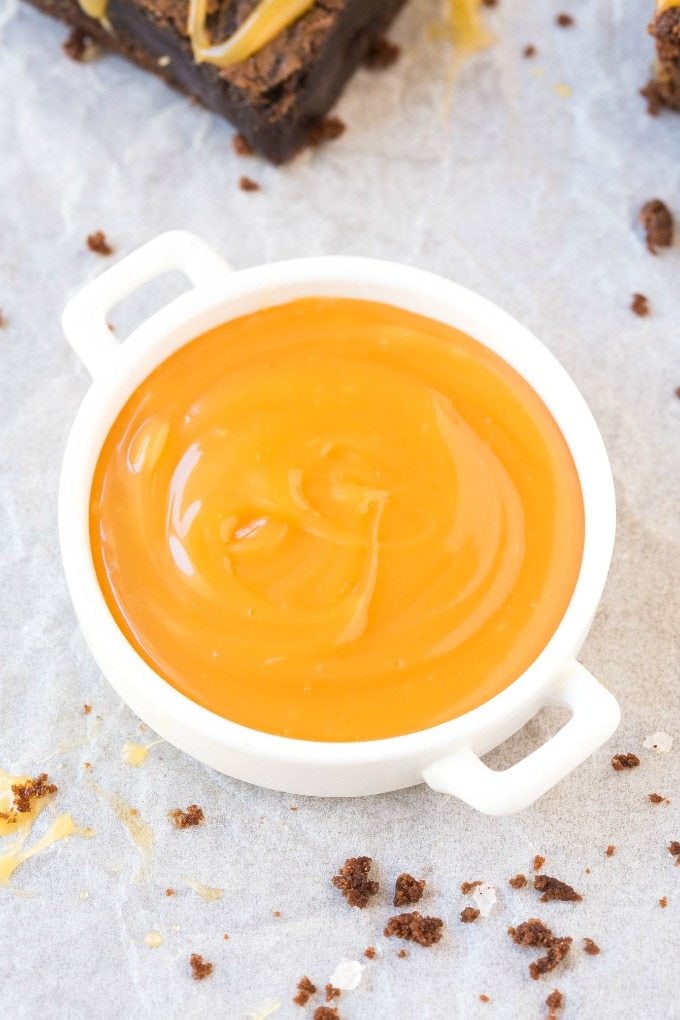 To combat this, I used two methods- Once the brownies were taken out of the oven, I used a skewer and poked random holes and lines to make mini 'caves'. Once it had started cooking (after 5 minutes), I drizzled the first caramel sauce from this recipe. Once it had cooled completely, I drizzled this caramel sauce from this recipe. The original recipe offers two options, one using pure maple syrup and the other using honey. I tried both versions and found the honey version to be thicker and more visually like a caramel syrup (as pictured). However, it was very evident that honey was used in it, so if that is offputting, definitely use the pure maple syrup route.
How about the recipe, hey?!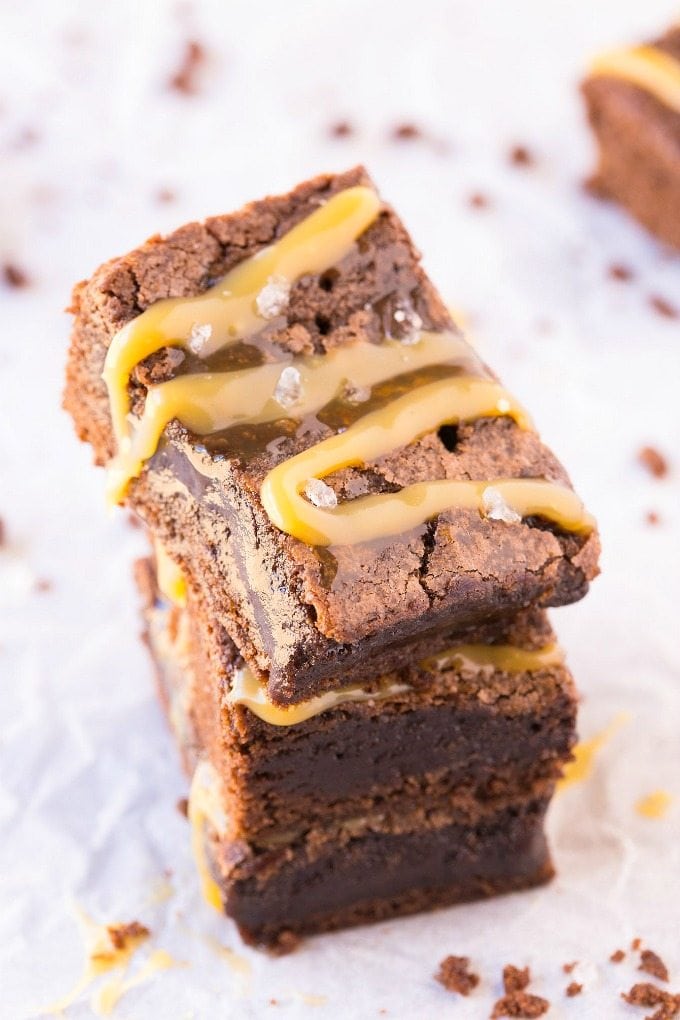 These healthier flourless salted caramel brownies are BETTER than any boxed mix out there and could not be any easier- It's 6 ingredients and then a caramel sauce of choice and voila- You have one impressive looking, decadent tasting dessert which is relatively healthier than traditional brownies! Unlike a traditional brownie (boxed or from scratch), these flourless salted caramel versions contain zero flour, grains, white sugar or butter, but you'd never be able to tell! They are super fudgy, flaky and crinkly on the tops and taste even better once cooled!
For thick, chewy yet still fudgy brownies, allow to cool in the pan completely- Once cooled, refrigerate for an hour or so, before topping with caramel. For super soft, fudgy and melt in your mouth brownies, remove from the oven when 'just' cooked and also allow to cool in the pan completely- The edges will be flaky but the center will be super fudgy and soft. Because of the ingredients used, they are completely gluten free, vegan, paleo, dairy free, refined sugar free and grain free!
HACK! Don't have time to make your own caramel sauce? Feel free to use your favorite store bought caramel sauce! I've only ever tried one version which is based off agave syrup. It's not paleo friendly, as it contains rice milk. It also isn't as thick either. If you don't have any dietary restrictions, I'm sure any thick caramel sauce would work.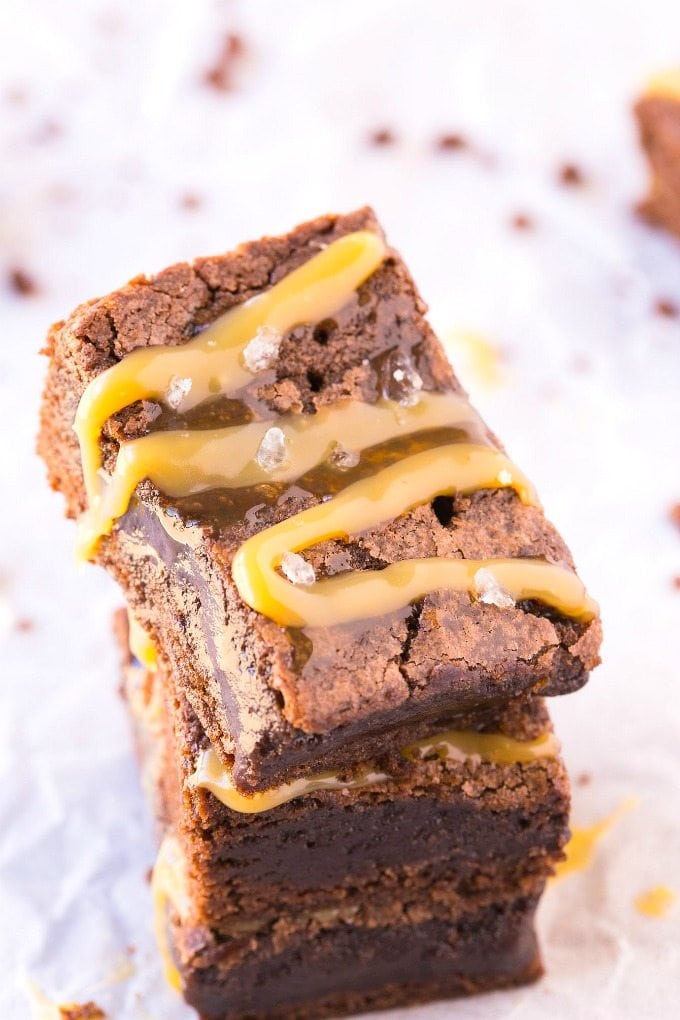 Make these healthier flourless salted caramel brownies and let's start a petition for vegemite Tim Tams.
Just kidding.
But really…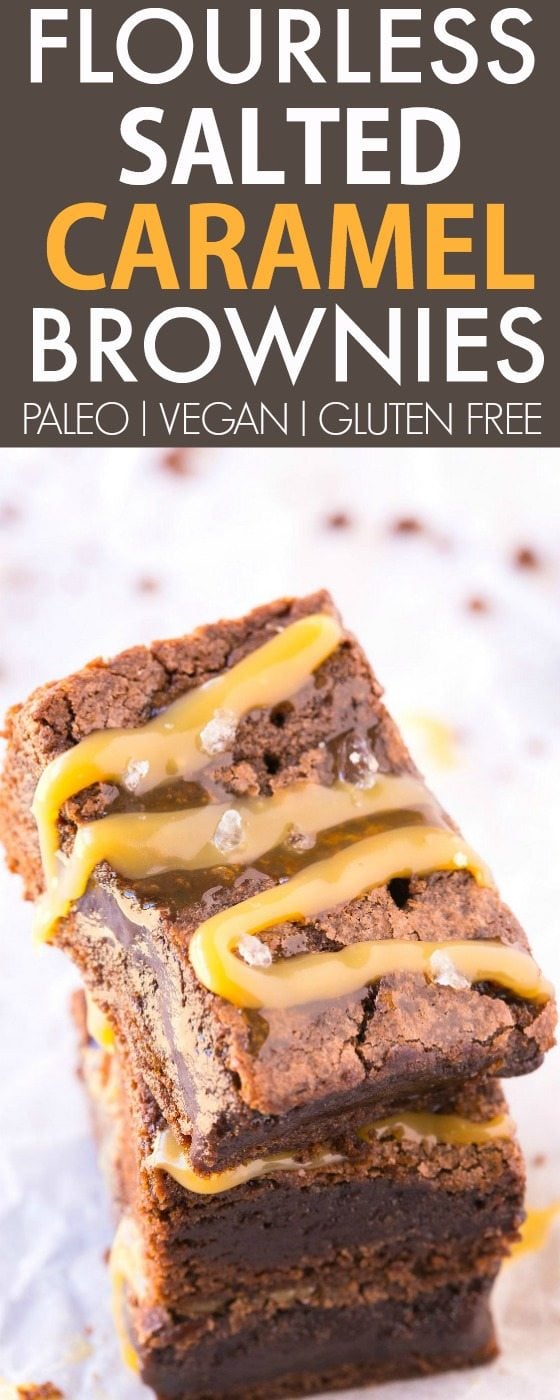 Flourless Salted Caramel Brownies
2016-12-12 07:45:56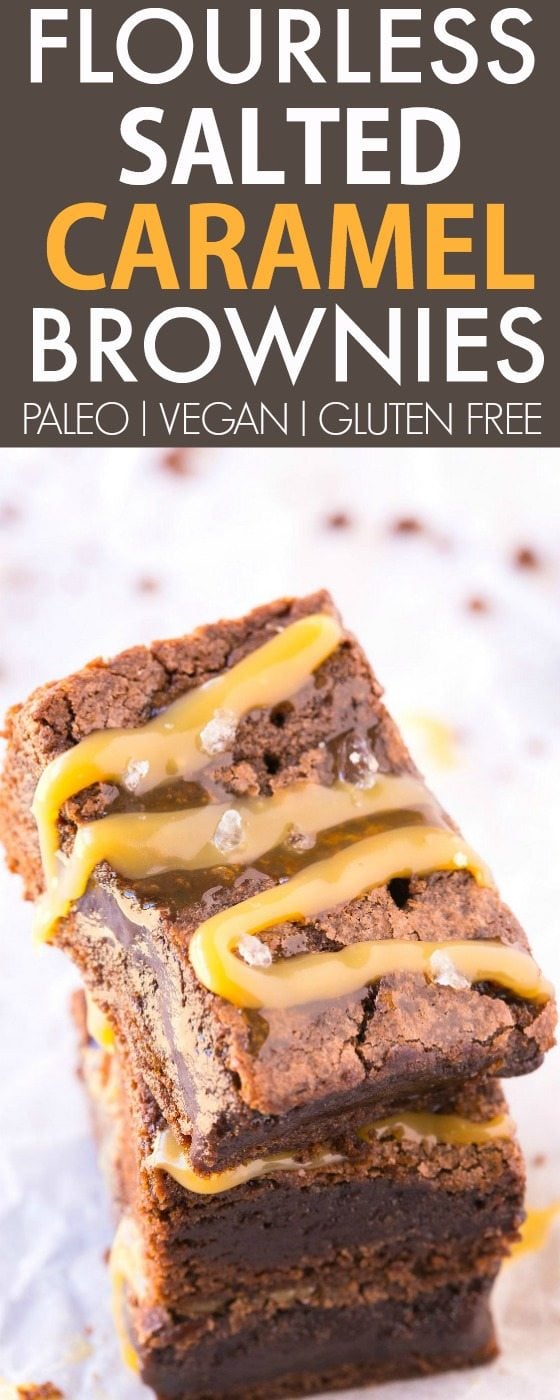 Serves 10
These healthier flourless salted caramel brownies are better than any boxed mix and need just six ingredients, with an added caramel sauce! Made with NO butter, flour, grains or white sugar, these brownies are naturally gluten free, paleo, grain free, dairy free, refined sugar free and vegan friendly!
Ingredients
1/4 cup + 2 T coconut oil
225 grams baking chocolate, chopped finely (I used 100% Baker's chocolate)
3/4 cup coconut palm sugar
2 large eggs (can sub for 2 flax eggs or ener-g egg replacement)*
1 T cocoa powder
3 T arrowroot powder (can sub for corn starch if not strictly paleo)
1/2 cup caramel sauce of choice, divided (see above recipe for the caramel used in these brownies)
1 tsp coarse sea salt
Instructions
Preheat the oven to 350 degrees. Line an 8 x 8 pan with greaseproof paper or tin foil, with some overlay for easy removal. Grease it lightly and set aside.
In a small bowl, add 2 tablespoons of caramel sauce. Add in a tablespoon or so of water to thin out and set aside.
In a microwave safe bowl or stovetop, combine your chopped chocolate with coconut oil and melt together- The mixture should be silky smooth.
Transfer the mixture to a large mixing bowl and add your eggs and coconut palm sugar and mix until fully incorporated. Add your cocoa powder and arrowroot powder and whisk VERY well, until the batter is no longer grainy and smooth. Transfer to lined baking dish.
Bake the brownies for 20-25 minutes, or until the centre just comes out clean. Once removed, poke holes over the brownies, with several lines throughout. After 10 minutes, drizzle 2 tablespoons of the caramel sauce over the holes and lines. Allow the brownies to cool completely. Once cooled, cut into pieces and drizzle with the rest of the caramel sauce. Top with sea salt and enjoy!
Notes
* If you follow the vegan option, it will be extremely fudgy and NEED to be refrigerated before slicing/enjoying.
Brownies can be kept at room temperature, covered. They are best refrigerated and enjoyed straight from there.
Adapted from Flourless Fudge Brownies
The Big Man's World ® https://thebigmansworld.com/
More delicious
(and healthy!)
flourless brownies? Gotcha covered!
These are the fool-proof 'better than boxed mix' brownies recipe ever!
Have a serving of veggies with your brownies…zucchini brownie style!
3 Ingredients to chocolate perfection? These flourless beauties are your guilt-free sweet fix!
Chocolate and raspberry are such an underestimated combination…until now.
Sweet potatoes for dinner, sweet potatoes for dessert.

Is there a flavor you see everywhere in your area?
What is your flavor prediction for 2017? Spicy Korean sauce. It's popping up EVERYWHERE in LA and New York!
The Big Man's World is a participant in the Amazon Services LLC Associates Program, an affiliate advertising program. This means that if you click and make a purchase, TBMW receives a small commission, at no cost to you. Cheers, hugs, and handshakes for supporting TBMW!