These easy keto low carb brownies are super fudgy, gooey and needing just three ingredients. Made with almond flour, these healthy easy brownies are better than any boxed mix out there! Paleo, Vegan, Sugar Free.
If you can whip up a batch of fudgy brownies in under 45 minutes and have them secretly healthy, you know you have a winning recipe on hand!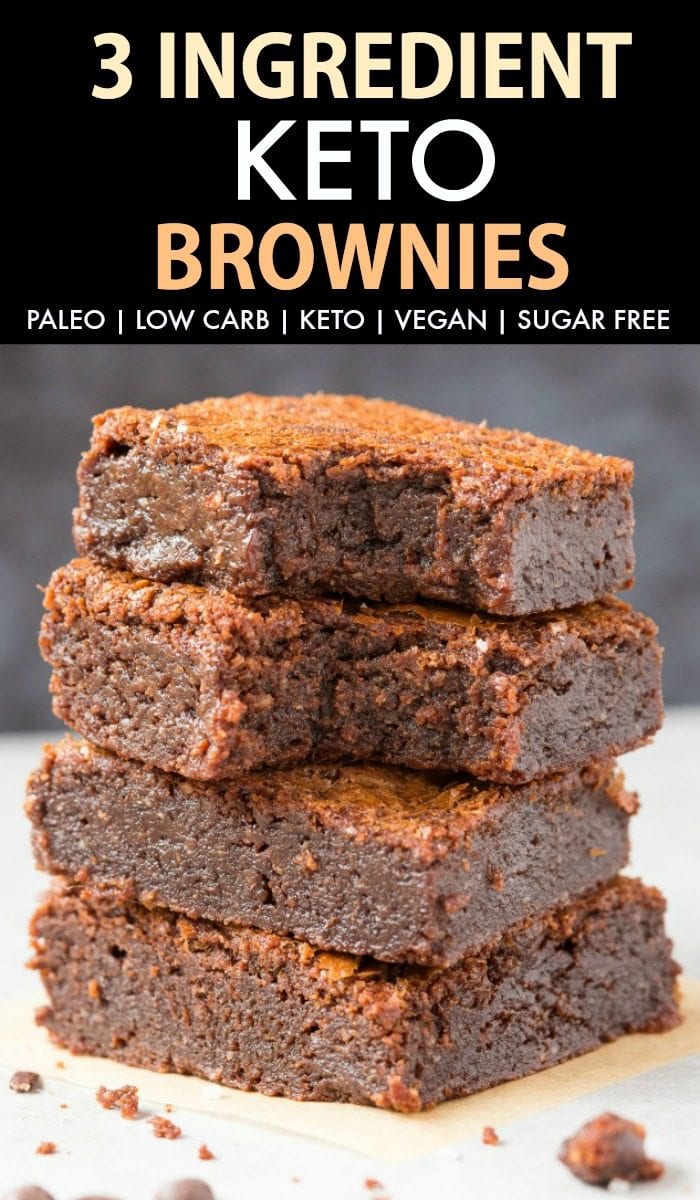 Easy Keto Brownies Recipe
Looking for the ultimate healthy brownie recipe which tastes incredible and is super simple to whip up? You've come to the right place. A thick, chewy, gooey fudgy brownie with those gorgeous crinkly tops…can anything be better?
Brownies are the dessert you'd have late at night when the chocolate craving strikes or when you need to bring something to a last minute potluck or dinner. It's also a dessert you shouldn't feel guilty about enjoying regularly…as I do myself.
As such, I've developed a quick and easy low carb keto brownie recipe, which also happens to be paleo, vegan and gluten-free! Because they are naturally low carb and ketogenic friendly, they are also 100% sugar-free and dairy-free!
WINNING!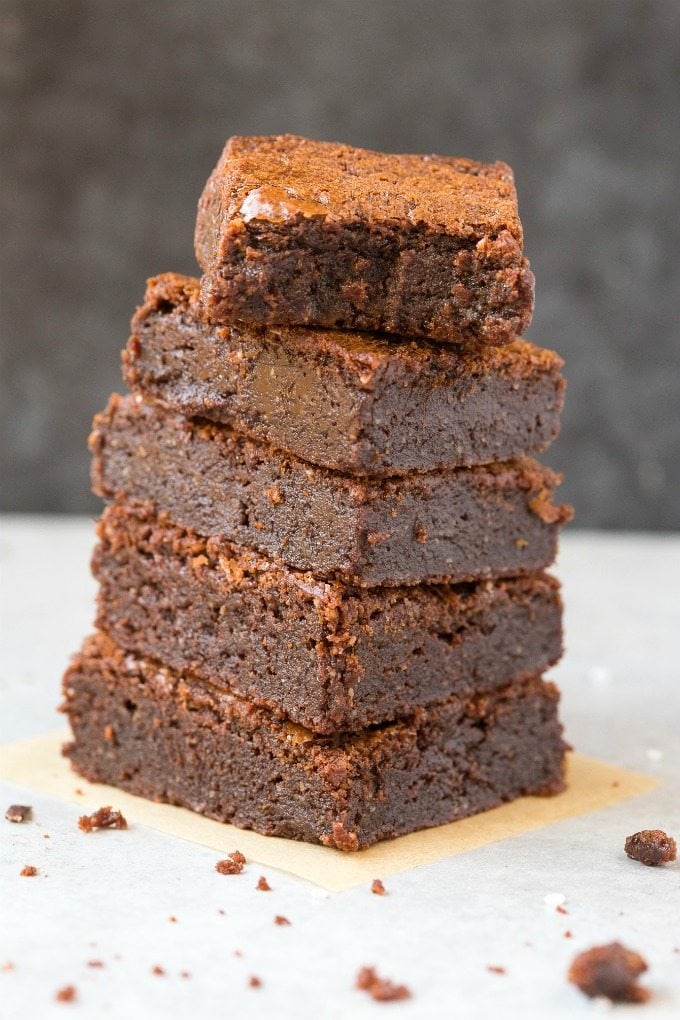 3 Ingredient Keto Brownie Recipe Ingredients
When I say these keto brownies are fool-proof, I'm not exaggerating. You only need one bowl and three ingredients-
Homemade or store-bought chocolate spread
Almond Flour
Eggs or Flax Eggs
Can you use almond meal instead of almond flour?
You sure can! If you are a fan of textures, using almond meal would even be a better option- It is slightly grittier and the nutty flavor really shines through. Saying that, for uber fudgy gooey keto brownies, I'd stick with almond flour for consistencies sake.
Can you replace the almond meal with coconut flour?
Not for this recipe, sorry! Coconut flour is very tricky to work with and cannot be replaced cup-for-cup in any recipe of mine.
Can you use another flour?
YES!
If you don't follow a particular diet or have any restrictions, whole wheat flour, and white wheat flour both work. If you choose to use either of them, you'd need to check the cooking time earlier and be wary that the final result will be more cakey than fudgy.
Easy and Healthy Brownie Recipes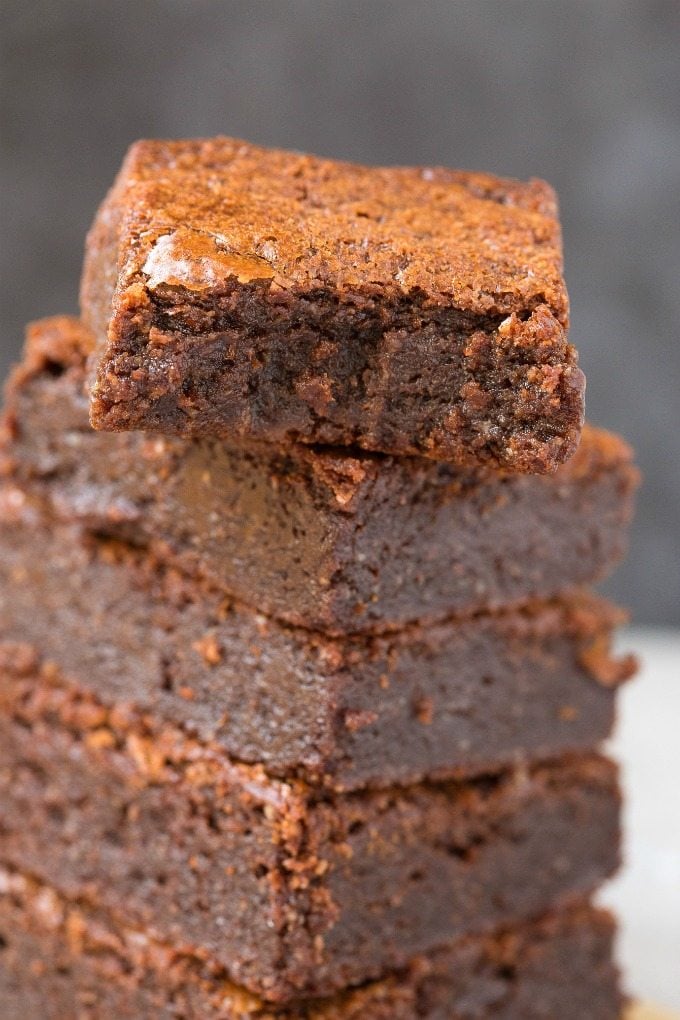 Eggs or Flax Eggs?
Unless you are a strict vegan, I would recommend using eggs over the flax egg option. Using a flax egg (ground flaxseed) will actually yield a super crinkly top, but the overall flavor is more gritty and somewhat oily.
How to make a flax egg
It's easy!
This recipe calls for 4 eggs so you'd use the flax equivalent of that. For ONE flax egg, here are the details-
1 tablespoon of ground flax
3 tablespoons of cold water
In a small bowl, combine your ground flax with your cold water and mix well. Refrigerate for at least 15 minutes, to form a gel-like substance. This is your egg!
As mentioned, this recipe calls for 4 eggs, so you'd do 1/4 cup ground flax and 12 tablespoons of cold water. Ensure you refrigerate it longer to compensate for it!
How to make homemade chocolate spread
The beauty of homemade chocolate spread is that YOU are in control of how much sweetness you add in AND which nuts you want to use. I've tried hazelnuts, peanuts, and almonds, and have found them all to work well especially hazelnuts- It's like a healthy homemade Nutella recipe!
To make a homemade chocolate nut butter, you'll just need a good quality food processor or a high speed-blender (with ice crushing capabilities) and you'll be set!
2 cups nuts of choice (hazelnuts, peanuts, and almonds all work best)
1/4 cup cocoa powder
Sweetener, to taste
Add the nuts of choice to the blender/food processor and pulse until crumbly. Ensure you regularly scrape down the sides!
Once smooth, add your cocoa powder and sweetener and continue blending/pulsing until your desired texture is achieved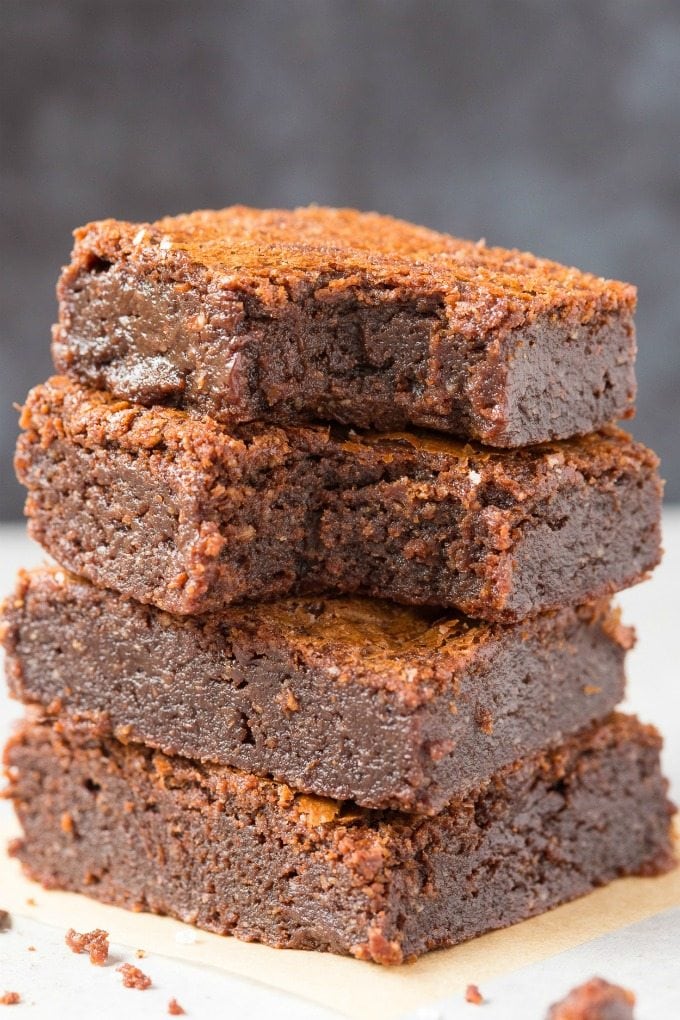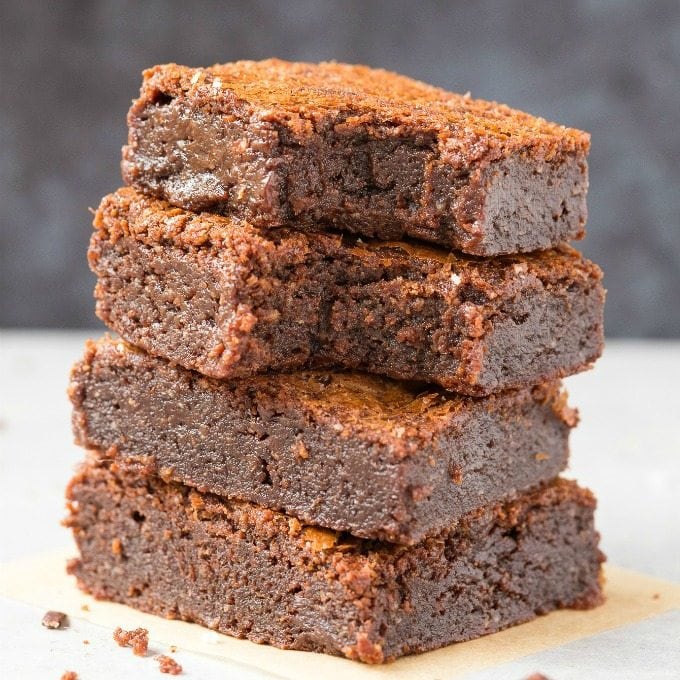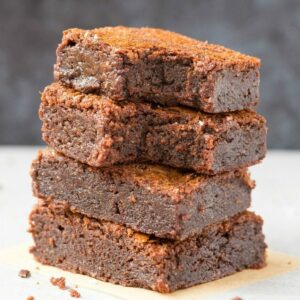 Fudgy Keto Low Carb Brownies (Paleo, Vegan, Sugar Free)
These easy keto low carb brownies are super fudgy, gooey and needing just three ingredients. Made with almond flour, these healthy easy brownies are better than any boxed mix out there! Paleo, Vegan, Sugar Free.
Instructions
Preheat the oven to 180 Celcius. Line an 8 x 8-inch (thicker brownies) or 8 x 10-inch (thinner brownies) pan with parchment paper and set aside.

In a large mixing bowl, combine all your ingredients and mix very well. You want to ensure it is evenly combined.

Pour the brownie batter into the lined pan. Bake for 20-25 minutes, checking halfway to ensure it isn't cooking too quickly. Cooking time will vary depending on how fudgy you want it, whether you use flax eggs VS normal eggs and what nut butter you use.

Remove from oven and allow to cool in the pan completely. Cut into pieces and enjoy!
Notes
* Depending on which nut spread you make, cooking time will vary. Be wary that the brownies firm up once removed from the oven.
** The flax egg option takes longer to cook, closer to 35-40 minutes. Saying that, as it contains no eggs, you can enjoy it ultra gooey.
Fudgy Keto Low Carb Brownies (Paleo, Vegan, Sugar Free) can be kept at room temperature, in a sealed container. They are also freezer friendly.
Nutrition
Serving:
1
Brownie
Calories:
151
kcal
Carbohydrates:
5
g
Protein:
5
g
Fat:
13
g
Potassium:
4
mg
Fiber:
3
g
Vitamin A:
100
IU
Vitamin C:
0.8
mg
Calcium:
10
mg
Iron:
0.4
mg
NET CARBS:
2
g

Disclosure: This post may contain affiliate links. I may earn a small commission for my endorsement, recommendation, testimonial, and/or link to any products or services from this website.