Just one bowl and five minutes are needed to whip up these healthy chewy no bake protein cereal bars using just four ingredients! The perfect grab and go snack or sweet treat, these 4 ingredient no bake cereal bars are naturally gluten free, vegan and oil free!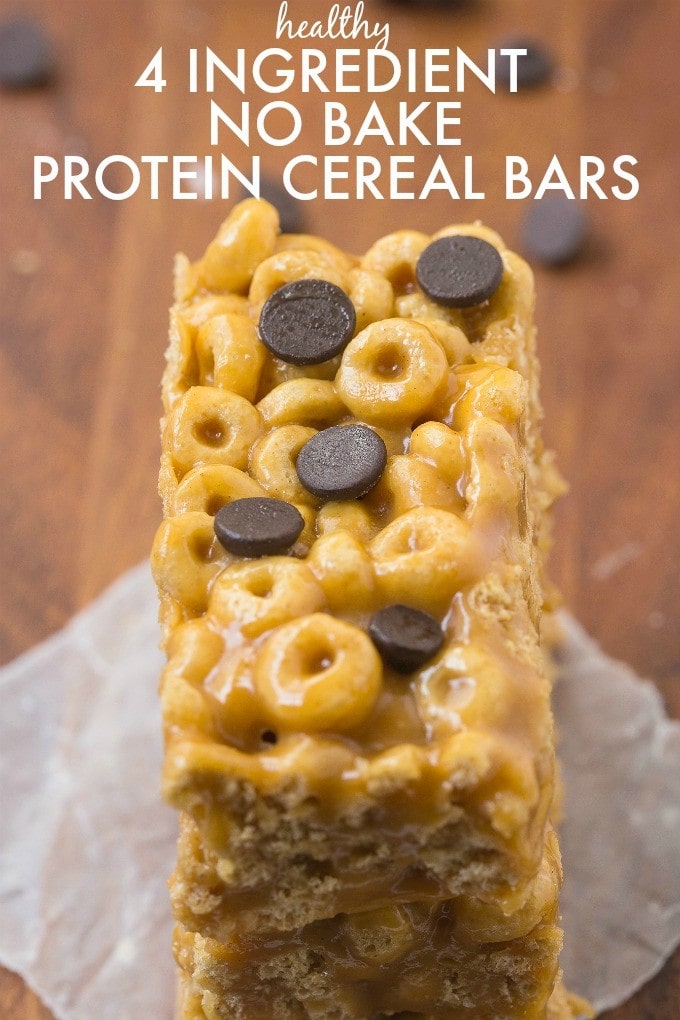 I seriously wish you could all see my apartment right now.
As of two weeks ago, I officially began recipe development and testing for my upcoming cookbook. After the initial excitement surrounding the book deal slowly died down, it finally hit me that content needed to be created….and with some haste.
The first thing I did was buy a suitcase (and go online to pay for excess baggage) and stock up on some necessities from Amazon. As nice as it will be to be back in Australia for a little bit, I know I won't have my favorites at my disposal, like this amazing cocoa powder and coconut flour at such a competitive price. Throw in the lack of peanut flour too and I may have reconsidered even going back home.
Just kidding. I'm craving some friend time, family time and mum's cooking and washing.
I also REALLY want to have my core taste testers there to ensure every recipe is going to be delicious.
Long term readers may remember last year, I was quite set on releasing an e-cookbook with original recipes never published on TBMW before. For the first few months, I made my friends try my recipes and give me feedback on them. Every week, I'd give them a handful of new, tested recipes to try and await their thoughts on it.
Since coming to America, I've lived between three states and while I've had some taste testers here and there- it's been hard to find consistent ones. Granted, I'm STOKED to have had USPS at my disposal and some amazing blogging friends willing to be my guinea pigs, but when it comes down to something as important as a cookbook- I want the same people to taste the same recipes and give the same critique..
Delicious.
Zing.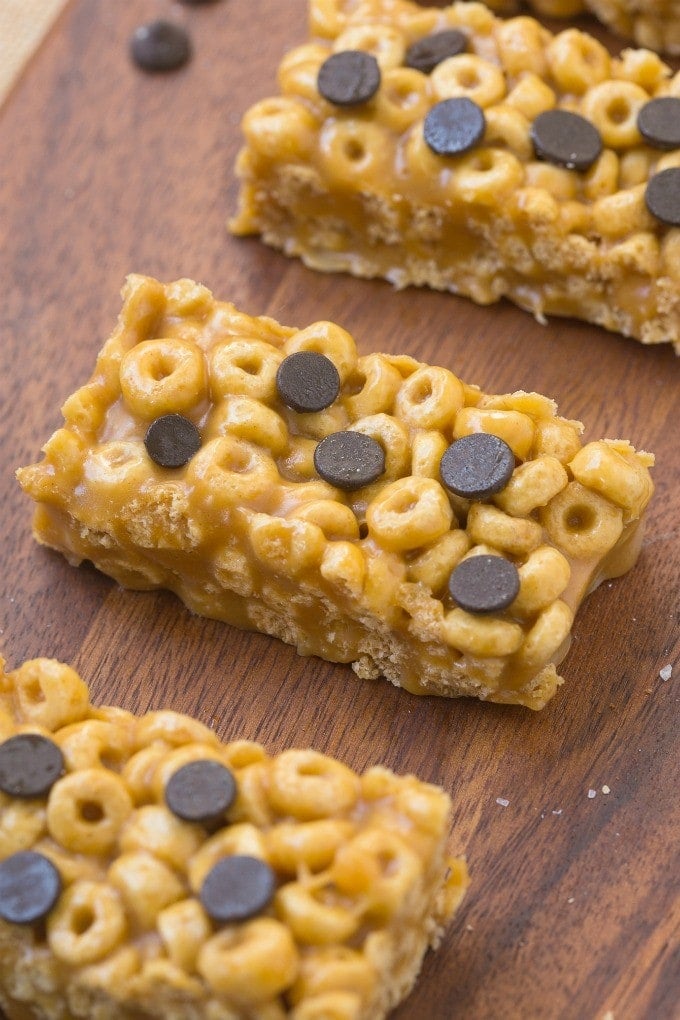 Anyway, amidst all the recipe testing, planning and of course, balancing the blog full time; I've needed to be well fueled. Last week, after finishing off my final few (frozen) 3 Ingredient no bake cereal bars, I wanted to whip up another batch.
However, I wanted to give them more staying power so I did just that….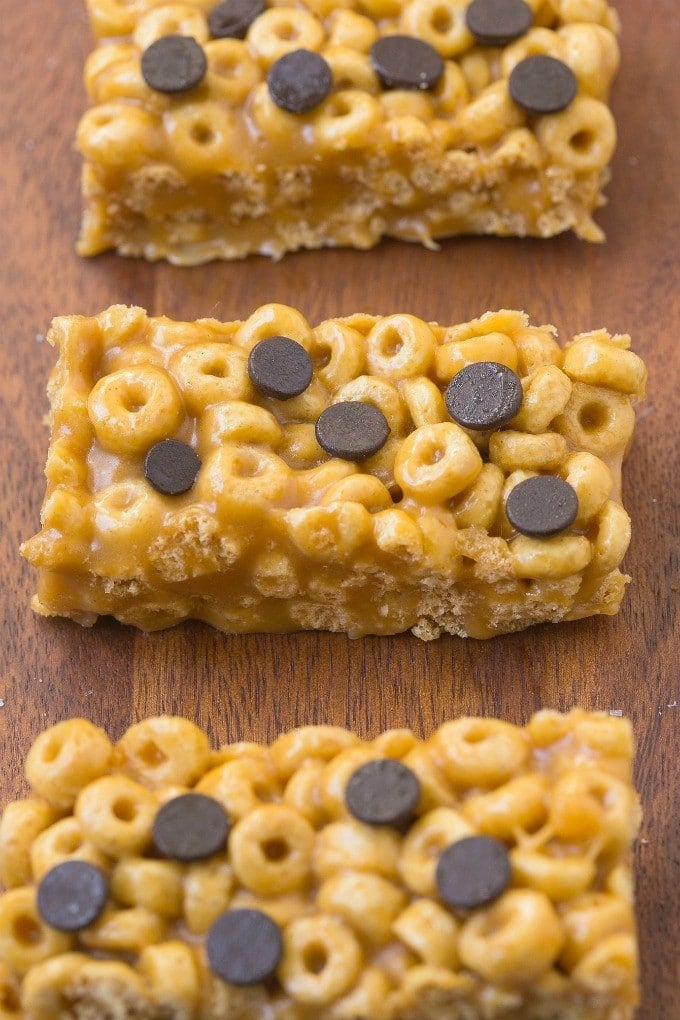 But first- It's Wednesday! Let's check out my eats last LAST Thursday (last week was low carb and sad face), in which I caught up with a friend for lunch at the Cheesecake factory. We both went in with intentions to get our own salads AND cheesecake to share.
You guys, the salads OWNED us. Seriously, they could have fed an army. Granted, after our salads came, my friend was jealous of the onion rings on top of my BBQ Chicken Cobb salad so we both got an order of that on the side…oops.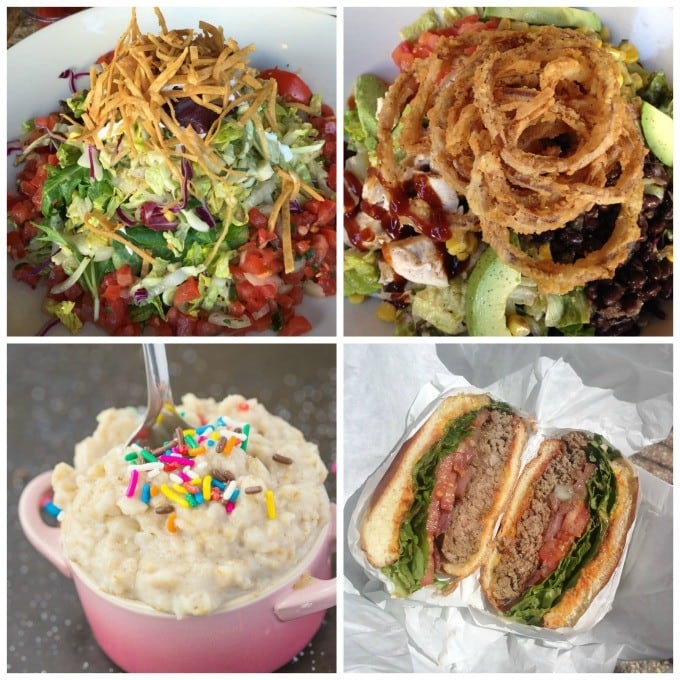 Breakfast- Vanilla Cake Batter Oatmeal | Lunch- BBQ Chicken Cobb Salad with extra onion rings on the side/ Friend ate the Mexican Chicken Salad | Dinner- Local grill en route home- Basic grilled burger with chipotle aioli and pepper jack cheese.
Now recipe time!
So as mentioned earlier in the post, after polishing off this batch of 3 ingredient no bake cereal bars, I wanted to make the same but with a protein punch. Similar to how I made these rice crispy treats with added protein powder, I did the same thing here- Simply added a scoop of protein powder (and some random chocolate chips for color) without changing any of the measurements and voila- Healthy 4 Ingredient No Bake Protein Cereal Bars!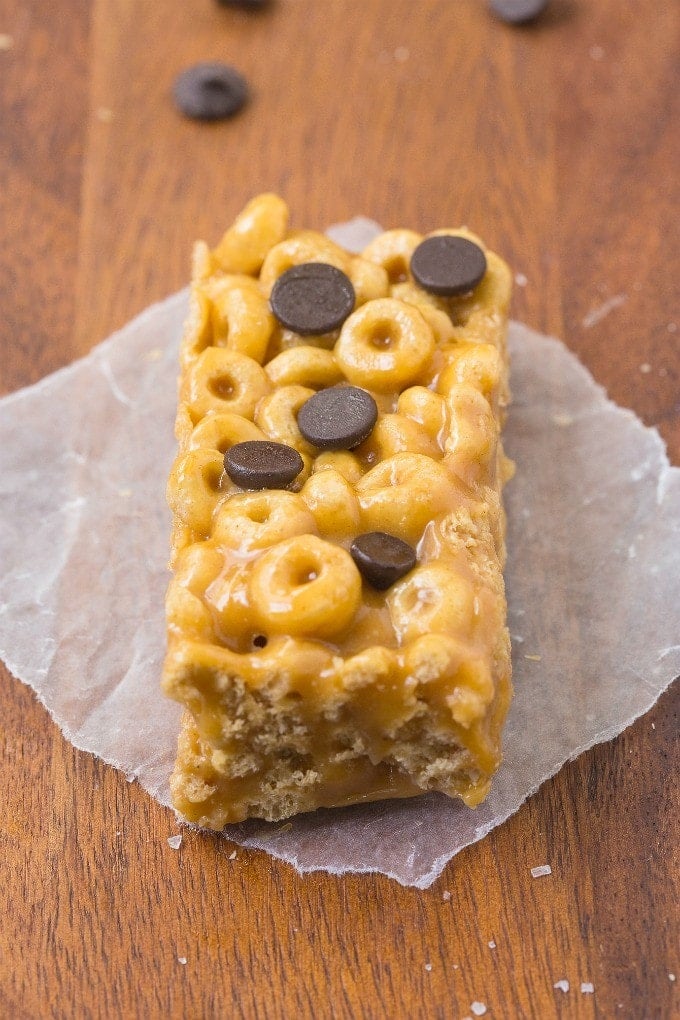 These healthy 4 ingredient no bake protein cereal bars are ridiculously easy to whip up and the hard part is waiting for them to firm up- However, a simple blast in the freezer cuts down the time drastically! They are similar to rice crispy treats in terms of taste and texture but unlike the traditional inspiration, they contain NO butter, oil, margarine or marshmallows! Because of the debate regarding whether or not cheerios contain gluten, I opted to use (like before) this cereal which was pretty much the same thing. These no bake protein cereal bars are also gluten free, vegan and dairy free!
HACK! If you don't follow a vegan lifestyle and/or can handle dairy well, I'd recommend using this casein protein powder for the recipe- It doesn't have the overpowering vanilla taste and holds beautifully (as pictured!).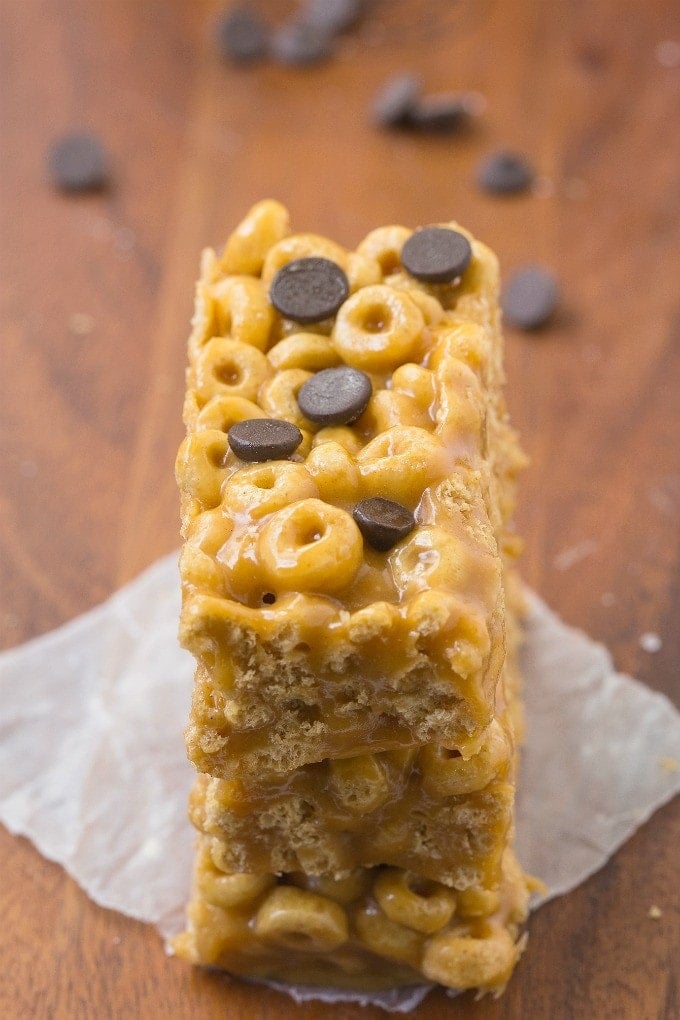 Make these healthy 4 Ingredient No Bake Protein Cereal Bars and seriously-
Come to my apartment.
I need help packing.
MUUUUUUUUUUUUUUUUUUUM.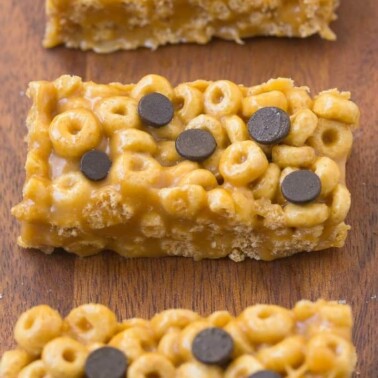 Healthy 4 Ingredient No Bake Protein Cereal Bars
The perfect grab and go snack or sweet treat, these 4 ingredient no bake cereal bars are naturally gluten free, vegan and oil free!
Ingredients
2

cups

dry cereal

I used Whole O's- Cheerios would work if not strictly gluten free

2

scoops vanilla protein powder

1/2

cup

smooth nut butter of choice

I used peanut butter

1/2

cup

brown rice syrup

can sub for honey or agave, but add 1 extra tablespoon

dairy free chocolate chips

optional
Instructions
Line a baking tray with baking paper and set aside.

In a large mixing bowl, mix your cereal with your protein powder until combined.

In the microwave or stovetop, melt your nut butter with your sticky sweetener and then pour the mixture into the protein cereal mix and stir until fully combined.

Pour mixture into the lined baking tray and press firmly into place. Top with chocolate chips if desired and refrigerate for at least 30 minutes to firm up. Alternatively, freeze for 10-15 minutes.
Notes
Bars should be kept refrigerated for best texture.
Disclosure: This post may contain affiliate links. I may earn a small commission for my endorsement, recommendation, testimonial, and/or link to any products or services from this website.