A quick and easy, no bake recipe for healthy chocolate coconut brownies which are paleo, vegan, gluten free, dairy free and refined sugar free! Perfect for a grab and go snack, dessert or fuss-free treat to bring to potlucks or events- Check out the notes for a completely sugar free and high protein option!

Are you a fan of the chocolate and coconut combination? While peanut butter plus chocolate used to be my favorite, I've clearly been swayed by this new pairing!
What could be better than a healthy brownie (which doesn't taste the least bit healthy!) which requires no baking? A thick, chewy brownie base topped with a coconut layer using just three ingredients! Get ready to get your chocolate fix in a guilt-free and easy way!

MY OTHER RECIPES
This no bake chocolate coconut slice may look incredibly fancy, but really, it's simple and can be whipped up in less than 15 minutes, tops. It also uses barely any ingredients- The brownie base uses five easy ingredients and the coconut topping needs just three! coconut topping needs just three!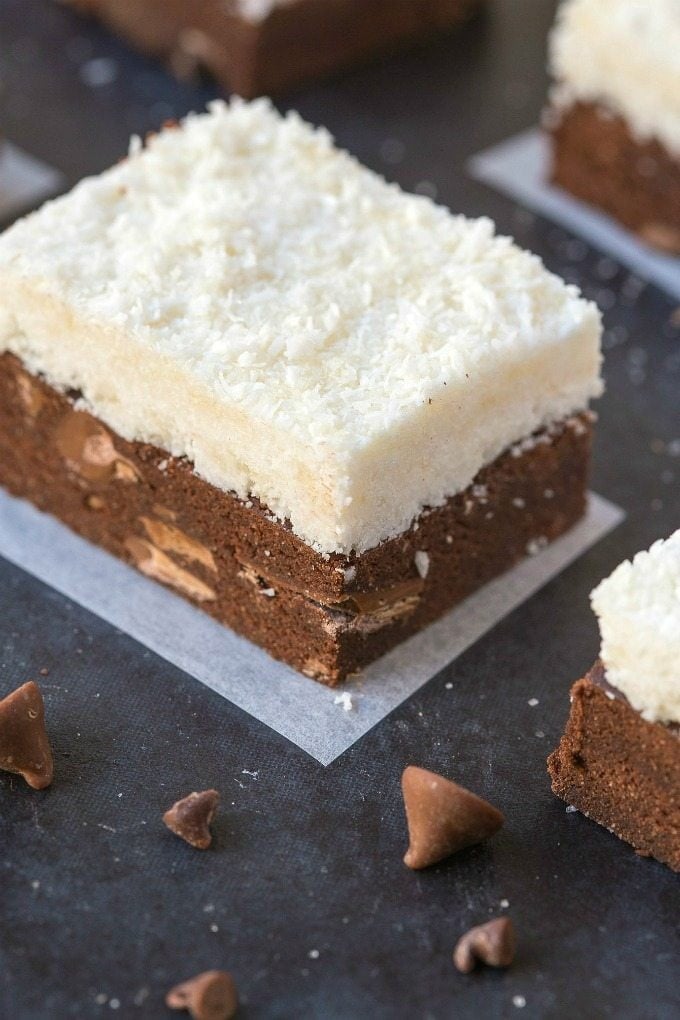 How to you make a super fudgy yet chewy no bake brownie layer?
It's deceptively easy, needing just coconut flour, a nut or seed butter, a sticky sweetener, cocoa powder and either mashed sweet potato or banana! This not only makes the base refined sugar free and dairy free, it also is grain free, paleo, vegan and gluten free!
Baking (or no-baking!) with coconut flour can be quite tricky, and no two brands are alike. I always stick to this brand of coconut flour or this one from Trader Joe's. The texture is fine and nicely sifted and works well with all my previous coconut flour based recipes. If you use a different brand, ensure it is well sifted (to avoid clumps) and you may need some extra liquid to firm up.
For the nut or seed butter, I stick to drippy almond butter as it is mild tasting. A nut-free spread which can be substituted is sunflower seed butter or even tahini. You can use peanut butter, but this won't be paleo complaint and in some instances, it can be overpowering!
With a myriad of sticky sweeteners on the market, you've got some options available to you. Pure maple syrup and agave nectar are your best choices, as they are sticky enough to hold up and lend a subtle, natural sweetness. Honey works just as well, but similar to peanut butter, it has the potential to be overpowering.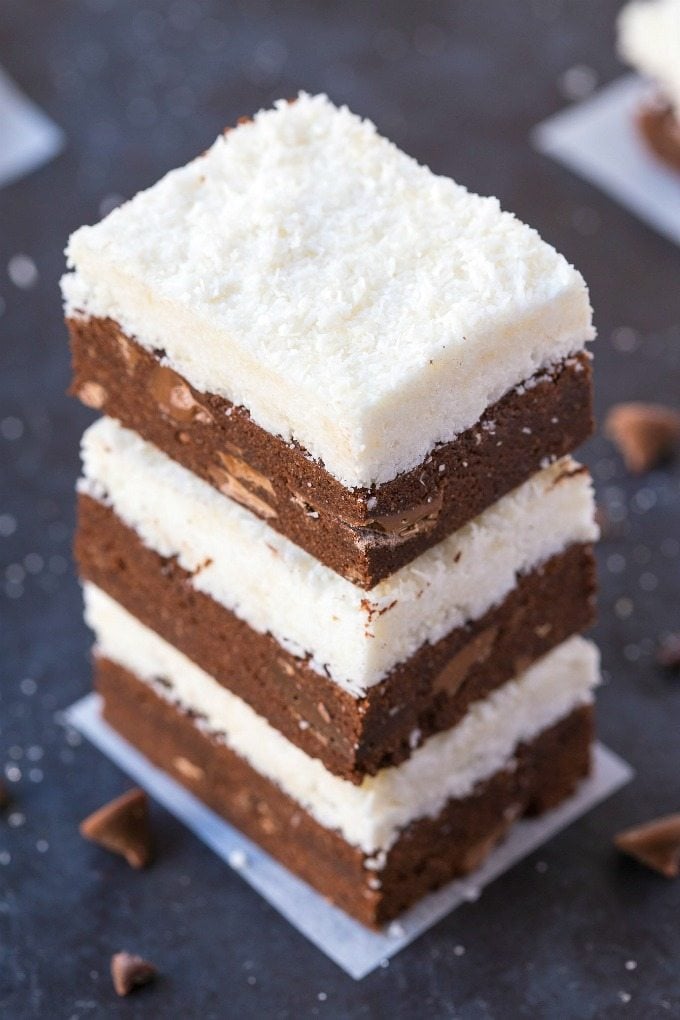 For the coconut layer, you'll need just three ingredients-
Shredded unsweetened coconut
Coconut Oil
A sticky Sweetener
Be careful not to confuse the shredded coconut with desiccated coconut- The latter is finer in texture, and you'd need to adjust the amounts of coconut oil and sticky sweetener, otherwise, it will be an overly drippy mess!
I've had some questions in the past about possibly substituting coconut oil in recipes. To be honest, the only possible swap would be unsalted butter. It's the only fat source which will hold them up well. Saying that, be wary that it will be slightly difficult to work with, but still firms up beautifully.
When it comes to sticky sweeteners, you'd be best using pure maple syrup, but the aforementioned alternatives all work as well.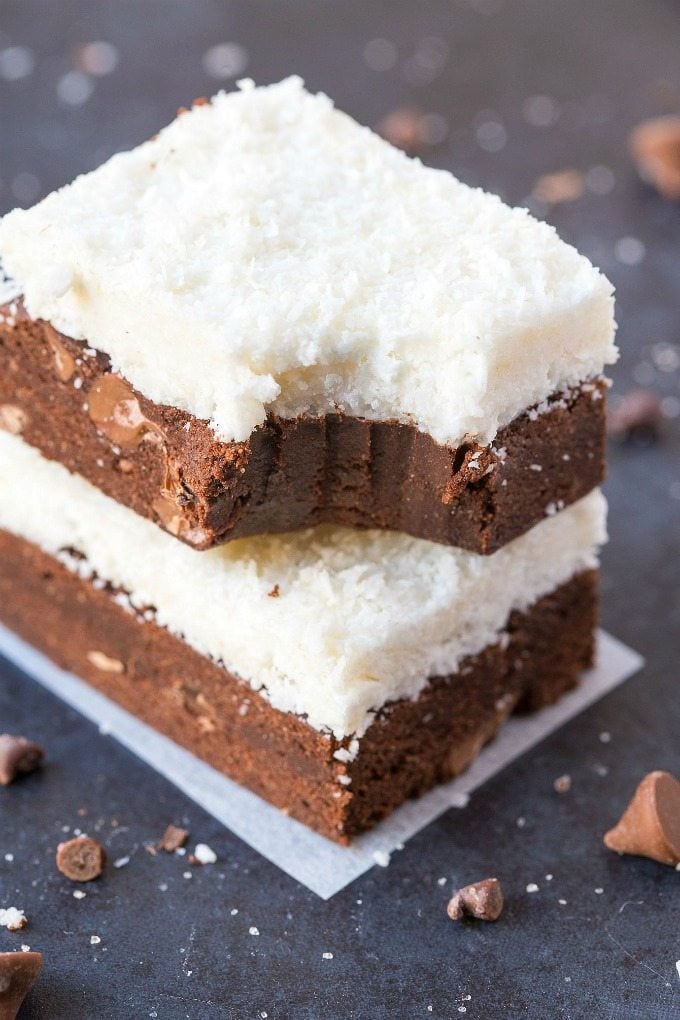 How do you make this recipe completely sugar free?
To keep these no bake chocolate coconut brownies completely sugar free, you'll need to just make one swap in both the chocolate base and the coconut base. Replace the sticky sweetener with this monk fruit sweetened maple syrup. It has a similar sticky texture necessary to firm up, without the bitter aftertaste.
DO NOT use a stock standard sugar free syrup or pancake syrup- They simply won't work and will taste artificial.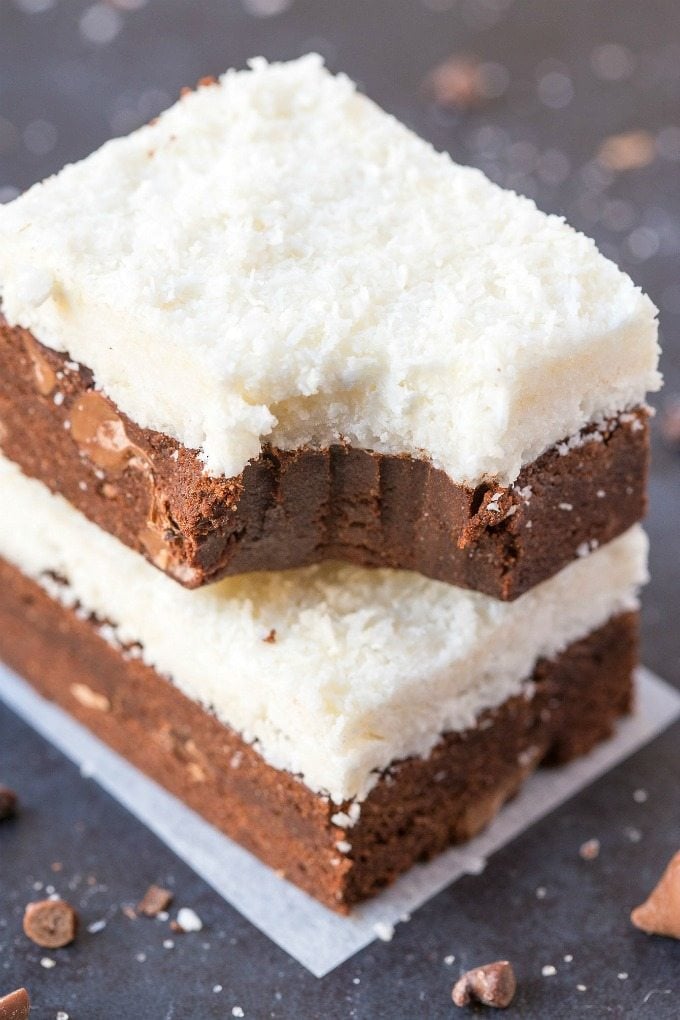 How do you make this recipe low carb and high protein?
To keep this recipe low carb and high protein, you can easily add a scoop of chocolate protein powder into the brownie base. Start with one scoop (32-34 grams) and if you prefer to, you can double or even triple it.
To ensure that everything comes together, you'll need a good quality liquid of choice to firm up. I opted to use my favorite Silk unsweetened vanilla almond milk. It's perfect for all my paleo, dairy-free and vegan friends, and tastes great. To even up the protein content, their protein nut milk is a fantastic choice, with a delicate, smooth and creamy flavor!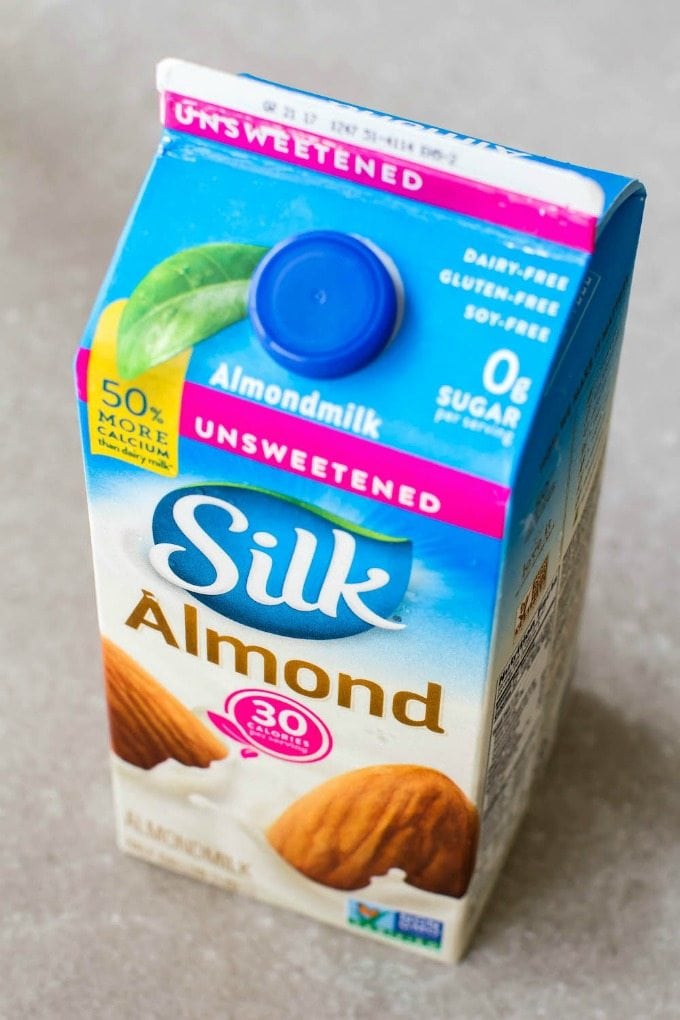 Be sure that you enjoy the taste of your protein powder and that it is sweetened, otherwise it won't be particularly tasty. I recommend this chocolate casein protein powder, this vegan brown rice protein powder and for my paleo friends, this one is a winner!
Please note- Whey based protein powder will not work, and will result in a dry and/or sticky brownie base!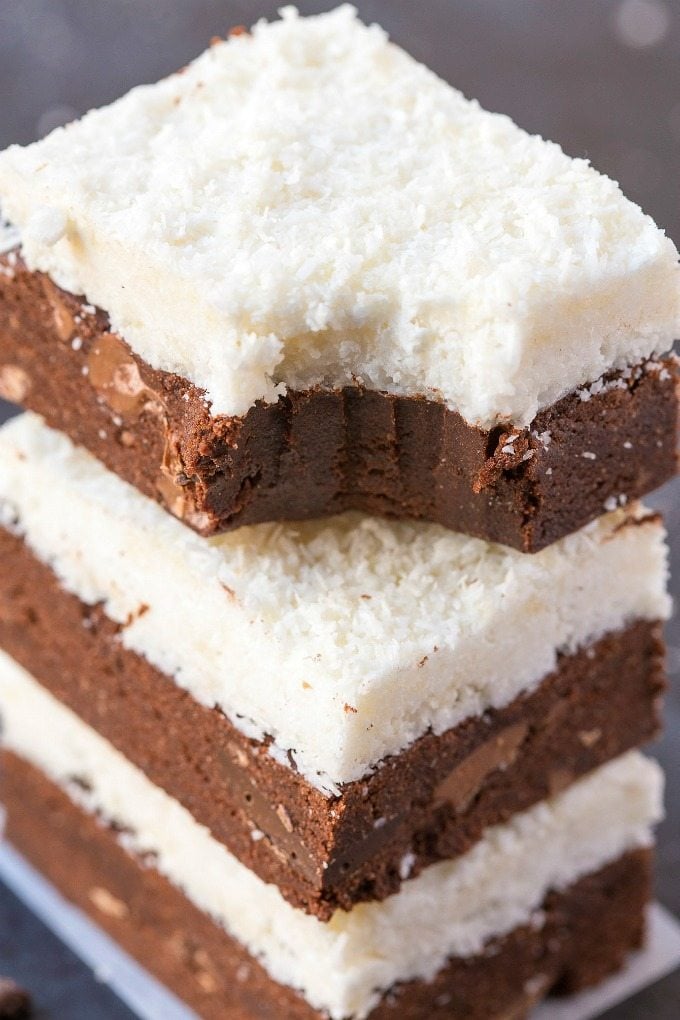 Have the best of both worlds with these healthy no bake chocolate coconut brownies which will give the peanut butter and chocolate combination and definite run for its money! In fact, pour yourself a glass of Silk's milk, as it's calling for some dunking, STAT!

Healthy No Bake Chocolate Coconut Brownies
A quick and easy, no bake recipe for healthy chocolate coconut brownies which are paleo, vegan, gluten free, dairy free and refined sugar free! Perfect for a grab and go snack, dessert or fuss-free treat to bring to potlucks or events- Check out the notes for a completely sugar free and high protein option!
Print Recipe
Instructions
Line a large cake tin or 9 x 9 inch baking pan with parchment paper and set aside.

In a large mixing bowl, add your brownie base ingredients and mix well. If the batter is too thick, add more milk of choice until a thick batter remains. Pour the batter into the lined baking pan and press firmly into it. Refrigerate.

In a microwave safe bowl or stovetop, melt your coconut oil. Add your shredded coconut and pure maple syrup and mix until fully incorporated. Pour the coconut mixture onto the brownie mixture and refrigerate.

Once chocolate coconut brownies have firmed up, cut into pieces and enjoy!
Notes
* Depending on the brand of coconut flour and/or use of protein powder you use, you may need more. Use a tablespoon and add to the batter slowly until desired texture. No bake chocolate coconut brownies can be kept at room temperature, covered. They are best enjoyed from the fridge and are also freezer friendly.
Nutrition
Serving:
1
piece
|
Calories:
128
kcal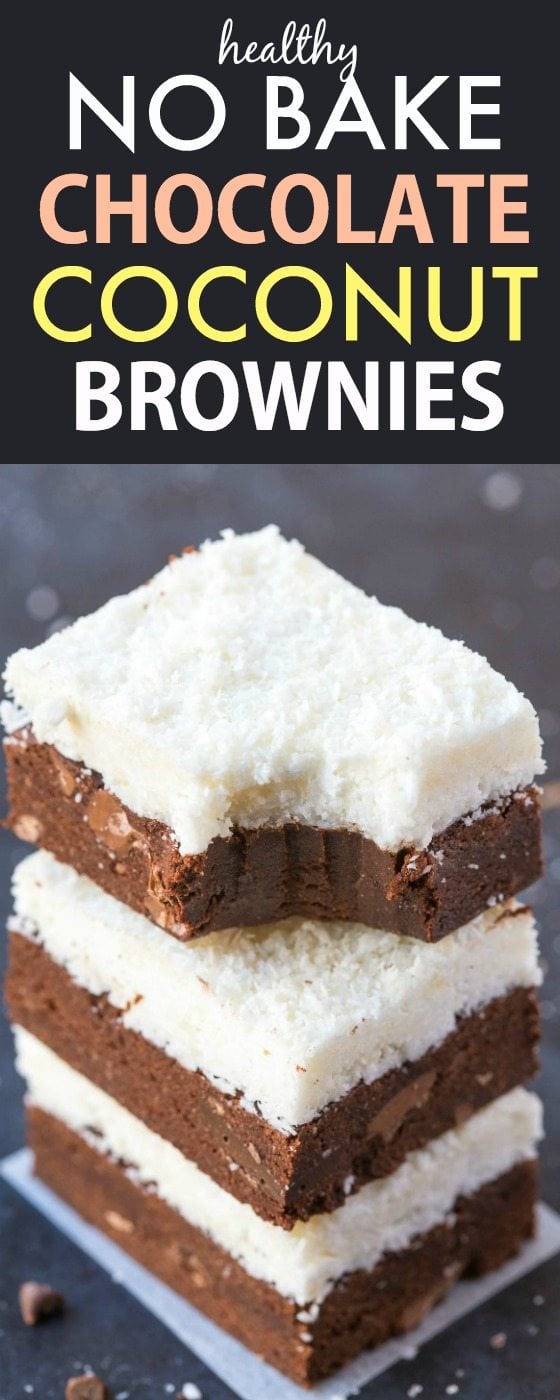 More delicious no bake recipes to keep you salivating? Gotcha covered!
The Big Man's World is a participant in the Amazon Services LLC Associates Program, an affiliate advertising program. This means that if you click and make a purchase, TBMW receives a small commission, at no cost to you. Cheers, hugs, and handshakes for supporting TBMW!
This is a sponsored conversation written by me on behalf of Silk. The opinions and text are all mine.