These healthy paleo vegan chocolate cherry fat bombs are a quick and easy no bake recipe made with four ingredients. A delicious cherry coconut filling covered in chocolate, these paleo vegan cherry coconut bars are the ultimate healthy low carb dessert or treat! Keto, Sugar Free, Dairy Free.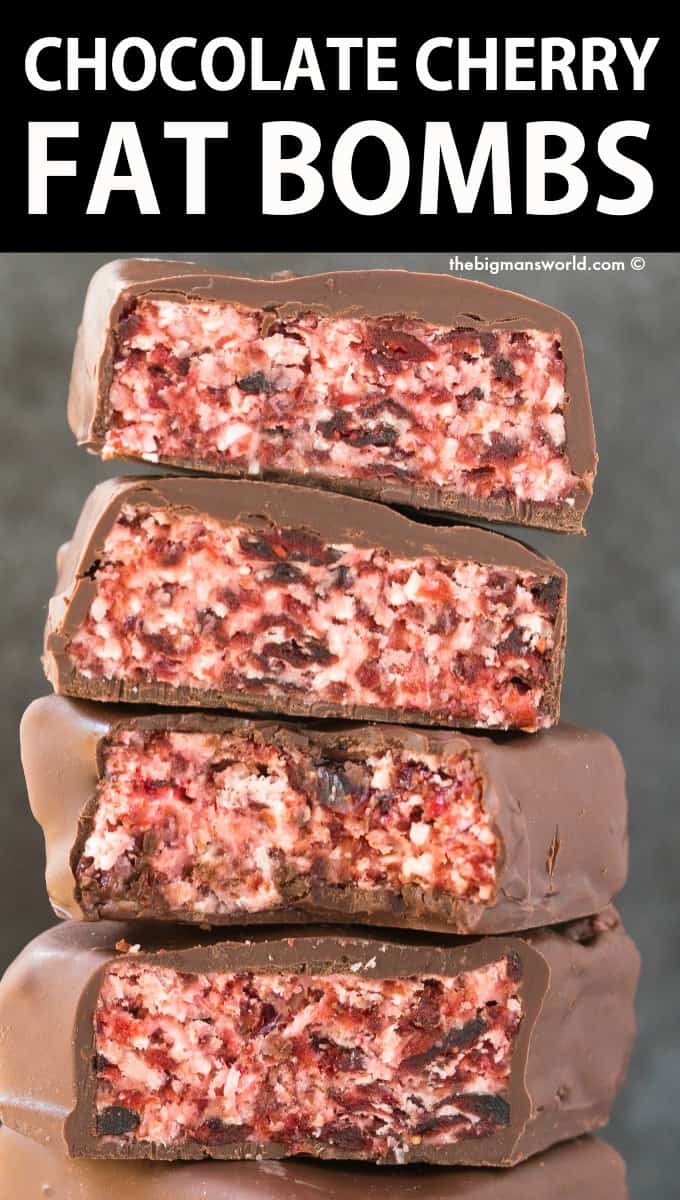 We are huge fans of no bake coconut recipes. We love using them in lemon coconut bars and of course, my favorite homemade vegan coconut brownies.
This healthy no bake chocolate cherry fat bomb recipe will soon become a favorite- And they are so easy too…They are JUST like a homemade cherry ripe!
Chocolate Cherry Fat Bombs
I've been meaning to do more cherry and coconut recipes, but finding the RIGHT kind of recipe has been a little bit difficult. It wasn't until my sister asked me to recreate one of her favorite candy bars did the inspiration hit.
Cherry ripes are a cherry lovers candy dream. It is a coconut cherry filling covered in chocolate. Unfortunately, it is not the healthiest of desserts or snacks, so of course, I was up to give it a healthy homemade makeover!
I based this recipe loosely on my homemade bounty bars but added some cherry goodness! Not only are these quick and easy to make, but they are also healthy too. Low carb, full of healthy fats and barely any carbs, but you'd never tell.
They are completely paleo, vegan and dairy free, but that is not all. It is also keto and low carb, and naturally sugar free!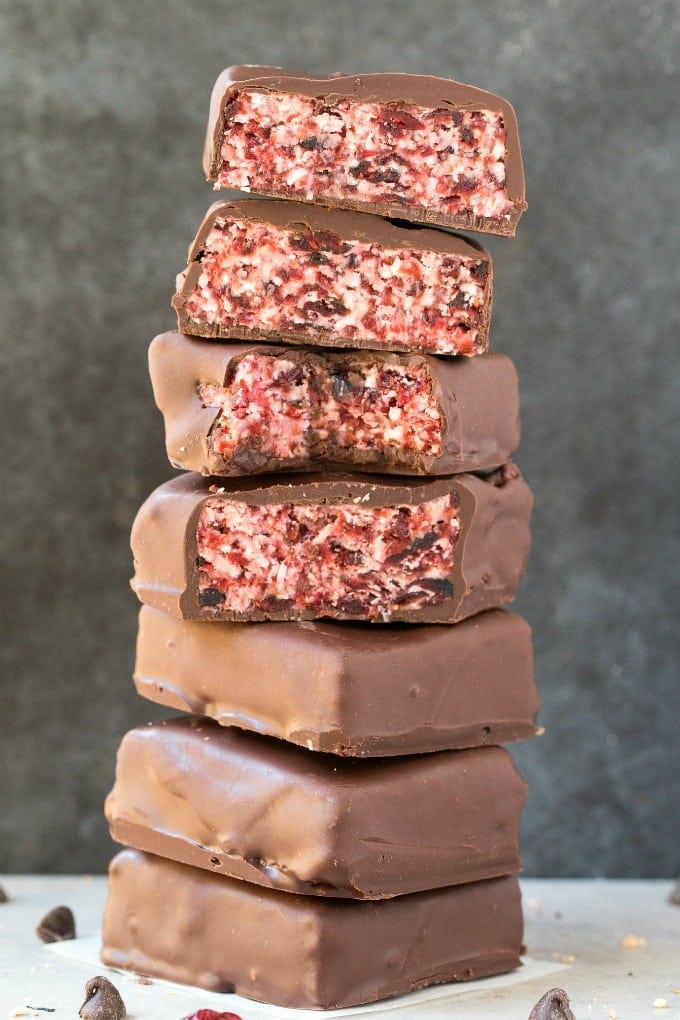 How to make cherry chocolate fat bombs
To make my homemade cherry chocolate fat bomb bars, you'll only need four ingredients!
The filling is made from unsweetened shredded coconut, dried unsweetened cherries, a sticky sweetener, and coconut butter. You then have the option to cover it in chocolate, but let's face it- It is NEVER optional!
The Ingredients
Unsweetened shredded coconut flakes
Dried cherries
Sugar Free Syrup
Coconut butter
Keto Chocolate Chips
Unsweetened shredded coconut flakes
What is unsweetened shredded coconut?
Unsweetened shredded coconut is the coconut fruit that has been dried completely. Once dry and brittle, it is blended/shredded to various consistencies.
It also differs from sweetened shredded coconut. Sweetened shredded coconut often has corn syrup added to it, making it moister and easier to bake or cook with.
What is the difference between coconut flakes and shredded coconut?
Coconut flakes and shredded coconut are basically the same things, with the former being larger flakes, compared to the latter.
Is unsweetened shredded coconut good for you?
Coconut in all forms can be enjoyed daily, as part of a healthy balanced diet. It's high in heart-healthy fats, aids digestion and is very satisfying.
Like with any foods, moderation is key, and being a high-fat food, you shouldn't go overboard on it.
Unsweetened dried cherries
Dried Cherries and keto alternatives
Be sure to use unsweetened dried cherries, and not the sweetened kind or the glace kind.
If you can't find dried unsweetened cherries, you can use dried cranberries or another similar red berry (currents could work!).
Are cherries keto?
Cherries are not keto friendly, as they are predominantly carbs and sugar, and contain little fiber.
To keep this 100% keto-friendly, I used pure cherry extract and some dragon fruit pitaya powder (expect a fun recipe to come soon!). The cherry extract gives it the cherry flavor, without the need to use any cherries whatsoever.
Sugar Free Maple Syrup
What sweeteners are allowed on the paleo vegan diet?
Refined sugar free liquid sweeteners allowed on the paleo vegan diet are as follows-
Pure maple syrup (my favorite!)
Agave nectar
Coconut nectar
Honey (NOT for strict vegans)
What is the best sweetener for keto or the ketogenic diet?
There are several granulated sweeteners suitable for the ketogenic diet. As this recipe calls for a sticky sweetener, I can only vouch for this monk fruit sweetened maple syrup.
It is keto-approved, low carb and sugar free, and has the consistency of real maple syrup.
Coconut Butter
Is coconut butter the same as coconut oil?
Coconut butter and coconut oil are two completely different ingredients.
Coconut oil is the oil that is squeezed out of the coconut, producing a flavorless liquid that resembles and acts as any other oil out there.
Coconut butter uses the meat of the coconut (the actual fruit) and is blended together to produce a thick and creamy spread. It is naturally sweet, and smooth at room temperature.
Keto Chocolate Chips
The final step of the recipe is the healthy chocolate coating, and if you are a die-hard chocolate cherry coconut fan, you can NOT leave this out!
For my paleo vegan readers, these dairy free chocolate chips melt beautifully and taste great. I often eat these on its own, and even my non-paleo vegan friends love them too.
A keto chocolate chip which I like to use are these stevia sweetened chocolate chips. No bitter aftertaste and they melt perfectly.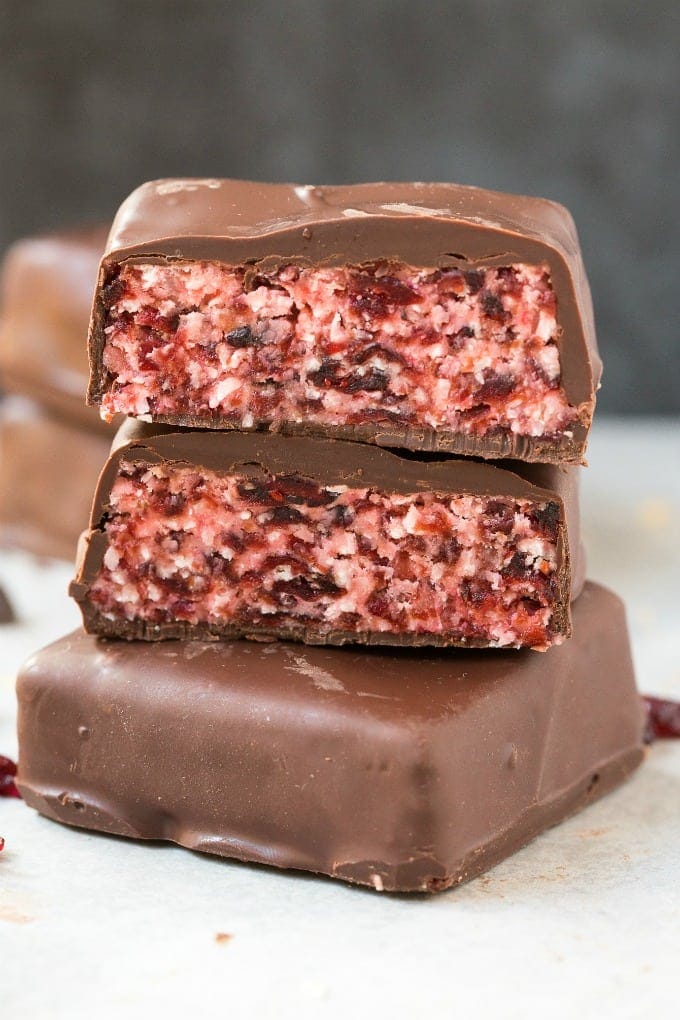 The Instructions
Making these keto cherry fat bombs is so simple. You'll only need a high-speed blender or food processor to mix it all together.
Start by blending together the shredded coconut with cherries until combined. Pour the mixture into a large mixing bowl.
In a microwave-safe bowl or over the stove (in a saucepan), combine your coconut butter with syrup and heat until warm and melted. Whisk well together, until smooth and combined.
Pour the wet mixture into the dry mixture and mix well, until combined. Transfer to a lined square pan and press into place. You'll want to refrigerate it for 20-3o minutes until it has firmed up. Once firm, slice into pieces and dip in melted keto or sugar free chocolate.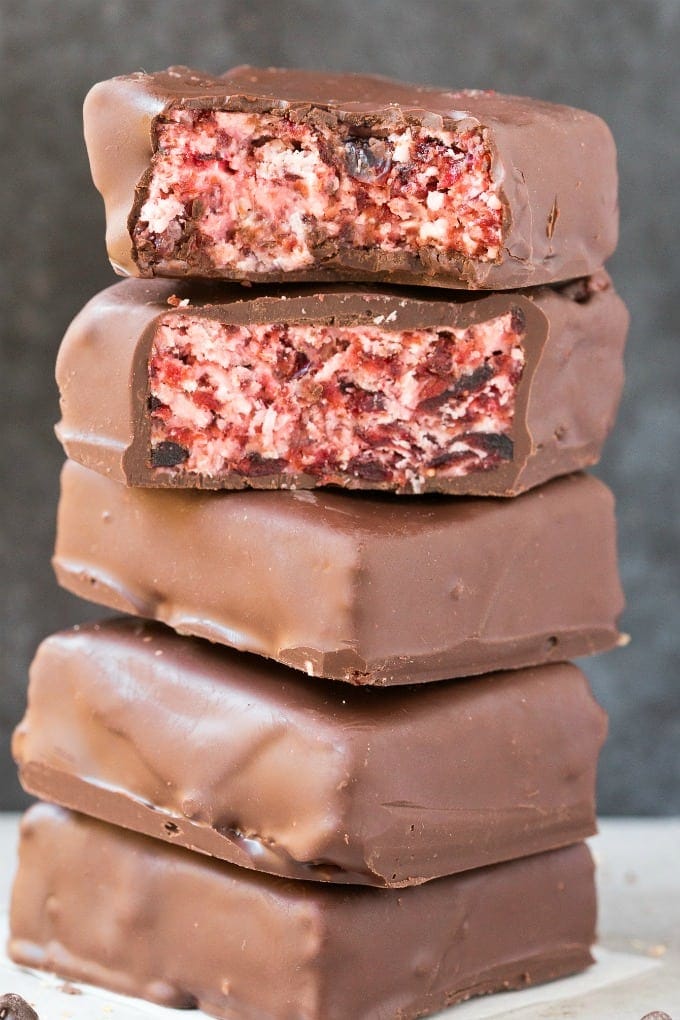 More No Bake Keto Fat Bombs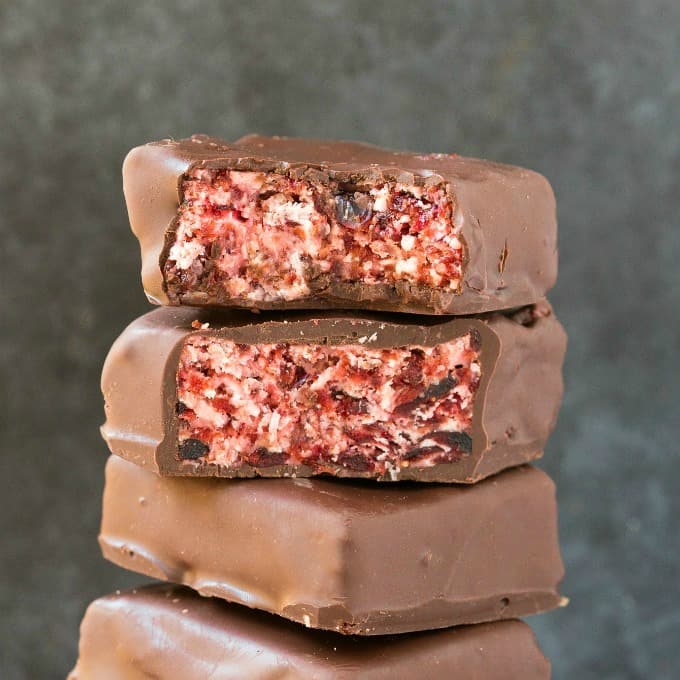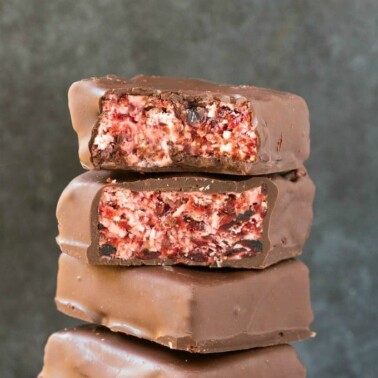 Chocolate Cherry Fat Bombs
These healthy paleo vegan chocolate cherry fat bomb bars are a quick and easy no bake recipe made with four ingredients. A delicious cherry coconut filling covered in chocolate, they are made with no added sugar, and the perfect keto fat bomb!
Instructions
In a high-speed blender or food processor, add your unsweetened shredded coconut with dried cherries and blend until just mixed. Pour into a large mixing bowl and set aside.

In a microwave-safe bowl or stovetop, melt your coconut butter with your sticky sweetener of choice. Pour into the dry mixture and mix until well combined. Transfer to a lined 8 x 8-inch pan and press firmly in place. Freeze for 20-30 minutes, or until firm.

Once firm, use a lightly wet, sharp knife and slice into 20 bars. Melt your chocolate chips of choice. Moving quickly, use two forks to dip each cherry coconut bar in the melted chocolate and ensure it is evenly coated. Repeat the process and refrigerate until the chocolate firms up.
Notes
* To keep this keto, I used 1/4 teaspoon cherry extract and 1 teaspoon pink pitaya powder. You can adjust this according to taste.
** Maple syrup or honey (not strictly vegan) are my preferred sweeteners. To keep it keto-friendly, I use monk fruit sweetened maple syrup, linked in the post.
No Bake Paleo Vegan Chocolate Cherry Fat bombs should be kept refrigerated at all times.
They are freezer friendly, but wrap each bar individually to avoid them sticking together and getting freezer burns.
Nutrition
Serving:
1
Bar
Calories:
200
kcal
Carbohydrates:
7
g
Protein:
1
g
Fat:
16
g
Sodium:
6
mg
Potassium:
57
mg
Fiber:
4
g
Vitamin C:
1
mg
Calcium:
5
mg
Iron:
1
mg
NET CARBS:
3
g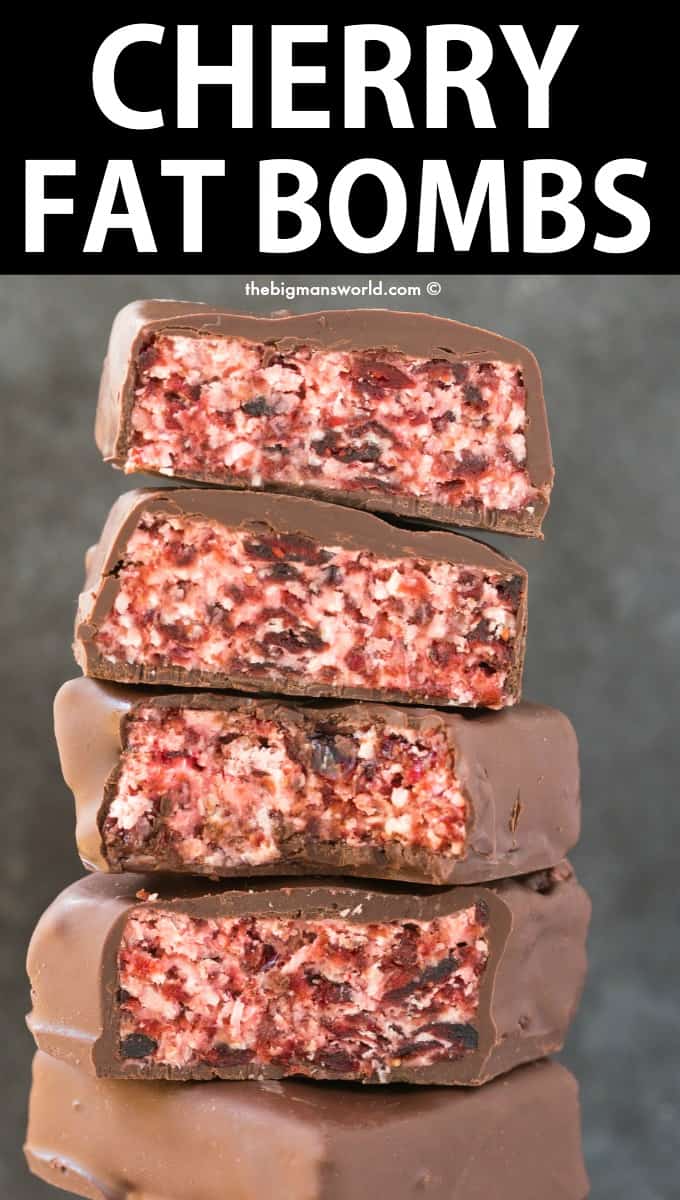 Disclosure: This post may contain affiliate links. I may earn a small commission for my endorsement, recommendation, testimonial, and/or link to any products or services from this website.