No Bake Chocolate Raspberry Fat Bombs (Keto, Paleo, Vegan)- A quick and easy recipe to satisfy the sweet tooth, naturally low carb, gluten free and sugar free.

Chocolate Raspberry Fat Bombs Recipe
As someone who claims to despise the Valentine's Day holiday, sharing Valentine's day inspired recipe had to happen…with a twist.
The twist is that it is a recipe which can be made anytime, but especially on Valentine's Day!
Not wanting to do anything too extreme, I simply gave one of my favorite recipes a cheeky raspberry twist.
My 3-Ingredient No Bake Coconut Crack Bars are one of my staple snacks, especially since I've been focusing on more ketogenic diet-friendly treat and desserts.
Depending on which part of the world you are, you may refer to these as coconut raspberry slice, raspberry coconut bars or even raspberry truffles.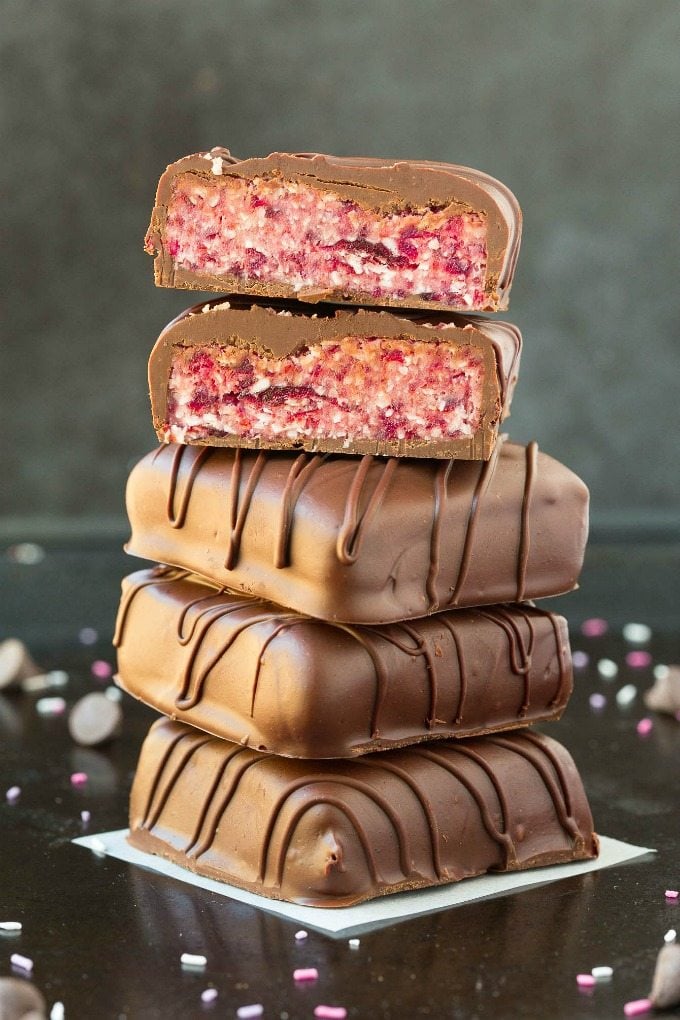 Raspberry Fat Bombs
Me? I'm calling them crack because, like their cranberry counterpart, you really cannot stop at just one.
I was hoping to make raspberry cheesecake fat bombs, but thought raspberry and chocolate would be better!
I tweaked my original recipe based on some important feedback! Many of you questioned why the bars were thick and pillow-looking and the answer for that are simple- I used a small loaf pan and cut thicker bars. If you used a shallow pan or even a thin baking tray, you'd be left with thin, brittle-like bars.
Raspberry Fat Bombs Ingredients
DRIED RASPBERRIES VS FRESH RASPBERRIES
To keep these no bake bars keto-friendly and low carb, use the most minimal amount of unsweetened dried raspberries recommended. For a more raspberry heavy flavor (which will still be paleo and vegan), feel free to increase the amount.
I haven't tried these with fresh raspberries, but if you'd like to see how it pans out, use a small amount, to begin with.
TYPES OF SHREDDED COCONUT
Unsweetened Coconut Flakes– These are the larger flakes and have a meaty texture. They need to be mixed a little longer with the dried raspberries to be able to have a smooth texture.
Shredded Coconut- More finely cut than the flakes, these will also need to be blended well to be able to mix well.
Fine Macaron Coconut- Also known as desiccated coconut, this form of unsweetened dried coconut is best- You only need to blend/process for a minimal amount to ensure the two ingredients are combined.
KETO AND LOW CARB SUGAR-FREE SWEETENERS
Monk Fruit sweetener- This is my favorite granulated sweetener, as it really mimics sugar, minus the carbs! Also naturally paleo and vegan!
Erythritol- Similar to the above, it is slightly finer and tends to be a little sticky.
Swerve- Not paleo approved, but has a very similar texture to sugar.
Other- Any granulated sweetener should work well.
HOMEMADE KETO CHOCOLATE OR STORE BOUGHT CHOCOLATE
While the chocolate coating is optional, I highly recommend it.
For a homemade version, combine 1/2 cup coconut oil and 1/2 cup cocoa powder and mix well. Add your desired sweetness amount (
For a paleo and vegan store bought chocolate, these mini baking chips are my favorite. For a completely sugar free and keto-friendly chocolate chip, these ones work great.
More delicious keto desserts
3 Ingredient Chocolate Coconut Keto Cups
Low Carb Chocolate Peanut Butter No Bake Bars
Flourless Keto Chocolate Cookies
Watch how to make no-bake bars below!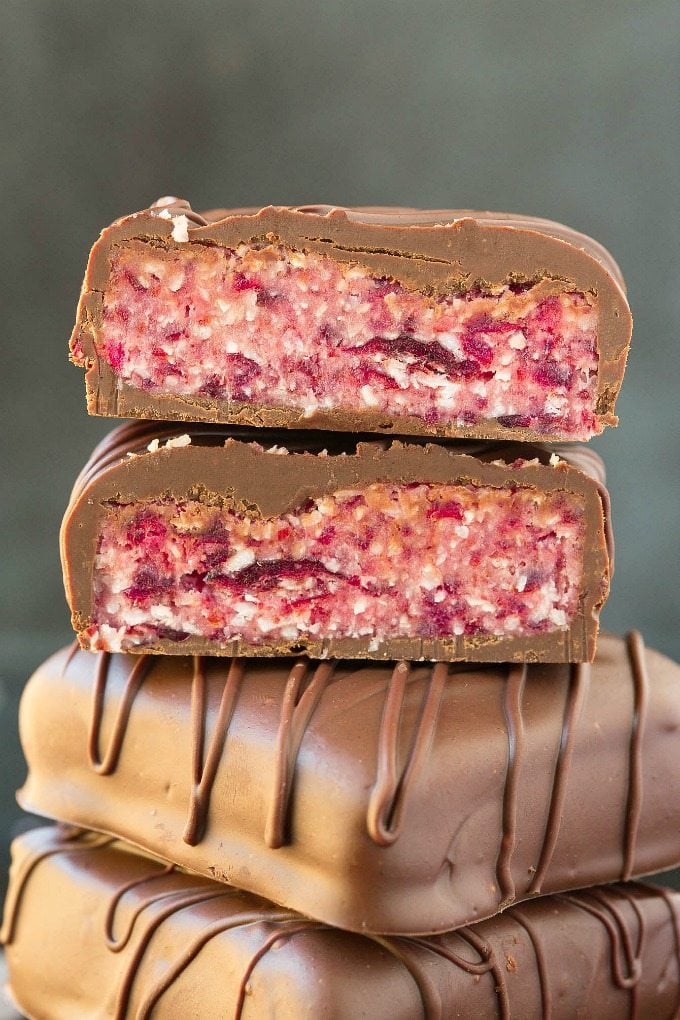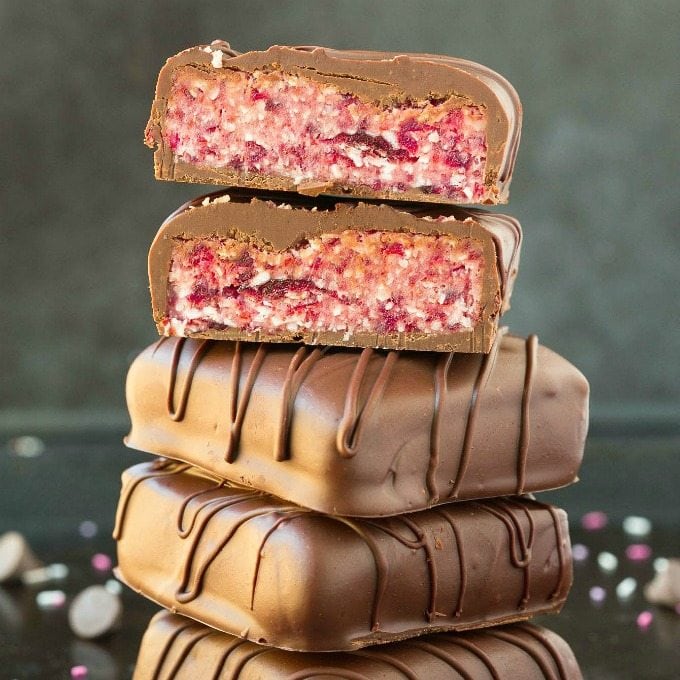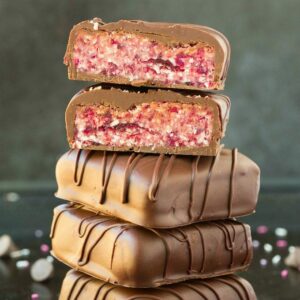 No Bake Chocolate Raspberry Fat Bombs
No Bake Raspberry Chocolate Keto Fat Bomb Bars (Keto, Paleo, Vegan)- A quick and easy recipe to satisfy the sweet tooth, naturally low carb, gluten free and sugar free. 
Instructions
In a high-speed blender or food processor, combine your unsweetened coconut, dried raspberries, and granulated sweetener and blend until combined.

Transfer to a large mixing bowl. Add your chilled coconut cream (only the cream layer- Not the liquid!) and melted coconut oil and mix until well combined.

Transfer to a lined baking tray (8 x 8 inch for thicker bars, loaf pan for ultra thick bars and 10 x 10-inch pan for thinner bars). Press into place and refrigerate until firm.

Once firm, cut into squares or bars and set aside. Melt your chocolate chips of choice and moving quickly, dip each bar into the melted chocolate until coated. Once all bars are coated, refrigerate until firm.
Notes
* To keep it keto-friendly, use 1/4 cup.
** See post content for various options
*** It is imperative to use chilled coconut cream. Refrigerate it overnight. The day you use it, remove the water from the can and remove the cream layer on top. Depending on which brand you use, you may need 2 cans to fill an entire cup.
**** See post content for various options and homemade keto version
No Bake Raspberry Coconut Crack Bars need to be kept refrigerated, but are also freezer friendly too.
Nutrition
Serving:
1
Bar
Calories:
134
kcal
Carbohydrates:
5.1
g
Protein:
3.5
g
Fat:
11
g
Potassium:
3
mg
Fiber:
3
g
Vitamin A:
100
IU
Vitamin C:
2.5
mg
Calcium:
30
mg
Iron:
2.5
mg
NET CARBS:
2
g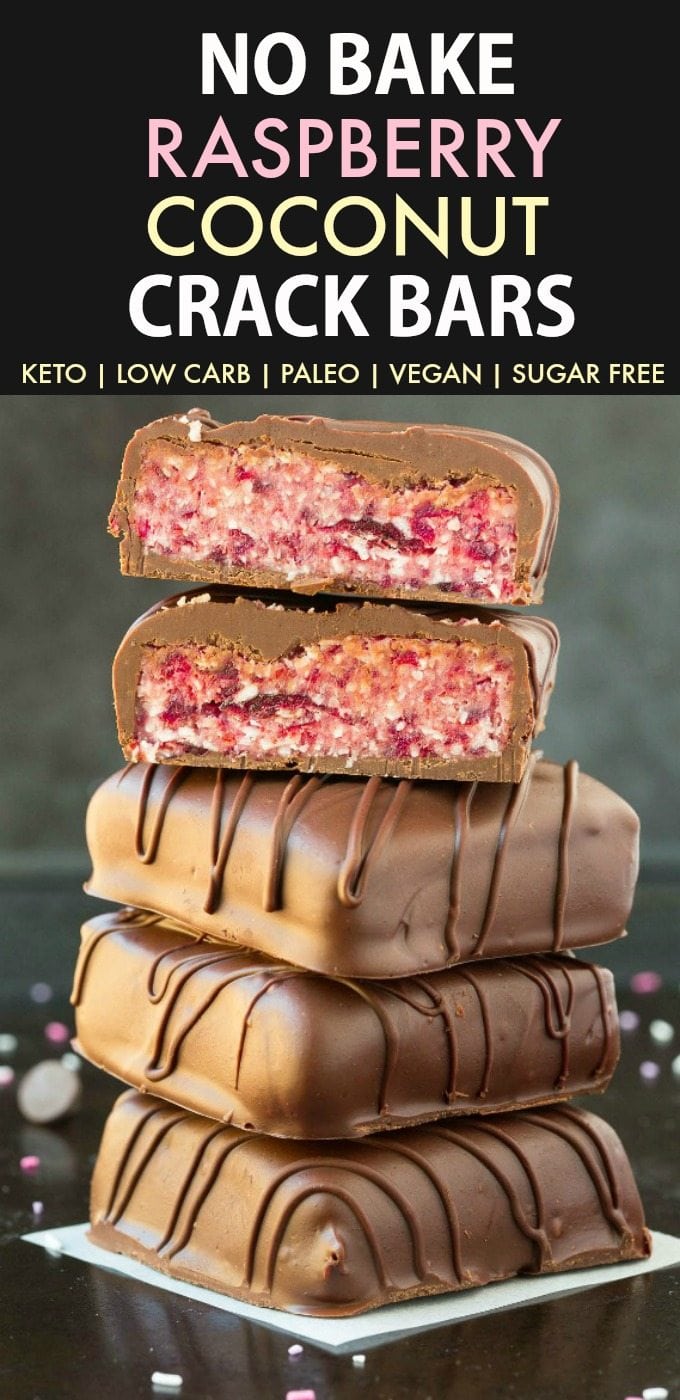 Disclosure: This post may contain affiliate links. I may earn a small commission for my endorsement, recommendation, testimonial, and/or link to any products or services from this website.