Dessert for breakfast is sorted with these healthy no bake sweet potato breakfast brownies! Thick, chewy, fudgy and ready in minutes, they are suitable for those following a paleo, vegan, gluten free, sugar free and dairy free diet!


Can we take a minute to praise the humble sweet potato? Unlike other vegetables or fruit, which are annoyingly (or to some, fortunately) seasonal, sweet potatoes are the one constant in our lives. They are also super versatile. We can use sweet potatoes in savory recipes, like crispy curly fries, or spiked with some simple spices and then grilled, like in these kettle corn grilled sweet potatoes.
They can also be featured in a plethora of sweet recipes too, like thick and creamy smoothies, in flourless muffins and also in no bake bites. My favorite way to use sweet potatoes, however, are in my number one favorite kind of recipe- Brownies!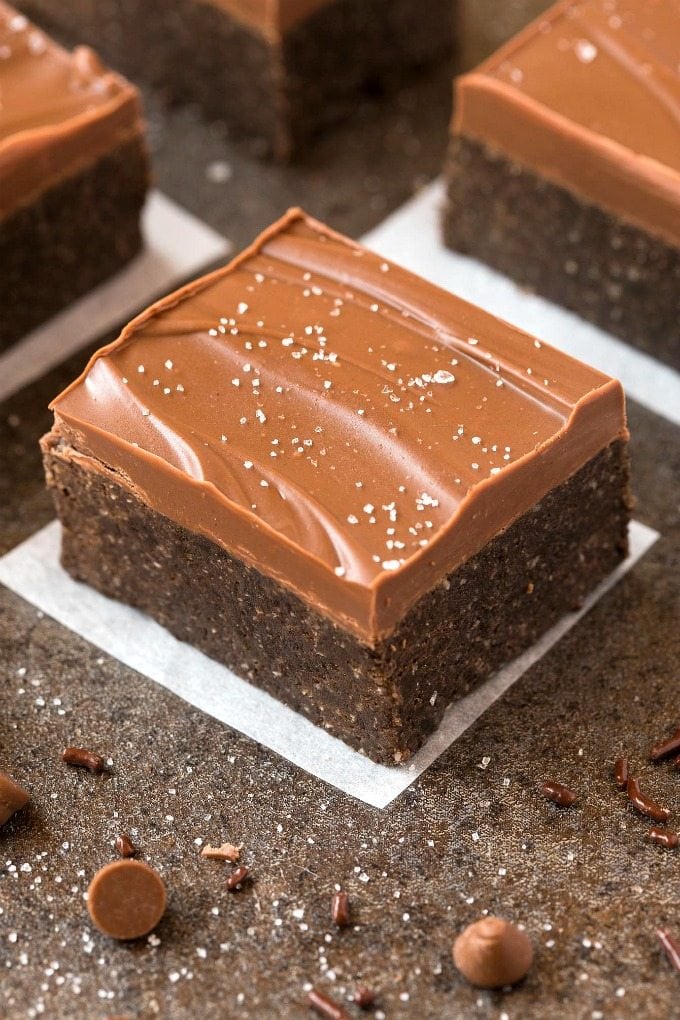 Out of all my brownie recipes I have shared, one of THE most popular ones are these super fudgy sweet potato brownies using just four ingredients. They are secretly healthy, being made sugar free, grain free, protein-packed and naturally sweetened. They've made school lunch boxes (especially as they are peanut-free!), office morning tea ("no one could tell these were made from sweet potatoes!") and even a clean eating daily dessert.
It was about high time for me give them my favorite kind of makeover- Super thick and fudgy brownies for breakfast which require NO Baking! Sweet potatoes get flack for being a starchy vegetable, but they have a ton of benefits- Packed with fiber, protein, and vitamins A and C. Besides, what is wrong with starchy veggies? Nothing!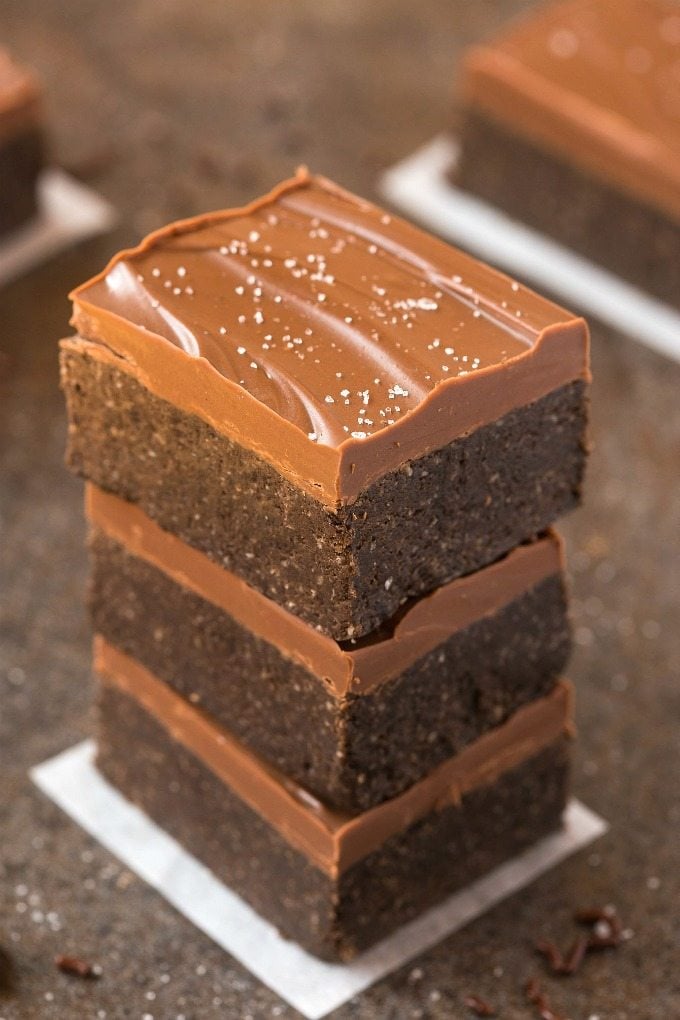 There is something which takes breakfast up a notch, and that is being able to have a traditional 'dessert' as your first morning meal. Bonus points if it is healthy and completely balanced. These brownies are just that- they are high in fiber, packed with protein and naturally sweetened. They also use one bowl and take less than 10 minutes to prepare. They are also completely suitable for those following a vegan, gluten free, paleo, dairy free and grain free lifestyle, so fingers crossed no one misses out!
Texture wise, they are a cross between a traditional brownie and a no bake breakfast bar. They are thick, chewy, sweet and fudgy, yet can be even firmer if you enjoy it directly from the fridge. They come with three frosting options, whether they be the protein packed one, the sugar free one, or the creamy cashew butter one.
You'll notice that cashew butter and maple syrup are included in the recipe, but these can easily be substituted if you want to keep it nut-free or sugar free. Almond butter is the best swap for the cashew, or sunflower seed or soynut butter. If you enjoy peanut butter, that totally works too, but note that will make these no longer paleo-friendly.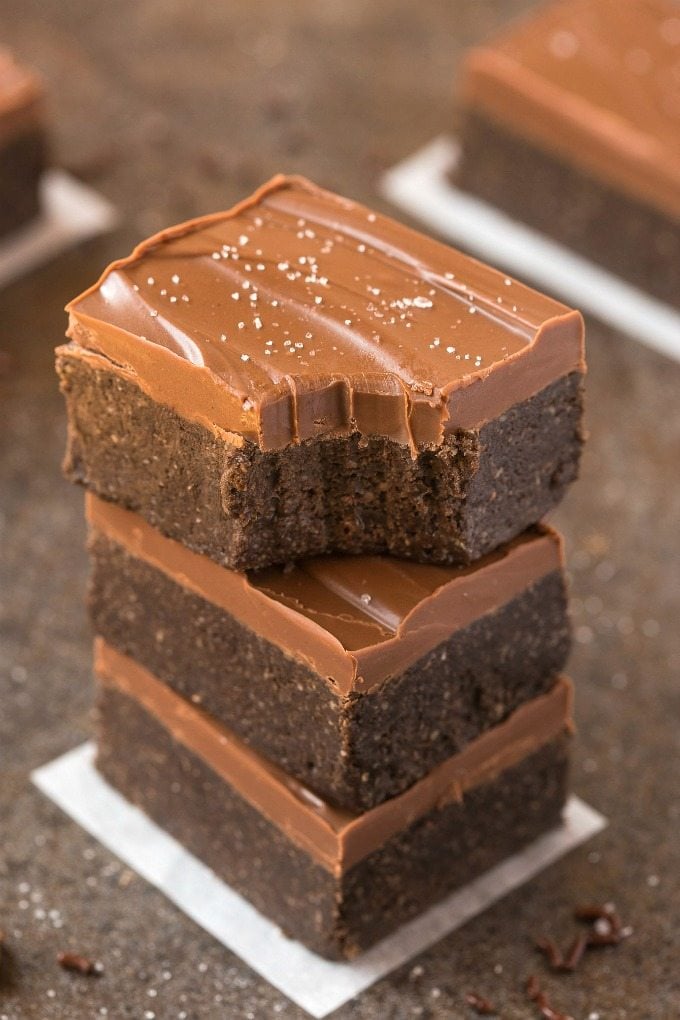 Maple syrup is the best sweetener, as it doesn't overpower the other ingredients, but this can be subbed too. Agave or coconut nectar are both fantastic swaps, along with brown rice syrup (similar to peanut butter, this will make them no longer paleo friendly). You can use honey, however, make sure you are a fan of it, because the flavor really shines through.
The darkness of the breakfast brownie base is darker than usual, and that is because I opted to use a dark cocoa powder. It lets the frosting stand out, and personally, I prefer the dark over the standard. If you prefer less distinct brownies, a good quality standard cocoa powder will fit.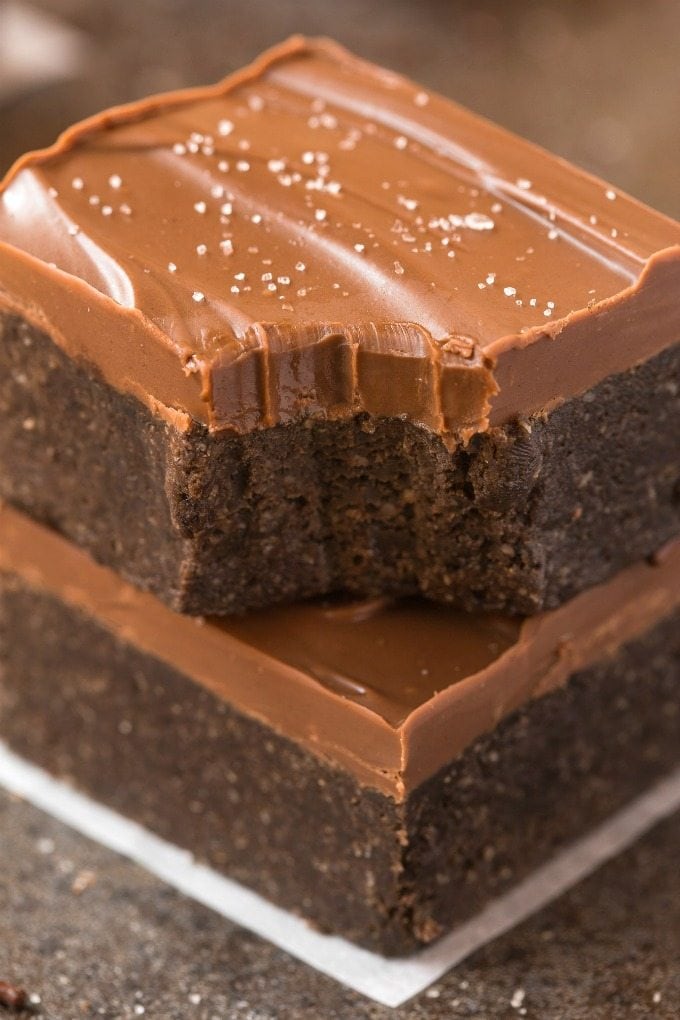 Protein lovers, this works well with adding a scoop of your favorite NON WHEY Protein powder into it. I recommend using a brown rice protein powder, casein protein powder, or paleo protein powder, as they maintain thickness and add a delicious chocolate flavor. Whey protein will leave these a little sticky and once cooled, a little artificial tasting. This, of course, is completely optional.
Just because 'breakfast' is in the title, does NOT discriminate it to other meals- These work great as a pre or post workout snack, a lunchbox treat or a clean eating dessert. Get those sweet potatoes baking or rip a can open- Your breakfast JUST got better.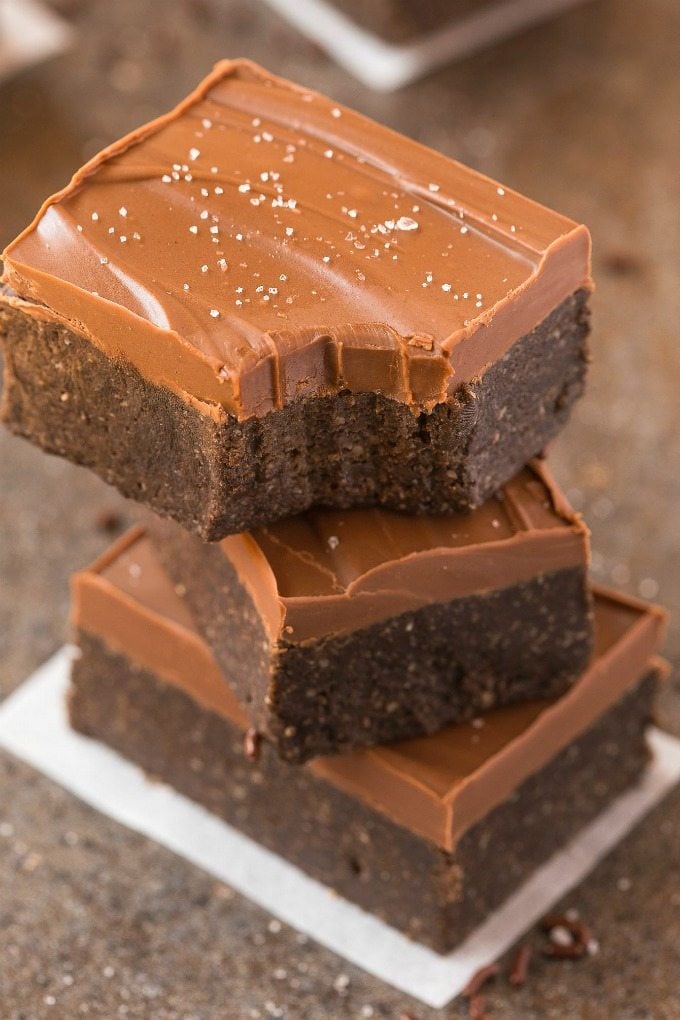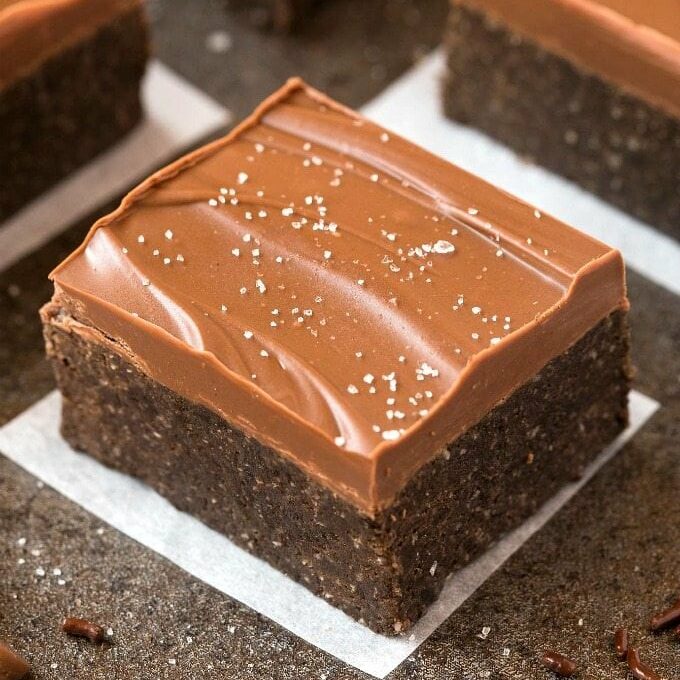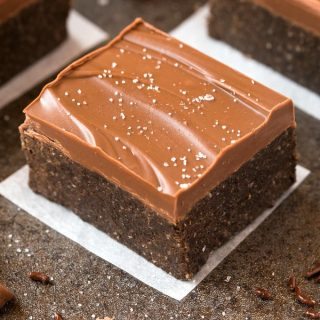 Healthy No Bake Sweet Potato Breakfast Brownies
Dessert for breakfast is sorted with these healthy no bake sweet potato breakfast brownies! Thick, chewy, fudgy and ready in minutes, they are suitable for those following a paleo, vegan, gluten free, sugar free and dairy free diet!
Instructions
Line an 8 x 8 inch square pan or loaf pan with parchment paper and set aside.

In a large mixing bowl, add all your dry ingredients and mix well. Ensure the coconut flour is well sifted to avoid clumps.

In a separate bowl, mix your cashew butter with maple syrup until combined. If your cashew butter is too stiff, feel free to melt them together in the microwave or stovetop.

Pour the wet mixture into the dry mixture, along with the mashed sweet potato, and mix until fully incorporated. If the batter is still too crumbly, slowly add milk or another liquid of choice to it until a relatively thick batter remains.

Pour the no bake brownie batter into the pan and refrigerate until firm. While brownie base is firming up, prepare your frosting of choice (click the links for the specifications). Frost the brownies and refrigerate again until frosting has firmed up. Cut no bake brownies into bars and enjoy!
Notes
To make the cashew butter frosting, combine 2 cups sugar free or standard chocolate chips with 1 cup of smooth cashew butter, along with 1 teaspoon of coconut oil. Melt and pour over the brownies.
* You may need more or less, depending on how thick your batter is.
No bake sweet breakfast brownies are best kept refrigerated but are freezer friendly too. For a super fudgy bar, enjoy at room temperature.
Nutrition
More delicious brownies? Gotcha covered!
4 Ingredient Flourless Protein Brownies
Flourless Chocolate Raspberry Brownies
Disclosure: This post may contain affiliate links. I may earn a small commission for my endorsement, recommendation, testimonial, and/or link to any products or services from this website.