These super rich and fudgy flourless brownies require no baking, use just 4 ingredients and are designed specifically for breakfast! They are completely naturally sweetened, protein-packed and are vegan, gluten free, paleo, dairy free and refined sugar free!

Brownies for breakfast are standard in this neck of the woods. Sometimes we bake them with overripe bananas, sometimes we use homemade Nutella in them, and other times, they are the classic fudgy type. Today, we are doing something a little new and different around here.
Today, we will be using zero flour (no coconut flour, oat flour, or almond flour) but using a more 'rare' ingredient around here- DATES! My first attempt at this recipe using dates actually involved soaking them, however, I found that using them in its whole form was a better (and easier) method!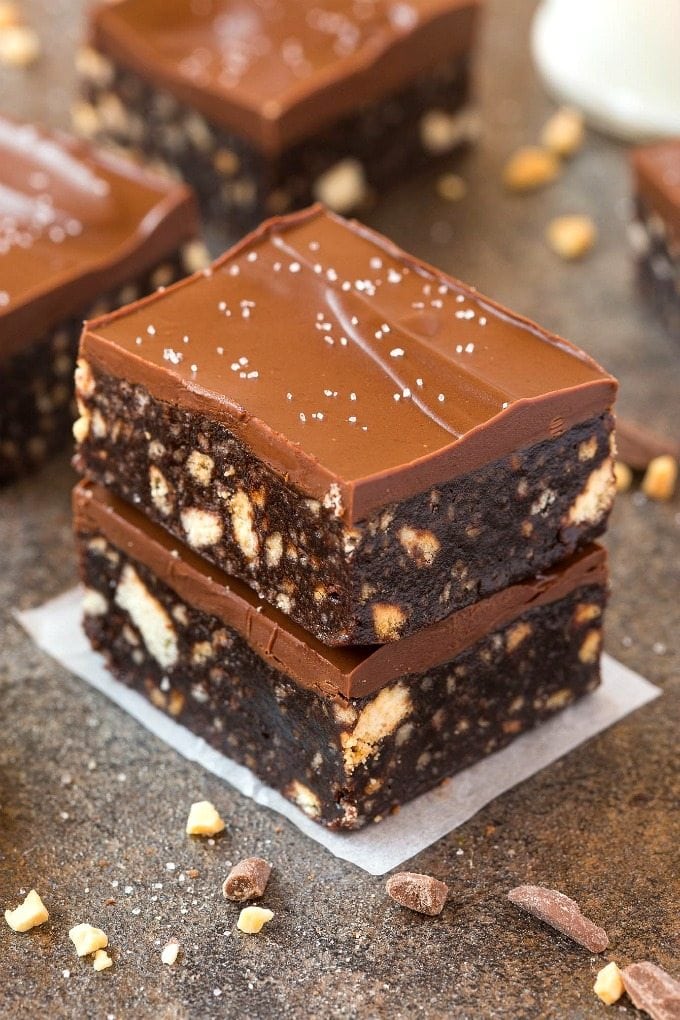 There is a very important reason for this, and it's in honor of a special someone- NATALIE! I feel like in recent weeks, many of my blogging buddies have had birthdays, which resulted in dedicated recipes for them- We've had the carrot cake oatmeal smoothie and the Greek salad wraps. It's time to fulfill a belated one, because she conveniently forgot to tell me hers!
This birthday recipe will be healthy NO BAKE flourless breakfast brownies using just four ingredients! Did I mention that they are dietary friendly too? They cover most bases- They are naturally gluten free, paleo, vegan, dairy free, refined sugar free and fruit sweetened!
If you've ever been a reader of FOF, you'll know that there is are several recipes and/or themes there- Dates, nuts, and cocoa powder. After confirming with Natalie what her favorite nut was, I put all of this into motion. I wanted to incorporate all of these in a fun recipe, and for a fun meal, so which better meal than breakfast?! These flourless no bake breakfast brownies were the answer!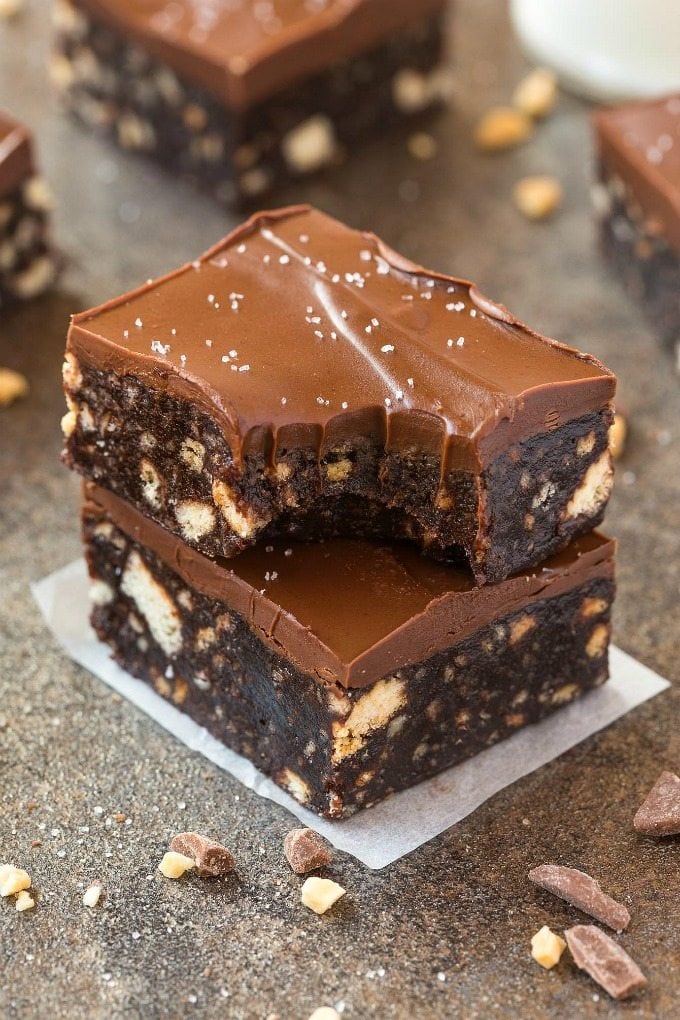 We want the recipe to be easy, and this could not be any easier- They require no baking whatsoever, so skip the oven, the microwave and whip out your high-speed blender. All you'll need to do is chuck all the ingredients in there and blend until your desired consistency and BAM- All you need to do now is transfer to a loaf pan, press into place and refrigerate while the frosting is formed.
Alternatively, you can use a food processor, so whichever is easiest for you!
Flour is something you've seen omitted completely, and it's thanks to the combination of cocoa powder (dry), Medjool dates (wet) and whole cashews (binder) which form into a delicious thick dough. Initially, I had my bag of coconut flour by my side, thinking I'd need to add a tablespoon or two to help thicken it, but didn't need to whatsoever.
With some ingredients, you need to be extremely careful of which types you choose. In this instance, you NEED to use Medjool dates! Medjool dates are a little more expensive that your traditional boxed or packaged variety, but the flavor and texture are completely different- They are soft, gooey in the center, and in some cases, have natural crystallization occurring on the outsides. You'll notice the difference immediately, especially once blended with the other ingredients.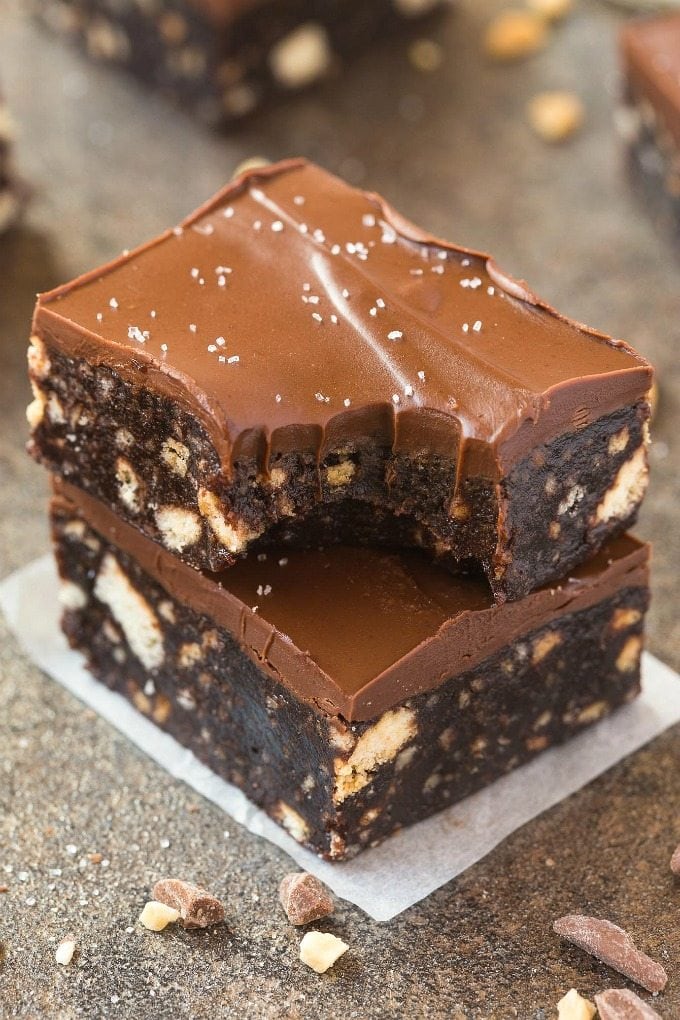 I'm a huge fan of texture- Big chunks of nuts, small chunks of nuts and some blitzed into an almost flour like consistency. For this to happen (as you'll see with the pictures- A combination of chunks and smaller pieces), I separated half the cashews and added them in after all the other ingredients had already been blitzed quite finely. This allowed for these no bake brownies to have a combination of textures throughout! Also, if you aren't a fan of cashews, feel free to swap them out for equal amounts of almonds, pecans or walnuts!
Besides the bits of chunky nuts, these flourless no bake brownies taste so decadent and rich, you'd be shocked to believe they are completely guilt-free! They are super fudgy and melts in your mouth. They can be kept at room temperature for optimum gooey brownies! If you'd like a thicker, chewier brownie, keep them frozen and thaw slightly before digging in!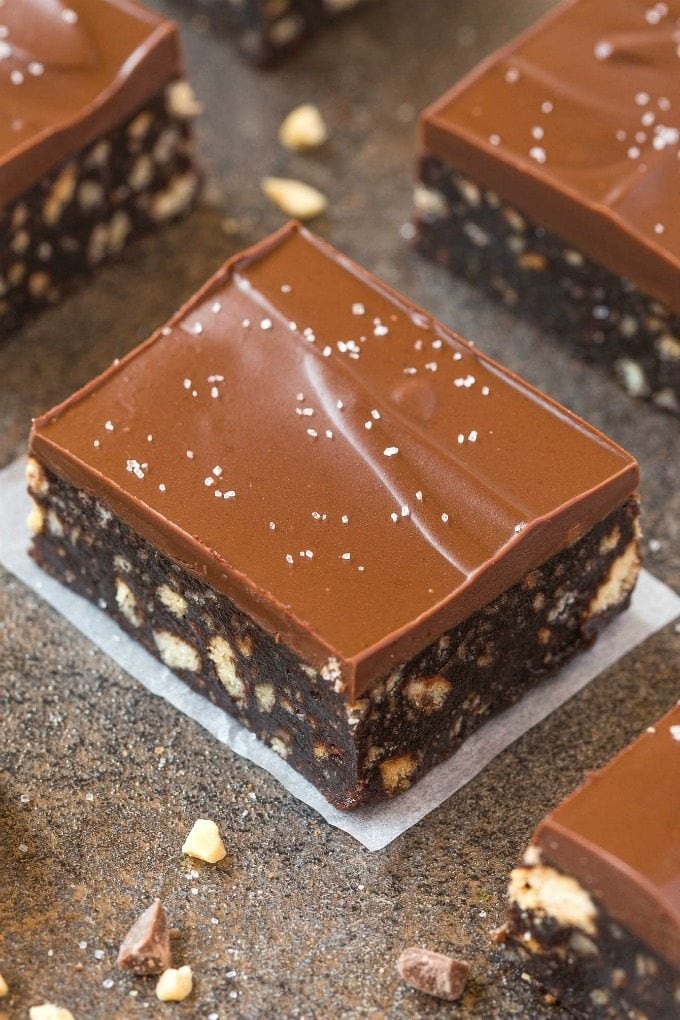 Chocolate lovers will adore how beautiful the dates and cocoa powder pair together, that there is no need to add any chocolate chips or chunks. Dark chocolate lovers, consider using a dark cocoa powder. For a lighter taste, a good quality cocoa powder will be perfectly fine. If you are like me and can't decide, use a combination of both!
For those of you wanting a hit of protein OUTSIDE of the protein frosting, you can easily add a scoop or two of protein powder in it. I recommend using a casein protein powder, brown rice protein powder, or paleo protein powder. Depending on the protein powder you use, it may need a dash of milk or liquid to form a more sticky, formable batter. The reason for this is that those recommended protein powders are very thick.
My favorite part is the customizable frosting! If you are after a hit of extra protein, follow this recipe for a protein-packed, sugar-free (and super thick frosting!) version.Also on that page, there is an option for a chocolate cream cheese frosting. If a clean eating chocolate frosting is what you are after, this one simply uses cocoa powder, pure maple syrup and a dash of vanilla. If all you want is an extra dose of chocolate, simply melt your favorite dark chocolate bar over it (sugar-free friends, this brand works great!).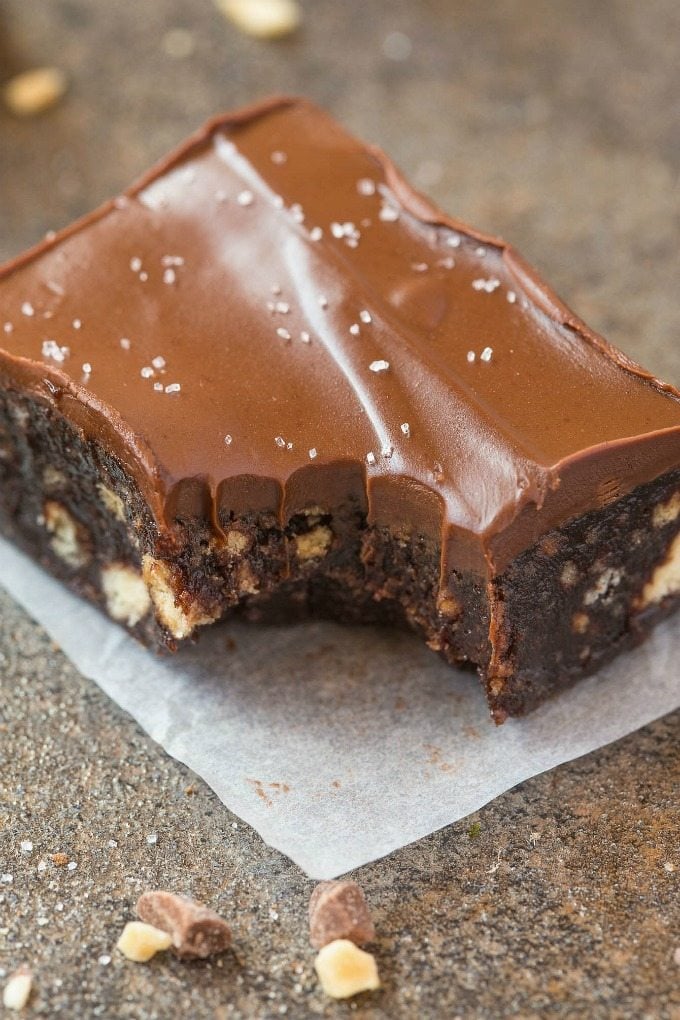 Breakfast, snack or even a healthy dessert, embrace Nat's belated birthday with a batch of these…or ten.
4 Ingredient No Bake Flourless Breakfast Brownies (Paleo, Vegan, Gluten Free) were loosely adapted from Nourish Au Magazine- July Issue, Page 28.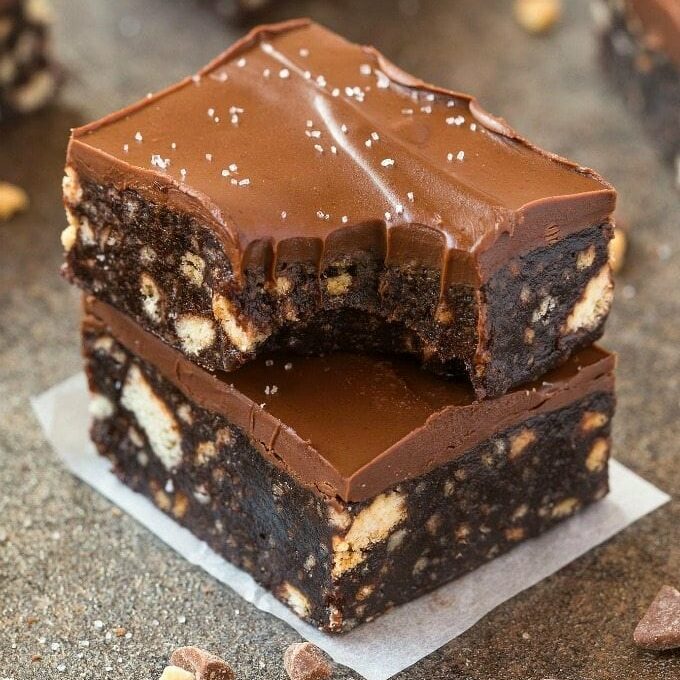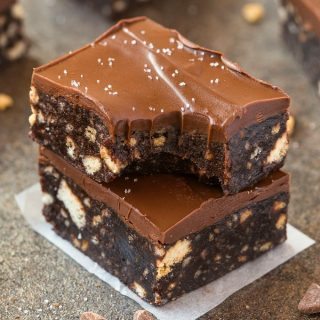 4 Ingredient No Bake Raw Flourless Brownies (Paleo, Vegan, Gluten Free)
These super rich and fudgy flourless brownies require no baking, use just 4 ingredients and are designed specifically for breakfast! They are completely naturally sweetened, protein-packed and are vegan, gluten free, paleo, dairy free and refined sugar free!
Instructions
Line an 8 x 6 loaf pan with parchment paper and set aside.

In a high-speed blender (one which can pulse nuts) or food processor, add all your ingredients, except for half the nuts and process until almost completely smooth. Add the rest of the nuts and blend until the nuts are roughly blended in. If you include protein powder, you may need some liquid to form batter.

Transfer the thick brownie batter into the loaf pan and press firmly in place. Place in the refrigerator while preparing the frosting of choice.

Top no bake brownies with frosting of choice, top with a dash of sea salt and refrigerate for 10-15 minutes, before slicing into even sized bars.
Notes
No Bake Breakfast Brownies are best kept refrigerated but are freezer friendly. For a super fudgy brownie, enjoy at room temperature.
Nutrition
Serving:
1
Brownie
Calories:
188
kcal
Carbohydrates:
17
g
Protein:
8
g
Fat:
12
g
Sodium:
33
mg
Potassium:
305
mg
Fiber:
3
g
Vitamin A:
22
IU
Vitamin C:
1
mg
Calcium:
22
mg
Iron:
2
mg
NET CARBS:
14
g
More delicious breakfast recipes? Gotcha covered!
Flourless Carrot Cake Breakfast Muffins
Flourless Lemon Poppy Seed Breakfast Cake
Healthy Brownie Batter Oatmeal Smoothie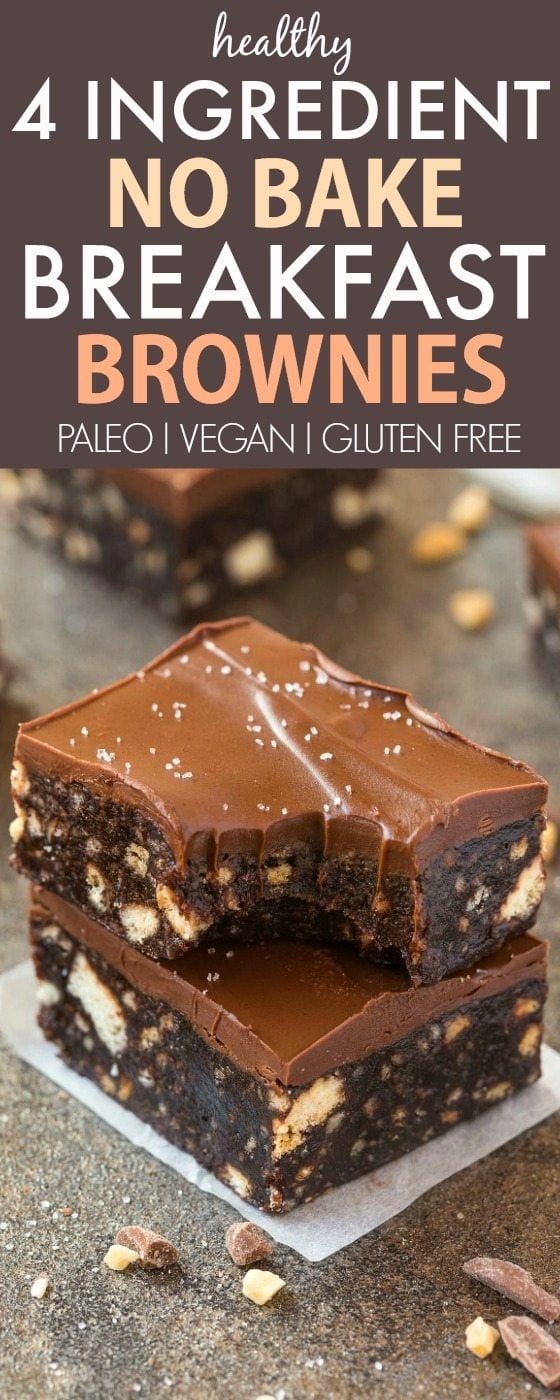 Disclosure: This post may contain affiliate links. I may earn a small commission for my endorsement, recommendation, testimonial, and/or link to any products or services from this website.