A quick, easy and healthy recipe for a keto chocolate raspberry mug cake made without eggs! Packed with protein and gooey on in the inside, this healthy mug cake takes 1 minute but comes with an oven option too! Vegan, Paleo and completely sugar free.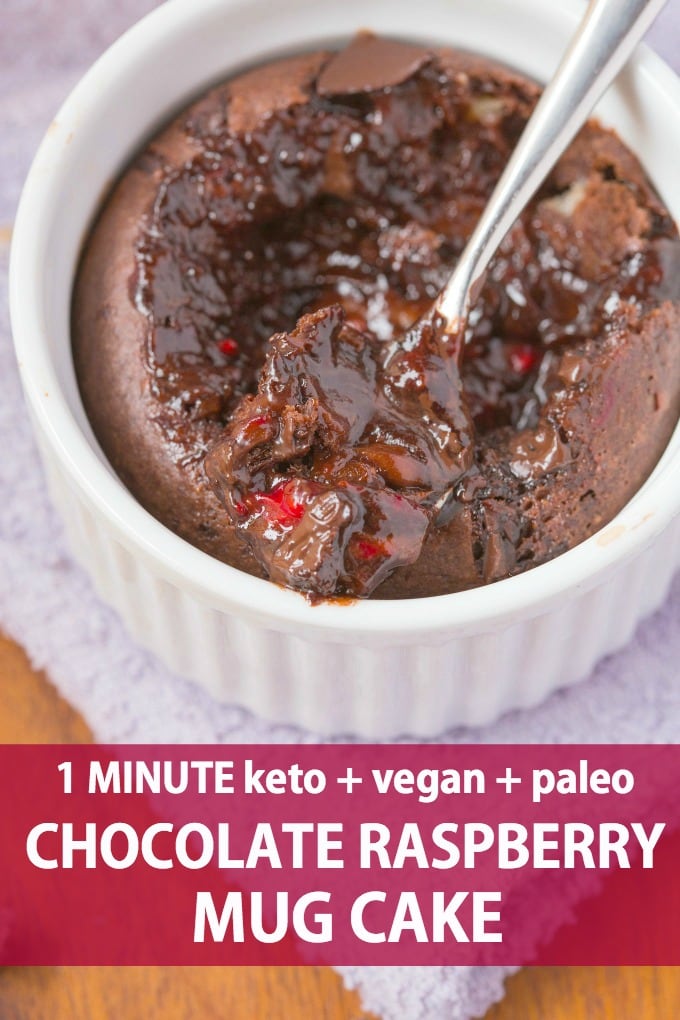 Chocolate Raspberry Mug Cake Recipe
It's no secret that I'm a fan of small batch desserts, especially when it comes to mug cakes. Heck, my first cookbook was all about single serve desserts!
What I love about mug cakes is that they are not only quick and easy to prepare and enjoy, but they are perfectly portioned for one. If you are anything like me, your definition of a slice of cake would likely be very different to mine…Oops.
Moreover, what I love about my own mug cake recipes is that they are all also healthy and completely sugar free, making them a snack you can enjoy anytime. They also are vegan and gluten-free, as they are all made without eggs or grains!
Some of my favorites include my cinnamon roll mug cake, vanilla mug cake and my current favorite, the chocolate cake in a mug.
With Valentine's day right around the corner, I'm all about small batch desserts with some Valentine twist to them…Enter raspberries!
Keto Chocolate Cake in a Mug with Raspberries
Okay, so raspberries have nothing to do with Valentine's day, and I definitely don't recommend or suggest you only eat them on this day!
I am obsessed with adding raspberries to the chocolate mug cake recipe base, as it slays in the texture department.
Texture wise, the chocolate raspberry mug cake is moist, gooey and almost lava-cake like in the center. It's lightly tender on the outside, and as it is made without eggs, it doesn't matter if it seems undercooked!
Taste-wise, it's a cross between a gooey fudgy brownie center and a chocolate pudding- It is THAT good!
Fresh Raspberries or Frozen Raspberries
Fresh raspberries are obviously very seasonal, and buying them out of season will indeed cost you an arm, leg and a mythical unicorn.
If you have fresh raspberries on hand, they would be the ideal choice. However, frozen raspberries work just as well, and are super affordable!
To use frozen raspberries, just be sure to thaw them out completely. Raspberries are naturally a very fragile fruit. Using them in a frozen state in this mug cake won't allow it to bake properly and you'll be left with a very under-cooked and almost pudding-like mug cake.
To thaw raspberries, simply remove the desired amount and refrigerate it. In the morning or before you make the chocolate raspberry mug cake, pat the raspberries dry with a paper towel, to ensure all the ice particles have been removed.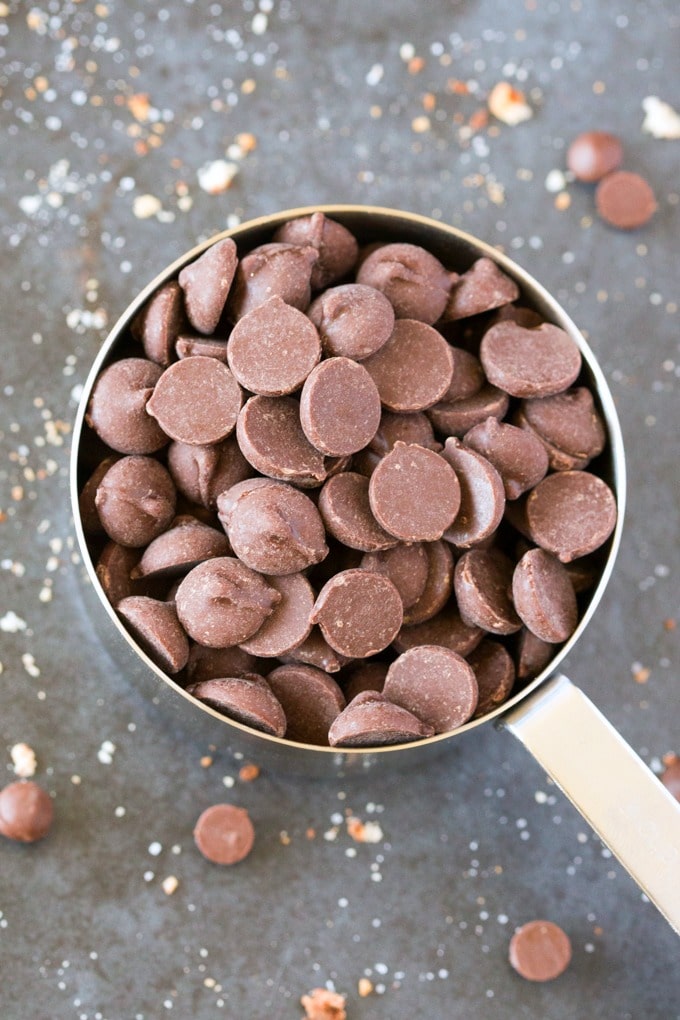 Keto Chocolate Mug Cake With Coconut Flour
Coconut flour is necessary to help bind the ingredients together (remember, it is made without any eggs!), especially when paired with the cocoa powder.
Do not omit or sub the coconut flour for something else- this will not work. If you want a chocolate raspberry mug cake without coconut flour, you can make this recipe here.
Microwave Or Oven
Not everyone owns a microwave or feels comfortable using one.
I used a microwave for this recipe, and it took less than 1 minute. If you prefer a slightly more tender cake (it will be moist and gooey regardless), you can cook it a little longer. Again, be wary that microwave times depend on your make and model.
I've tested it out in the oven, and it is super simple to do! Simply pour the cake batter in an oven-safe ramekin (I used a 6-inch one) and bake for 10-12 minutes, or until your desired texture is achieved.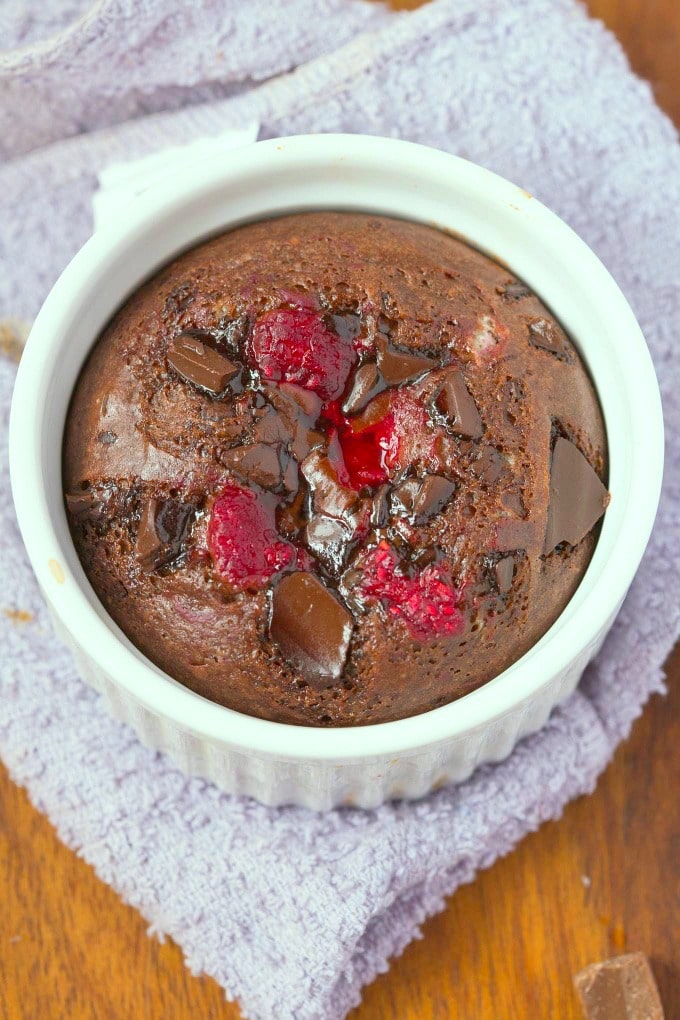 Whether you celebrate Valentine's day or not, this healthy chocolate mug cake with raspberries will satisfy your chocolate cravings in minutes! Whether you follow a ketogenic, low carb or vegan diet, this tastes delicious regardless!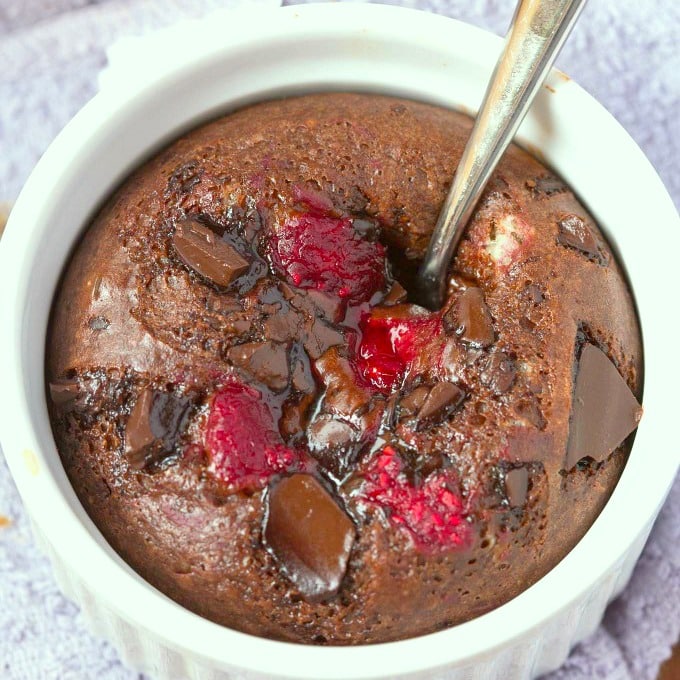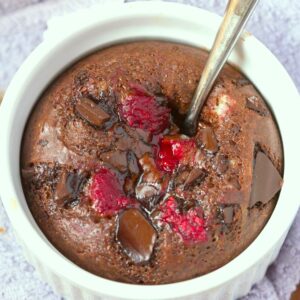 Healthy Keto Chocolate Raspberry Mug Cake
A healthy single serve keto and vegan chocolate mug cake recipe with raspberries! Moist and gooey in the center, this quick and easy recipe takes one minute and comes with an oven option too! Paleo, Gluten Free and Sugar Free.
Instructions
In a microwave-safe bowl or cereal bowl (microwave safe), combine your dry ingredients and mix well.

Add the rest of your ingredients, except for the raspberries and milk, and mix until a thick batter remains.

Stir through your raspberries then add a tablespoon of unsweetened milk. If the batter is too thick, add extra milk. Microwave for 1-2 minutes, or until just cooked and gooey in the center.
Oven instructions
Preheat oven to 180C/350F.

Grease an oven-safe ramekin with cooking spray. Follow the microwave instructions and bake the mug cake for 10-12 minutes, or until desired texture is achieved.
Notes
* The chocolate raspberry mug cake has no eggs in it, so undercooking the mug cake is no issue. Over-baking it won't yield a cake-like texture regardless.
Healthy Keto Chocolate Raspberry Mug cake can easily be doubled or quadrupled, just increase the size of the ramekin and/or use a baking dish.
Nutrition
Serving:
1
mug cake
Calories:
152
kcal
Carbohydrates:
13
g
Protein:
7
g
Fat:
8
g
Fiber:
8
g
Vitamin A:
100
IU
Vitamin C:
8.3
mg
Calcium:
30
mg
Iron:
0.5
mg
NET CARBS:
5
g

Disclosure: This post may contain affiliate links. I may earn a small commission for my endorsement, recommendation, testimonial, and/or link to any products or services from this website.