Healthy No Bake Pumpkin Spice Latte Bars
These healthy No Bake Pumpkin Spice Latté bars are thick, chewy and replicate the infamous drink in a snack bar form! Packed with protein and naturally sweetened, this quick and easy recipe is naturally gluten free, vegan, paleo, dairy free and grain free!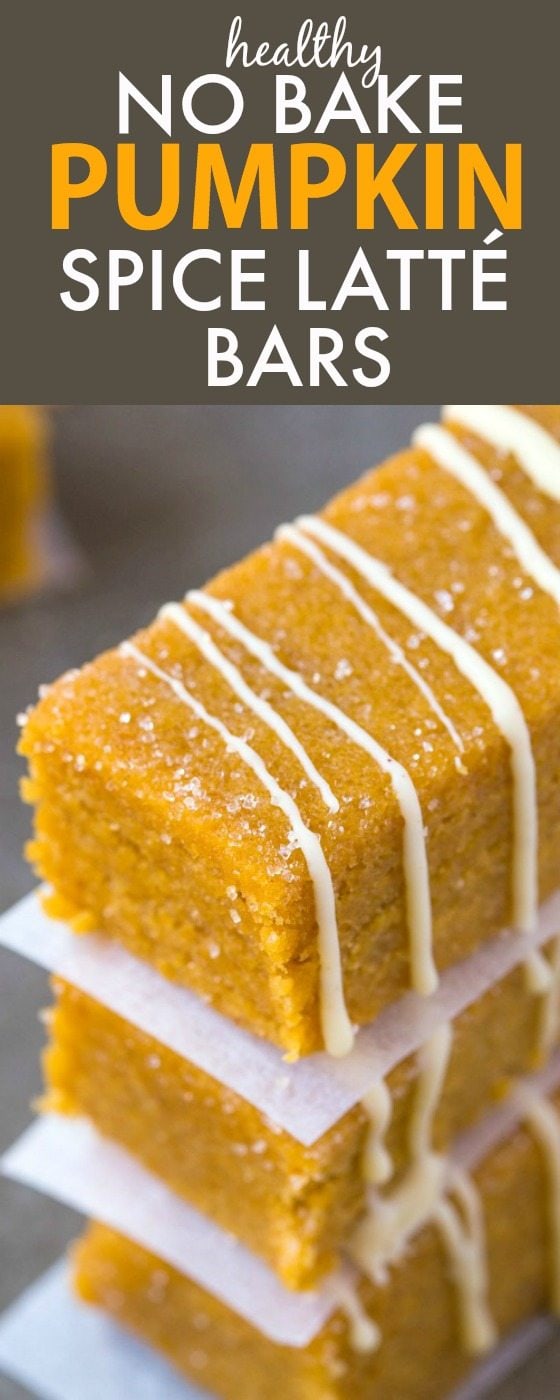 I'm not even going to mention the recent overriding theme in my recent recipes.
You can just expect it moving forward….especially since I gave you a hint yesterday. Even though Amanda and I did pumpkin WEEK, we both have another pumpkin-esque recipe to keep the momentum going for you guys this week!
September 6th.
The day today's recipe is posted is a very important day for all Fall/Cliche/pumpkin lovers- It's the day Starbucks officially adds the Pumpkin Spice latté to their menus.
Why officially?
If you were a lucky chicken, you could have scored one on September the 1st, but it wasn't menu official until today.
Geebuz, this sounds like elementary dating.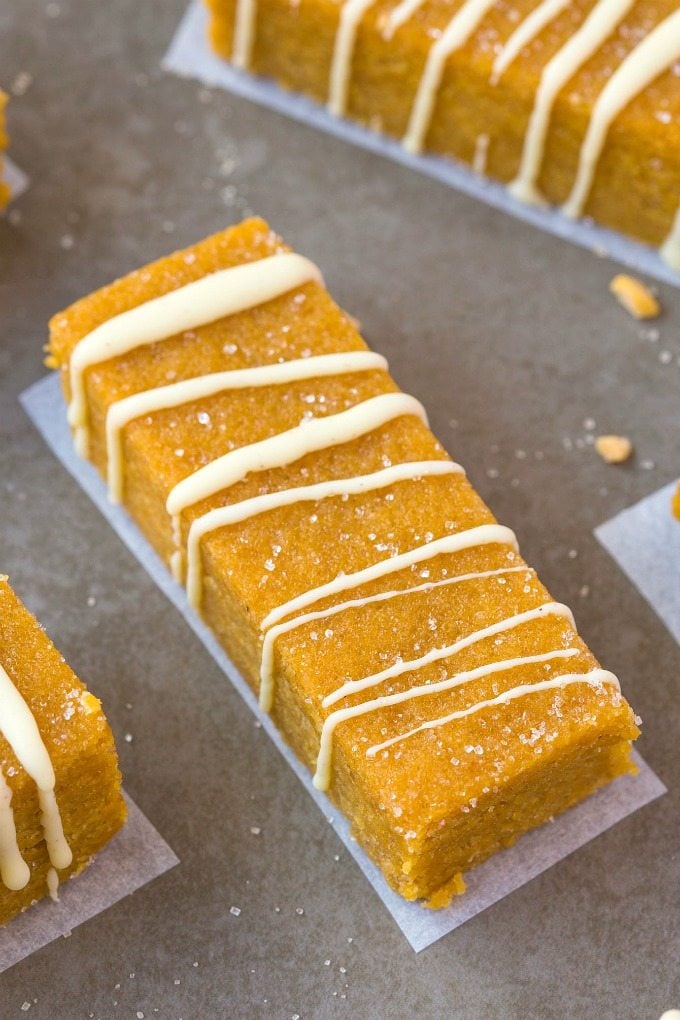 The concept of pumpkin and coffee together makes the majority of my Australian friends and family gift me with a look of utmost disgust. I've mentioned on here many times before, but in Australia, pumpkin is traditionally a more savory food. Case in point- I just asked this question to my friends back home to write what first came to their mind. In full disclosure, one response was omitted because it was a little too PG13 for here.
"When I say pumpkin, what do you immediately think of?"
Friend 1- Pumpkin soup and sourdough bread.
Friend 2- Sunday roast with all the trimmings.
Friend 3- Roasted, mashed with butter and eaten with lamb.
Friend 4- Your stupid blog lately.
Friend 5- Pumpkin, feta, and smashed avocado toast.
Oh geebuz, friend 5 sparked a craving.
Off topic, but there is no better brunch food than smashed avocado on toast, topped with pumpkin and feta.
Also, Friend 4 has also been moved off my top Friends on Myspace.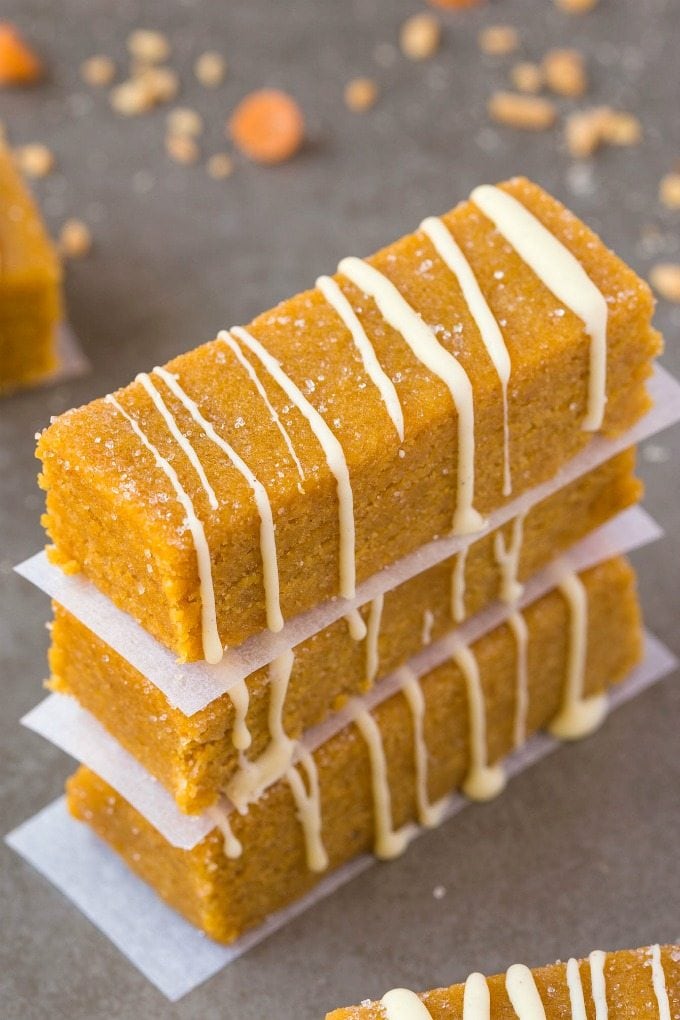 ANYWAY.
Notice a trend? It's all savory. Had I asked my friends in the northern hemisphere, I'd have most likely received a different response. I'd also be safe to assume that the infamous Pumpkin Spice latté would have made it into the picture. For the longest time, I thought Starbucks were the only store which sold it but no…most coffee shops I visited had this offering!
Anyway.
Last year, the day before I shared these pumpkin spice latté inspired bites, I had actually sampled the infamous drink myself. If I had to describe it again, I'd need a thesaurus to assist me in finding out other words for 'sweet'. However, beneath its sugar coma inducing properties, I did enjoy the spices which strangely, paired well with the hints of coffee. This time around, I've tweaked the original recipe slightly, and given it a more 'latte' flavor profile.
So let's jump into the recipe, hey?!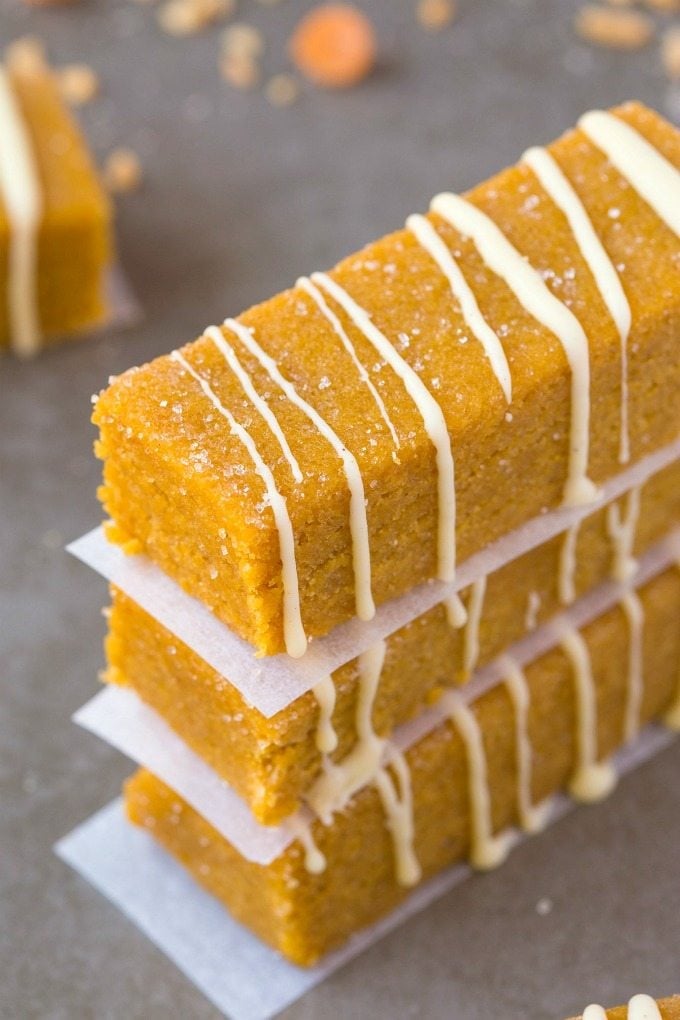 These healthy no bake pumpkin spice latté bars are packed thick, chewy and taste like the infamous beverage, minus the traditional sugar and fat overload! Depending on your texture preference, these bars can either be soft and chewy (ridiculously fudge like!) or firmer and slightly dense (like a chewy granola bar!). These protein packed bars are based around wholesome ingredients, including some of my favorite and most used ones- Coconut flour, monk fruit sweetener (a granulated stevia blend which doesn't leave a bitter after taste in your mouth!) and of course, a scoop of two of protein powder (tested, as always, with this vegan protein powder, this casein protein powder and this paleo protein powder). These bars are also suitable for those following a vegan, gluten free, paleo, grain free and refined sugar free lifestyle!
For those of you who aren't a fan of coffee or adding coffee in your snacks, you can simply omit the espresso powder/instant coffee granules! You'll just be left with delicious pumpkin bars!
HACK! As mentioned in this post, no pumpkin puree is created equal. I used my homemade puree for this recipe but used a different kind of pumpkin. I typically use butternut squash (it's the most neutral tasting), but this time used a Japanese pumpkin. It was considerably sweeter, but also came out slightly more 'yellow' than 'orange', hence the slight tinge in the pictures. If possible, I'd recommend using this brand of canned pumpkin– It's what I ALWAYS use whenever I don't have homemade pumpkin puree on hand!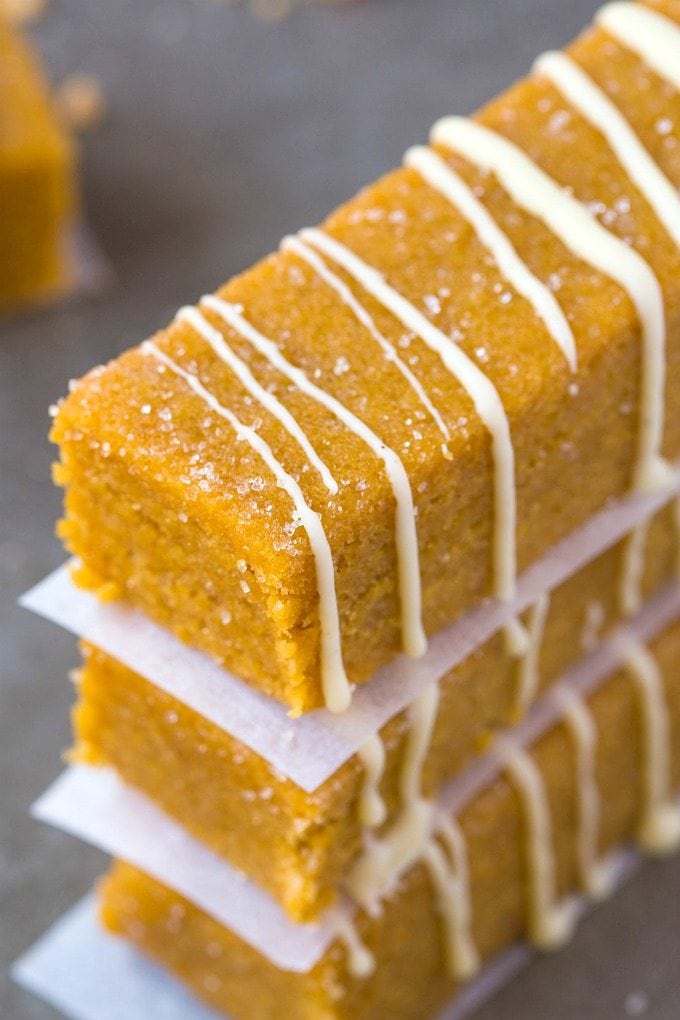 Make these healthy No Bake Pumpkin Spice Latté bars and let's place a penny bet….
Next year, the PSL's will be out in August.
BOOM.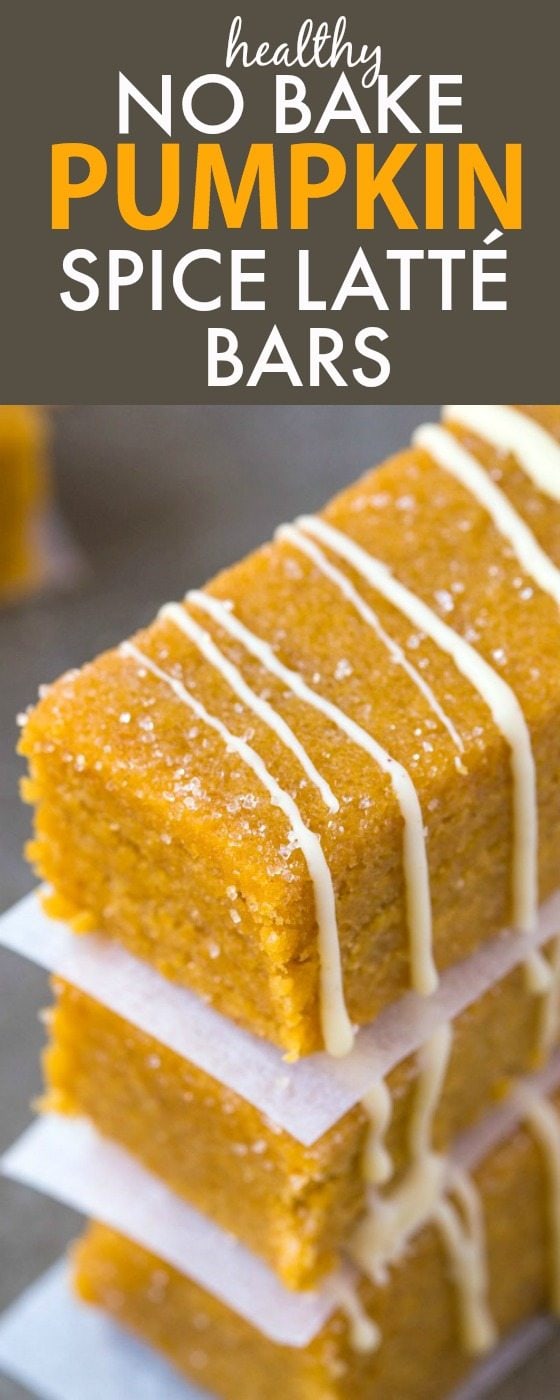 Healthy No Bake Pumpkin Spice Latte Bars
2016-09-06 07:22:17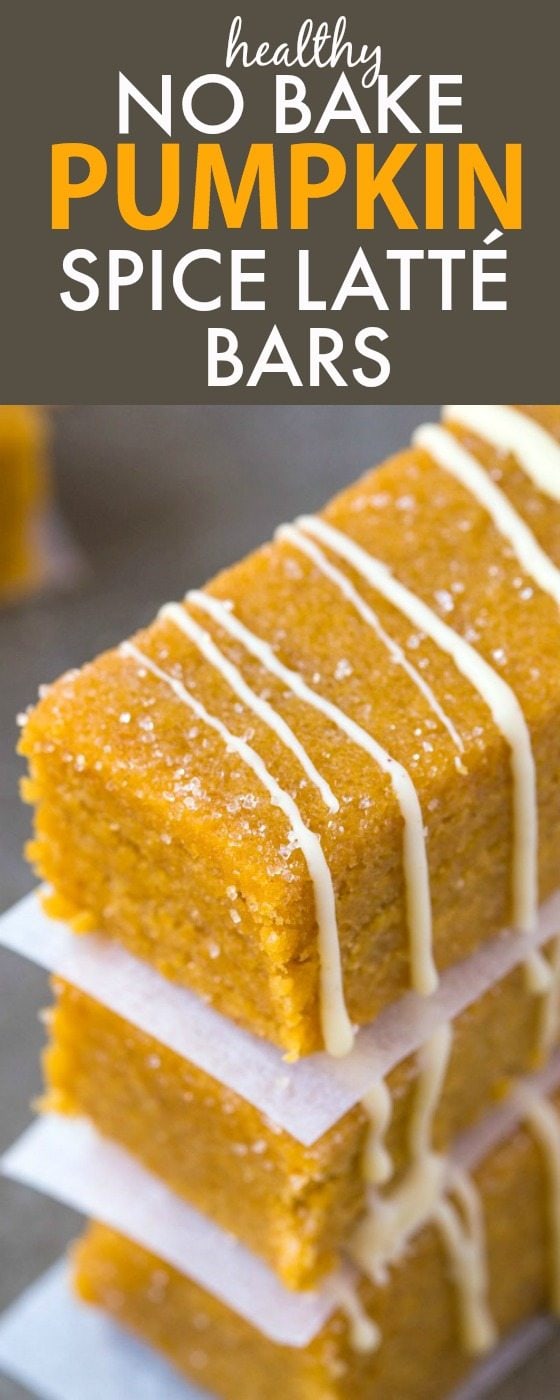 Serves 6
These healthy No Bake Pumpkin Spice Latté bars are thick, chewy and replicate the infamous drink in a snack bar form! Packed with protein and naturally sweetened, this quick and easy recipe is naturally gluten free, vegan, paleo, dairy free and grain free!
Ingredients
1 1/2 cups gluten free oat flour (can sub for rolled oats, oat bran or quick oats)*
1/4 cup coconut flour (can sub for almond or extra oat flour)**
1 scoop vanilla protein powder (optional)
2 T granulated sweetener of choice (I used a monk fruit sweetener)
1 tsp pumpkin pie spice (or a mix of cinnamon, nutmeg, allspice and a dash of ginger)
1 tsp espresso powder OR instant coffee
1/2 cup pumpkin puree
1 tsp vanilla extract
1/2 cup cashew butter (can sub for any nut butter)
1/2 cup brown rice syrup (use maple syrup for paleo option)
1 T + milk of choice (I used unsweetened vanilla almond)***
Cinnamon and granulated sweetener of choice, to coat bites in (optional)
Coconut butter, to drizzle
Instructions
Line a small 6 x 6 pan (thick bars) or 8 x 8 pan (thinner bars) with parchment paper and set aside.
In a large mixing bowl, combine the flours, protein powder, sweetener, espresso powder, pumpkin pie spice and mix well.
In a microwave safe bowl or stovetop, heat your nut butter with your sticky sweetener until combined. Mix in your vanilla extract. Pour your wet mixture and pumpkin to the dry mixture and mix well. Depending on consistency, either add milk of choice or extra flour until a firm texture is formed.
Transfer to lined tray and refrigerate for at least 30 minutes, to firm up. Once firm, cut into bars and coat in cinnamon/sweetener mixture. Drizzle with optional coconut butter and enjoy!
Notes
* To keep it paleo, swap the oats for 1/2 cup coconut flour
** If you use another flour, you'll likely need less milk of choice
*** Depending on the brand of coconut flour and/or protein powder, you may need less/more. Adjust accordingly
Bars are best kept refrigerated and are freezer friendly. For thick, chewy bars, enjoy straight from the fridge or thawed from the freezer. For fudge and soft bars, enjoy thawed from the fridge.
The Big Man's World ® https://thebigmansworld.com/
More delicious pumpkin recipes? Gotcha covered!
The BEST healthy pumpkin recipes

Healthy 4 Ingredient Pumpkin Fudge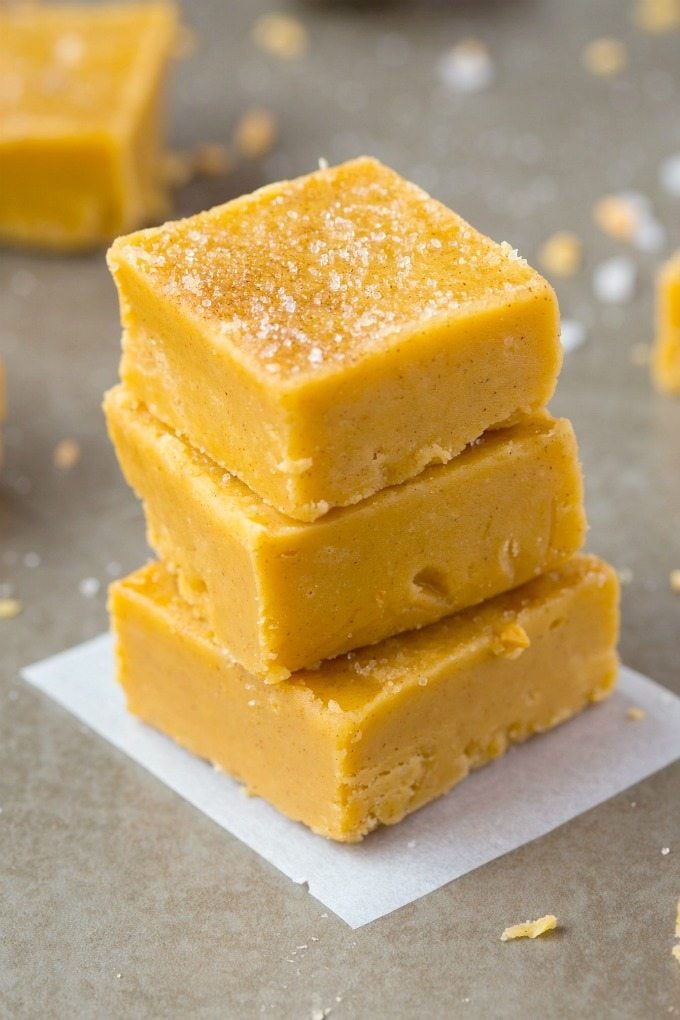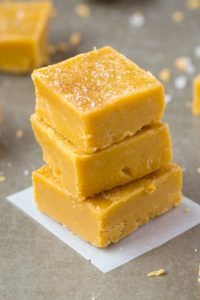 Healthy 3 Ingredient Flourless Pumpkin Brownies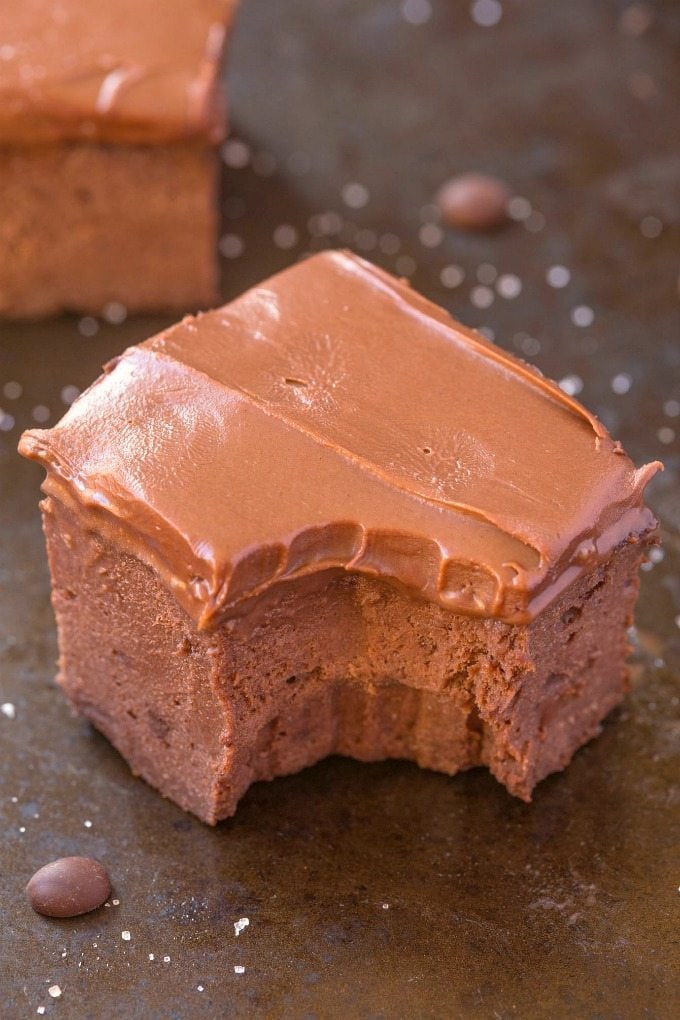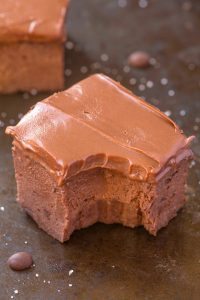 Have you indulged in a Pumpkin Spice Latté before?
Ever enjoyed pumpkin savory style? Mum makes the best pumpkin cheddar muffins.
Click here for all blog policies, disclaimers and affiliates.