Healthy No Bake Unicorn Bites (Paleo, Vegan, Gluten Free) made with just four ingredients and ready in 5 minutes! These quick and easy energy balls are completely paleo, vegan, gluten free, dairy free, refined sugar free and grain free!
When my sister asked for a no-bake bite recipe to fuel her new 'diet', I knew I had to give it a unicorn twist.
It's amazing what a basic energy bite can do, especially when sprinkles are added and they take less than five minutes to whip up. The one caveat with these unicorn bites was that it had to be 'Niki do-able'- A.K.A. VERY FOOL-PROOF.
Food and my sister are two great friends, but not when she is in charge of baking, cooking or creating. She will probably kill me for saying this, but one time, I asked her to get some sprinkles for these cake batter bites and she brought home a cake mix. Let's not talk about the time she brought potatoes to make apple pie protein bars when I asked for two apples.
TWO APPLES.
I've made it my personal mission to keep the 'unicorn' theme trending, outside of the famous Starbucks Frappuccino. I promise that today's recipe won't require any of the same ingredients in the drink, nor require any kitchen gadgets to whip them up.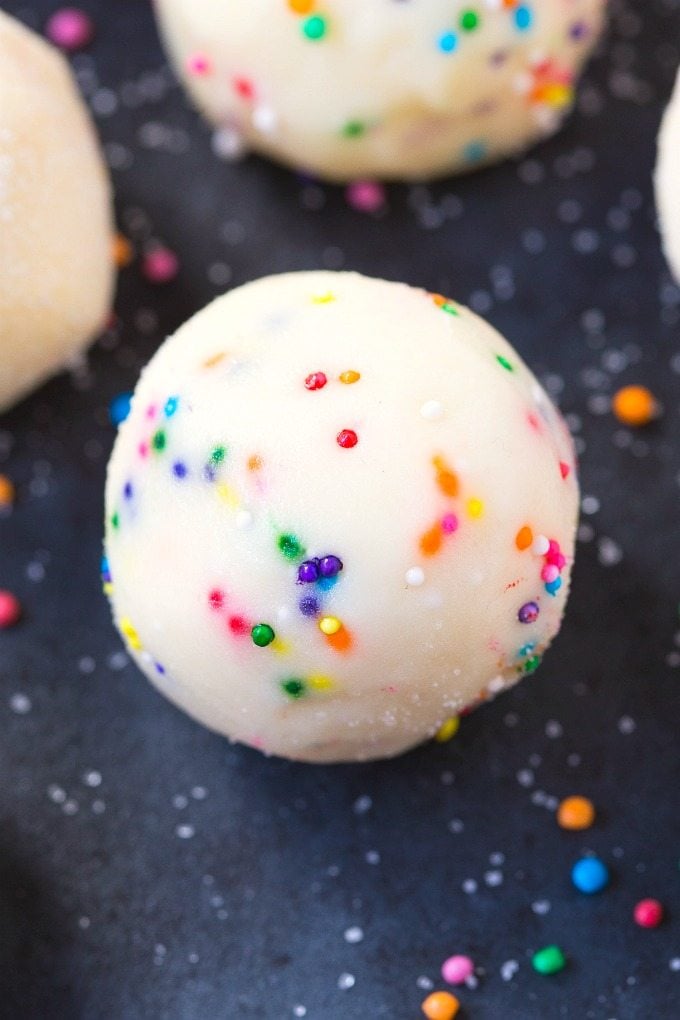 These no bake bites have all the qualities of an ideal grab-and-go snack- Packed with protein, wholesome carbs, healthy fats and no refined sugar. They also are portable, don't require refrigeration and can easily be enjoyed to provide some slow release energy!
Having a huge batch of no bake balls on hand will keep the hunger at bay and ensure you are fully prepped when it strikes. You can throw some in the freezer, keep a serving chilling in the fridge. They are so durable, you can throw them in your handbag/manbag/bag to snack on whenever wherever.
Count to four, because that is how many ingredients you'll need to whip them up.
If you want to be super fancy and super strict with your 'diet', you can completely omit the sprinkles and leave these as simple 3-ingredient no bake bites. If you want to be buff and work out, you can be super fancy and give it a protein punch, with some protein powder.
Regardless of which version you make, these doughy, chewy, cookie-dough like bites will be delicious. Did I mention that they are also suitable for those following a paleo, vegan, gluten free, grain free and dairy free lifestyle? You can even go one up and keep them completely sugar free!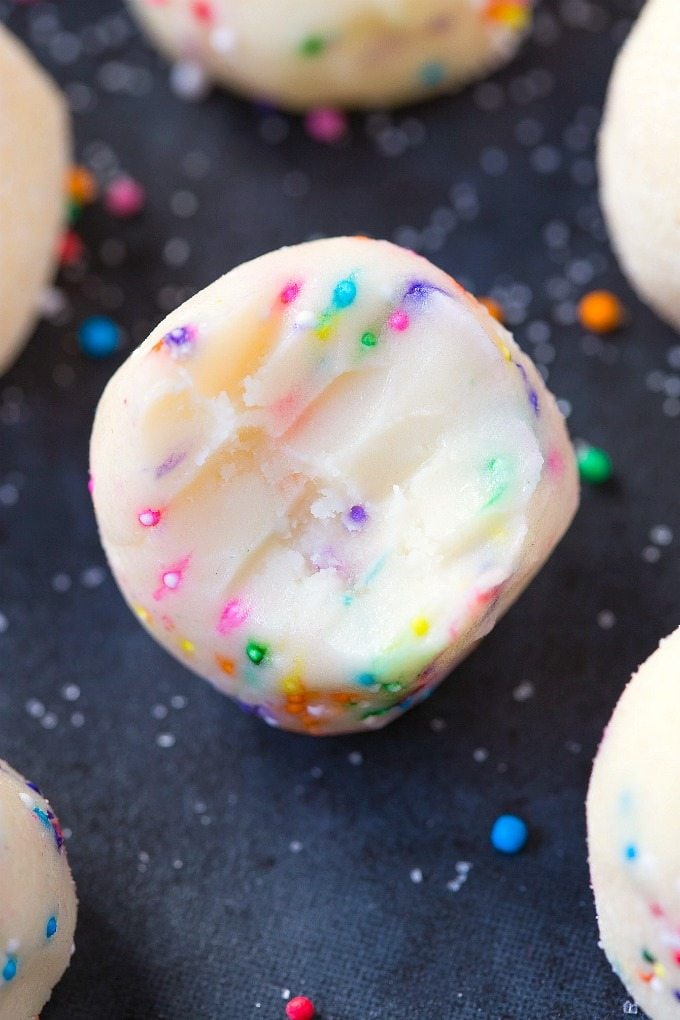 The base is made from coconut flour, a smooth nut butter, and a sticky sweetener- That is all!
PART 1- The dry flour base! I opted to use coconut flour because of its high fiber content and also white color, to give it that 'unicorn factor'. It also provides a doughy and chewy texture, without requiring any flour to be cooked. If you don't follow a paleo/grain-free diet, you can easily swap it out for rolled oats or gluten-free oat flour. If you do choose the latter, you'll need to at least double the amount. The end result will also be incredibly sticky and need to be refrigerated.
PART 2- The smooth nut butter! To keep the unicorn theme happening, I opted to use homemade cashew butter, ensuring a white, glossy nut butter. The cashews I choose were raw, unsalted ones, which were the lightest color. Dry roasted or salted will be darker and yield a similar shade to the packaged ones. The other option to keep them relatively white is to use macadamia nut butter, but I found this overly rich in flavor.
You can easily sub this for almond butter or peanut butter. To keep this nut-free, sunflower seed butter or soy nut butter works great. Be wary that it will yield a darker no bake bite.
PART 3- The sticky sweetener! I used light agave nectar for the pictured recipe, but it was once again, for the novelty of it. I typically use either pure maple syrup or my new favorite sweetener. I've become a huge fan of using the monk fruit sweetened maple syrup as it is naturally sugar free, and mimics the same texture of traditional syrups. Honey, rice malt or brown rice syrup can all be substituted too.
OPTIONAL PART 4- The sprinkles! Before the Paleo and grain-free police come chasing after me, I know- Sprinkles aren't paleo. If you want, you can make homemade Paleo sprinkles (I haven't tried the recipe myself). There are many vegan and color-free sprinkles available on Etsy so use whichever you have on hand or omit them completely.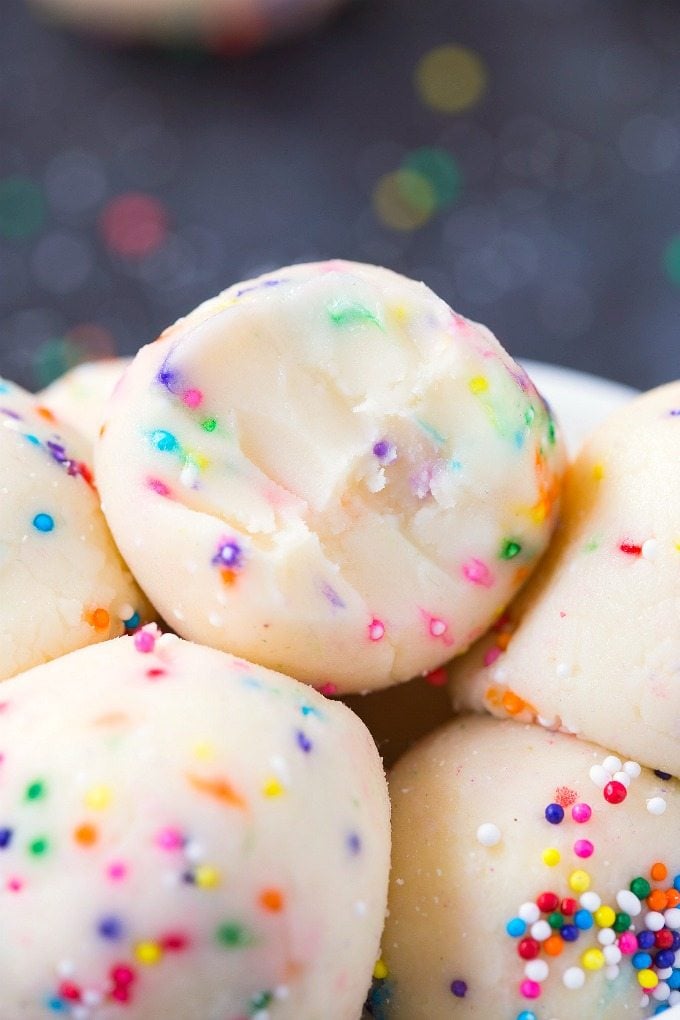 For my protein-lovers, you can turn these no bake unicorn bites unto no bake unicorn PROTEIN bites! Add one to two scoops of your favorite protein powder and slowly add some liquid (milk or water) until the batter is thick!
No protein powder is created equal so I stick to using my favorite brown rice protein powder, casein protein powder, and paleo protein powder. Please note these are the only forms I've tried and can't vouch for other brands or types.
Get your 'Niki' on and set your timer to 5- These fool-proof and easy no bake unicorn bites using just 4 Ingredients need to happen, STAT!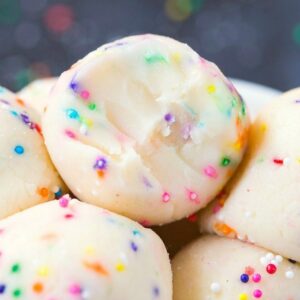 Healthy No Bake Unicorn Bites
Healthy No Bake Unicorn Bites (Paleo, Vegan, Gluten Free) made with just four ingredients and ready in 5 minutes! These quick and easy energy balls are completely paleo, vegan, gluten free, dairy free, refined sugar free and grain free!
Instructions
Line a large plate with parchment paper and set aside.

In a large mixing bowl, add your coconut flour. If you want to include protein powder, mix into the flour now.

In a microwave safe bowl or stove top, melt your nut butter and sticky sweetener until combined. Pour into the dry mixture. Mix well until a cookie dough texture remains.

Add your sprinkles and mix well. If the dough is too firm, add a dash of milk or water, as needed. Using your hands, form into small balls and place on the lined plate.
Notes
* Can sub for any nut or seed butter of choice
** Can sub for another sticky sweetener
*** This will only be necessary if you use certain brands of coconut flour and/or protein powder.
No Bake Unicorn Bites can be kept at room temperature, but are best kept refrigerated. They are also freezer friendly.
Nutrition
More delicious no bake bites? Gotcha covered!
Healthy No Bake Pumpkin Spice Latte Bites
Healthy No Bake Gingerbread Bites
Healthy No Bake Peppermint Mocha Bites
Healthy No Bake Snickerdoodle Bites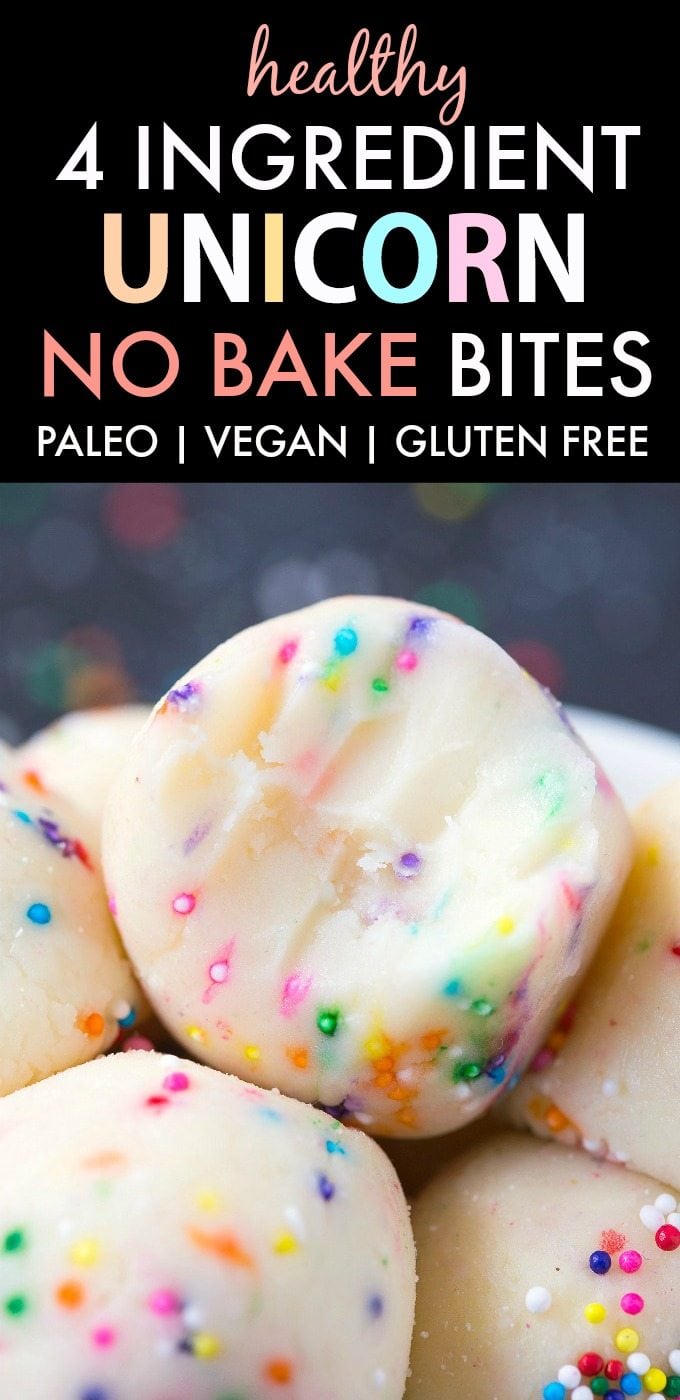 Disclosure: This post may contain affiliate links. I may earn a small commission for my endorsement, recommendation, testimonial, and/or link to any products or services from this website.