Keto Blueberry Muffins (Paleo, Vegan)
These keto blueberry muffins are tender on the outside, moist on the inside, and perfect for a low carb snack or healthy breakfast! Made with almond flour and loaded with blueberries, this quick and easy keto recipe will be your go-to muffin recipe!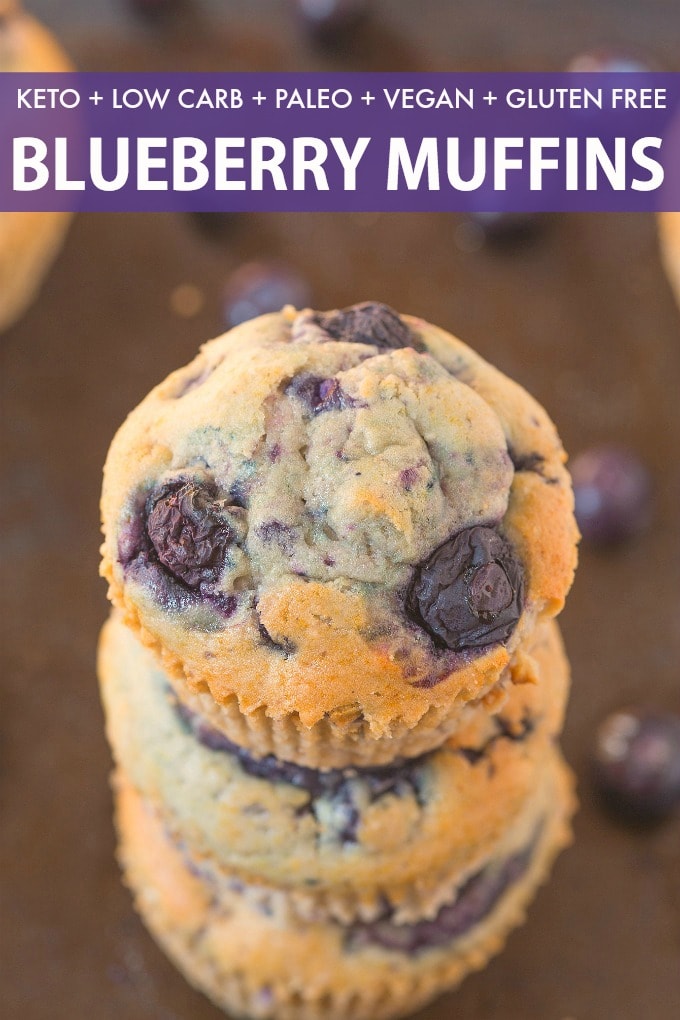 Keto Low Carb Blueberry Muffins
I've been on the market for a high protein, low carb muffin recipe, without protein powder.
Ever since I've started following a ketogenic diet AND working out regularly, I've been needing a filling protein-rich snack to tide me over.
As someone who has developed multiple high protein snacks already, you'd think I would have that already sorted. We've had no bake protein bars, peanut butter protein bars, and even cinnamon muffins.
The only downside I had with those recipes is that they all used protein powder. Now, I have nothing against protein powder, but I've been trying to obtain my protein intake more naturally.
With extra blueberries lying around, I knew I had to use them up! I'd made some protein blueberry muffins before, but wanted to change up the texture, and omit the protein powder.
I decided to re-work one of my cookbook recipes which were blueberry muffins. While those muffins were delicious and filling, I wanted to change up the texture and ingredients. I also wanted to share a couple of options.1
Friends, welcome to the BEST keto muffin recipe you'll now enjoy all the time.
In terms of texture, these keto blueberry muffins are tender and light on the outside, but super moist on the inside.
In terms of taste, they are sweet, slightly nutty and bursting with blueberries with every bite!
To make these healthy blueberry muffins, you only need 7 Ingredients-
Almond flour
Blueberries
Granulated Sweetener (Sugar substitute)
Coconut oil
Coconut milk
Eggs
Baking powder
That's it!
ALMOND FLOUR
You can either use blanched almond flour or almond flour for these muffins.
I prefer using blanched almond flour, as it yields a lighter color and more fluffy texture.
BLUEBERRIES- FRESH OR FROZEN
Depending on where in the world you are located, fresh blueberries may be out of season or super expensive.
This recipe works just as well with frozen blueberries. Just be sure to thaw them out completely, and lightly pat them dry before adding to the batter, to ensure no ice particles or water matter remains.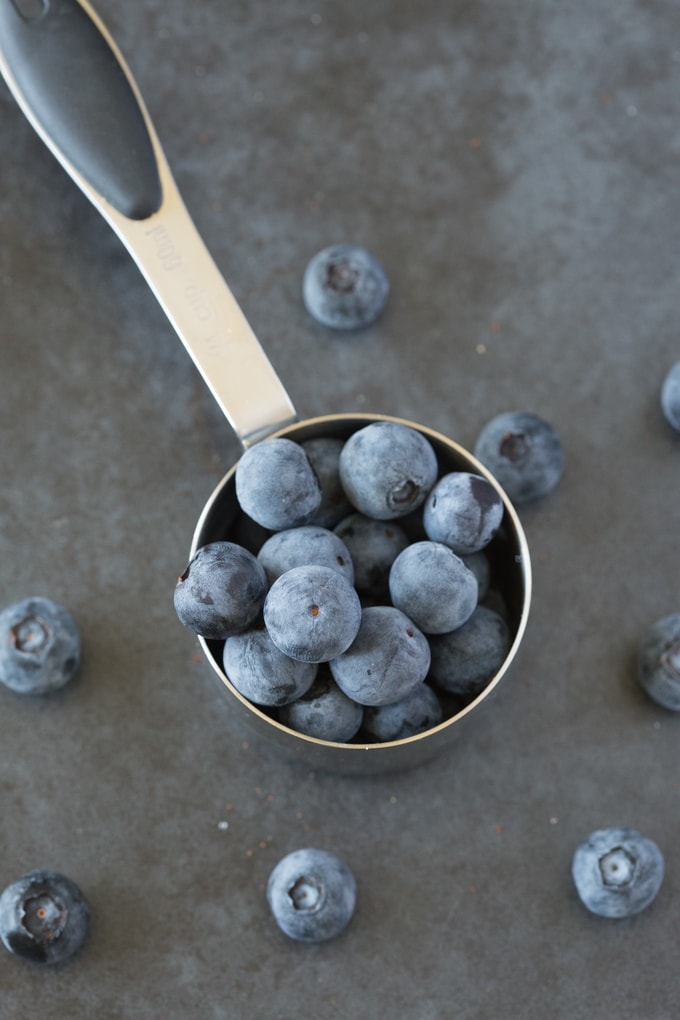 KETO SWEETENERS
A granulated sweetener (sugar consistency) needs to be used for these muffins.
I prefer using either monk fruit sweetener or swerve, which both look and feel like sugar, and provide the sweetness necessary. They also are both low carb and zero calorie sweeteners, perfect to keep these muffins sugar free too!
HOW TO MAKE THESE MUFFINS EGGLESS
As I wanted to provide a TESTED vegan and eggless version, there are a few tweaks that need to be made to create a similar muffin, made without eggs.
Please check out the recipe card for the minor changes (the ingredient amounts will differ slightly). The main differences are below-
Adding tapioca flour to replace the eggs! No need for any egg substitutes or flax eggs etc, using tapioca flour, along with slight tweaks to the other ingredients will yield perfect muffins!
TIPS AND TRICKS FOR PERFECT KETO BLUEBERRY MUFFINS
Always grease your muffin tin or silicone muffin mold. This just ensures the extra precaution that they avoid sticking to the bottom.
The vegan/eggless option has DIFFERENT ingredient amounts and a few tweaks- PLEASE be wary of this!
Let the muffins cool for 5 minutes in the tin/mold, before transferring to a wire rack to cool completely. Allowing them to remain in the warm pan will yield soggy bottoms and slightly doughy centers.
Cooking times will be dependent on your oven and location. Insert a skewer around the 19-minute mark, then regularly check up from there until cooked. Mine generally take around 25 minutes.
Store leftover muffins in the refrigerator, as this will ensure they remain fresh and delicious for up to 5 days. They are also freezer friendly and will keep for up to 2 months.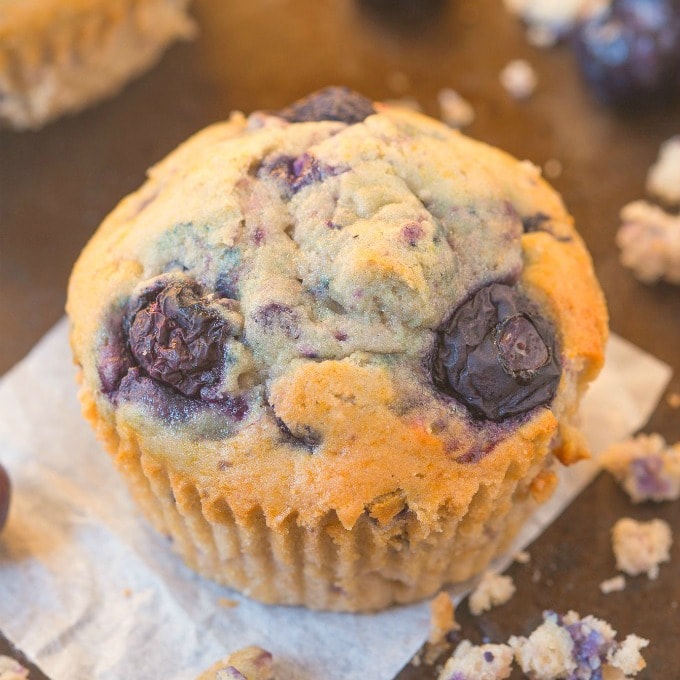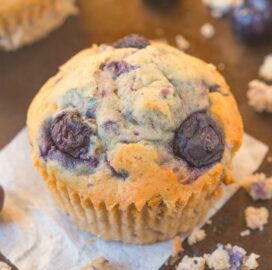 Keto Blueberry Muffins (Paleo, Vegan)
An easy keto muffin recipe loaded with blueberries and made with almond flour! Quick, delicious and packed with protein, these muffins are the best low carb snack or breakfast! Paleo, Vegan, Gluten Free.
Print
Pin
Rate
Instructions
Preheat the oven to 175C/350F. Lightly grease a 12-count muffin tin or silicone muffin pan and set aside.

In a large mixing bowl, add your dry ingredients and mix well.

In a separate small bowl, add your other ingredients, except the blueberries, and whisk well.

Combine the dry and wet ingredients and mix lightly, but do not overmix. Fold in your blueberries and let sit for 5 minutes.

Distribute the muffin batter evenly amongst the muffin tin, about 2/3-3/4 way full. Bake for 19-25 minutes, or until a skewer comes out clean. Allow cooling in pan for 5 minutes, before transferring to a wire rack to cool completely.
Notes
Your batter shouldn't be too thick, but if you've added too many blueberries or using almond flour (not blanched almond flour), you may need to add a tablespoon or two extra of milk.
Keto Blueberry Muffins (Paleo, Vegan) are best enjoyed fresh but will keep for up to 5 days, refrigerated. These muffins are freezer friendly and will keep for 2 months, frozen.
Nutrition
Serving:
1
Muffin
|
Calories:
241
kcal
|
Carbohydrates:
9
g
|
Protein:
8
g
|
Fat:
21
g
|
Fiber:
5
g
|
Vitamin A:
200
IU
|
Vitamin C:
2.5
mg
|
Calcium:
40
mg
|
Iron:
0.9
mg
|
NET CARBS:
4
g