This Low Carb Keto Carrot Cake Oatmeal is a keto-friendly cereal alternative which is thick, creamy and perfect hot or cold- overnight oats style! Based on a whole30 and low carb oatmeal base (porridge), it's a quick and easy breakfast which can be prepped in advance!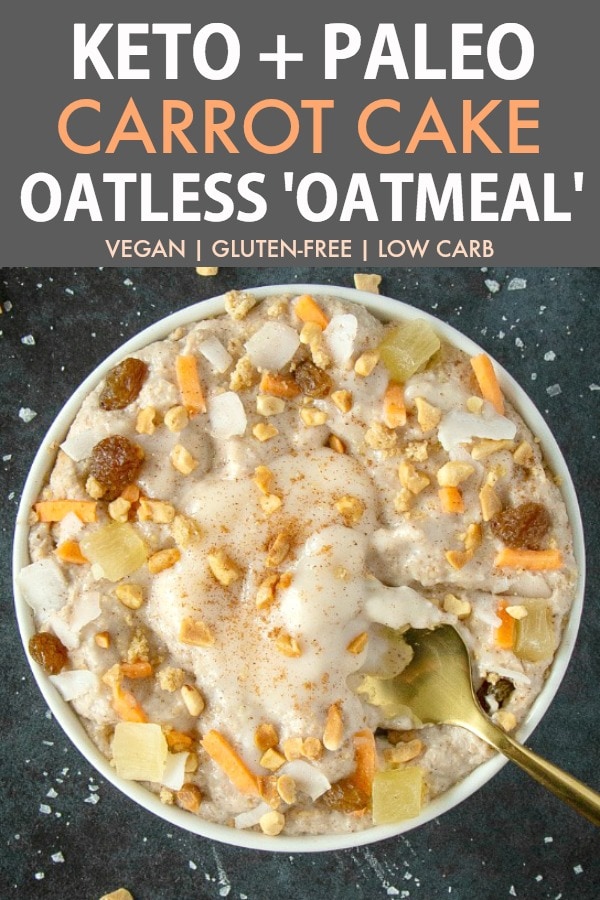 Keto Oatmeal- Carrot Cake Flavor
Whenever I think about partaking in a whole30 challenge or ketogenic diet, the one thing I always assume I'd miss is oatmeal.
There is no better breakfast out there than a comforting bowl of warm, creamy, thick and hearty oatmeal.
Unfortunately, oats and grains are off limits on those diets.
When I first started the ketogenic whole30 diet, my breakfasts consisted of pancakes, smoothies and the occasional low carb breakfast cake. Never in a million years would I have ever thought oatmeal and cereal could also be key players in my morning meal.
After experimenting with chia seed oatmeal and flaxseed oatmeal, I developed an easy low carb oatmeal base which can be adapted to a plethora of flavors!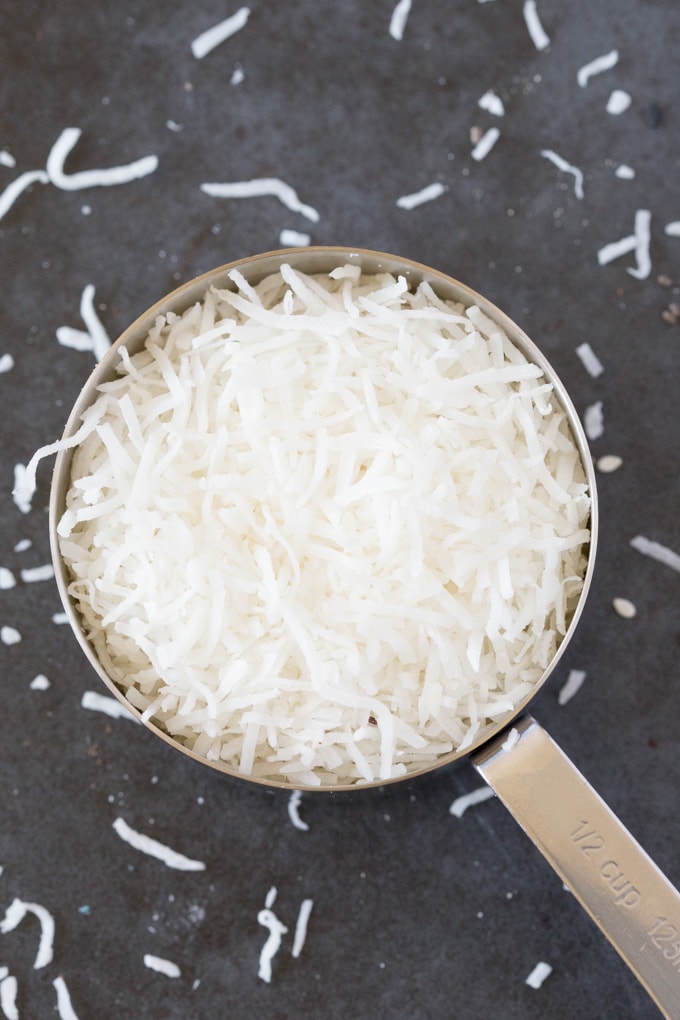 OATMEAL AND KETO?
Traditional oatmeal, made from rolled oats or quick oats, are definitely not keto-friendly. Nor are they suitable for a paleo or whole30 diet. This is due to grains of any form not being included in the allowed foods list.
Oats are also high in carbohydrates, making them a poor option in a keto diet.
Instead, there are low carb oatmeal alternatives which produce the same hearty texture of oatmeal, minus the carbs and grains!
LOW CARB OATMEAL
Calling it low carb oatmeal is a little deceptive, as there is NO oats or grains in low carb oatmeal. Instead, this 'oatless' oatmeal (or sometimes called n'oatmeal) is based around several key ingredients to produce a delicious oatmeal breakfast alternative which can be enjoyed hot or cold (overnight oats style!).
The keto oatmeal base needs just 4 ingredients and 5 minutes to prepare- Shredded unsweetened coconut, chia seeds, ground flax and a keto-friendly granulated sweetener of choice!
CARROT CAKE KETO OATMEAL
While the keto oatmeal base is thick, creamy and satisfying on its own, it tastes even better when it tastes like carrot cake!
Carrot cake overnight oats are one of my favorite breakfasts when I used to eat oatmeal regularly, so of course, I had to give it the keto oatmeal treatment.
To the oatmeal base, you'll add-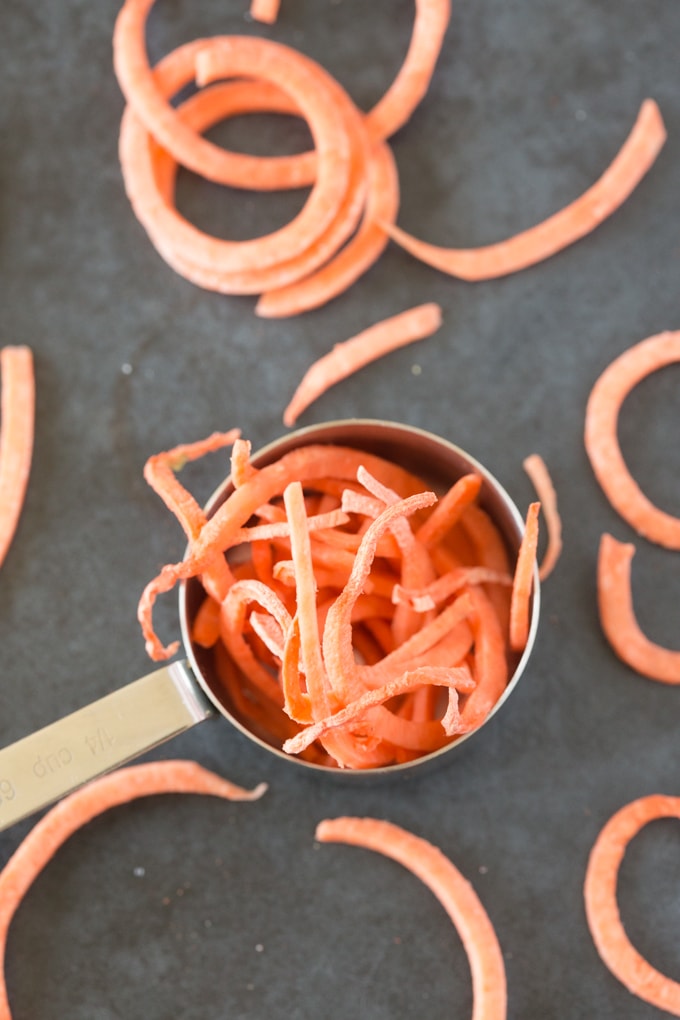 WHOLE30 SWAPS
To keep this oatless carrot cake oatmeal whole30 friendly, simply leave out the granulated sweetener of choice and add 1 small-medium overripe mashed banana, for sweetness.
Alternatively, you can add some chopped Medjool dates or another dried fruit.
TIPS AND TRICKS FOR PERFECT KETO CARROT CAKE OATMEAL
You can prep this keto oatmeal in advance- Overnight oats style! Do do this, simply quadruple the number of dry ingredients in a large mixing bowl. Add 3 cups of unsweetened coconut milk, shredded carrots and refrigerate overnight.
In the morning or before eating, add extra liquid if desired and top with coconut butter and extra cinnamon.
To enjoy this keto oatmeal warm, simply reheat it, add extra liquid and melt the coconut butter over the top.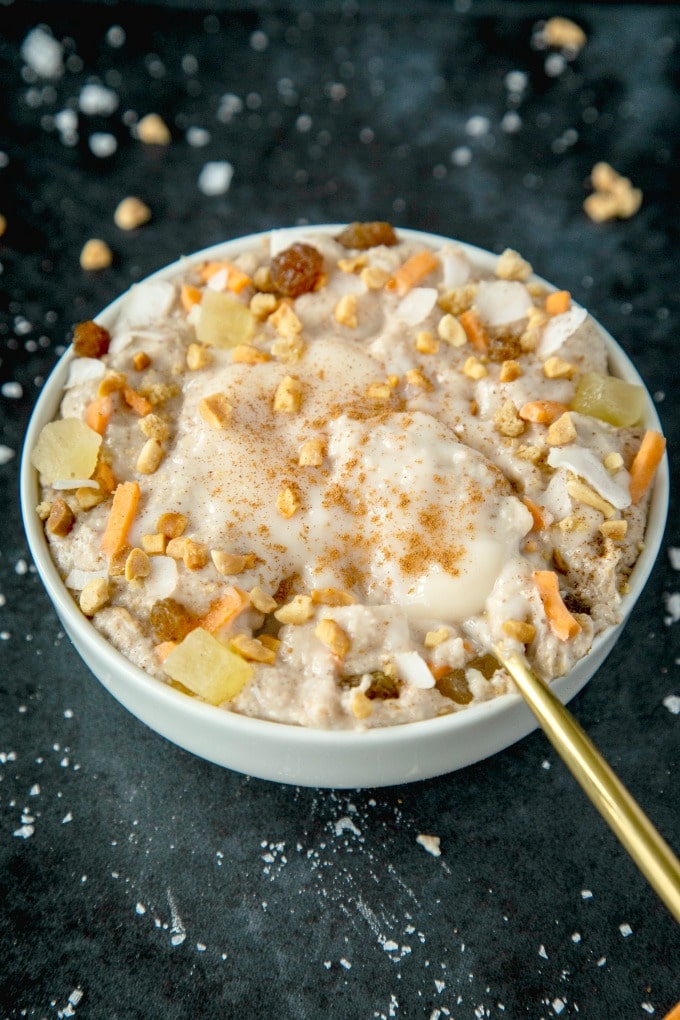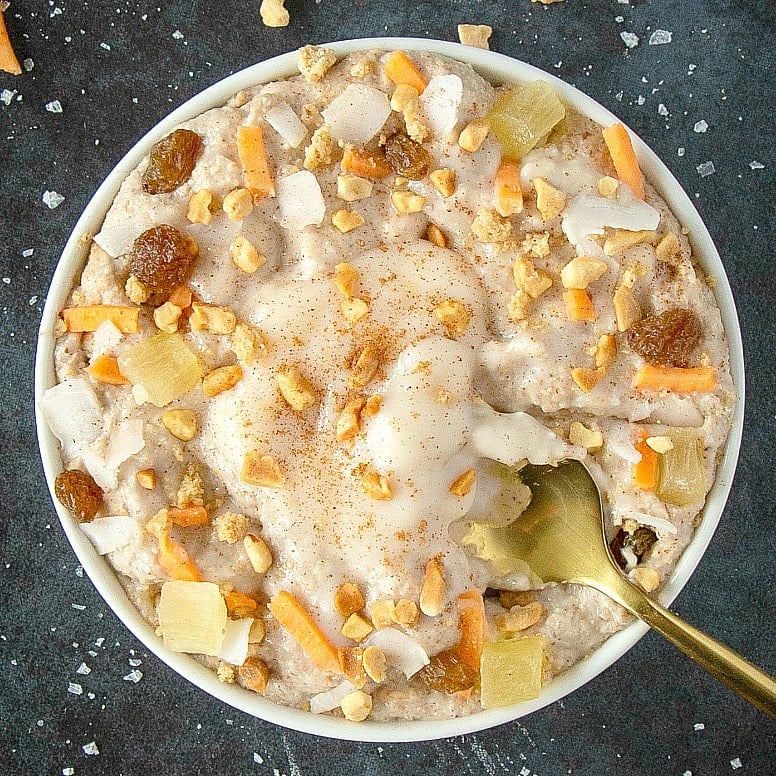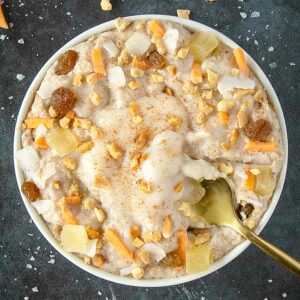 Low Carb Keto Carrot Cake Oatmeal (Paleo)
An easy recipe for homemade keto and whole30 friendly cereal made without oats! Enjoyed hot or overnight oats style, this oatless oatmeal (porridge) tastes like carrot cake and is a perfect quick and easy breakfast recipe!
Instructions
Prepare your keto oatmeal base as directed.

Add your shredded carrots, cinnamon and walnuts and mix well. If desired, add extra milk or liquid of choice.

Top with coconut butter and enjoy!
Notes
To enjoy this keto carrot cake oatmeal overnight oats style, refrigerate without the coconut butter. Before enjoying, add extra liquid and enjoy.
To reheat, add 1/4 cup liquid of choice and microwave or heat stovetop until thick and creamy.
Low Carb Keto Carrot Cake Oatmeal (Paleo) can be prepped in advance and kept refrigerated for up to 1 week.
Nutrition
Serving:
1
Bowl
Calories:
275
kcal
Carbohydrates:
17
g
Protein:
8
g
Fat:
19
g
Fiber:
15
g
Vitamin A:
100
IU
Vitamin C:
4.1
mg
Calcium:
40
mg
Iron:
0.9
mg
NET CARBS:
2
g

Disclosure: This post may contain affiliate links. I may earn a small commission for my endorsement, recommendation, testimonial, and/or link to any products or services from this website.