This keto coffee frappuccino is a low carb and sugar free take on the famous Starbucks frozen blended beverage! Simple ingredients and ready in seconds, they contain less than 1 gram net carb per beverage!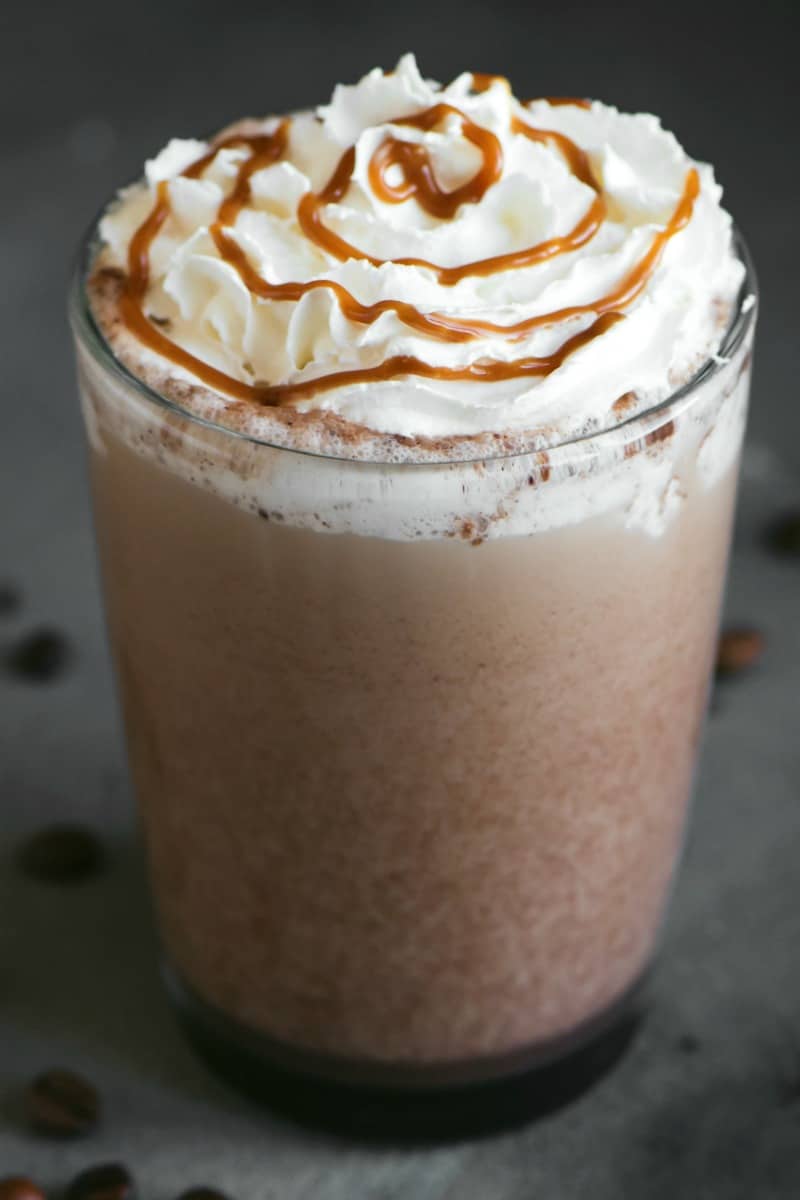 Keto Coffee Frappucino
When it comes to keto Starbucks drinks, I love whipping up a peppermint mocha, gingerbread latte, or this keto frappucino.
Wait, maybe I should rename that. When it comes to HOMEMADE Starbucks drinks, those are my favorites. Why homemade? Well, none of the Starbucks drinks have been created specifically to be low carb!
Initially, this never bothered me. I've been an Americano drinker for the longest of times. Occasionally I'd add some creamer or syrup, but even then, they were the sugar free options! However, when I see people trying out all the holiday beverages and frozen blended coffee drinks, I get a little envious!
Low carb Starbucks drinks
While Starbucks doesn't actually state in their stores or on their website, there ARE ways to enjoy several beverages without sugar and carbs. For example, you can enjoy a skinny iced caramel macchiato by replacing the syrup with sugar free caramel syrup. Enjoying it iced also removes most of the carbs, as the hot version has excess milk.
Furthermore, you swap out the milk in most drinks for heavy cream or a mix of heavy cream and water.
However…those will NEVER taste like the originals. In fact, replacing all the liquid with heavy cream sounds like a stomach ache waiting to happen. Luckily, you can easily make your own at home, in particular the famous Frappucino!
These keto frappucinos are a game changer. No sugar, no dairy, and almost zero carbs, but you'd never tell. The texture is thick and creamy. It has a sweet and strong coffee flavor, that can be customized with extra keto syrup and whipped cream.
Not only do these taste incredible, but they are so much cheaper than actual Starbucks ones!
Ingredients to make a keto Starbucks frappuccino
Here are the ingredients you'll need to make this keto iced coffee beverage. Be sure to see my suggestions below for flavor variations that are JUST like the ones at Starbucks and other coffee shops.
Milk of choice– Any milk of choice can be used. Alternatively, for a richer flavor, use half and half or add some heavy cream.
Espresso OR instant coffee– If you own a coffee machine or espresso machine, it's best to use freshly brewed espresso. You want to use 1 serving of espresso per frappuccino. If you don't have a coffee machine, you can use instant coffee. 1 tablespoon of coffee mixed with 1 tablespoon hot water.
Ice– The smaller your ice cubes, the more smooth and blended your frappuccino will be.
Sweetener of choice– Either monk fruit sweetener or erythritol can be used.
Whipped cream– Optional, but what is a keto frappe without whipped cream? Be sure to use one that is sugar free.
Caramel– Again, optional, but I love drizzling some keto caramel over the top.
How do you make a low carb Starbucks frappucino?
Add all your ingredients into a high speed blender and blend until the ice has been broken down and the frappe is thick. Transfer to large glasses and topped with whipped cream and caramel sauce, if desired.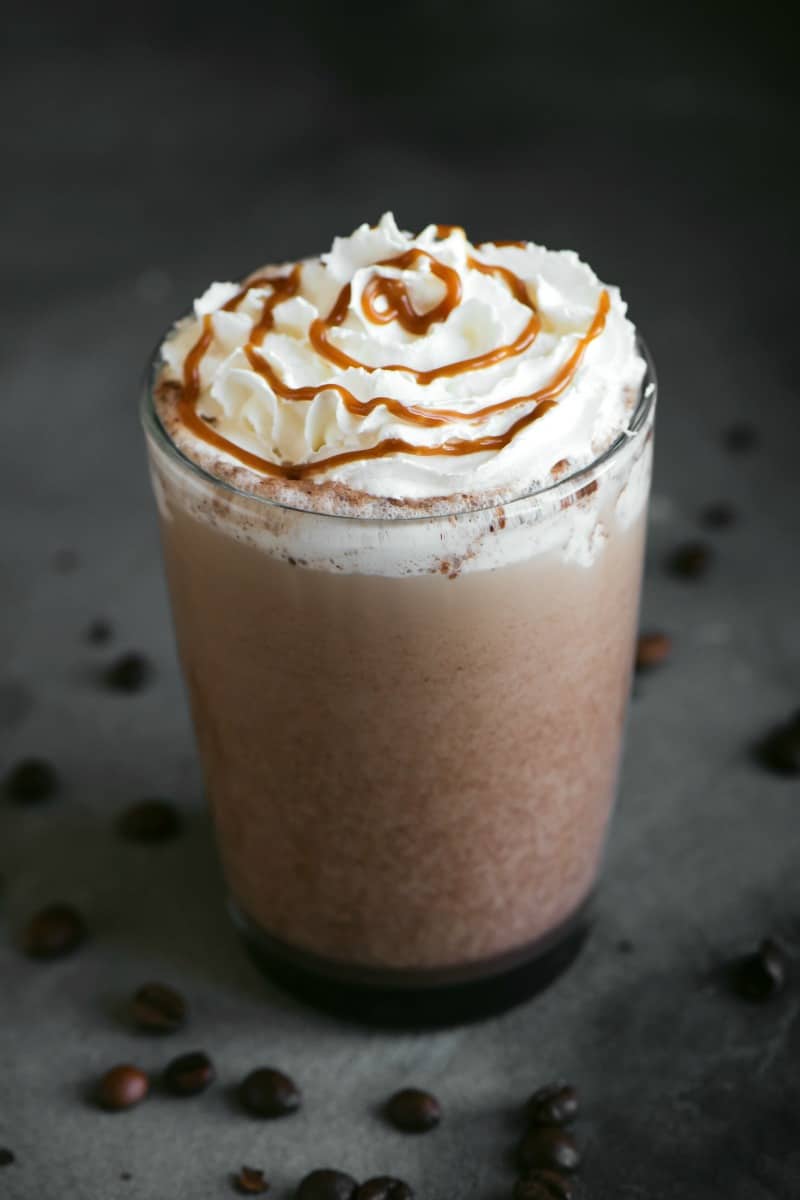 How many carbs in a coffee frappuccino?
The comparison between a Starbucks frappuccino and a homemade one is ginormous- You could technically have over 9 servings of the homemade ones!
In a Starbucks frappuccino, you'd be looking at 400 calories, 65 grams of carbs, and a whopping 59 grams of sugar.
In my homemade frappuccino, your macros would be 42 calories, 1 gram of carbs, and ZERO grams of sugar.
Can I use decaf coffee?
Yes, if you have an intolerance to caffeine, you can use decaffeinated espresso or instant coffee.
Flavor Variations
While I like to stick to the classic coffee frappuccino, you can easily change up the flavors to some of Starbuck's most popular flavors. Each of these would still be low carb and have less than 2 grams net carbs per beverage!
Peppermint mocha– Add 1-2 drops of peppermint extract to the blender. Swap out the caramel for a sugar free chocolate sauce.
Java Chip– Increase the espresso to double the amount.
Chocolate mocha- Drizzle sugar free chocolate syrup and add 1 tablespoon cocoa powder.
White chocolate– Add 1-2 drops white chocolate extract.
Mocha cookie crumble– Add 1-2 homemade Oreos to the blender and sprinkle with extra crushed up cookies on top;
Pumpkin spice– Add 1-2 tablespoons pumpkin puree and 1 tablespoon pumpkin spice.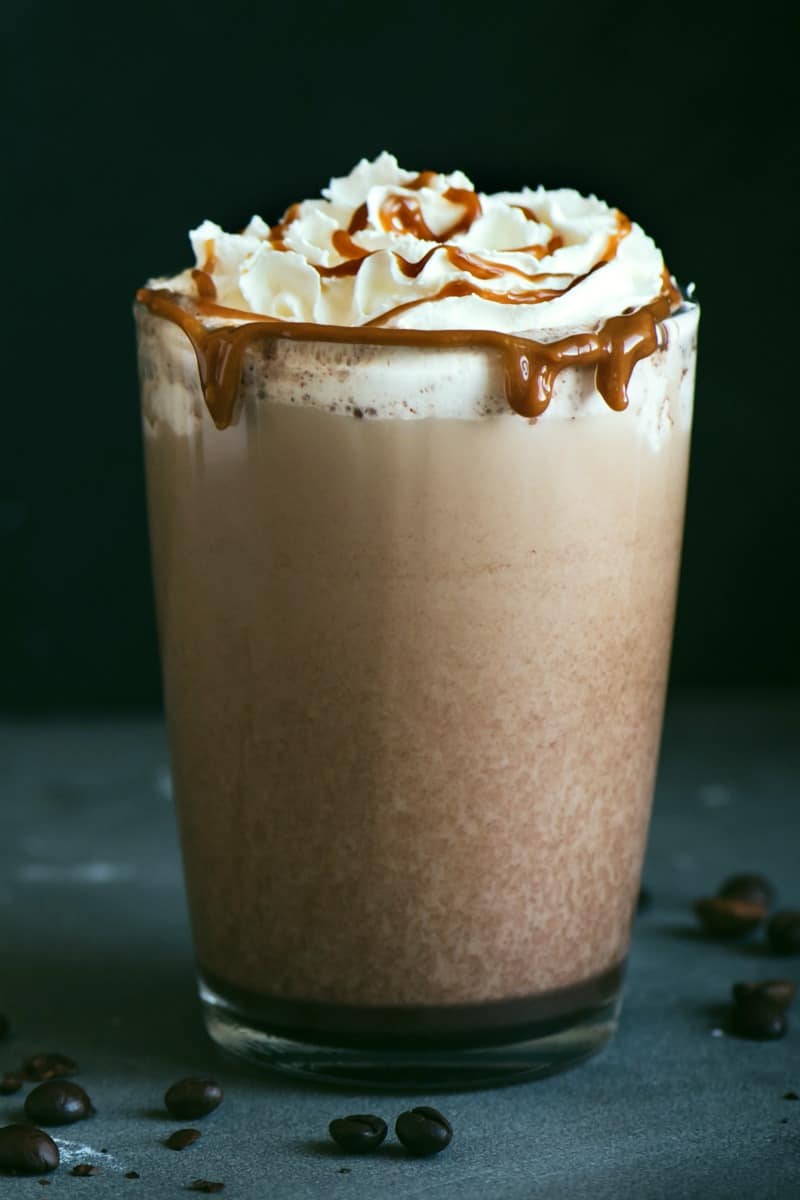 More keto recipes you'll enjoy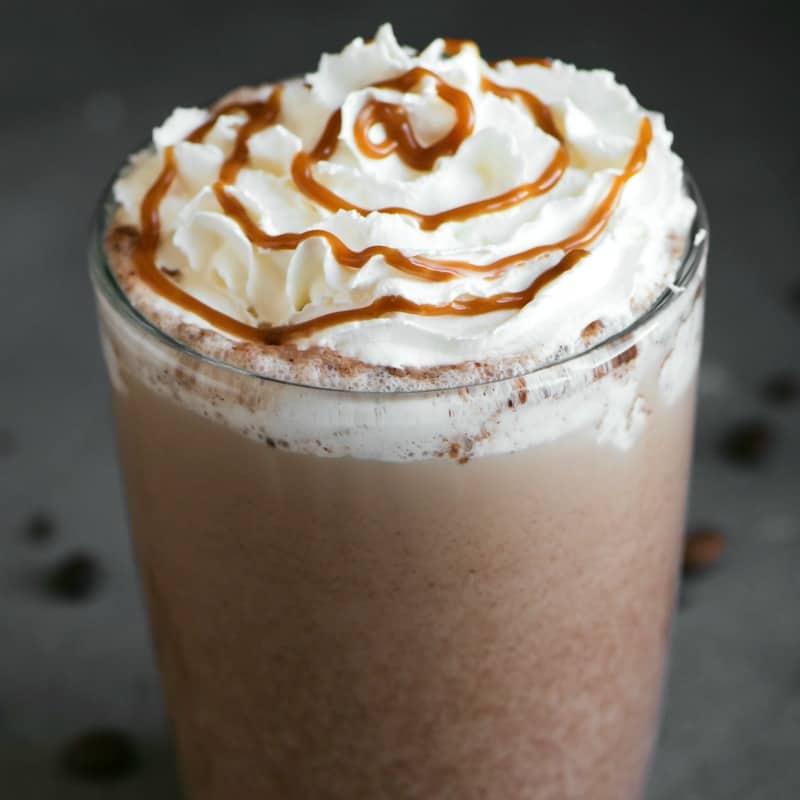 Keto Coffee Frappuccino (Starbucks Copycat!)
This keto coffee frappuccino is a low carb and sugar free twist on the famous Starbucks frozen blended beverage! No sugar needed and less than 1 gram carb per serving!
Instructions
In a high speed blender, add all your ingredients, except for the whipped cream and caramel, and blend until combined and smooth.

Transfer to two tall glasses and top with whipped cream and drizzle with caramel sauce.
Notes
* If you don't have a coffee machine (like a Nespresso or similar), you can use instant coffee. Combine 1 tablespoon instant coffee with 2 tablespoon boiling water.
** For a richer texture and flavor, use heavy cream or half and half.
Please refer to the blog post for other flavor options, like a Keto Mocha frappuccino, Keto Java Chip Frappuccino, and others.
Nutrition
Serving:
1
serving
Calories:
39
kcal
Carbohydrates:
2
g
Protein:
1
g
Fat:
4
g
Sodium:
257
mg
Potassium:
35
mg
Fiber:
1
g
Vitamin A:
51
IU
Calcium:
240
mg
NET CARBS:
1
g
Disclosure: This post may contain affiliate links. I may earn a small commission for my endorsement, recommendation, testimonial, and/or link to any products or services from this website.