Extra chewy no bake red velvet bars which take ten minutes to prep and are healthy for you! Studded with chocolate chips, these low carb and sugar free bars are PACKED with nutrients!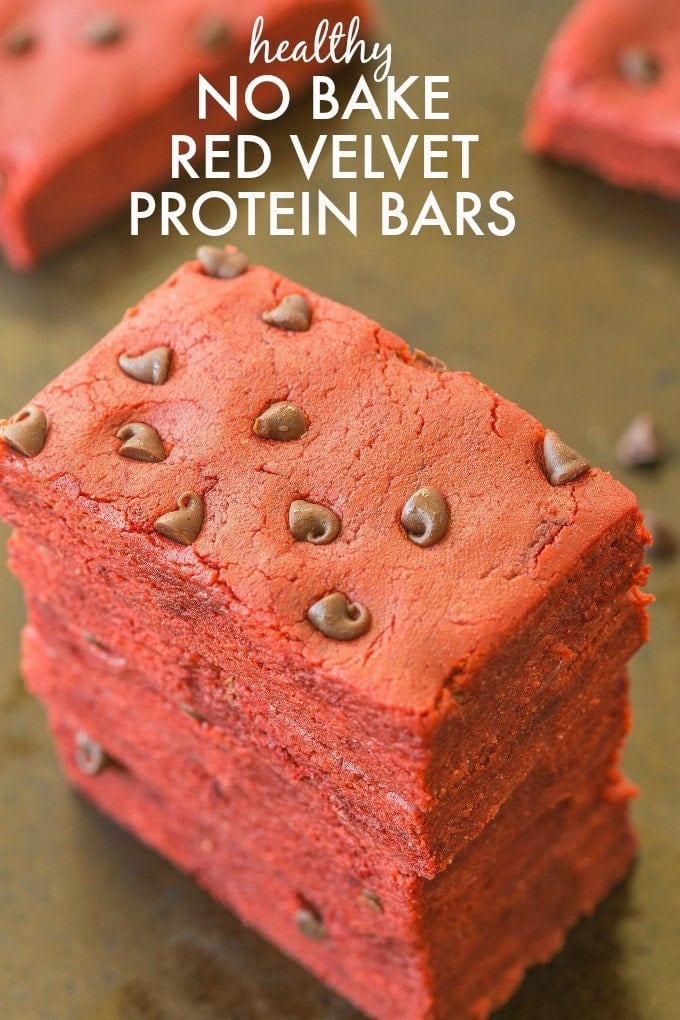 Red Velvet Bars
Easy homemade protein bars that taste like red velvet cake?
Count me in.
Simple ingredients and easy to put together, these homemade protein bars are better than anything store-bought! There is NO crazy ingredients, no artificial sweeteners, and no additives.
I've been a big fan of making my own protein bars, ever since I started training more and more.
When I haven't had breakfast, I love to enjoy a couple of these bars, or before a heavy workout. Post-workout, these have been a game-changer, and I don't need to rush home from the gym to get some fuel in my system!
Traditional red velvet desserts tend to use beetroot, but this recipe contains NONE of that.
Is beetroot Keto friendly?
Like most root vegetables, beetroot is not keto friendly.
While a wholesome and healthy vegetable, beetroot contains predominately carbs and sugar. Although natural, they would easily put someone out of ketosis.
To give it the rich, velvet color, I used beet powder– something also used in this red velvet mug cake. I promise you CAN'T taste the beets but in return, you get this amazing color AND a boost of health.
What does Red Velvet Taste like?
The red velvet flavor is predominantly chocolate flavored, but with a rich red color. I've always thought red velvet would taste like vanilla cake, but nope…it's chocolate, just not a dark or rich flavored one.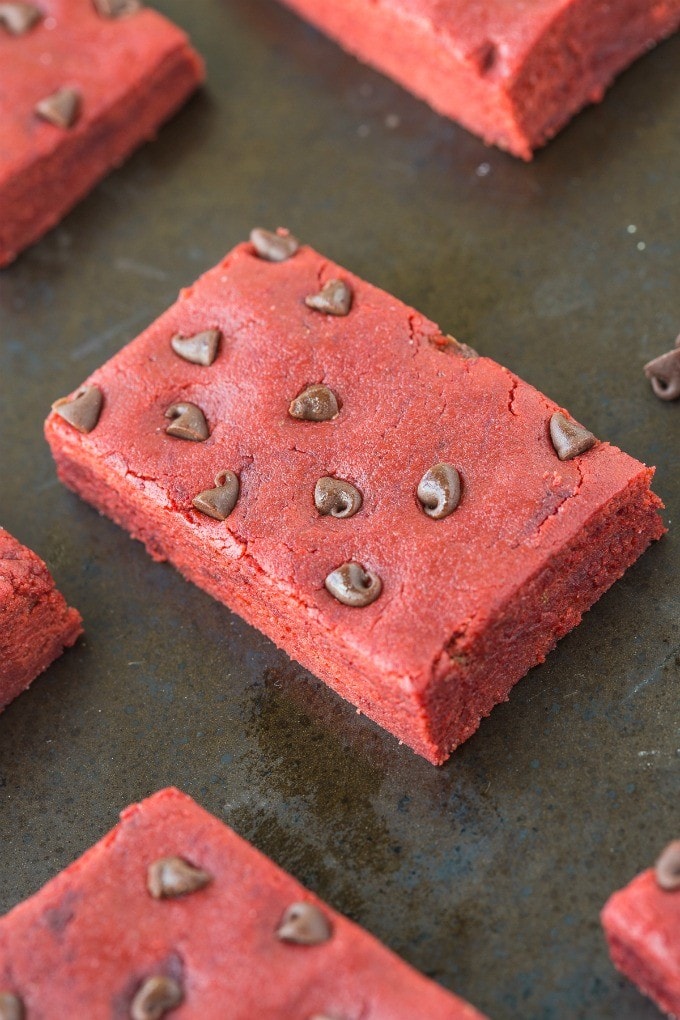 Red Velvet Protein Bars- Keto and Vegan!
These no bake red velvet protein bars may look decadent and sinful but actually, are really healthy for you and the perfect snack recipe!
It's packed with protein, fiber, and healthy fats to keep you satisfied between meals or have a filling sweet treat anytime!
They use one bowl and take less than 10 minutes to prep- The tough part is waiting for them to firm up in the fridge, but you can be cheeky and save some of the batter to eat WHILE you wait.
Taste-wise, they are sweet, fudgy and taste like a smooth chocolate fudge bar. Texture-wise, they are soft, chewy and stable at room temperature.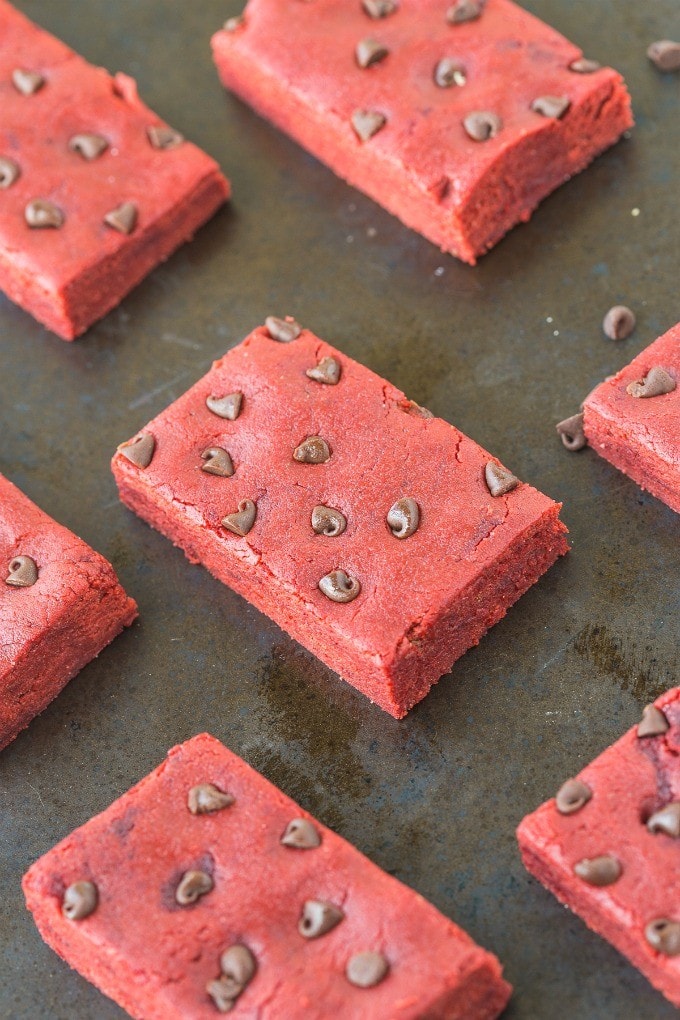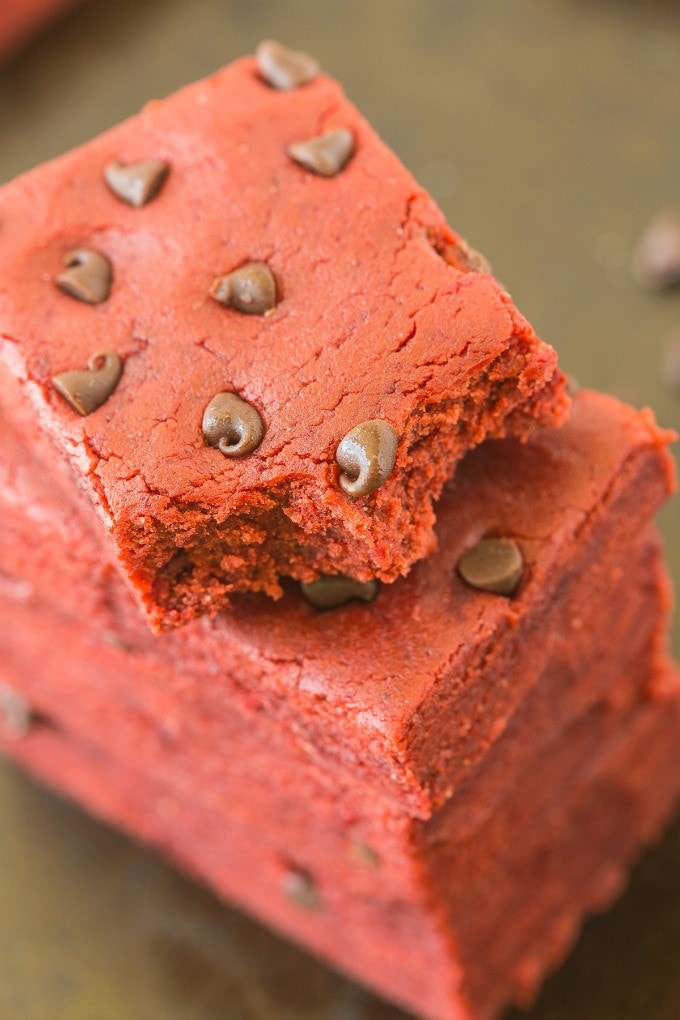 Red Velvet Protein Bars Ingredients-
Coconut Flour
Cocoa Powder
Beet Powder
Granulated Sweetener of choice
Almond Butter
Keto-approved maple syrup
Milk of choice
Coconut flour is a fantastic low carb and high fiber flour, that does not need to be cooked. It's fantastic in no bake snacks, like these protein bars. They help hold the bars together, and DON'T tastes like coconut. Do not omit or substitute this, or else the bars won't hold shape.
The cocoa powder gives the bars the slight chocolate flavor, to give the bars a more 'red velvet' flavor. You can omit this if you like.
Beetroot powder gives the glorious red color, without the need for food coloring. You can omit this, and add 1-2 drops of natural red food coloring.
Any granulated sweetener of choice can be used. I used monk fruit, which is keto-friendly and low carb. You can really use any sugar-free sweetener of choice.
Almond butter provides healthy fats and helps hold the bars together. You can substitute this for cashew butter, peanut butter or a nut-free substitute, like sunflower seed butter.
A sticky sweetener provides sweetness, and again, holds the protein bars together. This maple syrup is sugar-free and keto-approved, and works great. If you don't follow a ketogenic diet, use any sticky sweetener of choice.
Finally, you need to use some non-dairy milk to make a smooth batter. Any milk works, and I prefer using unsweetened coconut milk. Start with a few tablespoons and then add more as needed.
How to make Red Velvet Protein Bars
Making these red velvet no bake bars is ridiculously simple.
First, you add your dry ingredients in a large mixing bowl and mix well. In a microwave-safe bowl or stovetop, heat up the syrup and almond butter until melted. Whisk well together.
Then, you'll pour the wet mixture into the dry mixture and mix until a thick, crumbly texture remains. Using a tablespoon, add milk until a thick and smooth batter remains.
Finally, you will transfer your batter into the lined pan and press firmly in place. Top with chocolate chips and refrigerate until firm.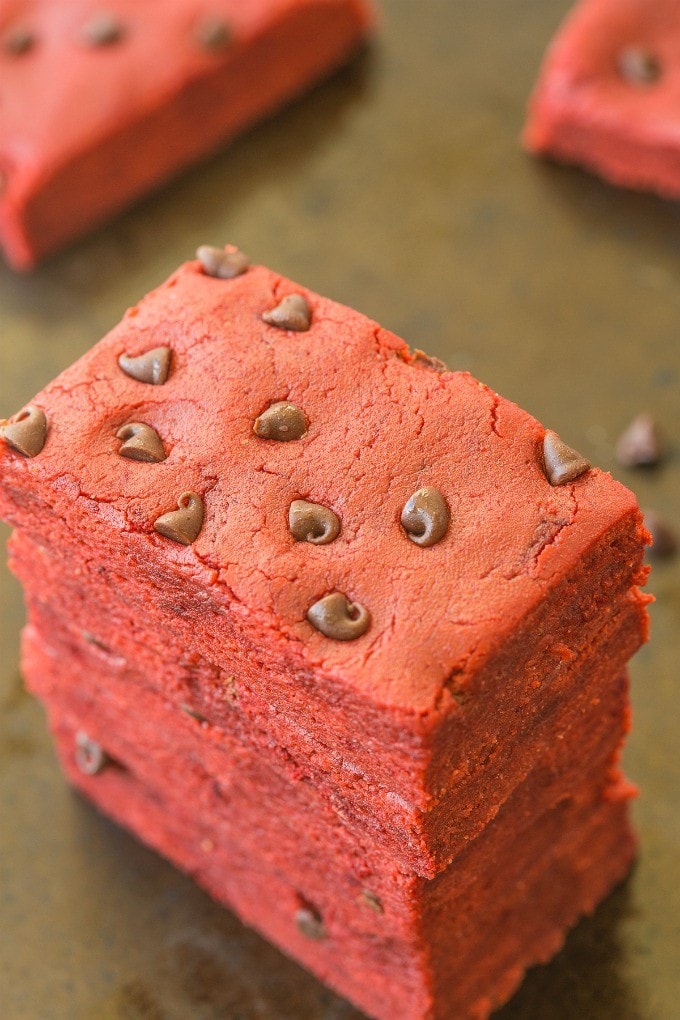 Can I make these Red Velvet Bars with protein powder?
YES!
These homemade protein bars are naturally low in carbs and high in protein, WITHOUT protein powder.
However, you can add a scoop or two of your favorite protein powder to give it a protein-punch.
Add 1-2 scoop of protein powder when you mix your dry ingredients. When you are ready to add the milk, start with 1/4 cup, but be prepared to add more.
Protein powder tends to require even more liquid to firm up, especially if you use casein protein powder, brown rice protein powder or a keto protein powder. Don't be surprised if you need to keep adding milk to form into bars.
NOTE: Please do not use whey protein powder, as it won't result in soft and chewy protein bars.
Storing Red Velvet Bars
These Red Velvet Bars MUST be stored in the fridge, otherwise, they will become soft and limp. Store these protein bars in a sealed container. They will keep fresh for 2 weeks.
You can freeze red velvet bars, provided they are wrapped in parchment paper and placed in a ziplock bag. Frozen red velvet bars can be kept frozen for up to 6 months.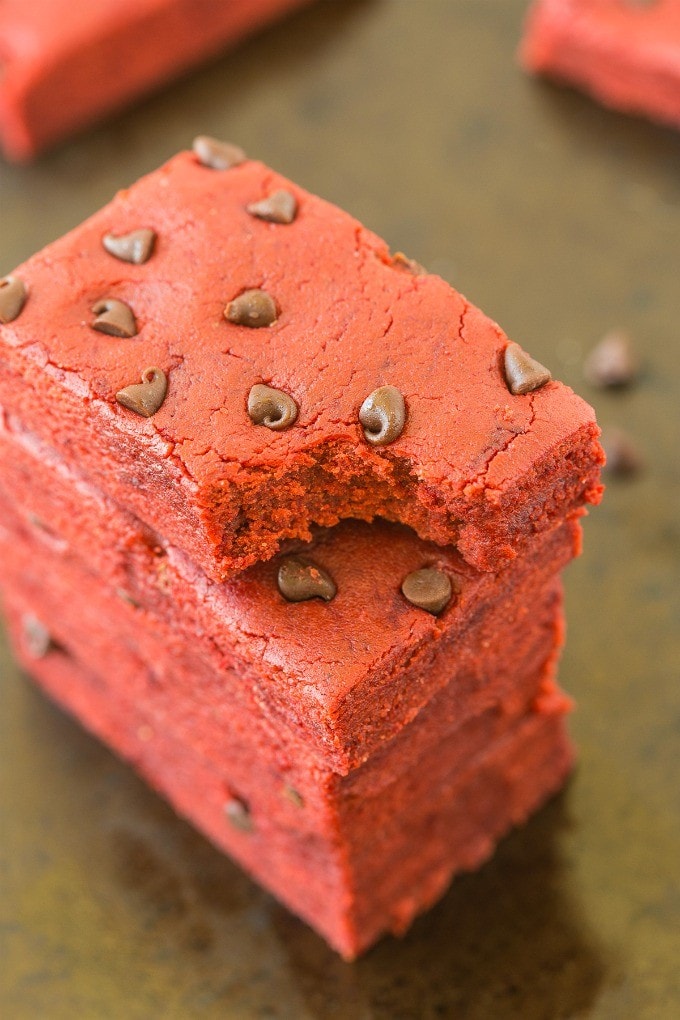 More high-protein recipes you will love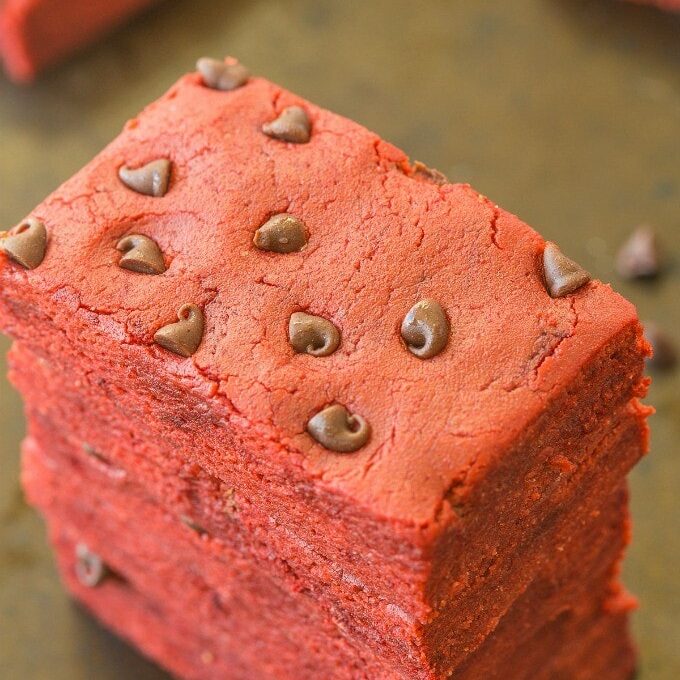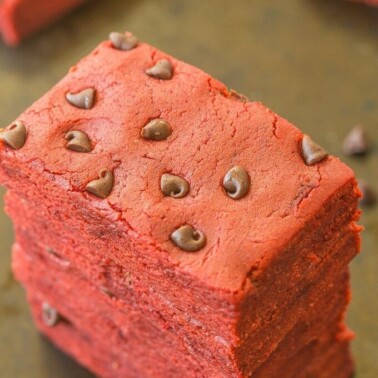 Healthy No Bake Red Velvet Protein Bars
Extra chewy no bake red velvet protein bars which take ten minutes to prep and are healthy for you! Inspired by the classic red velvet cake, this no bake protein-packed recipe is also naturally gluten free, vegan, dairy free, sugar free and comes with a tested paleo option!
Instructions
Line a large baking dish with greased paper and set aside.

In large mixing bowl, combine the flour, protein powder if using it, granulated sweetener, cocoa powder, beetroot powder and mix well.

In a microwave safe bowl or stovetop, combine the almond butter and liquid sweetener and heat until melted. Pour the wet mixture into the dry and mix well- It should be crumbly.

Using a tablespoon, add the dairy free milk of choice one spoonful at a time until a thick, firm batter is formed.

Transfer to the lined pan and top with chocolate chips, if using them. Refrigerate until firm.
Notes
* Depending on the flour/protein powder combination, you may need more or less. I used up to 3/4 cup sometimes!
These are soft at room temperature but delicious eaten from the fridge or thawed from the freezer!
Nutrition
Serving:
1
Bar
Calories:
174
kcal
Carbohydrates:
11
g
Protein:
10
g
Fat:
10
g
Sodium:
54
mg
Potassium:
137
mg
Fiber:
7
g
Sugar:
2
g
Vitamin A:
83
IU
Vitamin C:
3
mg
Calcium:
87
mg
Iron:
1
mg
NET CARBS:
4
g

Disclosure: This post may contain affiliate links. I may earn a small commission for my endorsement, recommendation, testimonial, and/or link to any products or services from this website.