These 4-Ingredient No Bake Paleo Protein Bars are a quick and easy snack which takes less than 5 minutes to whip up! Thick, chewy and super fudgy, they are a low carb and sugar free recipe which is also vegan, gluten free, grain free and dairy free!

After sharing these super fudgy no bake protein bars, I promised a paleo and lower carb version and I'm here to deliver.
Thick, chewy, fudgy, could-pass-as-dessert-but-is-actually-completely-guilt-free no bake bars– These are your answer. The original recipe had all those characteristics, with one minor detail. Well, two actually. It used oat flour in the base and brown rice syrup. These are two of my most common ingredients used here but alas, aren't paleo friendly so let's make some cheeky swaps.
We are in the day and age where the paleo folk now have packaged "protein bars" available for them. I use the term "protein bars" very loosely because to be quite frank, the protein content is barely noteworthy and most are glorified fruit and nut bars.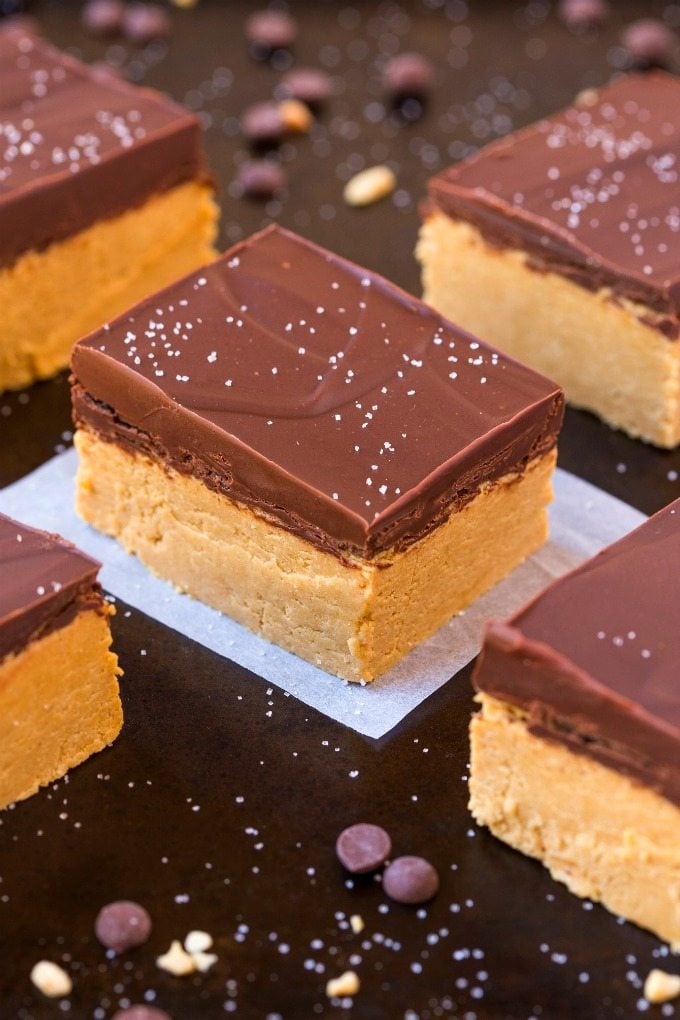 That isn't to say that there is anything wrong with it- In fact, the ingredient lists easily surpass many other store-bought protein bars which DO have an impressive protein content. My reason for not choosing to buy them is that when I want a protein bar, I want it to have a good dose of the muscle building macronutrient in it. Otherwise, I'll be completely honest here- I'd just get crunch bar instead.
Something I've also noted with these packaged paleo protein bars is that they rely mostly on dates, dried fruits, and nuts. Once again, there is nothing wrong with any of those ingredients, but they certainly don't scream 'packed with protein' to me.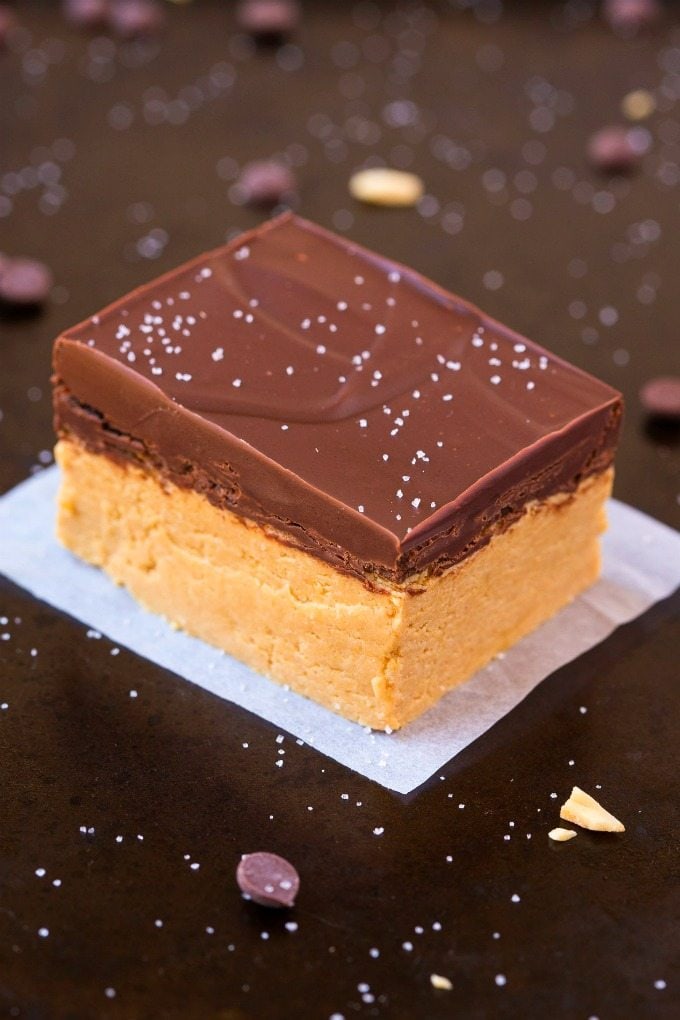 My no bake paleo protein bars are a little different but have some key similarities. They are suitable for those who follow a paleo, grain free and lower carb diet while being suitable for those who are vegan, gluten free and dairy free. They also contain just four ingredients and require zero baking. In fact, I timed myself making it and it took less than 5 minutes of mixing and then waiting for it to firm up.
Instead of using dried fruit or dates, I opted to use my favorite low carb and paleo-friendly ingredient, coconut flour. I've had people often email asking if my measurements are correct, as the amount seems so minimal compared to other flours, grain based or not. The thing with coconut flour is that it acts as a sponge and a little goes a VERY long way. Furthermore, each brand of coconut flour differs, so you'll need to be wary of this, but don't worry- This can easily be amended by adding some milk of choice to firm things up and leave the bars less crumbly.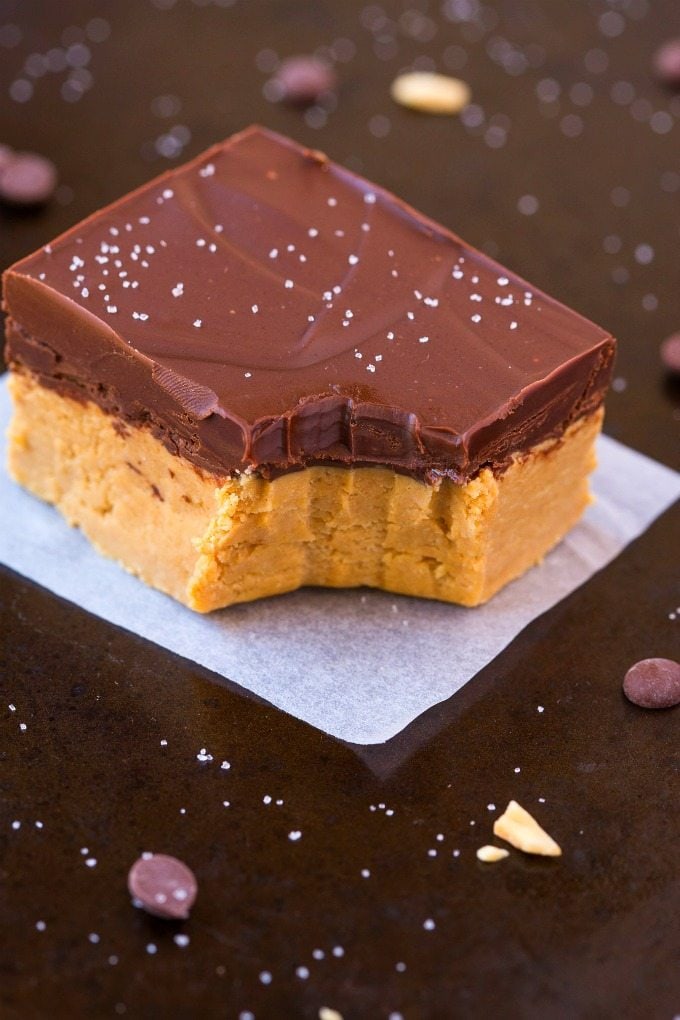 In combination with the coconut flour, we'll be using pure maple syrup and cashew butter. Although not as sticky as brown rice syrup, maple syrup still has a great texture and lends a delicious flavor to the overall protein bar. To keep this completely sugar free, I'm impressed with this sugar-free maple syrup which uses monk fruit as it's sweetener. Long term readers know this is my granulated sweetener of choice so seeing it pop up in liquid sweeteners has been a game changer!
Cashew butter is what I prefer using, as its really mild tasting, but blends well with the other ingredients. on its own, it is also is creamy and fudge-like, minus the sweetness. If you don't have cashew butter on hand or have nut allergies, these are some tested suitable options- Almond butter would be my next choice, as it is still relatively mild tasting. If you aren't strictly paleo, peanut butter works great, but it IS very evident, so make sure you like peanut butter! If you have nut allergies, sunflower seed butter, tahini or soy nut butter all work, but the end result will be much darker.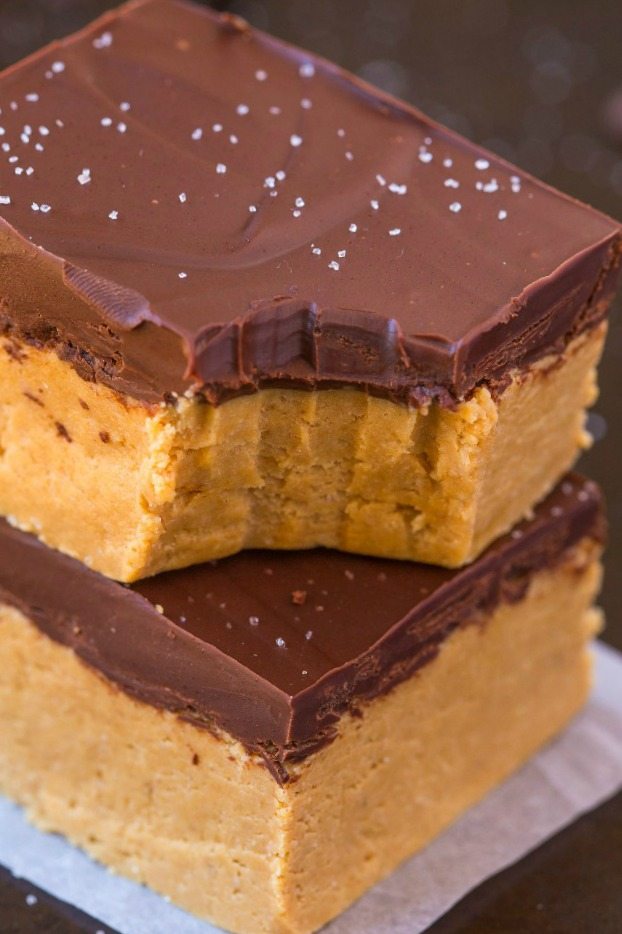 The final key component is the protein powder, which is well, vital here. The market is now coming out with more and more paleo friendly protein powders, and I've tried two. This vanilla one tastes great, and also works well IN recipes. If you aren't strictly paleo, this brown rice protein powder and this casein protein powder are my top choices. Please note- The protein powder you choose adds sweetness and sweet flavor to the bar, so ensure you enjoy the taste. If you use an unflavored one, consider adding a tablespoon or two of your favorite granulated sweetener of choice.
An optional component (but one which kind of shouldn't be) is the additional layer of chocolate on top. You can use a protein-packed frosting from here or melt your favorite chocolate bar on top. Sugar-free friends, this one is my favorite or for the ultimate dark taste, this 100% cocoa bar is worth trying too!
I was tempted to call these fudge bars because that is what the texture was like. If you enjoy them at room temperature, they are just that- Smooth, creamy and melts-in-your-mouth. If you prefer a thicker, chewy bar, enjoy directly from the fridge. Even better, enjoy it slightly thawed from the freezer for the ultimate taste and texture.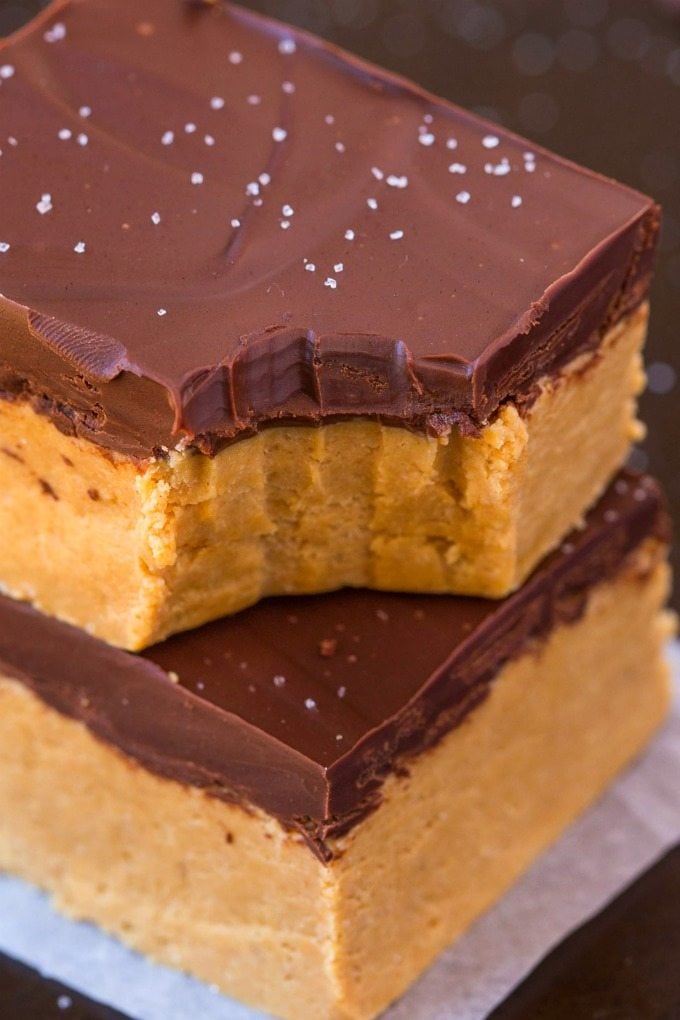 Stop buying store bought protein bars- These healthy 4 Ingredient No Bake Paleo Protein Bars (Vegan, Gluten Free, Sugar Free) will satisfy your sweet cravings with a hit of protein!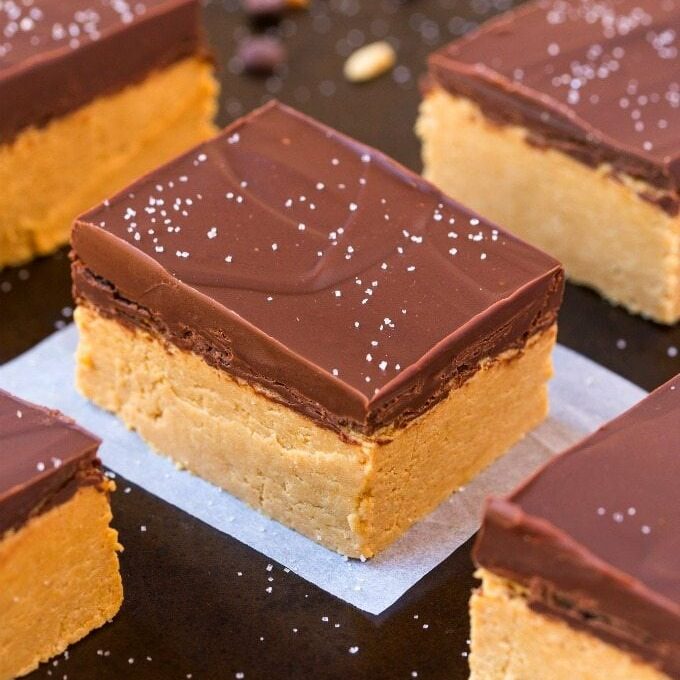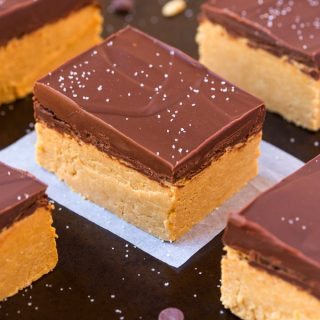 4 Ingredient No Bake Paleo Protein Bars (Vegan, Gluten Free, Sugar Free)
These 4-Ingredient No Bake Paleo Protein Bars are a quick and easy snack which takes less than 5 minutes to whip up! Thick, chewy and super fudgy, they are a low carb and sugar free recipe which is also vegan, gluten free, grain free and dairy free!
Instructions
Line an 8 x 8 inch loaf pan or cake tin with parchment paper and set aside.

In a mixing bowl, add your coconut flour and vanilla protein powder and set aside.

In a microwave safe bowl or stovetop, combine your cashew butter with maple syrup and melt together. Whisk to ensure it is combined. Pour into the dry mixture and mix until fully incorporated. If batter happens to still be crumbly, add water/milk until a thick batter remains.

Pour batter into lined baking dish and press firmly into place. Refrigerate for at least 20 minutes to firm up. Once slightly firm, top with optional chocolate frosting and refrigerate for a further 40 minutes. Remove and cut into bars.
Notes
These 4-ingredient no bake paleo protein bars should be kept refrigerated, but can be kept at room temperature for the ultimate fudgy texture.
Nutrition
Calories:
279
kcal
Carbohydrates:
16
g
Protein:
15
g
Fat:
16
g
Sodium:
18
mg
Potassium:
263
mg
Fiber:
10
g
Calcium:
33
mg
Iron:
2
mg
NET CARBS:
6
g

More delicious paleo friendly protein bars? Gotcha covered!
No Bake White Chocolate Raspberry Protein Bars
No Bake White Chocolate Macadamia Protein Bars
3 Ingredient No Bake Paleo Protein Bars
Disclosure: This post may contain affiliate links. I may earn a small commission for my endorsement, recommendation, testimonial, and/or link to any products or services from this website.