Crispy and golden on the outside and tender and sweet on the inside, this perfectly seasoned air fryer cauliflower recipe will have you reaching for seconds. Barely any prep is needed, it cooks up in just 12 minutes.
Air frying vegetables is, hands down, the best way to cook them.
See, you get the oven-roasted or fried texture without needing excess oil and skip the lengthy baking time. This crispy air fryer cauliflower recipe is the ultimate all-rounder for vegetable sides.
This recipe will not disappoint if you love crunchy, savory veggies with bold flavors. It's so good I could eat a big bowl of it as a snack!
Table of Contents
Why you'll love this recipe
It's versatile. This cauliflower is highly customizable and pairs well with almost any main dish.
Quick and speedy. Because it cooks up in just 12 minutes, it's one of my favorite veggie side dishes to make my family.
Healthy. It uses only a fraction of the oil that goes into frying, making it a low-carb, high-fiber, and healthy side dish. Also, it is gluten-free, nut-free, dairy-free, and vegan.
Perfect texture and flavor. Air-frying foods are the perfect cheat for deep-fried stuff. This dish delivers the crispy, caramelized texture and the comforting taste of fried cauliflower.
Ingredients Needed
Like most air fryer recipes, this one also calls for a handful of common ingredients. Here's what you'll need:
Cauliflower. Pick a clean, firm cauliflower head and cut it into bite-size florets. The easiest way is to make quarters and separate florets from the stem. You can also use two smaller heads of cauliflower.
Salt and pepper. To taste.
Olive oil. To air-fry the cauliflower. Other cooking oils like avocado oil or vegetable oil will also work.
Cumin. One of my absolute favorite spices to work with and one that lends itself SO well to cauliflower. Choose ground cumin over the seeds.
Smoked paprika. For a subtle hint of spice. Other spices work, too, including basil, Italian seasoning, and chili powder.
How to cook cauliflower in the air fryer
Prep the air-fryer: Start by pre-heating the air-fryer to 200°C/400°F. Remember to prep the air fryer basket by greasing it with oil. Either spread the oil with a brush or use cooking spray.
Prep the cauliflower: While the air-fryer preheats, wash, clean, and pat dry the cauliflower florets. Toss them in a large bowl with salt, pepper, smoked paprika, cumin, and oil. Mix gently but thoroughly to avoid losing tiny bits of florets in the process.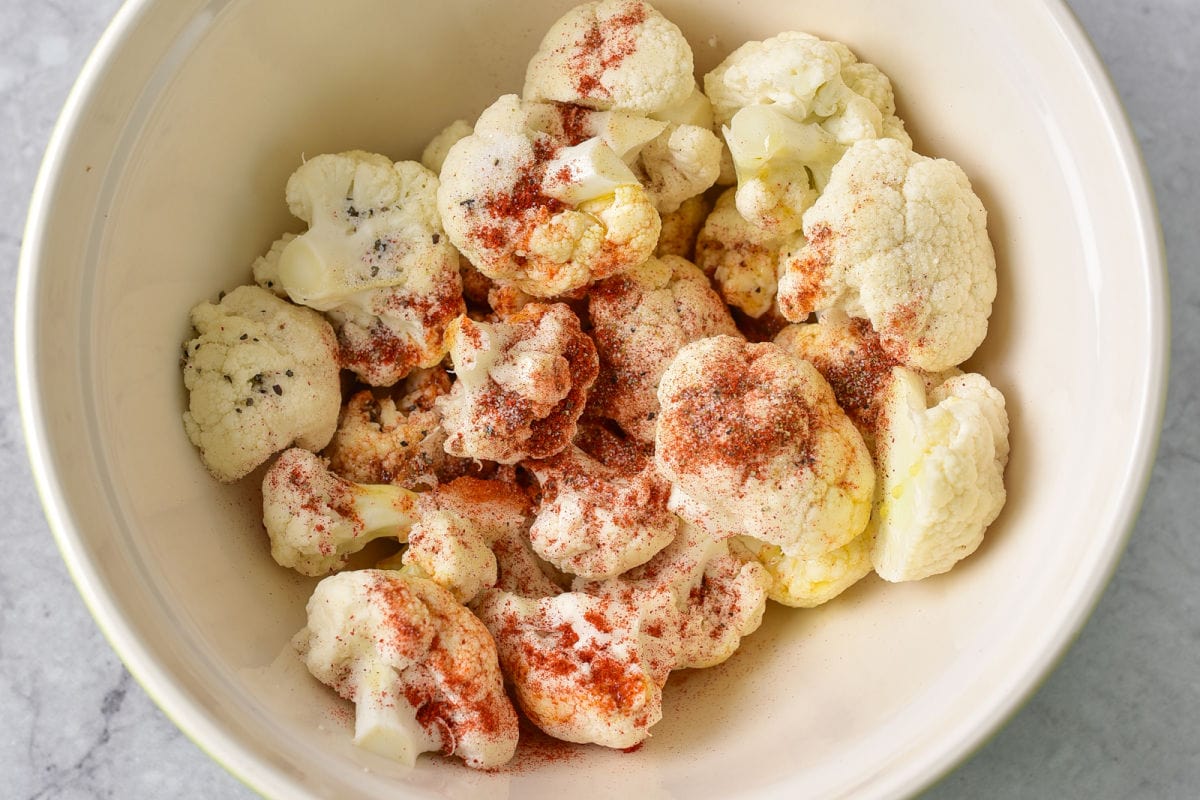 Air fry the cauliflower: Lay the seasoned florets in a single layer in the cooking basket and air-fry them for 12-15 minutes until crispy and golden. While they cook, shake the basket several times for uniform cooking.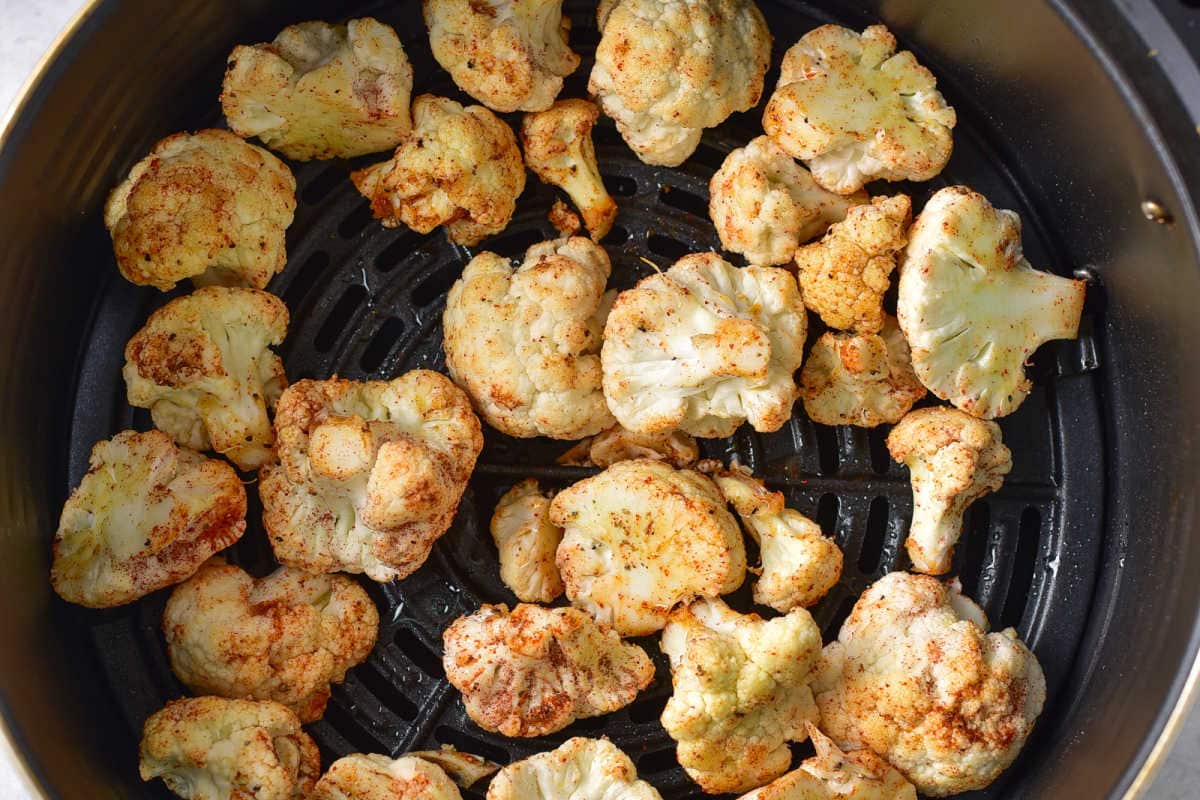 Garnish and serve: Remove the air-fried cauliflower from the basket once you get the crispy brown edges.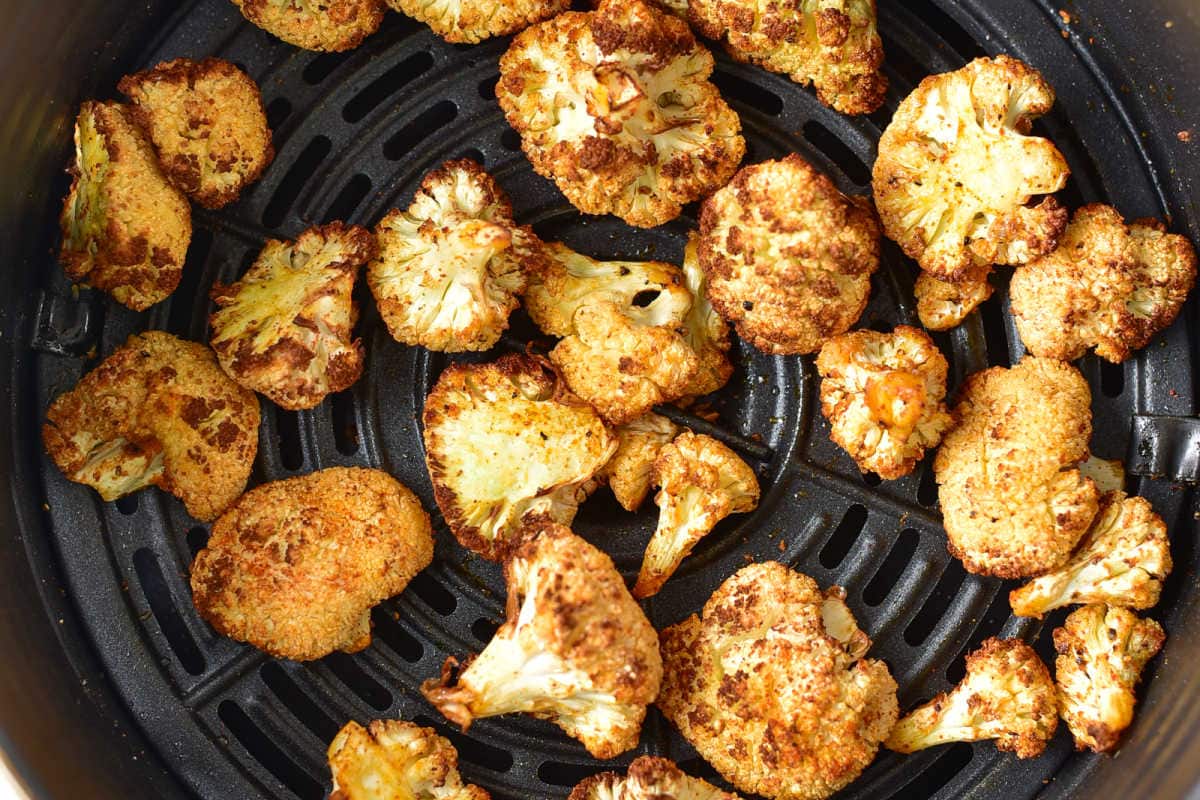 Tips and tricks
Don't burn your cauliflower. Keep an eye on the cauliflower while cooking. The air-frying time may vary depending on the amount of cauliflower and the size of the florets. Toss the air-fryer basket every 2-3 minutes to ensure they don't stick to the bottom.
Avoid overcrowding the basket. Ensure that you have a single layer of florets in your air-fryer basket. And if you have lots of florets, it is best to cook them in batches for even cooking.
Start with dry cauliflower. For easy air-frying and better crisping, pat dry the cauliflower florets well before tossing them in seasoning.
Toss through other vegetables. We've done air fryer broccoli, air fryer green beans, and air fryer carrots, so why not add them to the air fryer basket while the cauliflower cooks?
Flavor variations
If you've tried my air fryer buffalo cauliflower or curried cauliflower, you know that it's super versatile and easy to customize the seasonings! Here are some ideas:
Finish with a squeeze of lemon. Nothing brightens the dish better than a drizzle of fresh lemon juice.
Make a panko parmesan coating. For a cauliflower popcorn variation, coat the florets with an egg wash, then roll it in the seasoned panko breadcrumbs and freshly grated parmesan cheese. Follow the steps in the recipe for air frying and enjoy this filling appetizer.
Glaze with a sauce. Once you have air fried the cauliflower, finish it with a glaze or a flavorful sauce (Family favorites include katsu sauce, bulgogi sauce, or hot honey sauce!).
Change up the seasonings. Toss through some Italian seasoning, add curry powder, onion powder, garlic powder, or a sprinkle of red pepper flakes.
Serving suggestions
Cauliflower, in any shape or form, goes well with pretty much anything! In our household, it's a popular side dish to simple protein! This includes baked chicken thighs or pan-seared salmon.
As my air fryer has two air fryer baskets (I have a Ninja DZ201 Dual Air Fryer), I like to cook air fryer proteins in it as the cauliflower cooks for a quick and easy dinner. Some popular options include air fryer chicken breast, air fryer chicken thighs, air fryer salmon, and air fryer tilapia.
Storage instructions
To store. Refrigerate the leftover or meal-prepped cauliflower in an airtight container for 3-4 days.
To freeze. Freeze the air-fried cauliflower florets in a freezer-safe container/bag for up to 2-3 months.
To reheat. The best way to reheat the cauliflower would be to use an air-fryer to retain the texture.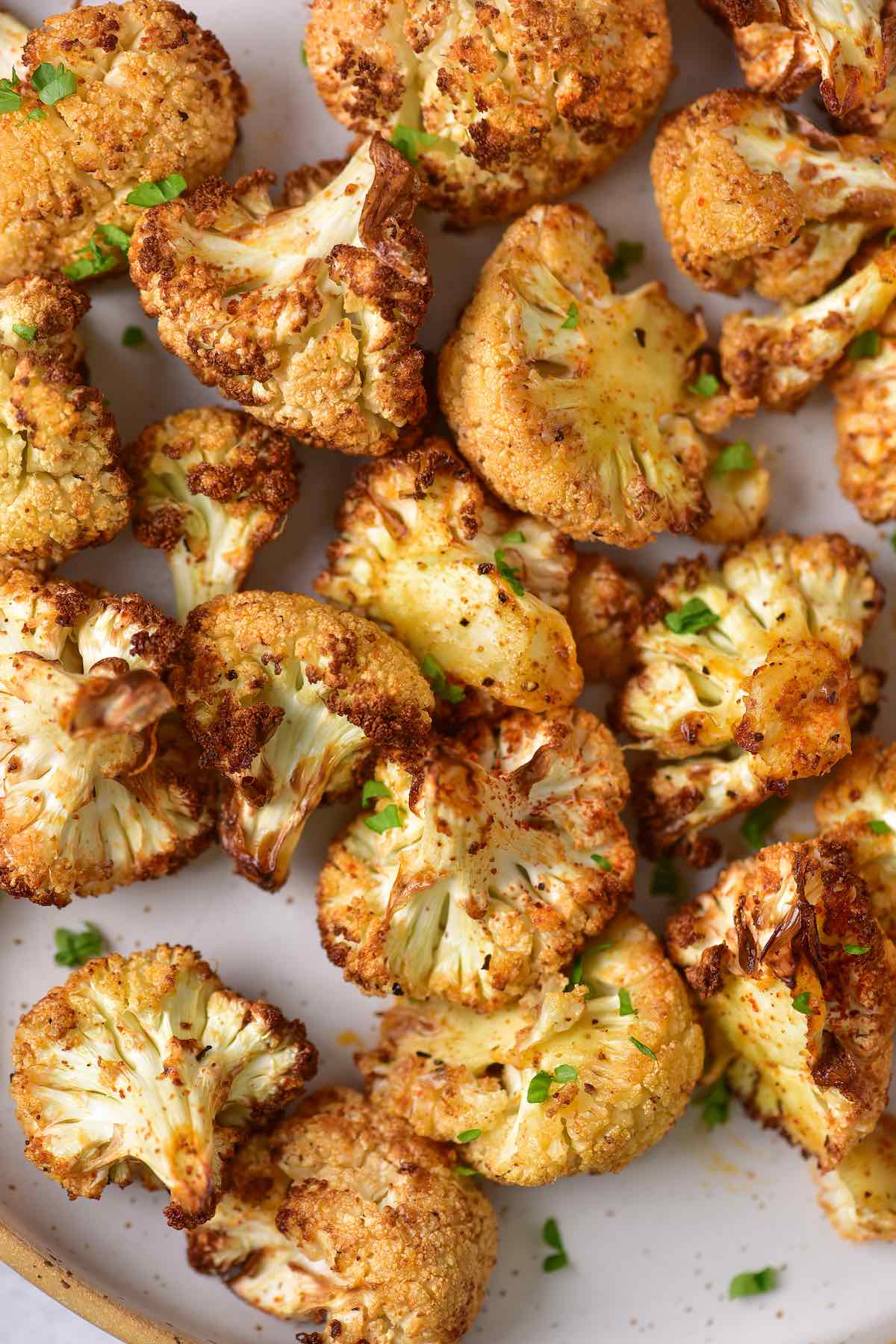 More air fryer vegetables you'll love
Frequently asked questions
Can I use frozen cauliflower for this recipe?
Frozen cauliflower turns mushy when cooked. It has such a high moisture content that it is difficult to use it as is. I recommend thawing it completely, drying it with a paper towel, and then using it for air-frying.
How do you know when the cauliflower is done?
Poke the largest floret in the basket with a fork. If it is tender and soft on the inside, it is done.
Should I boil the cauliflower florets before air-frying them?
No, you don't need to blanch/boil the florets before. Because the florets are bite-sized, they'll cook inside-out in the air fryer.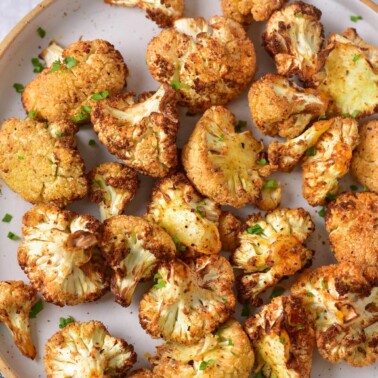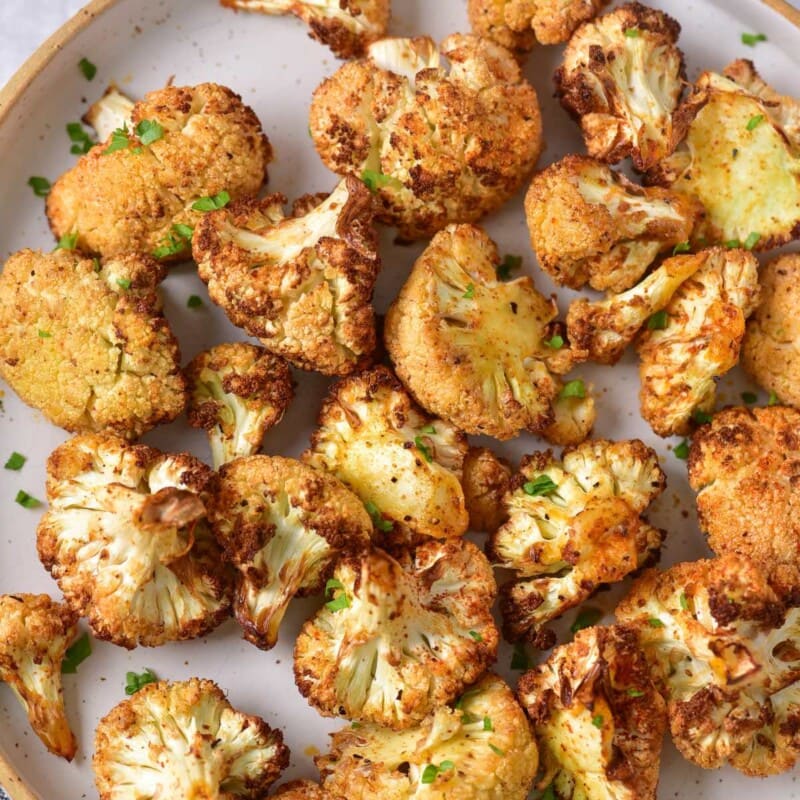 Air Fryer Cauliflower
Crispy golden on the outside and tender and sweet on the inside, this perfectly seasoned air fryer cauliflower recipe will have you reaching for seconds. Barely any prep is needed, and it cooks up in just 12 minutes.
Ingredients
Instructions
Preheat the air fryer to 200C/400F. Grease the air fryer basket with cooking spray.

Wash and clean the cauliflower and pat dry. Add it to a mixing bowl, then toss through the olive oil and seasonings and mix well.

Add a single layer of cauliflower and air fry for 12 minutes, shaking the basket several times throughout.

Remove the cauliflower once golden and crispy.
Nutrition
Serving:
1
serving
Calories:
68
kcal
Carbohydrates:
7
g
Protein:
3
g
Fat:
4
g
Sodium:
625
mg
Potassium:
439
mg
Fiber:
3
g
Vitamin A:
125
IU
Vitamin C:
69
mg
Calcium:
34
mg
Iron:
1
mg
NET CARBS:
4
g
Disclosure: This post may contain affiliate links. I may earn a small commission for my endorsement, recommendation, testimonial, and/or link to any products or services from this website.