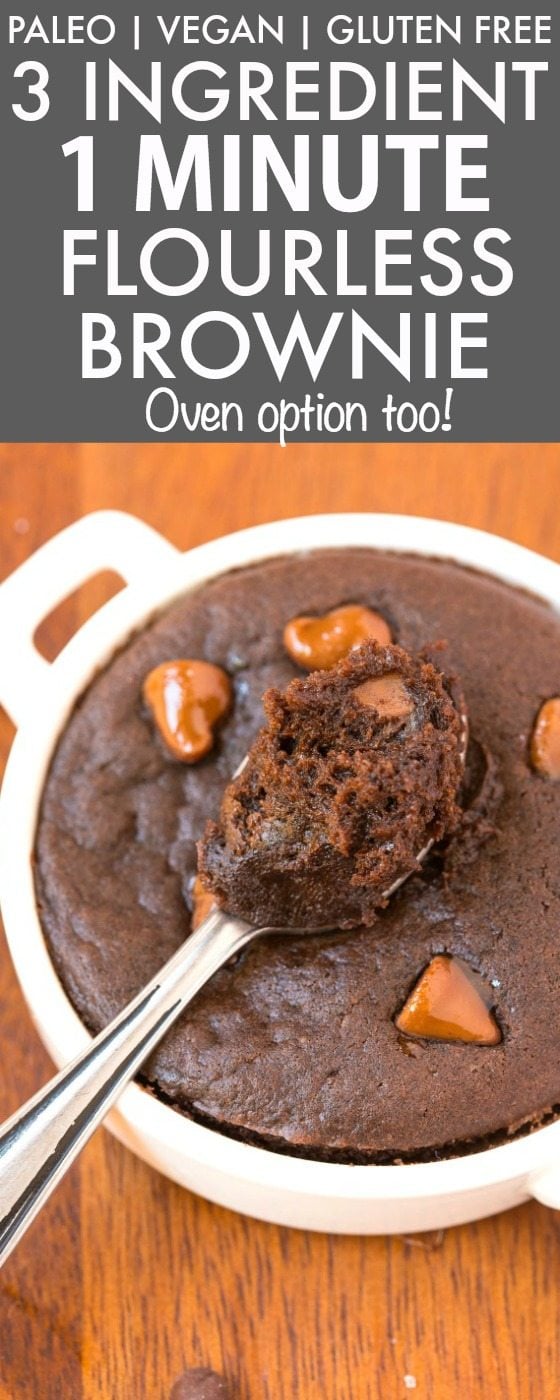 Satisfy your sweet tooth with this completely guilt-free flourless brownie using just three ingredients AND made in one minute! Made with no butter, flour, oil or sugar, this single serving brownie is naturally gluten free, paleo, grain free, vegan and whole30 friendly recipe!

Before we get into today's recipe, you'll need to forgive me for a lack of eats this week- I had a little bit of an unexpectedly busy weekend and spent the first days of this week relaxing and not whipping my phone out for pictures- The link-up is at the bottom and I'll be back next fortnight with some delicious hotel eats….aka eats without leaving a room.
***
This is a shoutout to my….Juli.
Ha, you thought I was going to say EX!
Can we take a moment to vent about how annoying that song is? Seriously, it may be the most overplayed song at the moment. I'm crossing my fingers that Taylor Swift and Zayn Malik's slightly provocative duet takes over.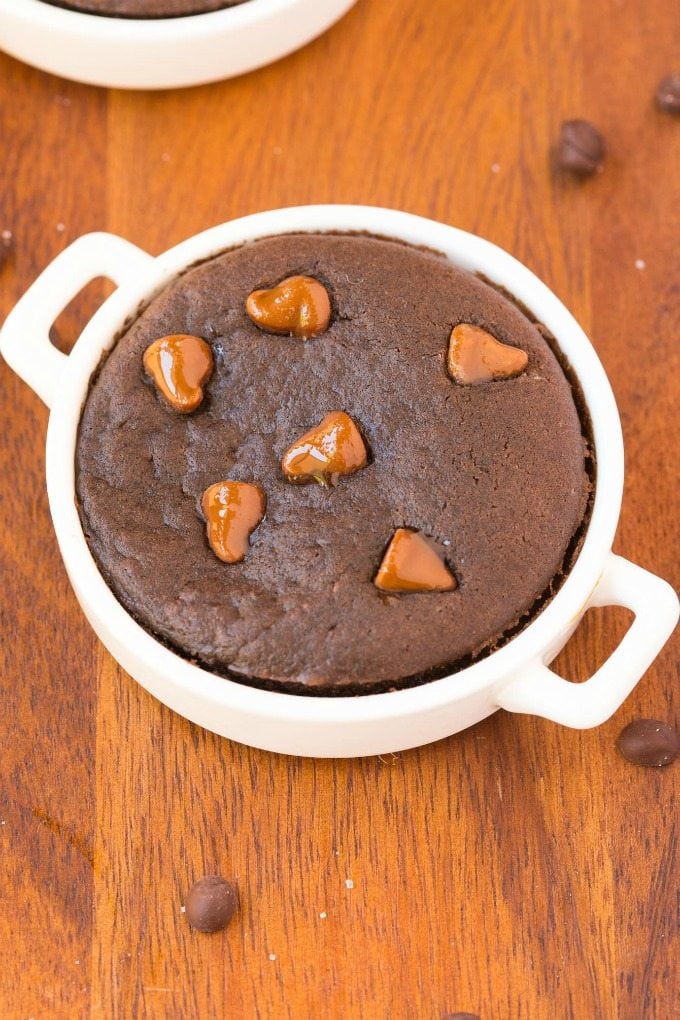 I remember almost a year to this day, I messaged Juli and asked her to test out this recipe for me. I remember telling her to put aside some brown bananas. She tried it out, gave me her opinion and soon enough, it made the blog world.
This time, it was a little bit different.
My most popular and reader made recipe from the blog are these 3 Ingredient Flourless Brownies. If you've been around these neck of the woods for quite some time, you know there's been multiple variations of it- From a seasonal pumpkin version to one packed with applesauce, it's been around the block.
Like, Jenny.
Jenny from the Block.
Don't be fooled by the rocks that I got.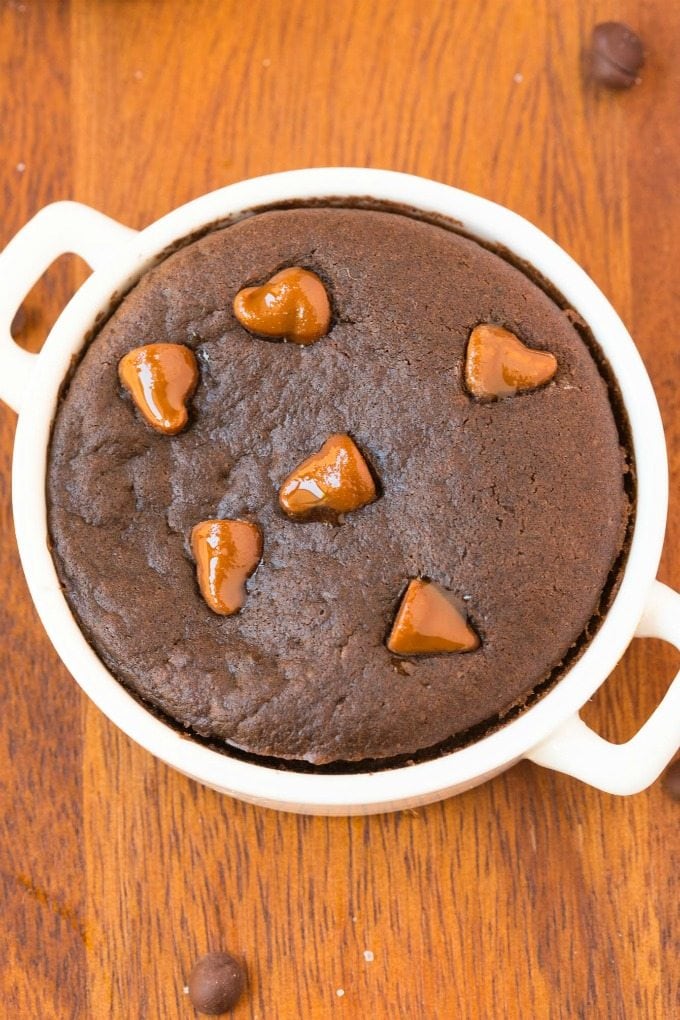 One of the most popular requests from that recipe was to give it a single serving option to satisfy the sweet tooth. Ironically, it's something I'd been enjoying for quite some time but never thought to share it. However, I had one VERY big issue here- There was one ingredient within it, which, depending on how much you use, have quite a different texture.
The nut butter.
It's amazing what a difference 1 1/2 tablespoons of nut butter (or it's alternative) VS two tablespoon does for this recipe.
I was on team 2 tablespoons, as it's something I can eat with a spoon and be totally fine with. However, I had an unfair bias, so needed a second opinion. I made Juli try both versions and luckily, she agreed with my palate- The two tablespoons took precedent over the one a half tablespoon version, so there.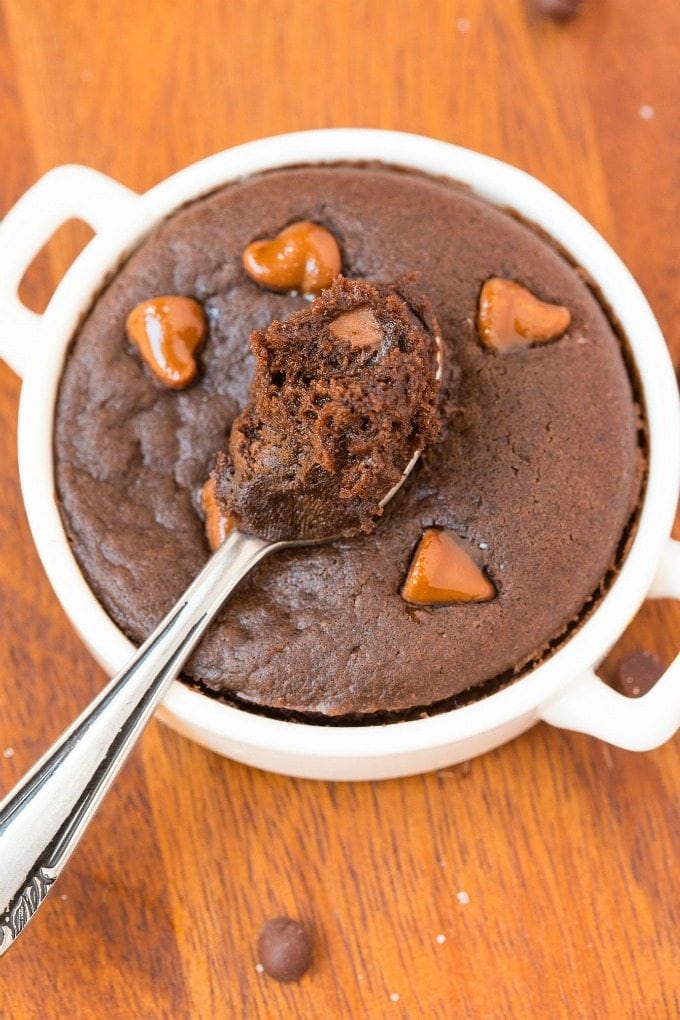 This healthy 3 Ingredient Flourless Chocolate Brownie is the ultimate sweet tooth hack which is completely guilt-free! It's ready in less than one minute, and it uses just three easy, EVERYDAY ingredients- 1 overripe banana, nut butter and cocoa powder– That is it! Please note- This is NOT your traditional brownie. It contains no flour, no grains, no sugar, no butter and no oil. It is, however, moist, gooey and rich and dark and perfect for lovers of dark chocolate. It also is a quick fix to satisfy the sweet tooth. It's a delicious snack or clean eating dessert you can enjoy anytime- Frankly, you can enjoy it multiple times a day! I mean, it pretty much is a serving of fruit 😉 Also, for those without a microwave, there is a tested oven option- Simply bake at 350 degrees for 12 minutes, or until 'just' cooked in the center.
Slight controversy….
Desserts or transforming Whole 30 ingredients into a mock dessert are banned during the whole 30 program. Some would say this is completely banned, yet others could argue that it IS whole 30 compliant. Regardless, it is suitable for those following a vegan, gluten free, paleo, dairy free, sugar free and grain free lifestyle!
HACK! The original recipe works best with drippy almond butter or smooth peanut butter (this would no longer be paleo friendly), but for those with allergies, you are COVERED! It works well with slightly sweetened sunflower seed butter and smooth soy nut butter. I don't recommend tahini, as it lends a bitter aftertaste.
Also, as a lover of the rich, dark taste, I used a mix of dark cocoa powder and standard cocoa powder. For a more mellow taste, use the latter.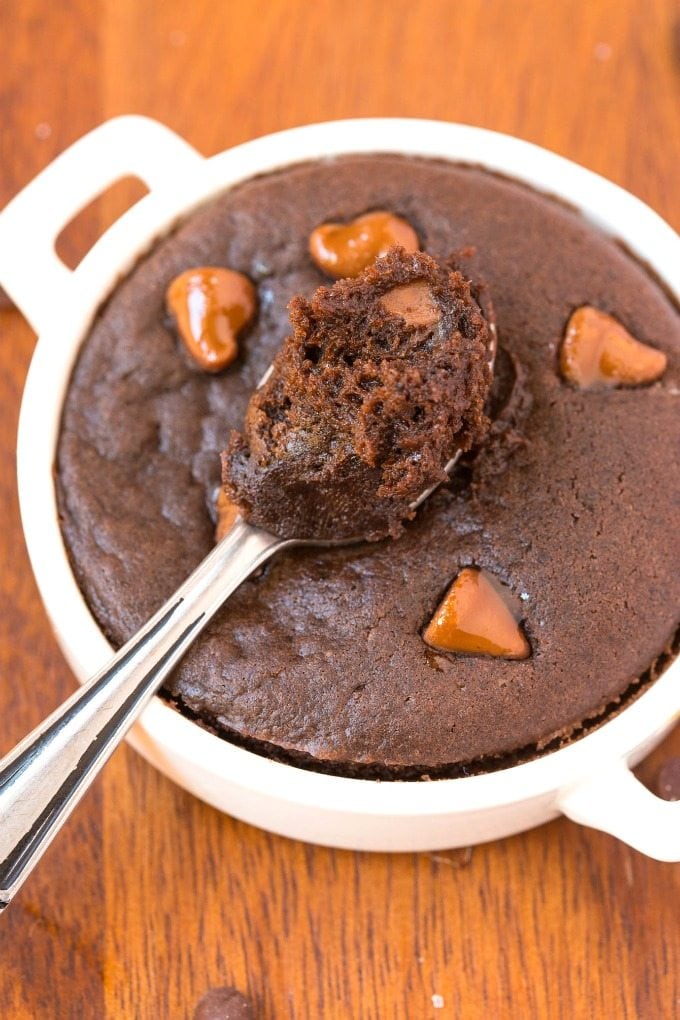 Make this healthy 3 Ingredient flourless chocolate brownie ready in one minute and never underestimate minor ingredient details.
More nut butter is always better.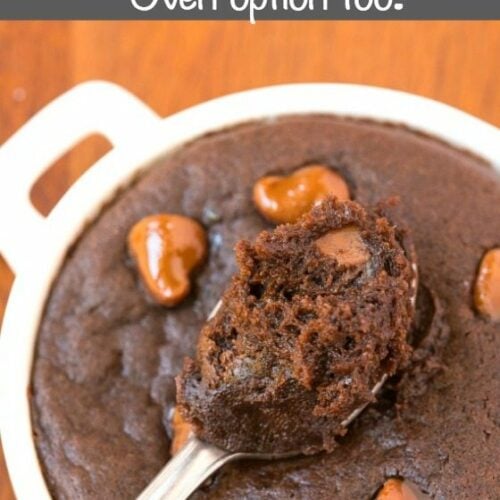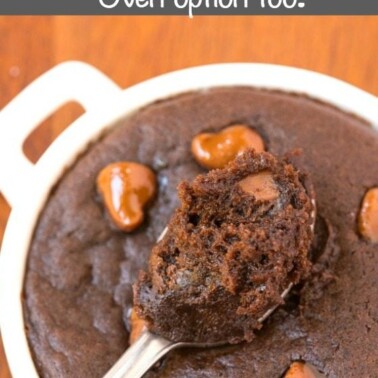 Healthy 3 Ingredient 1 Minute Flourless Brownie
Satisfy your sweet tooth with this completely guilt-free flourless brownie using just three ingredients AND made in one minute! Made with no butter, flour, oil or sugar, this single serving brownie is naturally gluten free, paleo, grain free, vegan and whole30 friendly recipe!
Ingredients
1

medium overripe banana

2

tablespoon

smooth nut butter or nut butter alternative

I prefer almond or peanut butter

2

tablespoon

cocoa powder
Sweetener of choice

optional*

Chocolate chips to top

optional
Instructions
Microwave option
Grease a microwave safe bowl or mug and set aside.

Mash your overripe banana very well the add your nut butter and cocoa powder and continue mixing until fully incorporated.

Transfer to greased mug, top with optional chocolate chips and microwave for 45 seconds-2 minutes, depending on your desired texture.
Oven option
Follow as above but bake for 10-12 minutes at 350 degrees until just cooked.
Notes
* I didn't use this as my bananas were sweet enough, but if you want a super sweet brownie, feel free to add this.
This brownie has no eggs so you can enjoy it barely cooked- It will be super gooey and moist.
More delicious recipes to satisfy the sweet tooth? Gotcha covered!
These flourless brownies take less than 20 minutes and are better than any boxed mix out there!
Rice Crispy Treats get a healthy makeover– No marshmallows but just as delicious!
Banana bread meets breakfast meets no bake bars = These beauties.

Disclosure: This post may contain affiliate links. I may earn a small commission for my endorsement, recommendation, testimonial, and/or link to any products or services from this website.