No Bake Paleo Vegan Peppermint Chocolate Bites (Keto, Sugar Free)
These healthy no bake peppermint chocolate bites are your paleo and vegan holiday snack made with wholesome ingredients! Made in just 5 minutes, these soft, chewy and fudgy peppermint no bake bites are protein-packed and sugar-free! Keto, Dairy Free, Gluten Free.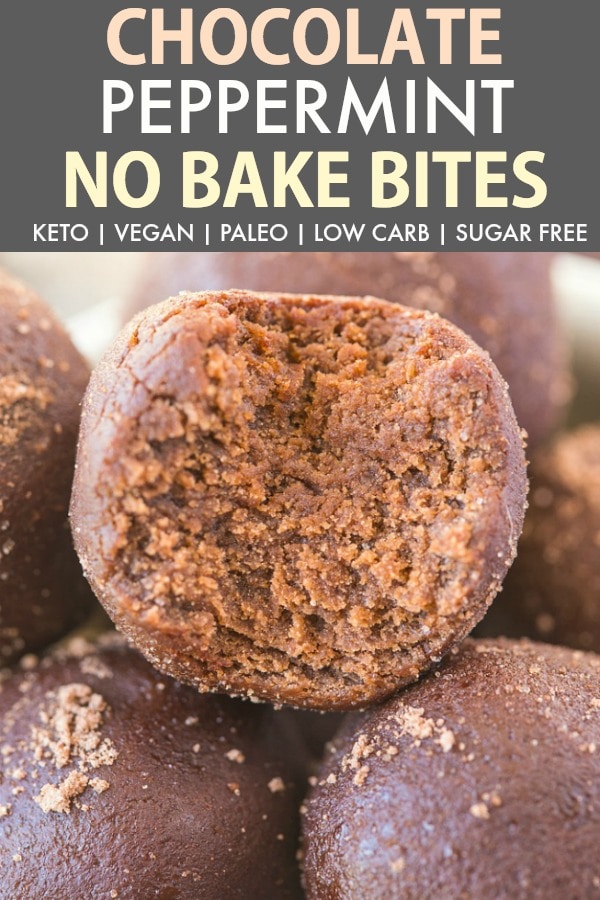 No Bake Peppermint Chocolate Bites
"Arman, when you move to America you need to try out the seasonal drinks at Starbucks for us."
Who knew that one (most likely a joke) request from my friends back home would actually become a reality?
Starbucks hype never really hit Australia. I still remember back when I was in my early high school days and there was an announcement on the news that Starbucks would be opening multiple locations and coffee would be "taken to another level".
Yes, it certainly went to another level.
A level of disappearance.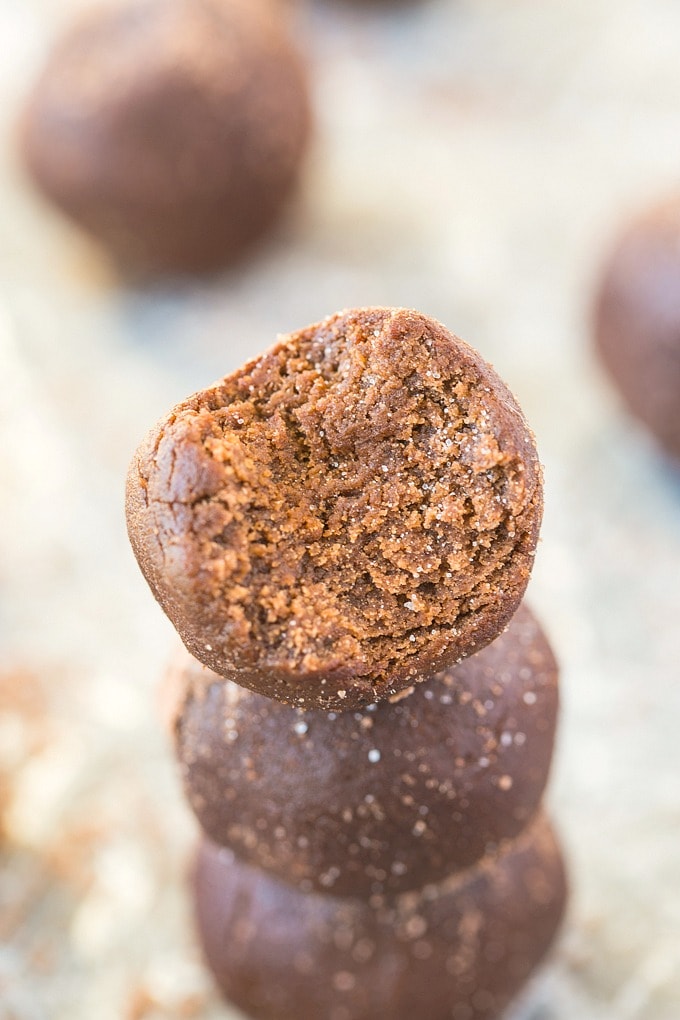 Now? There are only three (I think?) Starbucks stores in Melbourne. Every time I went past one of the stores (which were all located within the city center), it would be mostly filled with tourists or people holding up their hands saluting it.
Oh wait, sorry.
They were just trying to mooch off the free WIFI which unlike America, is SO DARN HARD TO FIND.
Long story short, Starbucks in Australia is nothing like it is in the Northern Hemisphere or even other parts of the world, like London. It would be a safe assumption that the seasonal drinks would be the same, however, that is not the case.
America get blessed with peppermint mocha, pumpkin spice and gingerbread and Australia? White hot chocolate, iced white hot chocolate, and skinny white hot chocolate.
Thanks, Australia. Just show off our creativity, why don't you.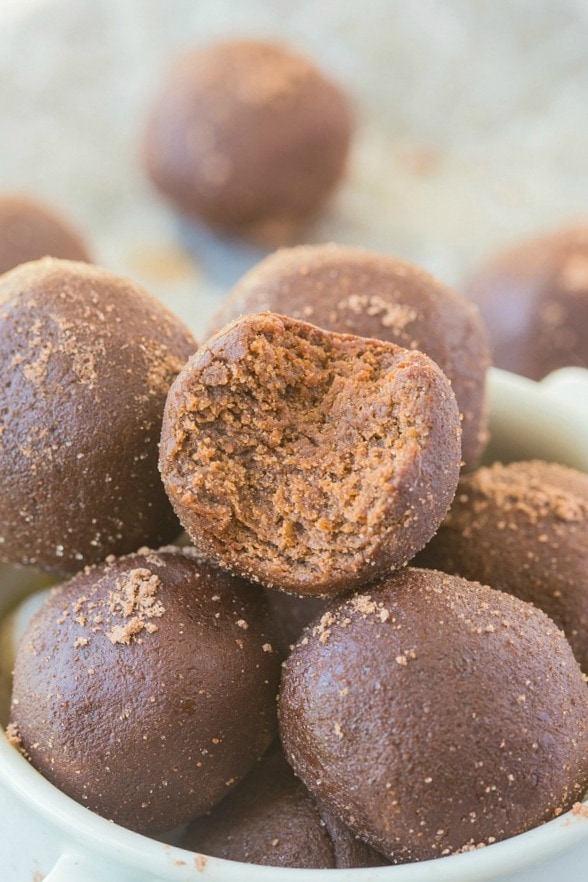 Chocolate Mint Peppermint No Bake Balls
I promise you all that I do not have some obsession with Starbucks or pimping up their recipes. I have, however, decided to try out ALL their festive drinks and incorporate them into some no-bake bite or recipe, similar to the one which started it all- The No Bake Pumpkin Spice Latte bites.
Just last week, I went to Starbucks and put on my dumb naive Australian act and requested their Peppermint mocha before it was released. Why? So I could create today's recipe. The team at the local Starbucks were amazing and had everything on hand to make it for me so here we go- Healthy No Bake Paleo Vegan Peppermint Chocolate Bites!
Chocolate Peppermint Protein Bites
These Healthy No Bake Peppermint Chocolate Bites are the perfect balance of mint, sweetness, and espresso for one delicious snack bite recipe! They are soft, doughy and remind me of a chocolate brownie in terms of texture!
Taking only five minutes to whip up, they are the perfect snack or healthy dessert to have on hand, especially for mint lovers.
Not only are these bites healthy, but they are also suitable for those following a vegan, keto, paleo, sugar-free and low carb diet!
For those of you not a fan of mint and/or espresso, these are easy enough to simply omit either- Just reduce the amount of dairy-free milk!
Make these healthy no bake peppermint chocolate bites and here's to being a cliche goose.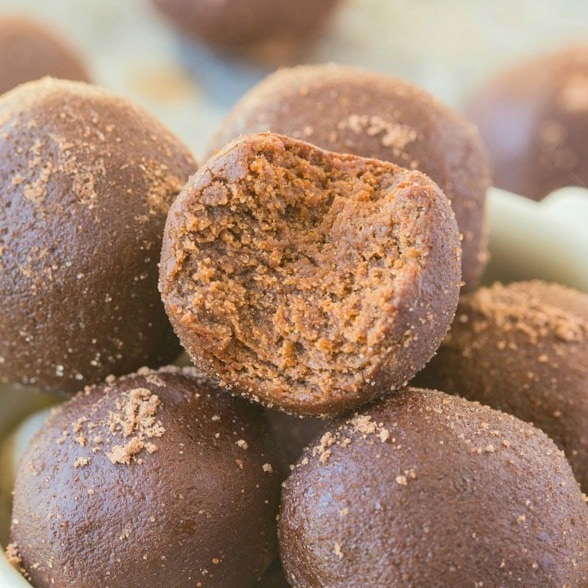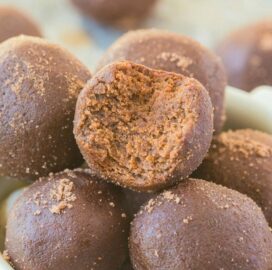 No Bake Paleo Vegan Chocolate Peppermint Bites (Keto, Sugar Free)
These easy no bake chocolate peppermint bites are a quick 5-minute recipe which is paleo and vegan! Soft, chewy and tasting like a soft-baked brownie, they are made 100% sugar-free, low carb, keto and dairy-free!
Print
Pin
Rate
Instructions
In a large mixing bowl, combine your flours, espresso powder, cocoa powder, salt and granulated sweetener and set aside.

In a microwave safe bowl or stovetop, melt your nut butter with the sticky sweetener. Whisk in the peppermint extract and pour into the dry mixture. Mix very well until fully incorporated.

If batter is too thick (it generally is), add a tablespoon of milk of choice, until a thick batter is formed. If batter is too thin, add a dash more flour until a thick batter is formed. Using your hands, form into bite sized balls. Roll in additional cocoa powder.

Refrigerate for at least 10 minutes, or until firm.
Notes
* I used a monk fruit sweetened maple syrup. You can use pure maple syrup or agave nectar, if not keto.
No Bake Paleo Vegan Chocolate Peppermint Bites (Keto, Sugar Free) can keep at room temperature, for up to 5 days. They are best refrigerated and are freezer friendly.
Nutrition
Serving:
1
Bite
|
Calories:
88
kcal
|
Carbohydrates:
3
g
|
Protein:
3
g
|
Fat:
8
g
|
Fiber:
2
g
|
Vitamin A:
200
IU
|
Vitamin C:
2.5
mg
|
Calcium:
20
mg
|
Iron:
0.4
mg
|
NET CARBS:
1
g
Snickerdoodle Bites (Paleo, Vegan, Gluten-Free)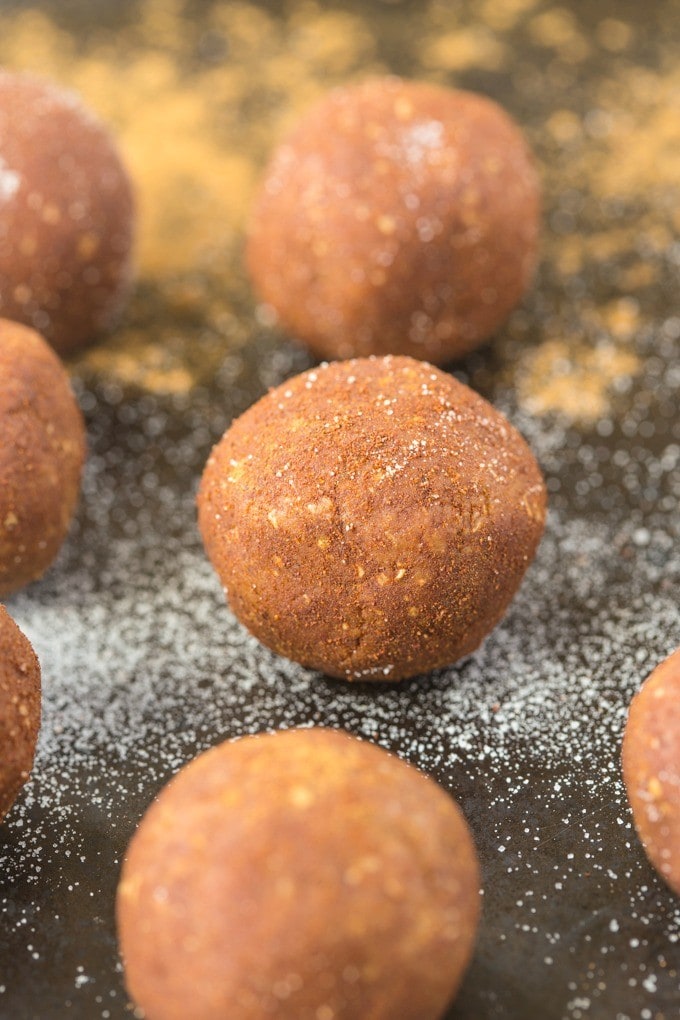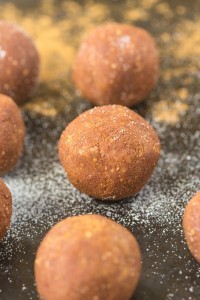 Pumpkin Spice Latte Bites (Paleo, Vegan, Gluten-Free)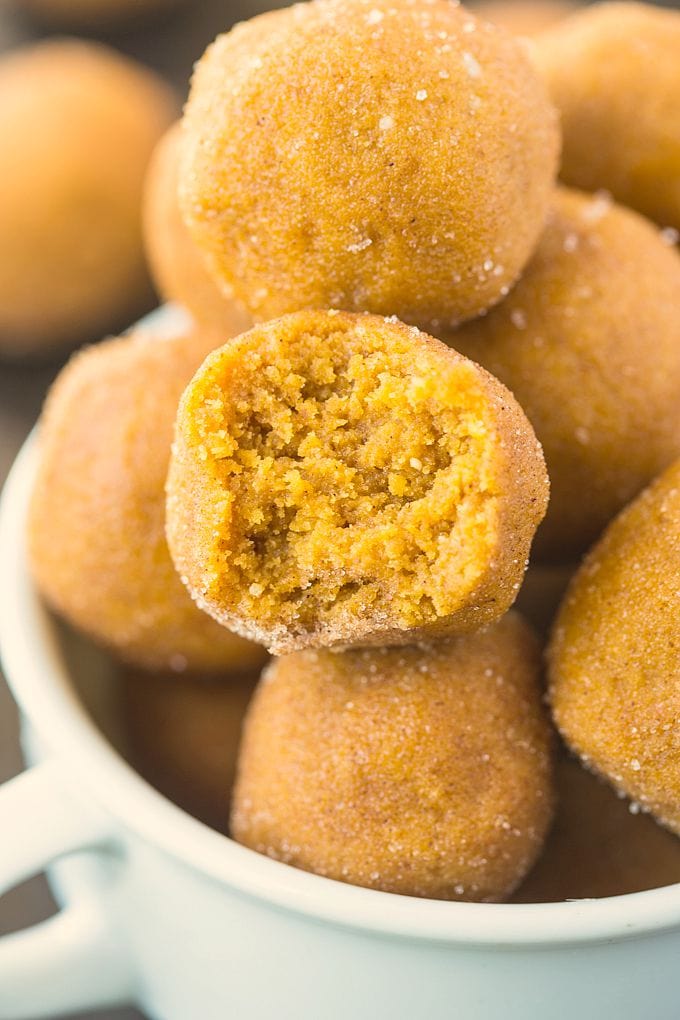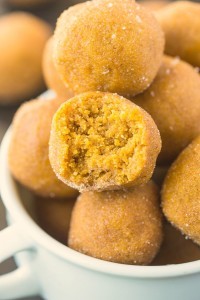 Cake Batter Bites (Paleo, Vegan, Gluten-Free)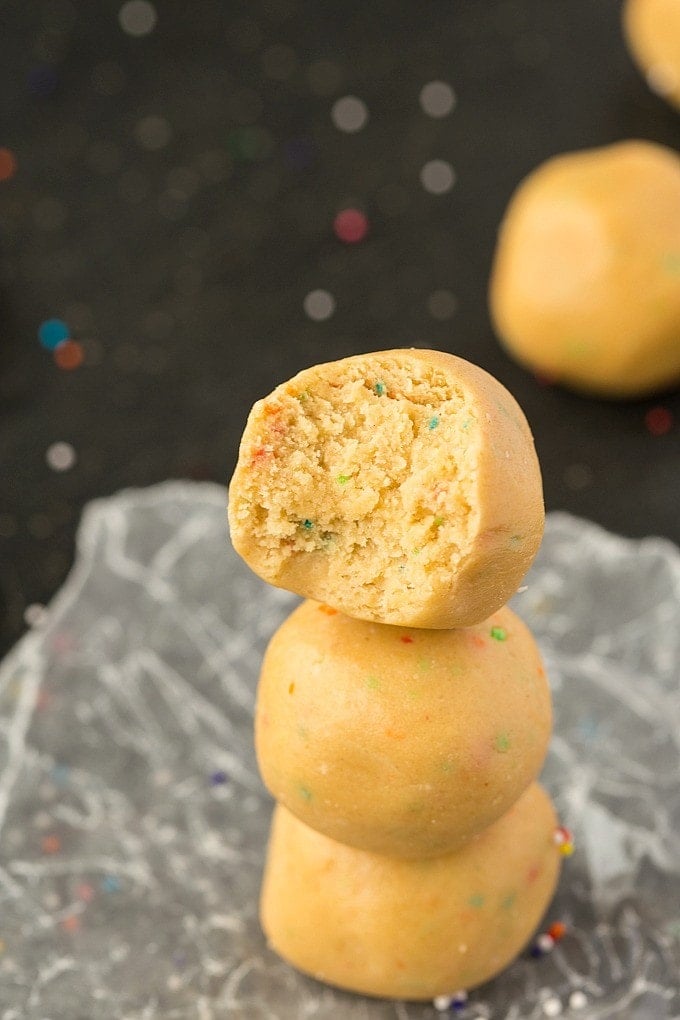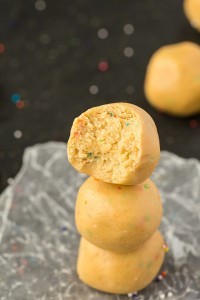 Are you a fan of the seasonal drinks?
Does 'White chocolate' count as a seasonal drink? NO, AUSTRALIA