These homemade no bake cashew coconut bars are a keto and whole30 snack recipe ready in 5 minutes! Packed with protein, loaded with cashew nuts and topped with shredded coconut, these raw snack bars are filling. Made without dates or any dried fruits, they are completely sugar free and taste like a cashew cookie bar!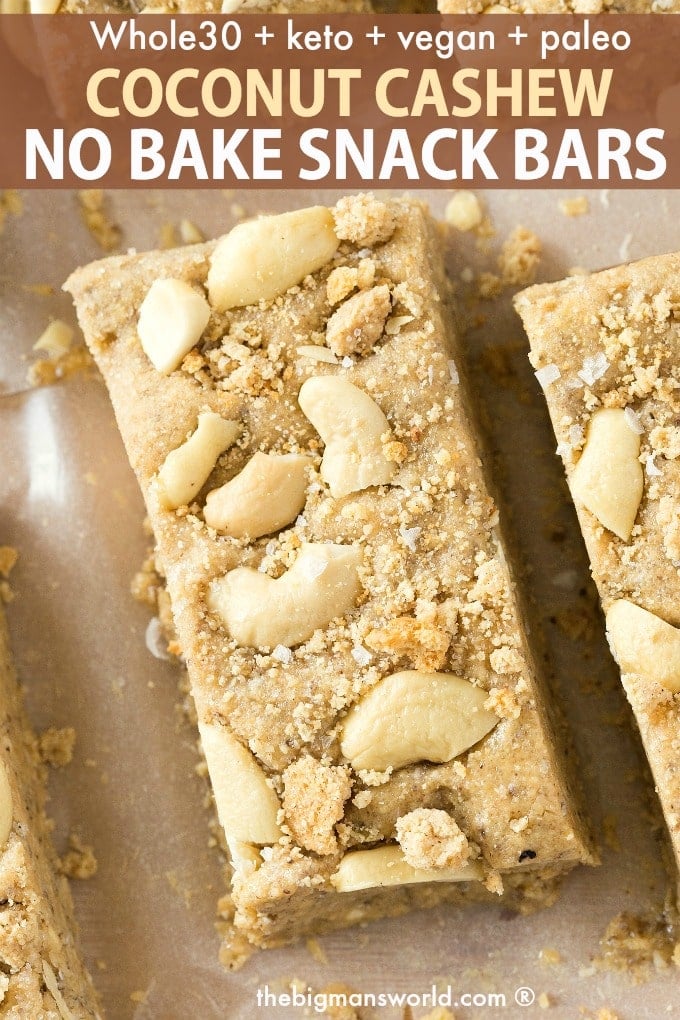 Whole30 Cashew Coconut Bars
We are almost at the finish line for those doing the January whole30.
Snacking on the whole30 is something I most definitely partook in. I even collected a huge list of my favorite whole 30 approved snacks!
Not only that, we've had a plethora of whole30 snack bar recipes shared on here. Some of my favorites include my homemade coconut cream pie larabars, cherry pie larabars, and the brownie larabars.
It's time for me to give a makeover to my favorite cashew cookie bar.
The original cashew cookie Larabar is whole30 friendly. However, it isn't keto-friendly, as it is loaded with natural sugars, thanks to the dates. Both are 100% vegan and paleo regardless!
Copycat Cashew Cookie Larabar Recipe
I wanted to create a homemade whole30 snack recipe, made with and without dates.
These Cashew coconut bars fit the bill.
Traditional raw snack bars are typically chewy and firm at room temperature. This keto version is a little bit different.
Texture wise, my cashew coconut no bake bars are thick, gooey and ultra fudgy. This is due to not using any dried fruits in it. While they don't hold well at room temperature, they are absolutely delicious when eaten straight from the freezer.
Yes, the freezer.
In fact, these no bake bars remind me of a keto fat bomb, freezer fudge style.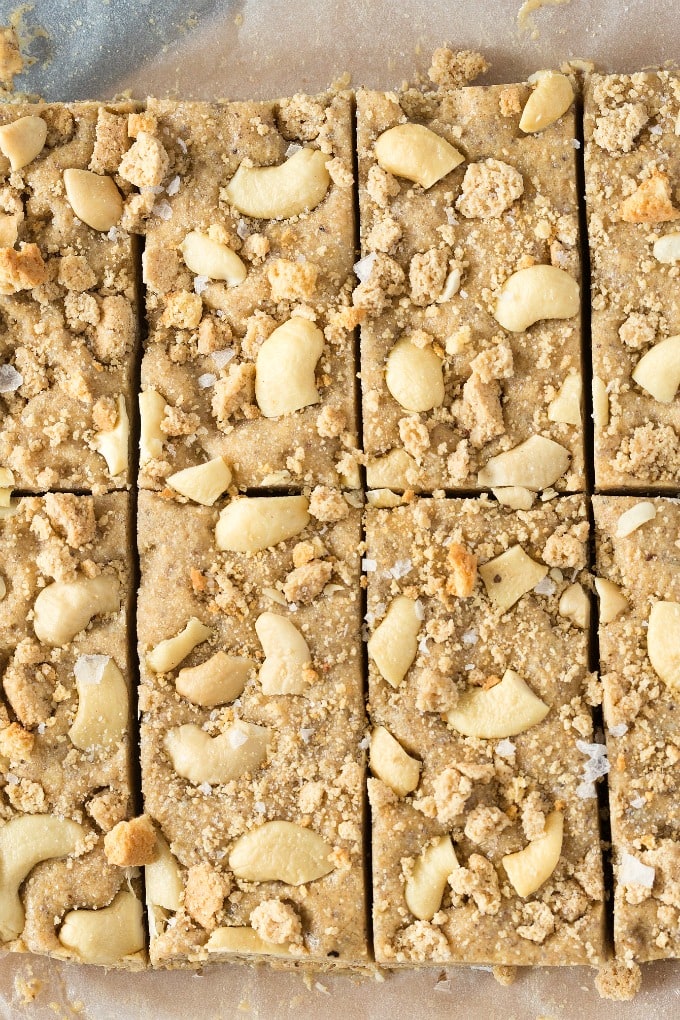 How to make homemade Keto Coconut Cashew Bars
You only need SIX ingredients to make these homemade cashew coconut bars-
Raw cashews
Raw Almonds
Chia Seeds
It's an easy, 5 minute and fuss-free recipe! You simply combine your ingredients, blend and voila- It's done!
Low Carb Nut Options
As a general rule of thumb, the raw nuts and nut/seed butter can be used interchangeably, but some are better than others.
Raw almonds, raw cashews and raw peanuts (not paleo friendly) are the best options to use. I say that, as they are less oily when blended to a smooth consistency.
Walnuts, pecans, and macadamias, while super low carb, tend to yield an incredibly oily batter.
The Best Low Carb Nut Butter
Almond butter and cashew butter are the best nut butter options, as they have a mild and smooth flavor. They are both also keto and whole 30 approved.
Peanut butter can be used too, but only if you want to keep this strict keto.
How to make coconut cashew bars whole 30 friendly
As mentioned earlier, the original keto option is made without dates or any fruits. However, as it uses a granulated sweetener, some whole 30 advocates wouldn't choose to use this.
Instead, there is a whole 30 and paleo approved option which uses dates.
To make this date-sweetened-
1/3 cup Raw cashews
1/3 cup Unsweetened shredded coconut
In a high-speed blender or food processor combine all your ingredients and blend until a thick dough remains.
Pour batter in a lined pan and press firmly into place.
Refrigerate for 30 minutes, or until firm.
Slice into 12 bars.
The date sweetened and whole 30 version is stable at room temperature!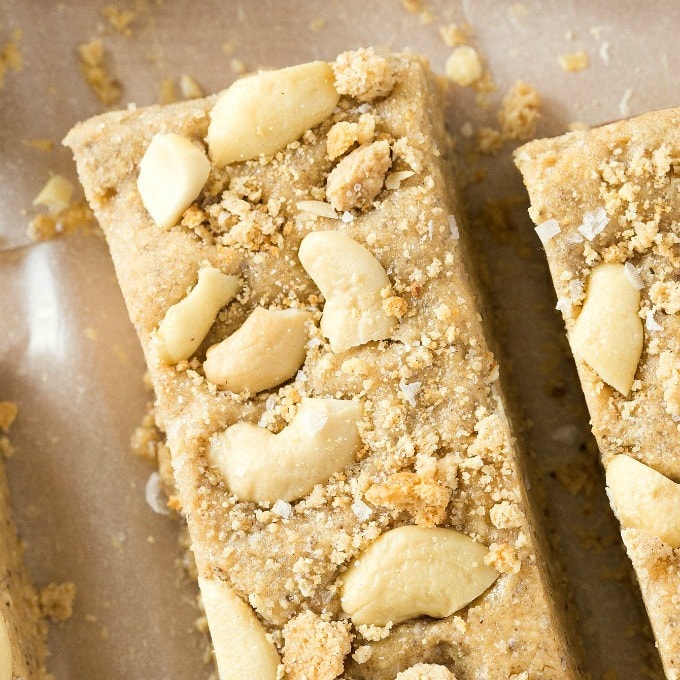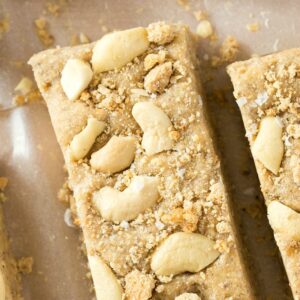 Whole30 No Bake Cashew Coconut Bars (Keto)
A quick and easy recipe for homemade keto coconut cashew no bake snack bars! Protein-packed and made sugar free, this is made without dates and without sugar! A whole 30 option is included! Vegan, Paleo, Gluten Free
Instructions
Line an 8 x 8-inch freezer friendly pan with parchment paper and set aside.

In a high-speed blender or food processor, combine your cashews and almonds and blend until a crumbly texture remains.

Add your almond butter, granulated sweetener, and chia seeds and blend very well, until a thick, gooey batter remains. If the batter is too thick, add some milk or liquid of choice.

Pour the cashew coconut no bake bar batter into the lined pan. Sprinkle with the coconut and place in the freezer. Once firm, cut into bars and keep frozen.
Notes
* Only use if the batter is too thick.
Whole30 No Bake Cashew Coconut Bars (Keto) needs to be kept in the freezer, as these bars are super fudgy and fragile. To enjoy, simply thaw for 2-3 minutes.
They can keep for up to 2 months.
Paleo/Whole 30 date-sweetened option included in the post.
Nutrition
Serving:
1
Bar
Calories:
175
kcal
Carbohydrates:
6
g
Protein:
5
g
Fat:
17
g
Fiber:
5
g
Vitamin A:
200
IU
Vitamin C:
3.3
mg
Calcium:
30
mg
Iron:
0.9
mg
NET CARBS:
1
g

Disclosure: This post may contain affiliate links. I may earn a small commission for my endorsement, recommendation, testimonial, and/or link to any products or services from this website.