Easy homemade soft pretzels made with just 2 ingredients and NO kneading! Made with no yeast, this soft pretzel recipe takes 20 minutes to make and reminds me of Aunt Annie's soft pretzels, but healthier!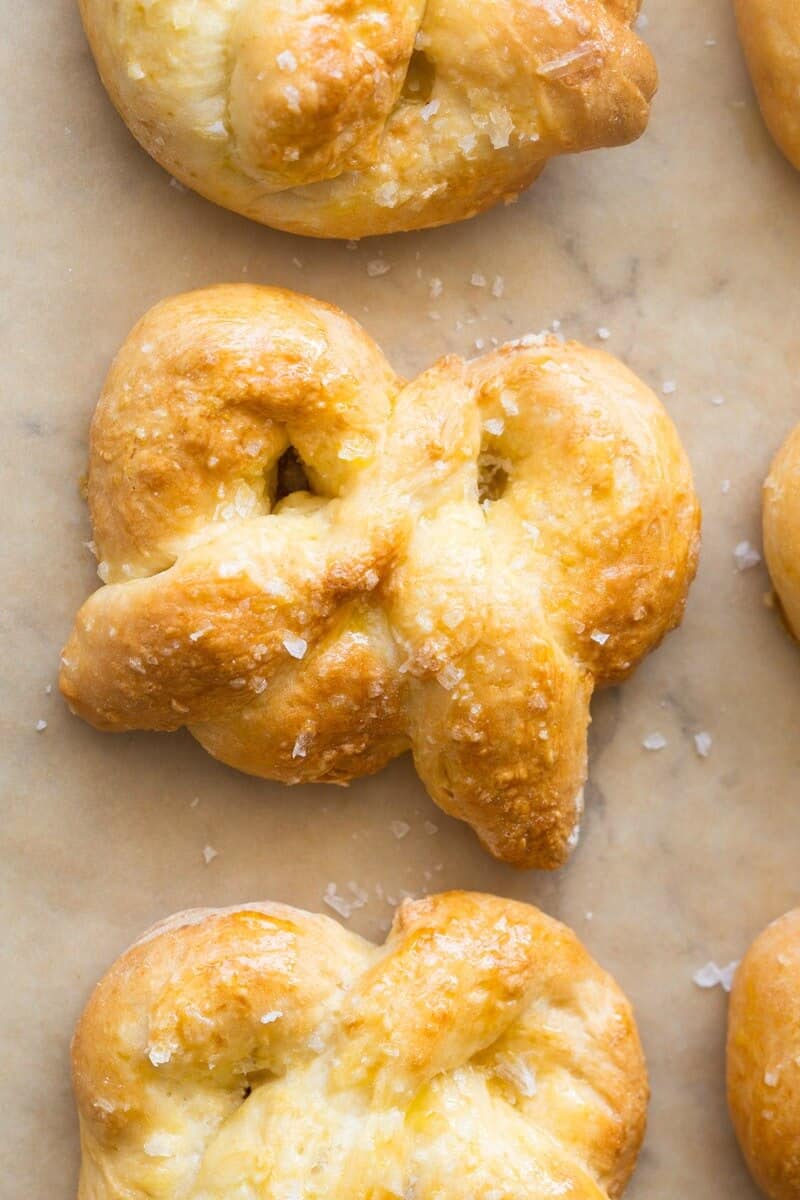 2 Ingredient Dough Pretzels
We are BACK with more weight watchers 2 ingredient dough recipes.
We've had the 2 ingredient bagels and 2 ingredient pizza dough and now…soft pretzels!
Growing up, I was obsessed with Aunt Annie's soft pretzels.
Every mall and shopping center would lure me in with the amazing smell of fresh soft pretzels baking.
Now that many of us are limited to our homes, there is NO better time to do some baking. I've shared my pantry staple recipes and ingredient list, and personally have been using it myself to go through all my food inventory!
I always assumed that pretzels required yeast to be made, but that is NOT the case.
You CAN make your own delicious soft pretzels made with just 2 ingredients.
Soft, chewy and tender on the outside, they are sprinkled with sea salt.
Delicious on their own, they can easily be enjoyed with various sauces, dips, and nut or seed butter 🙂
How to make Pretzels Without Yeast
The Ingredients
Self-rising flour (self-raising flour)– Self-rising flour replaces the need for any baking powder, baking soda or other rising agents. If you don't have self-rising flour, you can make your own following this recipe.
Greek Yogurt– Non-fat Greek yogurt, low-fat Greek yogurt or full-fat Greek yogurt all work. Personally, the lower the fat, the easier the dough will be to work with.
Butter, milk, oil, or water– To brush the tops of the pretzels. It helps the salt stick and gives the tops a gorgeous shine.
Coarse sea salt– To top the pretzels with!
The instructions
Making these soft pretzels is ridiculously quick and simple and follows 3 EASY steps
Step 1: Prepare your dough
In a large mixing bowl, combine your self-rising flour with your Greek yogurt. Mix well, until fully combined and a thick dough remains. Form a ball shape.
Step 2: Lightly flour and form into pretzels
Lightly dust a wooden surface (I use my kitchen bench) with extra flour. Add a tablespoon or two on top of the ball of dough, before transferring to the floured surface. Press the ball into a circular shape. Divide the dough into 6 even pieces.
Roll each piece of dough into a long, thin, sausage-shape. Twist the dough into a pretzel shape (I pick up each end and cross it over) and place it on a lined baking tray. Repeat until each piece of dough has been made into a pretzel shape.
Step 3: Brush and bake!
Lightly brush the tops of each pretzel with either butter, oil, milk, or water. Sprinkle the tops with coarse sea salt. Bake the pretzels for 20-22 minutes, or until golden around the edges.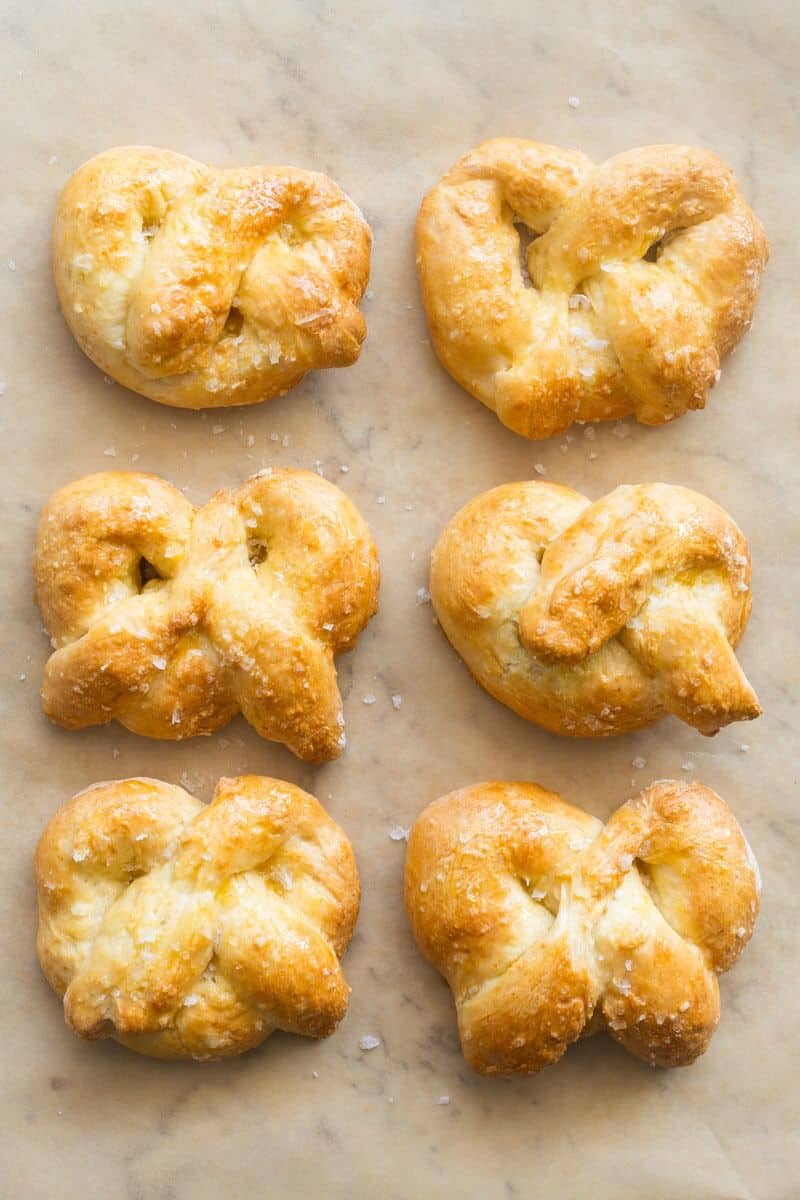 How do I make these vegan and/or gluten-free?
Easily make these homemade soft pretzels vegan AND/OR gluten-free.
Greek yogurt- Use dairy-free Greek yogurt or coconut Greek yogurt. I haven't tried other vegan yogurts, but generally, if your vegan yogurt is thick (not runny), it will be fine.
Self-rising flour– I used gluten-free self-rising flour making these pretzels naturally gluten-free.
Butter or milk, to brush- Use vegan butter or margarine, or unsweetened plant-based milk.
Do soft pretzels have dairy?
As mentioned above, if you follow the vegan options they are naturally dairy-free.
To be sure, use a dairy-free Greek yogurt and brush with a dairy-free butter spread or non-dairy milk.
How many calories and carbs are in homemade soft pretzels?
My homemade soft pretzels are healthier than store-bought. They contain higher amounts of protein, fiber and barely any fat. They also contain significantly fewer calories too!
Traditional soft pretzels (Aunt Annie's Soft Pretzels)– 340 calories, 65 grams of carbs, 8 grams protein and 2 grams fiber.
Homemade Soft Pretzels– 113 calories, 19 grams of carbs, 7 grams of protein and 2 grams of fiber.
I know which one I'll be enjoying!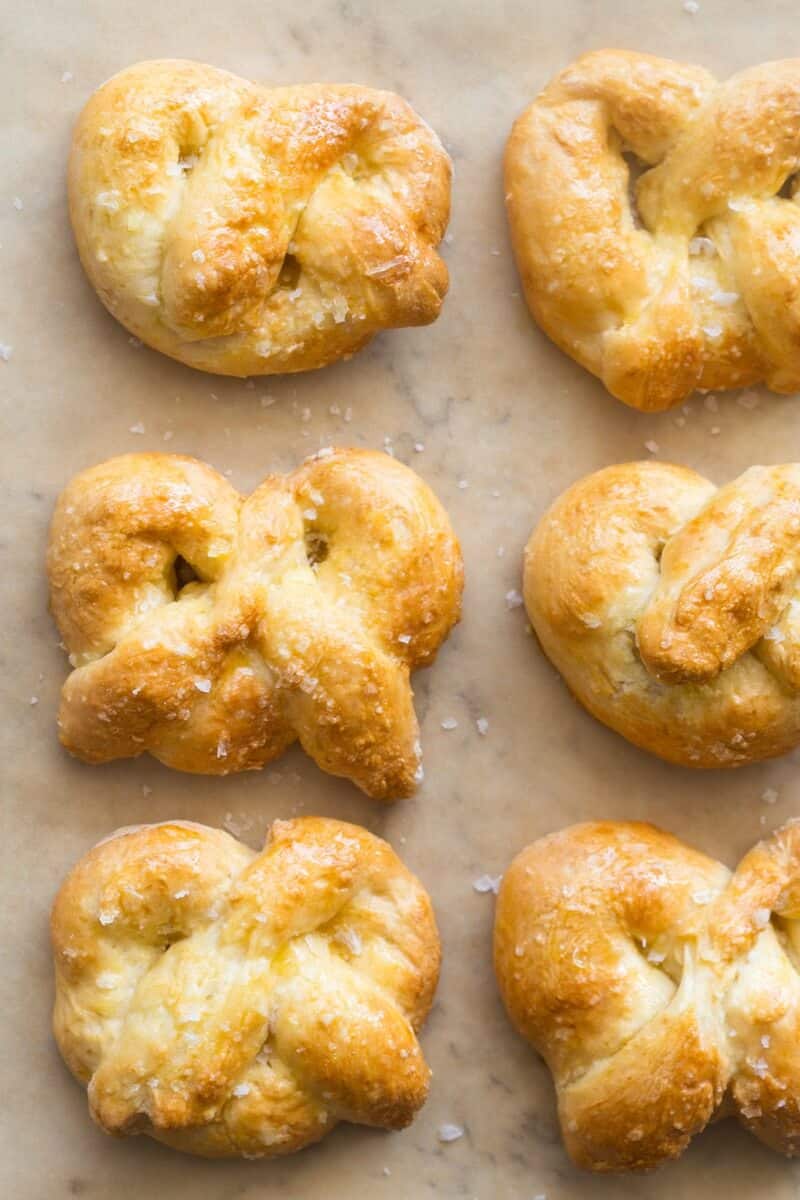 Storing, freezing and re-heating soft pretzels
How to store soft pretzels
Soft pretzels can keep either at room temperature or in the refrigerator. Regardless of which method you choose to store them, they need to be covered, preferably in a ziplock bag.
They will keep fresh for up to 1 week.
Can you freeze soft pretzels?
YES! You can freeze soft pretzels, provided they are already baked (e.g.- not the pretzel dough).
Place individual soft pretzels in ziplock bags and place them in the freezer. Frozen pretzels will keep well frozen for up to 6 months.
To thaw soft pretzels, allow them to thaw at room temperature or overnight in the fridge.
How to re-heat soft pretzels
While not 100% necessary, I recommend re-heating your soft pretzels before enjoying them.
Pre-heat the pretzels in a toaster oven for 10-12 minutes, or until warm and crispy. Alternatively, you can slice them in half and toast them in a toaster.
Tips and Tricks for PERFECT 2 Ingredient Pretzels
If your dough is a little sticky, add more flour, as different brands of yogurt yield different results.
Be sure to flour your wooden surface AND the dough before forming into pretzels- You will find the process so much easier.
To easily form pretzel shapes, be sure the dough is rolled out until long and thin. The thinner the dough, the easier it will be.
Regularly re-flour the surface in between forming pretzels, to make it easier
If you don't want to use oil, butter, or milk on top of your pretzels, be sure to at least brush them with water, otherwise, the coarse salt will not stick.
Do NOT over-bake the pretzels- these are supposed to be softer than traditional pretzels (hard pretzels).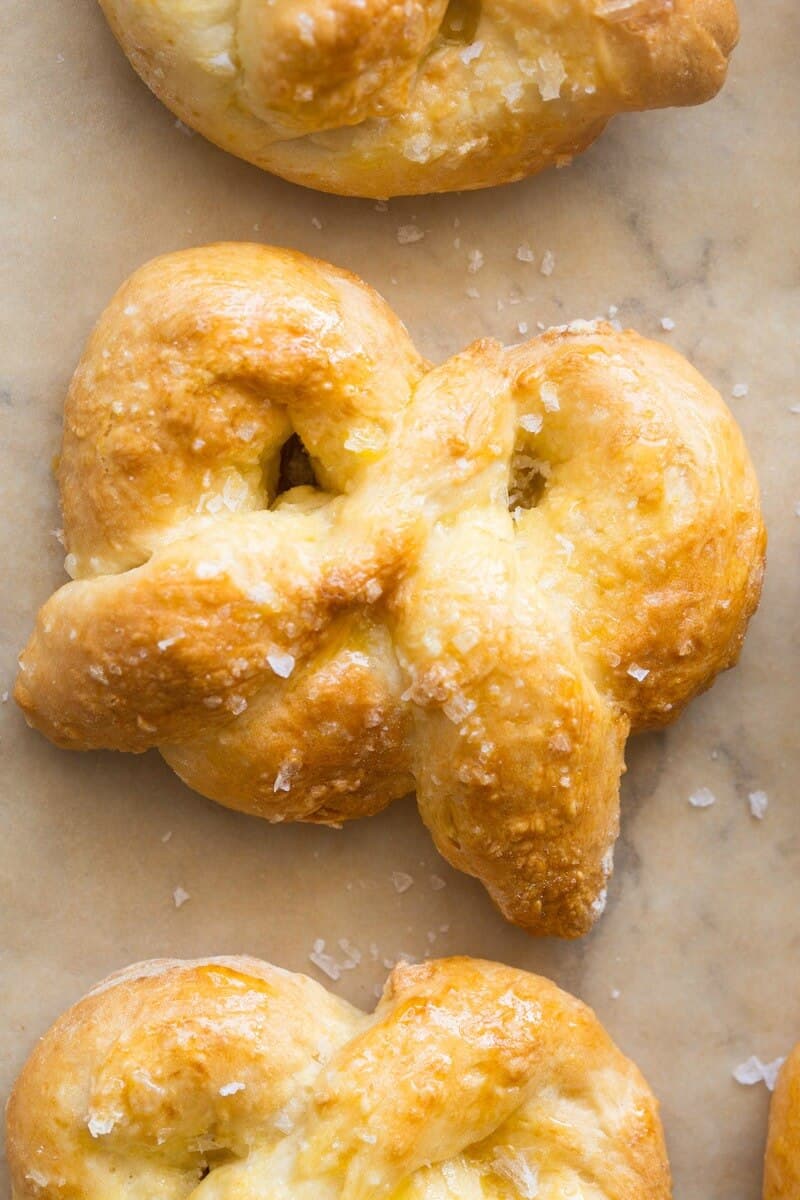 What goes good with soft pretzels?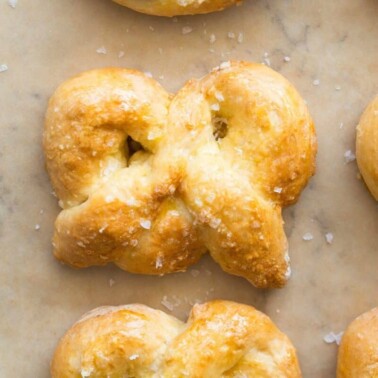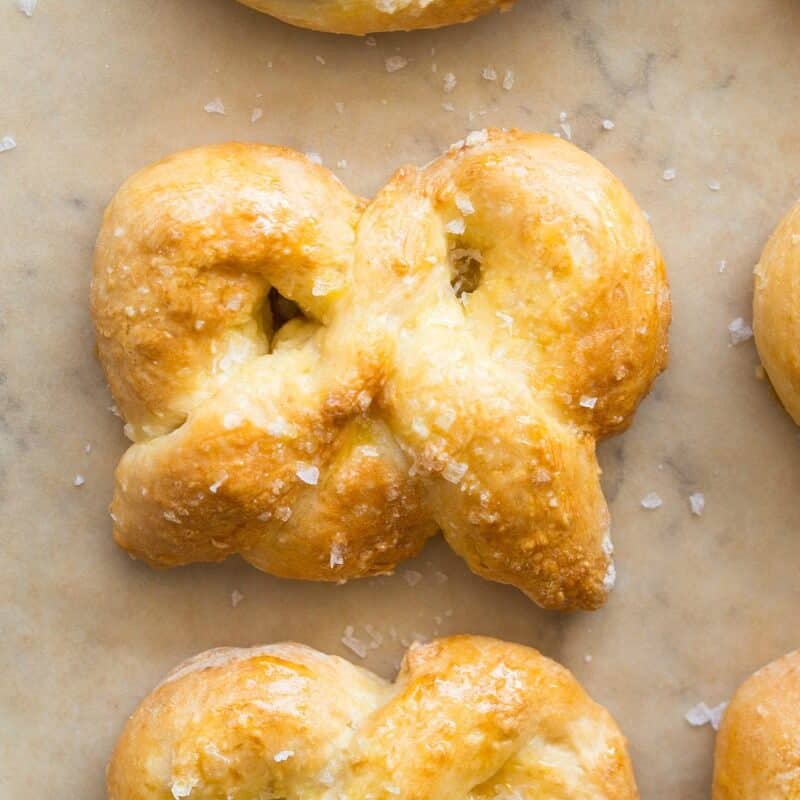 Pretzels Without Yeast
Foolproof soft pretzels made with just 2 ingredients- No yeast, no oil and ready in 20 minutes! Easy and delicious, they can be made vegan, gluten free and dairy free!
Ingredients
1 3/4

cup

self-rising flour

gluten-free, if needed

1

cup

Greek yogurt

See post for all options

1

tablespoon

butter of choice

* See notes

1/4

teaspoon

coarse sea salt
Instructions
Preheat the oven to 180C/350F. Line a large baking tray with parchment paper.

In a large mixing bowl, combine your self-rising flour with Greek yogurt and mix until fully combined. Form the dough into a ball.

Lightly flour a wooden or kitchen surface. Add a tablespoon of flour onto the ball of dough. Transfer the ball of dough onto the floured surface. Press the ball down and divide into 8 pieces. Roll each piece of dough into a long, thin, sausage shape. Fold the corners over to form a pretzel shape. Place on the lined tray. Repeat the process, flouring the surface in between each one.

Brush the tops of each pretzel with either butter, milk, oil, or water. Sprinkle with coarse salt and bake for 20-22 minutes, or until golden. Allow pretzels to cool on the pan completely.
Notes
* Use either dairy-free butter, milk, oil or water. One of these MUST be used, or else the salt will not stick.
Nutrition
Serving:
1
Pretzel
Calories:
113
kcal
Carbohydrates:
19
g
Protein:
7
g
Fat:
1
g
Sodium:
82
mg
Potassium:
63
mg
Fiber:
1
g
Vitamin C:
3
mg
Calcium:
32
mg
Iron:
1
mg
NET CARBS:
18
g
Disclosure: This post may contain affiliate links. I may earn a small commission for my endorsement, recommendation, testimonial, and/or link to any products or services from this website.