These Valentine's Day desserts are easy to make and are sure to impress! No bake treats, desserts for two, and plenty of chocolate cakes and cookies, there are over 40 SIMPLE recipes to try!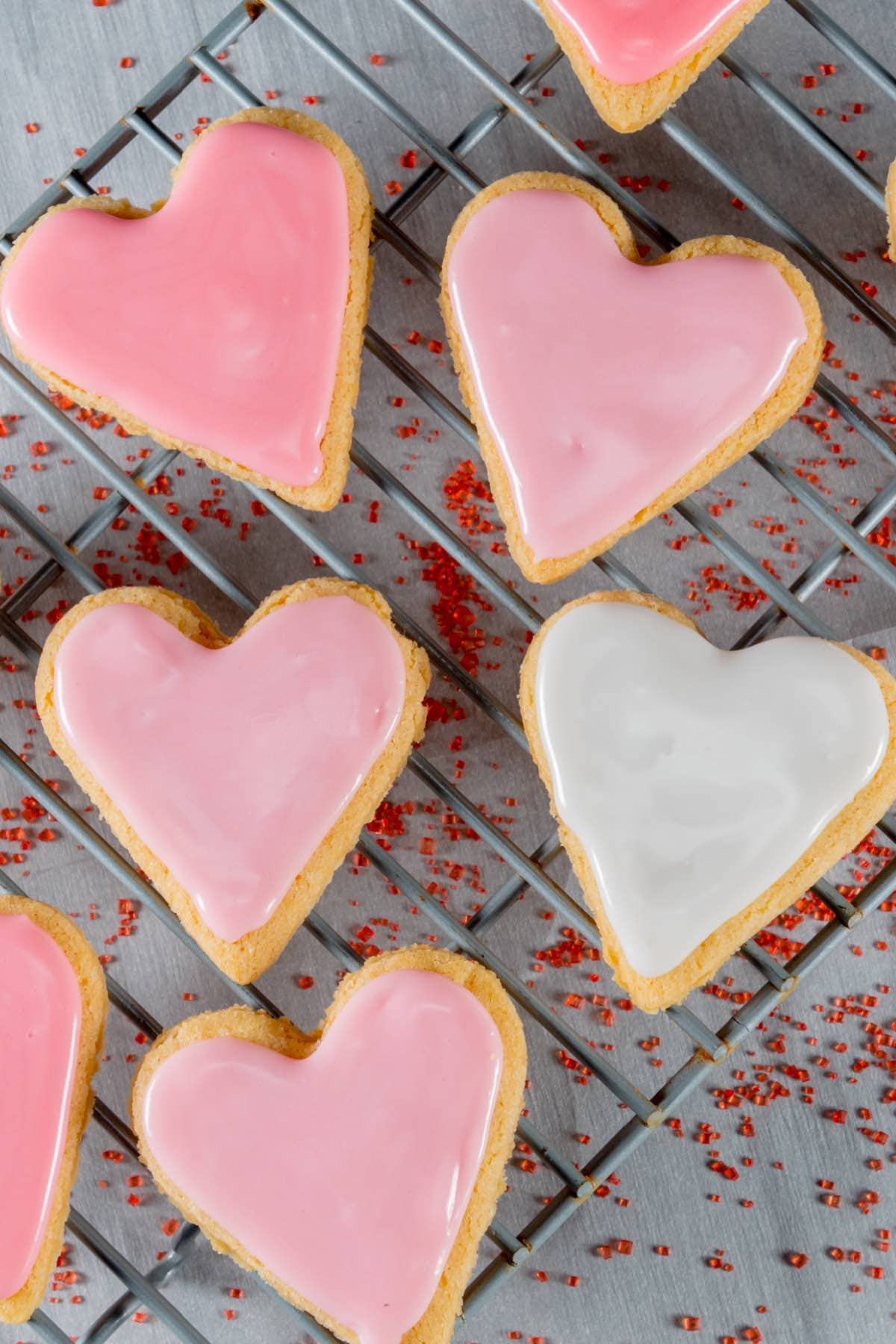 Valentine's day is the perfect excuse to enjoy plenty of desserts.
Sure, you can have desserts whenever you like, but I feel like on this day, it's pretty much mandatory. Now, don't fret if you are a singleton or don't believe in it- You can use this day to celebrate any occasion, including galentine's day, or just a day to spoil yourself.
What is a great dessert for Valentine's day?
While many people enjoy a classic chocolate truffle or mousse, nothing beats Valentine's day heart-shaped cookie. This dessert needs just two ingredients and can be iced or left as it is…your choice! Here is how to make it.
The Ingredients.
Almond flour– Blanched almond flour or superfine almond flour, not almond meal. I recommend choosing a good quality brand that is void of clumps, to ensure the cookies do not turn out gritty. 
Maple syrup– Acts as a binding agent with the almond flour, while providing sweetness. If you'd like to make these cookies lower carb, you can use homemade keto maple syrup. Avoid using store bought sugar free syrups as they don't have the required thickness or viscosity to hold them together.
Icing– Optional, but you can add some royal icing in traditional Valentine's day colors like pink, white, and red.
The Instructions.
Start by adding both ingredients to a mixing bowl and mixing well until a thick dough remains. If the dough is too thin, add more almond flour. If it is too thick, add a dash more syrup. Using your hands, shape the mixture into a smooth dough.
Next, wrap the ball of dough in plastic wrap and refrigerate it for an hour. After an hour, roll out the dough between two pieces of parchment paper, about half an inch in thickness. Remove the top sheet of parchment paper and use a cookie cutter to cut out cookies.
Now, place the cookies on a lined baking sheet and bake for 10-12 minutes, or until golden around the edges. Remove the cookies from the oven and let them cool completely, before adding icing, if desired.
What are valentine's day foods?
These are the BEST Valentine's day dessert ideas and recipes. You'll find desserts with and without chocolate, desserts for two, mini desserts, romantic ones, and even more. There is truly something for everyone and every single recipe is quick to make and sure to impress! Now, some people expect Valentine's day dessert recipes to be overly fancy and intricate, but these recipes prove otherwise- They've been made thousands of times and all have 5 star reviews!
Frequently Asked Questions