My name is Arman and I suffer from Former fat boy syndrome.
What is the 'Former fat boy syndrome?'
There are several varying definitions of it but how I see it is- as the name depicts, it's someone who used to be overweight and fear that their metabolisms are less than stellar and have trouble building muscle in contrast to the male population. They fear that after losing the weight, the concept of 'bulking up' or building muscle would lead to intense weight gain.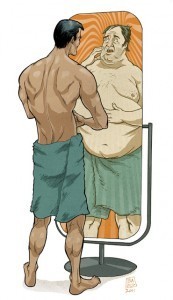 I worked hard (abit too hard) in losing the weight and now the muscle building mentality has come with its fair share of set backs and mental mind games.
I WANT to build muscle and add some mass to my body.
I NEED to add some mass to my body and would like to do this through strength training and weight lifting.
I LOVE to challenge myself in the weights room and see progression with each lift.
For this to be achieved, nutrition really does play a pivotal role. To build mass and add strength, I know that I need to fuel myself better and be more flexible with certain macronutrients. However, every time I try and make amends, I see flashbacks to my old self- and that's what stops me from giving 100% all out effort in succeeding with my gains.
I've seen it amongst my friends- I've seen many of them make successful gains, see their lifts soar and build an impressive physique.
Why would my body be any different in achieving this?
Why would I be the exception to this physiological rule?
I'm not.
Prior to my health makover, it was a cumulative effect consisting of bi weekly binge drinking of alcohol, poor food choices and a lack of exercise contributed to the weight gain. This occured for several years. So what does this prove to me?
A few days without exercise won't take me back to that weight.
A few days of poor food choices won't take me back to that weight.
A few days without structure won't take me back to that weight. 
I'm posting this for accountability. I pride myself on being someone who practices what they preach. I promised myself that after my exams, I would make a valiant effort to make some gains and the first area of focus in nutrition.
It's time to overcome this mentality- it's time to make some positive gains and get over this 'Former Fat Boy' fears.
***
No questions. Just your thoughts.