Over 41 of the best quick and easy keto-friendly dessert recipes which happen to be vegan! From low carb cookies, brownies, chocolate desserts, and frozen desserts- These low carb, paleo, and sugar free desserts will keep your sweet tooth in check!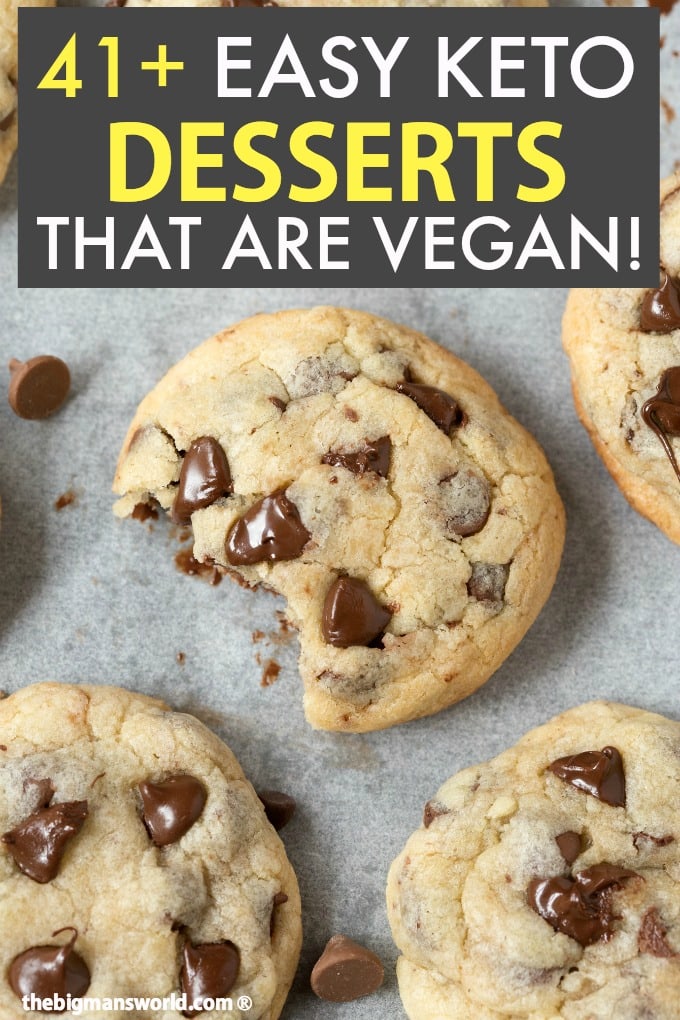 41+ Easy Keto Friendly Dessert Recipes that are Vegan!
It's not often you hear a vegan diet and a ketogenic diet in the same sentence.
Having tried both these dietary lifestyles before, I will be the first to admit how difficult it is to find desserts and treats which are both keto and vegan.
Vegan desserts? Sure, that is easy.
Keto-friendly desserts? Sure, that is easy too.
Keto-friendly AND vegan-friendly desserts? Now that is a little bit more difficult…
or so I thought!
When I first tried out ketogenic desserts, I was a little bit overwhelmed by how much dairy was used.
As someone who doesn't eat eggs or dairy, I was quite limited.
However, I soon found ways to create dairy-free and eggless ketogenic desserts, using various nut butter, chocolate, seeds, and coconut products.

Keto Vegan Dessert Recipes
Naturally, these recipes also happened to be vegan-friendly, thanks to them using no cream cheese, no milk and no dairy whatsoever.
Ever since completing my ketogenic diet experiment, I've ensured all recipes moving forward have been keto and vegan-friendly…
Or as close to as possible.
As such, I've got 41+ Easy Keto Friendly Dessert Recipes that are Vegan!
Each recipe is quick, easy and made with a handful of ingredients!
DESSERT KITCHEN EQUIPMENT + STAPLES
KETO VEGAN DESSERT INGREDIENT STAPLES
Coconut staples (butter, oil, and flour)
Blanched Almond Flour
Nut and Seed Butter (Almond, cashew, sunflower seed, and peanut butter)
Spices (Cinnamon, Nutmeg, Ginger)
Nuts and Seeds
Chocolate Chips (keto-friendly and dairy-free)
Vegan Keto Cookies
3-Ingredient Flourless Cookies
The BEST Chocolate Chip Cookies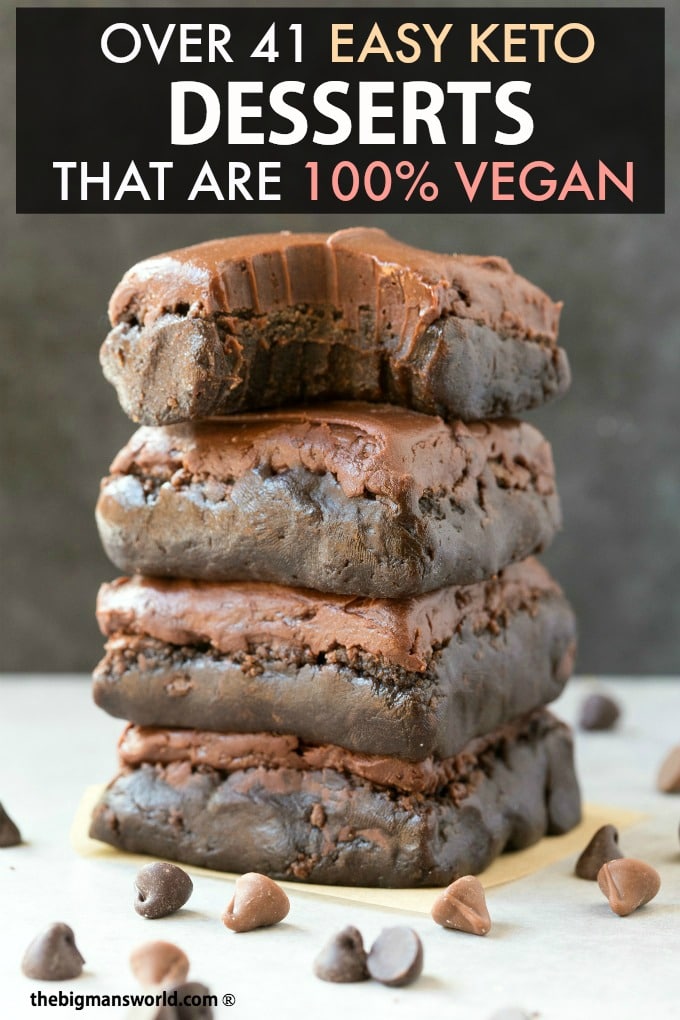 Vegan Keto Brownies
Healthy Flourless Fudge Brownies
Fudgy Paleo Vegan Pumpkin Brownies
Flourless Paleo Vegan Pumpkin Brownies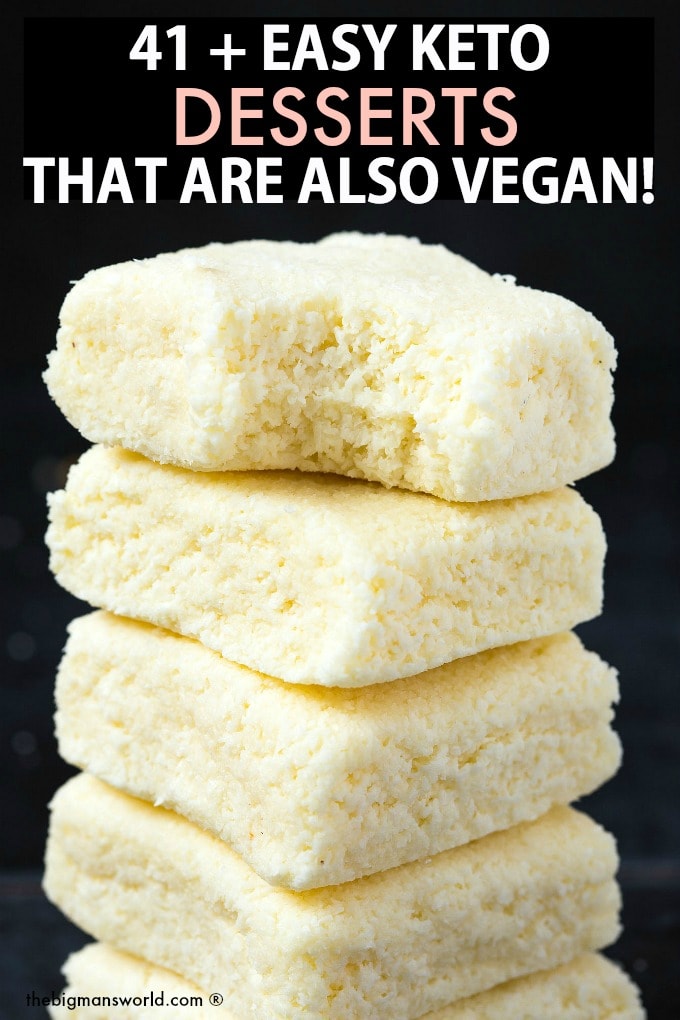 No Bake Vegan Keto Recipes
No Bake Gingerbread Cookie Bars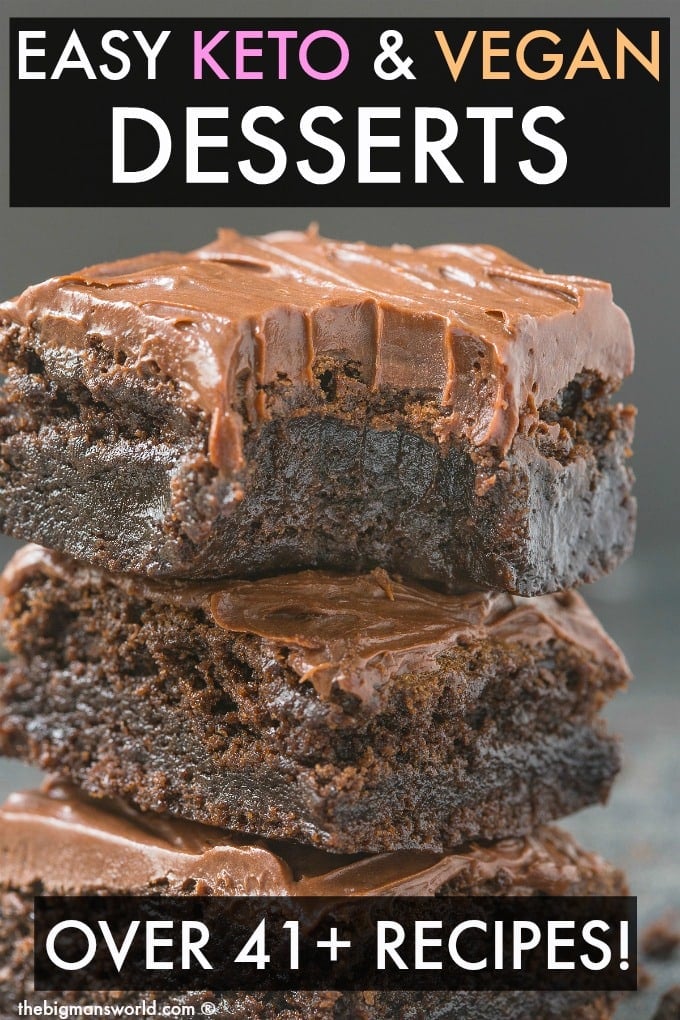 Chocolate Keto Vegan Dessert Recipes
3 Ingredient Brownie No Bake Bites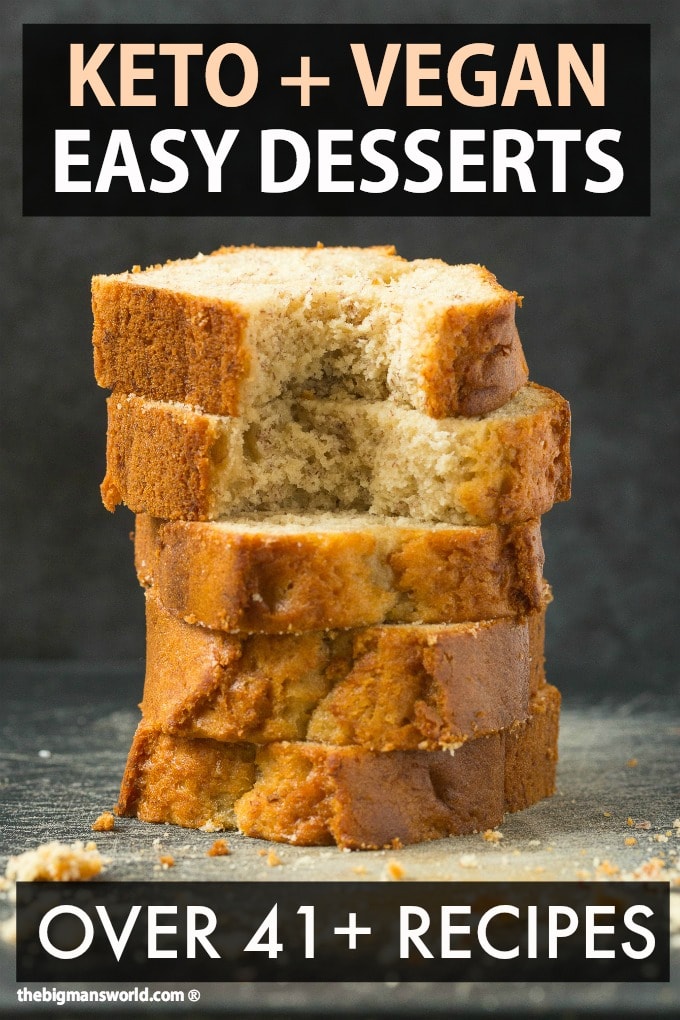 Vegan Keto Muffins, Cakes and Bars
Flourless Nut-Free Chocolate Muffins
5-Ingredient Chocolate Chip Protein Muffins

Disclosure: This post may contain affiliate links. I may earn a small commission for my endorsement, recommendation, testimonial, and/or link to any products or services from this website.