If you've been curious about how to use an air fryer, you've come to the right place! In this guide, we'll share everything you need to know for safely and efficiently using an air fryer, plus we'll give some fantastic recommendations and recipes!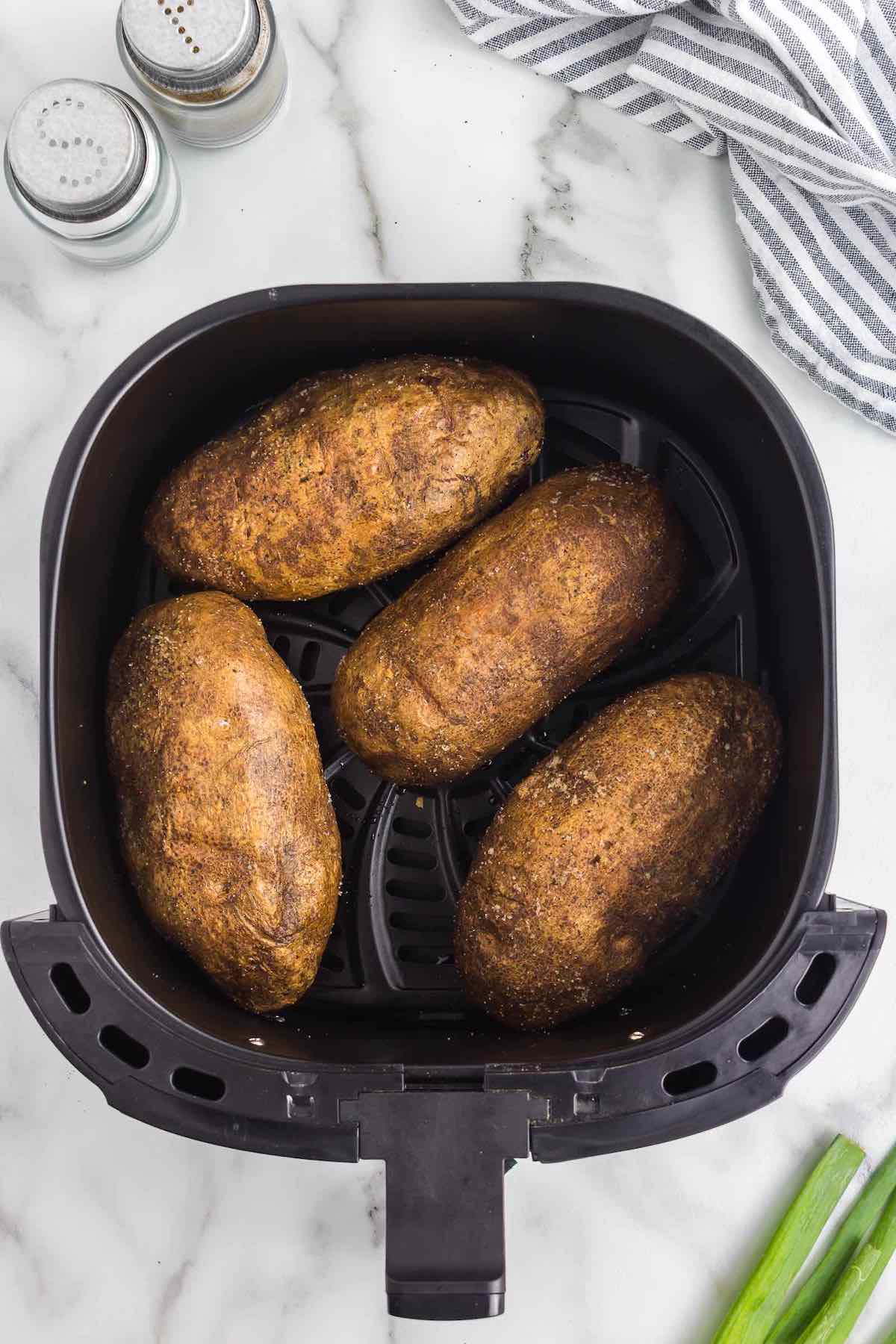 Air fryer recipes are all the rage – and with good reason. I personally love using my air fryer to make crispy, perfectly cooked recipes. Between these meatballs, biscuits, and this chicken breast recipe, we've been breaking out the air fryer weekly.
Table of Contents
What is an air fryer?
An air fryer, simply put, is a small convection oven that uses hot air to cook food. Because they're smaller than traditional convection ovens, they're more efficient and less energy-consuming.
You can use air fryers to fry, bake, roast, reheat, boil, and dehydrate just about anything. Most fryers have simple settings, making them easy to use. Many fryers also come with detachable baskets, which allow you to do different activities like baking donuts or frying tofu.
What to cook in an air fryer
Regarding what to cook in your air fryer, the options are endless! Proteins like meatloaf, and ribs, appetizers like potstickers or fried pickles, and desserts like cookies or brownies all turn out great when you make them in your air fryer.
Whatever you want extra crispy, with minimal oil added, you'll definitely want to make it in your air fryer. These chicken nuggets or this chicken parmesan are great options.
How it works
As mentioned earlier, air fryers work similarly to traditional convection ovens by moving hot air around the machine, helping to cook the food inside evenly. Because it cooks so efficiently, you'll need far less oil than if you were cooking in a traditional oven.
One of the things I love most about using an air fryer is how it not only cooks but it reheats beautifully. Even if you made this stuffed chicken breast or these salmon croquettes, they would all reheat in an air fryer and turn out just as crisp, caramelized, and delicious as on day one.
Air fryer safety
Be sure to read your air fryer's manual since they're all different and have unique functions. That said, here are some tips for safely using your air fryer:
Keep it on a stable surface. Like a countertop or table.
Use oven mitts. The handle should be safe to touch, but the basket and the food will be hot, so use mitts as you would if reaching into the oven.
Don't use metal utensils. As this can damage the nonstick coating of the basket.
Keep in mind the smoke point of your oil. If the smoke point is low, this can cause the oil to smoke or burn.
Best air fryers
With so many air fryers on the market, it can be hard to know which ones to choose. Here's my list of popular air fryers:
Gourmia air fryer
Power XL air fryer
Cuisinart air fryer
Emeril Lagasse air fryer
Nuwave air fryer
Sur La Table air fryer
Ninja air fryer
How to use an air fryer
Now onto the fun part, it's time to use our air fryer!
And trust me when I say an air fryer is honestly one of the easiest, most simple-to-use kitchen appliances you'll find. Here are some tips for using your air fryer:
Wait for it to preheat. The exact time may vary, but let your air fryer preheat first before putting your food in the basket.
Don't overfill the basket. This can create too much heat and burn your food, making for a mess and a fire hazard.
Use the machine settings. Most air fryers have presets on them, depending on what you're cooking. If you're uncertain, refer to the air fryer's manual.
Check periodically. Pull the basket out every so often to check on the progress.
Shake the basket. This will help to rotate the food and let it cook evenly.
Dry foods to make them crispy. So they get that nice crisp exterior.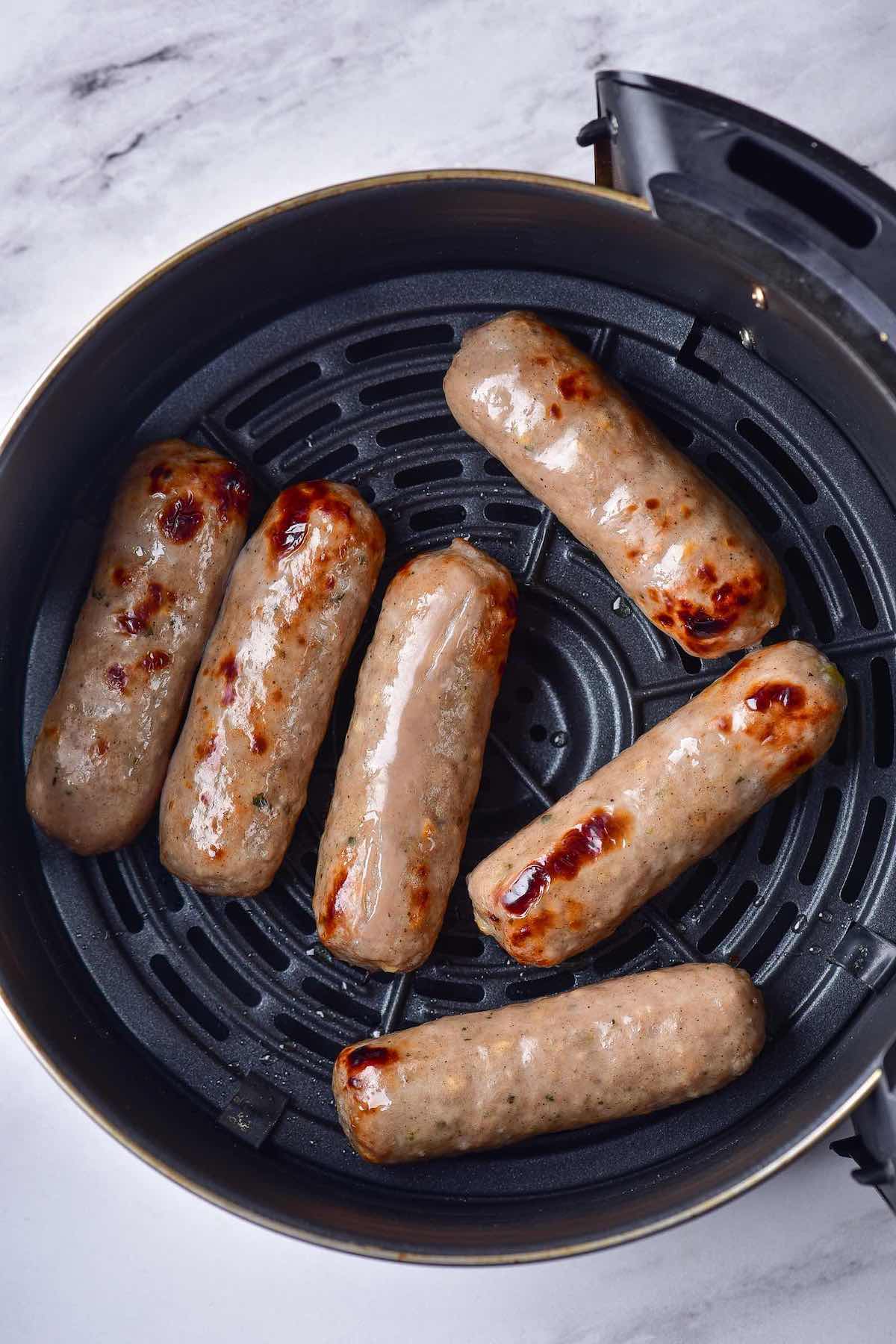 How to preheat an air fryer
Every air fryer is different, but most have a preheat function lasting anywhere from 2-4 minutes. Just like a normal oven, preheating will help ensure the food cooks evenly. If you don't preheat the air fryer, you risk your food won't cook evenly or develop a crisp and caramelized exterior.
That said, you might choose to skip preheating if you're worried about burning the outside before cooking the inside. If you're heating something that takes longer to cook fully, you may not want to preheat the air fryer first.
How to reheat in an air fryer
Air fryers reheat food really well, which is great because I always find it a pain to use a traditional oven to reheat a single serving or two.
A good rule of thumb regarding adequately reheating is to set the temperature about 30-40°F lower than the temperature you cooked the food for.
How to reheat burgers. Transfer the leftover burgers to your air fryer basket, making sure now to crowd the basket, and heat them at 325°F/163°C for 4 minutes, flipping halfway through. Make sure not to crowd the basket or stack the patties on top of each other.
How to reheat french fries. Transfer the fries to your basket in an even layer and cook at 350°F/167°C for 4-5 minutes, stopping halfway through to shake the basket.
How to clean an air fryer
Most air fryers have a nonstick coating, so cleaning is a breeze. Here's how it's done:
Unplug it and let it cool completely. Before attempting to clean it.
Rinse the air fryer basket. Once it's cool to the touch, rinse it with warm water.
Wash the basket with warm soapy water. And use a non-abrasive sponge. For stuck-on food or grease, let the basket soak in warm soapy water for 5-10 minutes.
Wipe the exterior of the air fryer. With a damp cloth or kitchen towel.
Use a toothbrush to clean the heating element. Preferably an old one!
Dry and assemble the cleaned fryer. To avoid losing any of the parts.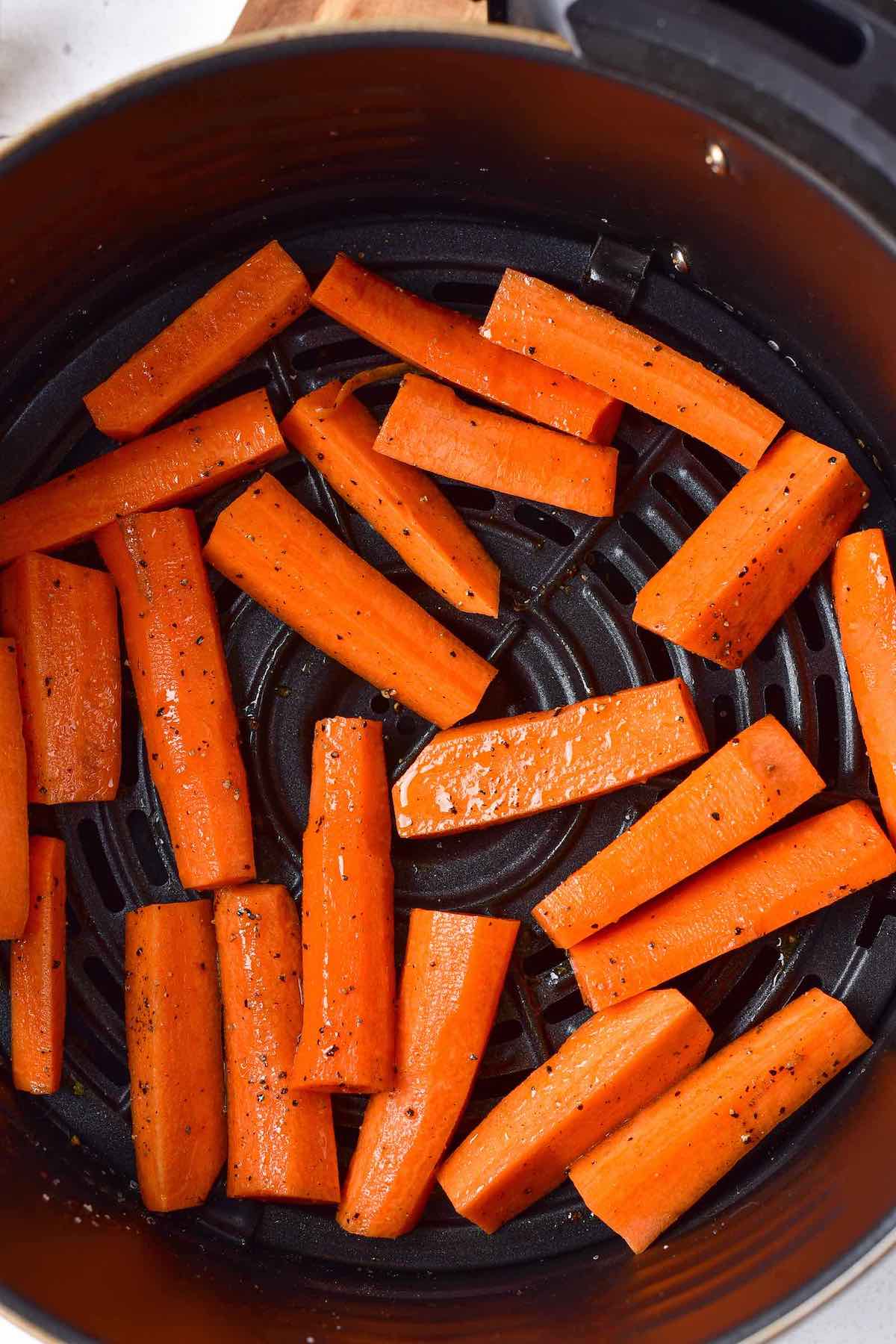 Easy air fryer recipes for beginners
Now that you know everything about using air fryers, it's time to get cooking! Here are some of our tried and tested recipes that we make regularly, including staples like chicken, pork, seafood, and vegetables.
What cannot be cooked in an air fryer?
Generally, it's not a good idea to use your air fryer for battered foods, fresh leafy greens, whole roasts, cheese, or raw grains, as these won't turn out best using this method and will likely leave you with a bit of a mess.
Are air fryer foods healthy?
Because air fryers require almost no oil, they're by far and away a useful tool for a healthy diet and lifestyle.
Disclosure: This post may contain affiliate links. I may earn a small commission for my endorsement, recommendation, testimonial, and/or link to any products or services from this website.