Egg-free paleo and keto breakfast ideas which happen to also be vegan and gluten-free! Flourless breakfast cakes, granola, oatless oatmeal, muffins and more- These low carb breakfast ideas are all made with NO eggs!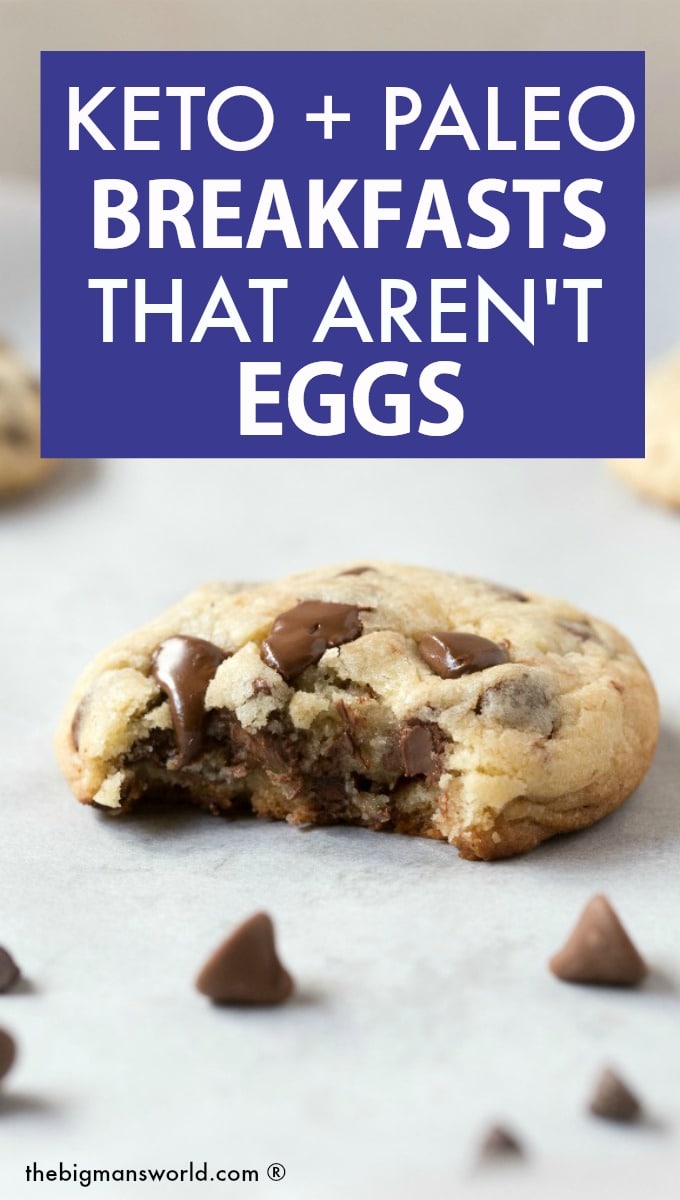 Low Carb Breakfast Ideas Without Eggs
When you think of paleo or low carb breakfast ideas, it's safe to say many assume eggs will feature in some shape or form.
The paleo and ketogenic diets are both naturally higher protein diets. This is due to the lack of processed foods allowed, coupled with maple daily staples being high protein sources.
The ketogenic diet, specifically, is intentionally a low carb/high-fat diet, with net carbs kept at a minimum.
Protein sources are costly, and eggs are generally on the cheaper end of the spectrum. This would result in thinking eggs are an easy choice. True, they are quick, easy and cheap to prepare, but over time, they can be incredibly repetitive.
Now let's throw in another curveball…
What about throwing the vegan diet into the mix? Vegans don't consume any animal products and as such, eggs are definitely not on the menu! Any food product that stems from an animal is not consumed by those following a vegan diet.
With this information at hand, I've accepted the challenge and come up with 41 of the BEST keto, paleo AND vegan breakfasts which definitely are NOT eggs.
Please note- This does not include eggs used within a recipe (e.g. muffins or bread) but rather egg dishes on their own or as a protein source!
I present to you healthy, quick and easy breakfast recipes which aren't eggs and are all also low carb/high fiber…and incredibly delicious!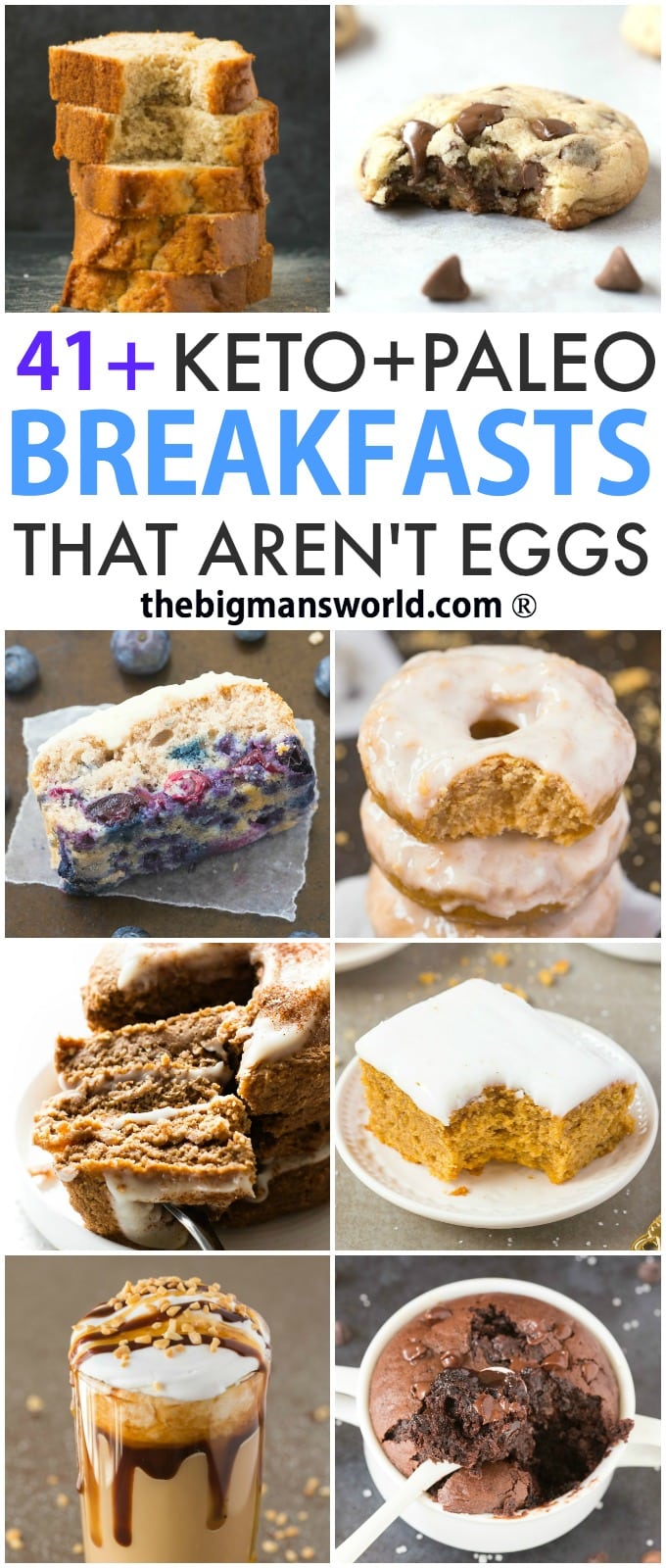 BREAKFAST KITCHEN GADGETS + STAPLES
Having these kitchen utensils and gadgets on hand will make the following recipes an absolute breeze- They can be used multiple times and you'll get tons of use from it all. In fact, these are my tested gadgets you'll see in my own kitchen!
BREAKFAST INGREDIENT STAPLES
The following ingredients are used in all the recipes below! You'll find that they may seem pricey, but you'll get so much use out of them. They are also featured in many of my non-breakfast recipes!
Sticky Sweeteners (Keto maple syrup, pure maple syrup, agave nectar)
Chocolate Chips (use dairy free or sugar-free)
Nut Butter (Peanut butter, cashew butter, almond butter)
Nut-Free Spreads (Sunflower seed butter, tahini, coconut butter)
Nuts and seeds
PANCAKES, WAFFLES AND SWEET BREAD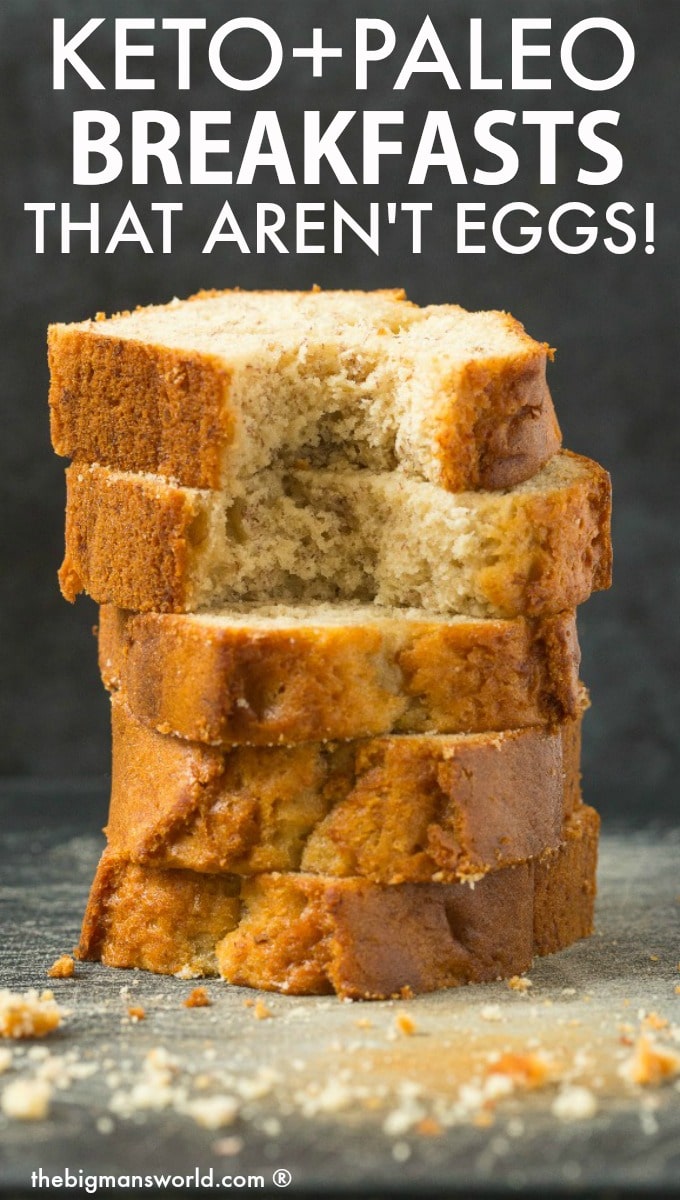 Fluffy Low Carb Vanilla Pancakes
Flourless Pumpkin Pie Pancakes
Thick and Fluffy Cinnamon Roll Pancakes
BREAKFAST CAKES, DONUTS, AND MUFFINS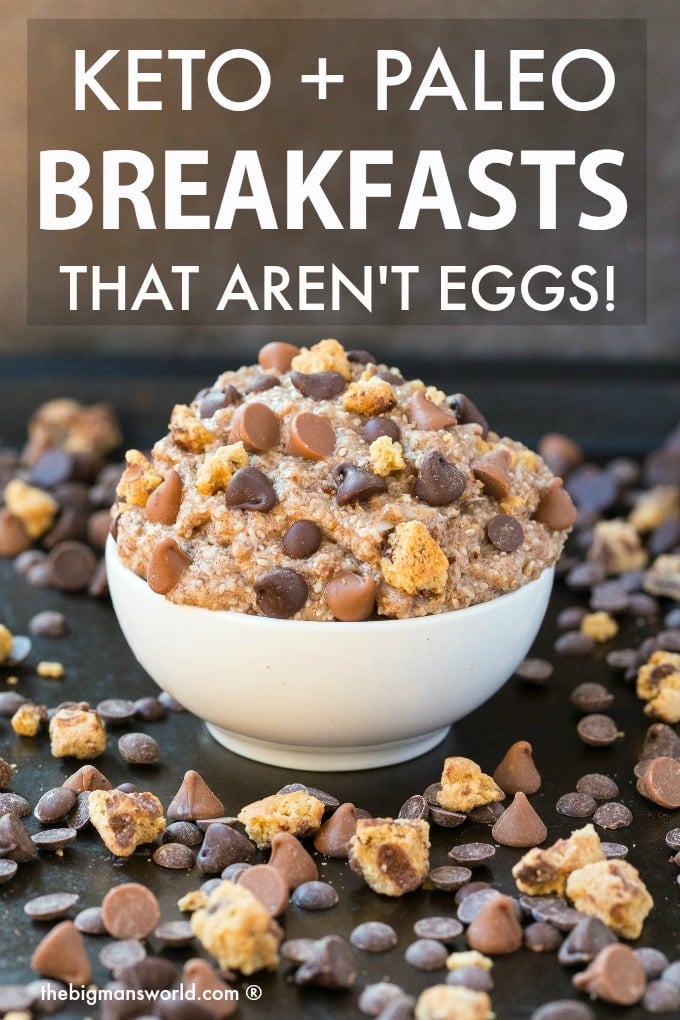 Flourless Blueberry Breakfast Cake
Lemon Poppy Seed Breakfast Cake
Flourless Chocolate Pumpkin Muffins
Low Carb Cinnamon Roll Muffins
Flourless Cinnamon Bun Breakfast Doughnuts
MUG CAKES AND MUG MUFFINS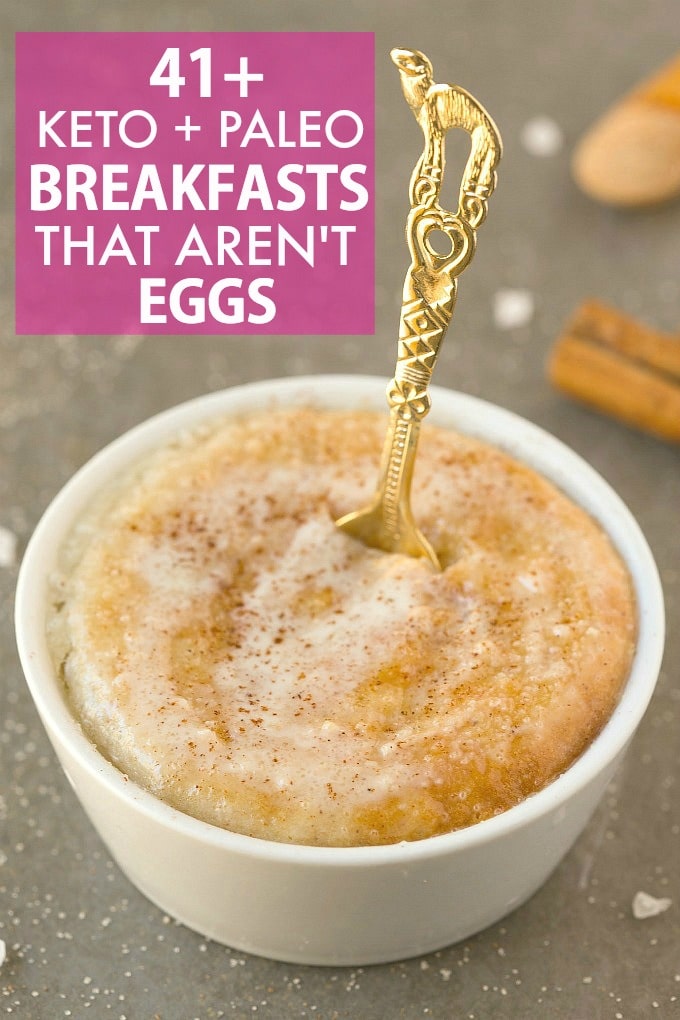 1 Minute Low Carb Cinnamon Roll Mug Cake
Pumpkin Chocolate Brownie Mug Cake
1 Minute Low Carb Vanilla Mug Cake
1 Minute Lemon Poppy Seed Mug Muffin
Hot Chocolate Brownie Mug Cake
SMOOTHIES AND BREAKFAST SHAKES
Low Carb Chocolate Peanut Butter Shake
3 Ingredient Banana Breakfast Smoothie
NO BAKE AND NO COOK BREAKFASTS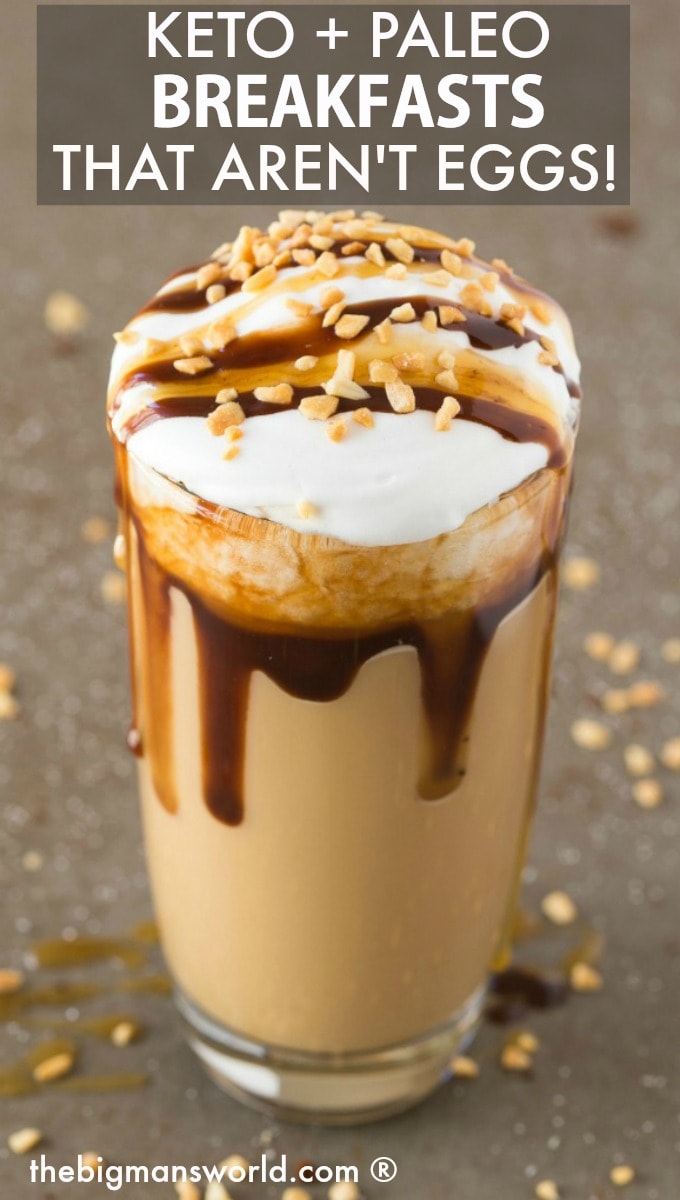 No Bake Chocolate Coconut Breakfast Brownies
Cookie Dough Overnight Oatmeal
Breakfast Brookies
Something for everyone here- Over 41 Keto, paleo and vegan breakfast ideas and recipe which AREN'T eggs!
Disclosure: This post may contain affiliate links. I may earn a small commission for my endorsement, recommendation, testimonial, and/or link to any products or services from this website.